Puffin Class
Puffin Class
8 January 2021 (by schoollogin)
Our crazy week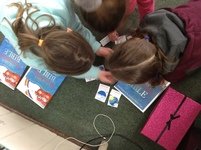 Firstly, well done to all of our Year Two children for adapting again to the new normal. You have been amazing and we are feeling very proud.
This week the children at school have been working very hard with their learning. They began thinking about the different senses and how they could relate them to Christmas. Their next challenge was to add some adjectives in which was a lot of fun. Today they wrote their poems and it made us look forward to Christmas again.
In maths we began exploring length, where we used metre rulers and tape measures to determine how long or how wide objects were.
We received a letter from a scientist, Tess Tubular who gave the children a challenge. She and her team had discovered some footprints and the children were asked to work out which animals they might belong to. After a lot of discussion and examining atlases and books, the conclusion was that it must be a lion and a polar bear.
This afternoon the children learnt all about keeping safe online. They heard the story of Golidilocks and how she had to learn to think before she posted photos and videos. There were some fantastic posters made to remind people how important it is to keep safe when using different devices.
It has been lovely to see all of the work that you have been doing at home on Seesaw. There has been some marvellous measuring, thoughtful RE and super poems. Well done! Have a great weekend, the fun starts again on Monday!