Extra-Curricular Clubs
At Driffield CE Infant School, we offer an exciting range of extra-curricular clubs, all through the year!
We believe that learning doesn't have to stop for lunch or finish at 3.15pm! That's why children have access to a range of lunchtime clubs and after school activities that appeal to all interests.
All of our lunch clubs are free. Some of our after school clubs are free, whilst some have a small cost to cover resources and extra staffing.
The clubs on offer change each half term, but we work hard to offer as many as possible.
Our Lunch Clubs
Children can take part in a range of activities, including sign language, Gardening Club, Lego, Chat and Chill, Doodle Club, Computing Club, Reading Club, Puzzle Club and Construction Club.
In addition, every lunchtime children have access to Active Lunchtime activities on the playground, supported by a dedicated member of our midday team.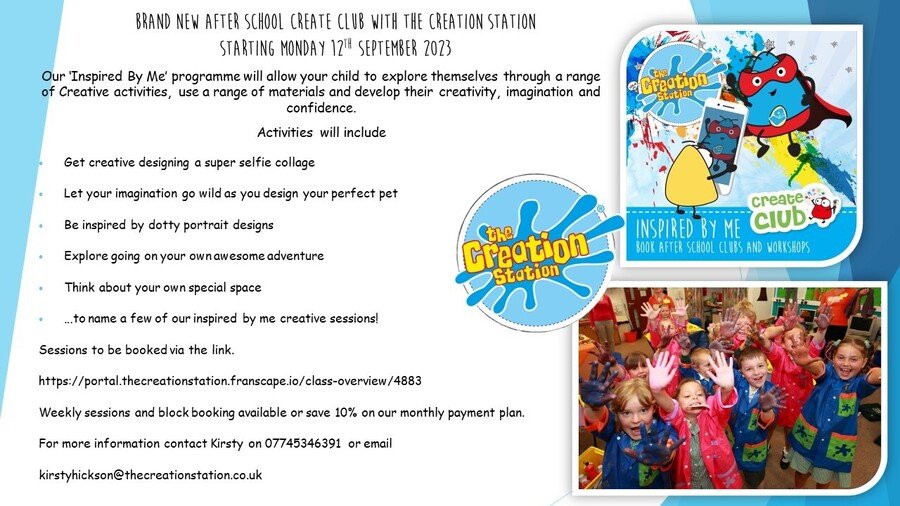 Our After School activities
We offer a wide range of creative, sporting and other activities after school. Most of these are provided by school staff; some are provided by other providers.
Clubs and activities include Crafty Kids, Messy Kids, Cooking Club, Tennis, Dodgeball, Tag Rugby, Basketball, Benchball, Let's Move, JAM Club (Jesus and Me), Money and Me Club, Library time sessions, Creation Station and Goal Sports football.