Golden Table
Golden Table
13 September 2018 (by admin)
Well done Lemon Table (sitting 1) for winning the Golden table award this week. .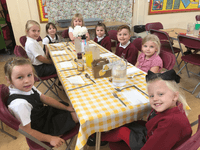 They earned the most Golden Tickets this week for demonstrating good manners and adhering to the 'Driffy's Diner' lunchtime rules.
They enjoyed lunch with Mrs Thackray and Patch on a specially decorated table. Mrs Thackray really enjoyed eating with them, their manners were impeccable.
All the children are doing really well at lunchtime, the changes we made at the beginning of term are really making a difference.