Glenfield Residential Home visits
Glenfield Residential Home visits
12 February 2018 (by admin)
A group of Year 2 pupils have been visiting Glenfield Residential Care Home regularly with Mrs Thackray to get to know some of the residents and develop their confidence.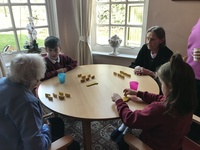 These visits have been a tremendous success. The children have been a credit to school (and their families) and it has been wonderful to see true friendships grow between young and old. There has been lots of chat about school now and then, the children have found lots out from their elderly friends memories of their own school days as well as how Christmas presents have changed over time. During our latest visit they all enjoyed playing games together, the sounds of genuine laughter, chatter and fun were incredibly emotional.
The children are now looking froward to welcoming some of their friends to school when the weather picks up.
For more photos visit the Community tab on our website