Year 1
Year 1
18 March 2020 (by schoollogin)
Fun at School!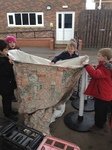 Year 1 have had a fun few days having a school trip at school! The children have had fun playing games, enjoying a picnic lunch, making boats using the den making equipment, role-playing Captain Cook and his crew, learning about life in Australia and also learning more about what life would have been like for a sailor in the 1700s. Captain Cook himself even dropped by for a few of the activities!
More photos are being uploaded onto the Y1 Photo Gallery on the school website.
Although we know the children were disappointed we were unable to visit Whitby, we hope they were still able to learn lots and have fun! Thank you for your ongoing support, the Year 1 team.