Year Two
Year Two
17 March 2020 (by schoollogin)
Year Two are 'mini-medics'!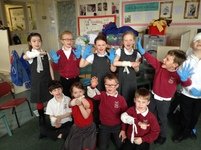 We are very proud of our Year Two children for becoming 'mini-medics'! Over the last two days they have all completed a first-aid course, under expert guidance and training from Bruce of 'The First Aid Box'.
They learned how to call 999, in an emergency, giving relevant information. They were introduced to the principles of DR ABC (danger, response, airways, breathing and CPR). They practised checking airways and breathing as well as placing someone in the recovery position a
nd CPR skills.
The children were shown the action they could take if somebody has a seizure and finally attempted their bandaging skills on one another!
The children were presented with a certificate of their achievement as well as a mini-medics booklet to bring home. In addition, they should have brought home a picture of an ambulance .They need to colour this in their own design to enter a competition to win 'Baza Bear' ; The First Aid Box mascot. Entries can be returned to school and Bruce will collect them on Monday 23rd March; the winner will be announced soon after.
The children learned such a lot thanks to Bruce's engaging teaching and we feel that these are invaluable skills for our concerned and considerate young citizens to have developed.
A huge thank you to our Friends of School and parents for supporting this.
If you would like to enroll younger children on the course (from aged 4 upwards) do look at 'The First Aid Box' website for the holiday courses that they run (they are Driffield based; Skerne Road Industrial Estate). The website is
https://fabtraining.net/mini-medics