Handwashing in Year 1!
Handwashing in Year 1!
11 February 2020 (by schoollogin)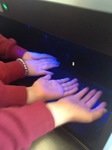 The children in Y1 had an exciting visit from the school nursing team this morning. They came to talk to the children about the importance of making sure we wash our hands, and wash them properly!
The children thought about how some germs can make them poorly, and how we need to make sure we do everything possible to not spread them around.
Did you know a cough can spread germs up to 6 meters, and a sneeze up to 8?
It is definitely important to CATCH it, BIN it, KILL it!
The children used a 'magic-germ' cream to help them see their "germs" in a special light box. They were then taught how to wash their hands properly, and had another look to see if the germs had gone.
Ask if your child can remember all the different parts of their hands they need to make sure they are washing properly!