Cooking Crew
Cooking Crew
10 February 2020 (by schoollogin)
Oaty biscuits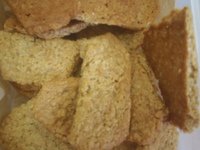 Gooey oaty biscuits were the Crew's final cooking delight today! The children worked well to weigh the dry ingredients and mix these together. They then melted butter and golden syrup, working carefully and paying attention to the safety instructions when using the hob. Finally, they combined all ingredients and spooned them onto the baking trays. They were impressed when their original sticky blobs turned into delicious golden cookies!
The children took it in turns to wash and dry all of the equipment; tidying up after themselves beautifully!
Everyone has worked really well over the last few weeks to produce some tasty dishes . We hope they all enjoyed Cooking Crew and now help in the kitchen at home.