Year 1
Year 1
9 January 2020 (by schoollogin)
Fantastic creatures and where to find them!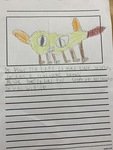 Year 1 have started our topic 'fantastic creatures and where to find them'! Today the children watched a 'news report' about a mysterious friendly creature that had been spotted in Driffield! The children have been writing and drawing about what they think the creature looks like. According to the 'news' it had 6 legs, wings, a scaly tail, a furry body, big eyes and sharp teeth.
Over the next term the children will be learning about different animal classifications, where different animals come from, and also looking at the lives and journeys of animal explorers past and present!