Robin Class
Robin Class
5 October 2019 (by schoollogin)
Elmswell Farm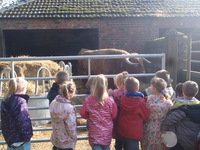 Yesterday the Robins went to Elmswell with Farmer John to learn all about seasonal changes.
After a miserable start to the day due to the weather, we all thought we would be soaked by the time we got home but luckily the weather changed and the sun came out!
We started off the day by having a walk around the farm with Farmer John who was telling us all about evergreen and deciduous trees and all about the leaves falling off in autumn. The children had paper plates in which they had drawn things they thought they would see and had to tick them off once they saw them on the walk. The children also loved seeing Boswell again!
In the afternoon we went and collected natural materials such as stones, leaves, sticks and grass to create animal shelters to keep them dry, warm and safe. The children had a great time exploring!
We got back to school and they were exhausted! - the sign of a good day!! :)