Cooking Crew.
Cooking Crew.
3 October 2019 (by schoollogin)
Our first two weeks in cooking crew.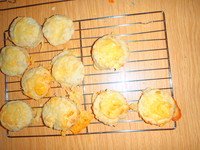 Our first week for our new cooking crew group we made ham and cheese pinwheels with a colourful side salad. We carefully grated the cheese and placed it with the ham onto the pastry base.We then spent some time using a knife to cut a variation of bright colourful salad items .
This week we have made cheese scones. We again used the grater making sure we didn't grate our fingers. We learnt the rubbing in method . Can Mrs Edeson group remember how to see if all the butter is rubbed in? We carefully mixed in the cheese to create some scones. The school smelt lovely.