Kingfisher Class
Kingfisher Class
5 September 2019 (by schoollogin)
A super new brood!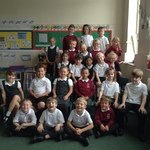 What a fantastic start the new Kingfisher brood have had! They have returned to school, after the holidays, full of energy and enthusiasm and have been a delight to be with.
A huge thank you to children and families for all of the amazing kingfisher work over the summer. We have been sharing great facts, super drawings and some wonderful kingfisher sightings! We have also thoroughly enjoyed looking through holiday bags and learning about everyone's adventures.
Our kingfisher mini-project is off to a flying start! We have been measuring heights for the perfect perch, creating kingfisher scale drawings, using instruments to represent the sound of a kingfisher and all children have shown superb creativity and excellent teamwork when making models of kingfisher nest burrows. A wonderful start to the year, Kingfishers!