Family Book Club
Family Book Club
25 June 2019 (by schoollogin)
Eat Your Peas!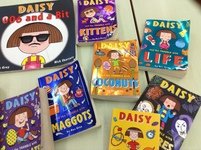 The final 'Family Book Club' of this school year had the author Kes Gray as its focus. We all enjoyed reading his humorous book: 'Eat Your Peas' in which Daisy's Mum becomes increasingly more desperate for her to eat her greens and so promises more and more outlandish rewards as incentive to do so! ( I saw the knowing smiles amongst parents ....a journey many of us have been on!!)
We discussed what would tempt us to eat that thing on our plate that we turn our noses up at! Some children would settle for: pudding, staying up for an extra half an hour and having no bath! Others drove a harder bargain, not being convinced until we included trips to theme parks!
The children created dinner plates showing their own food nemesis and that of their parents! We used this as a basis to discuss our likes and dislikes.
Thank you to all of the families who have been part of this first 'Family Book Club'; I have thoroughly enjoyed the sessions with you all and I hope it has given you a few new adventures with reading!