Puffins Class
Puffins Class
10 May 2019 (by schoollogin)
If you go down to the woods today....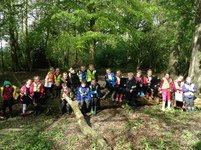 Today Puffins enjoyed a walk down to Kings Mill Woods in which we looked at the habitat and were observing for the animals we thought we might see as well as plants.
We saw ducks, swans, ladybirds, birds, bluebells, forget-me-nots etc on our way into the woods and ticked them off our sheet.
We then thought it would be a good idea to build bug hotels for all the insects and the children had a go using what they could find that had fallen on the floor. They made some amazing ones!
All the children enjoyed the walk and luckily it stayed sunny for us!