Dolphins
Dolphins
19 November 2021 (by schoollogin)
Week of the 15th November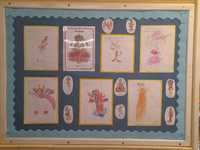 Another busy week in Dolphins. The Year One Dolphins talked about Hinduism in RE and then drew their favourite God which they really enjoyed. The Year Two children are still doing their work towards the Leaders Award and met with the Yeast group this week to talk about how they became members of the group.
Our cricket skills were put to the test again in PE and the children showed Mr S we have some amazing batters.
In Maths we have continued our work on subtraction and made up some subtraction stories. The children are currently enjoying Children in Need day and taking part in some fun activities. Have a lovely weekend Dolphins.