Kingfisher Class
Kingfisher Class
23 July 2021 (by schoollogin)
Goodbye to the class of 2021!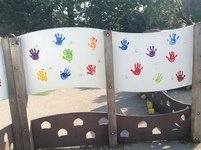 To all Kingfishers and Kingfisher families,
As you begin your final day at Driffield Infant School we want you to remember that although you may be leaving the building, you will forever be part of our school family.
Miss Brough and I want to thank you for a fantastic year. We have loved our games of tig, the jokes we have shared and the latest dance craze you started (you know the one I mean!!).
All year long you have worked hard, displayed resilience when there were challenges and shown great care for one another.
You should be proud of all you have achieved; we are immensely proud of each and every one of you. You have certainly left your mark on the school-quite literally!
A heartfelt thank you goes to all parents, grandparents and family members who have helped us along the way; your support has been hugely appreciated.
A huge thank you also for your amazing generosity with gifts you have sent. You have been extremely kind and your thoughtfulness has been greatly appreciated by Miss Brough and I.
Later today it will be time to spread your Kingfisher wings and fly onwards to Juniors. We will miss you very much but know that you are ready for the new adventures ahead.
We wish you all a fabulous summer filled with happy times and fun.
Goodbye Kingfisher Class of 2021; you were STUPENDOUS!