Y2's final week celebrations
Y2's final week celebrations
21 July 2021 (by schoollogin)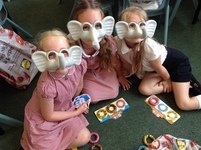 Year Two have been having a fabulous week so far as they leave Driffield Infant School with a 'bang!'
Our week started with lots of board game fun! The children shared their games beautifully and enjoyed teaching each other the rules.
We attended the diocesan Leavers' service (virtually) where the key message was that love is the most important thing. There was time for reflection about our time at Infants. We drew and wrote about this on footprints that will lead us forward.
There was some time out to catch a movie and enjoy a flappy fish race!!!
Today we had our Kingfishers vs Puffins rounders match and although Kingfishers were victorious on this occasion (yippeeeeeeeee!!) that makes it an overall draw from a previous match-good sportsmanship was shown all round! (Well, from the children anyway- maybe us staff took it a bit too seriously!!)
Tomorrow it will be a park visit (suncream, sunhats and water bottles again, please!) followed by a trip to our very own school ice-cream factory!
What a fun week to celebrate how amazing the children have been during our time with us.