The Goblin Next Door
The Goblin Next Door
7 July 2021 (by schoollogin)
Lights, camera, action!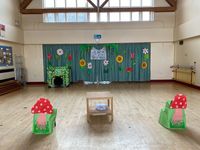 The stage is set, the music is sorted and the cast are ready!
This week we have been very busy filming our Year Two production, The Goblin Next Door. Despite not being able to perform it to a live audience, the children were super excited to get into their wonderful costumes and play their different characters. We are so proud of each and every child for being such a great part of the production. They even got a few tears from Mrs T when she came for a sneaky peek.
We can't wait for you to see the final product!