Puffin Class
Puffin Class
20 November 2020 (by schoollogin)
Elmswell, teamwork, cardboard!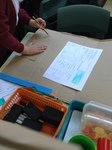 This week we were lucky enough to be able to visit Elmswell farm again where the children took part in different teamwork activities. They had a lot of fun and practised various skills.
We began making our animal shelters which caused a lot of excitement when the classroom floor disappeared under a layer of cardboard but the children worked hard on their projects, trying to problem solve along the way.
In RE we explored different Hindu Gods and Goddesses. The children then had a go at creating their own thinking carefully about what qualities they might possess.