One of our school drivers is - valuing the outdoors as a vehicle to promote learning through the curriculum.
Why do we value Outdoor Learning?
We believe that the Outdoor environment is where children can come into contact with the ever changing systems of nature and experience the dynamic world of living and non-living things as they interact through time and space. The seasonal changes and differing weather conditions provide children with a sense of time and place and offer endless investigation possibilities. The outdoor environment offers more freedom and space to move and investigate and inspires different challenges in learning.
Good outdoor provision does not rely on expensive equipment but comes from making the most of the space and resources available, allowing children to be creative and use their imagination. Together with the support of positive, enthusiastic and engaged adults the outdoors facilitates meaningful learning experiences that are vital for children's holistic development.
All our children participate in Forest School Activities by visiting various sites
What is a Forest School?.
It is a hands-on learning experience in a natural environment with trees. It helps individuals to develop their confidence, their self-esteem and develop their skills in the outdoors. The idea originated from Scandinavia and is increasing in popularity across the UK.
How does it support our children?
It enables them to be:
equal, unique and valuable

competent to explore and discover

entitled to experience appropriate risk and challenge

entitled to choose, and to initiate and drive their own learning and development

entitled to experience regular success

entitled to develop positive relationships with themselves and other people

entitled to develop a strong, positive relationship with their natural world
Where does it take place?
Although we are limited with the outdoor space we have at school , we make the most of every area and also the wonderful outdoor spaces we have within our community.
We are really lucky to have a woodland in walking distance of the school. Kings Mill provides an inspiring setting for the children to explore and develop their skills in a safe and familiar place. We also use Elmswell Farm, a local private farm to further our activities.
What happens during a typical session?
The children will all gather on the log seats and activities are discussed. The children will be reminded of the Forest School rules. Boundary ribbons are tied around the trees to reinforce the area the children can use and the shelter is put up for storing the first aid, activity box and supplies.
Next everyone gathers in the middle of the area and plays a hide an see game called 1,2,3 where are you?
Then the main activity is discussed standing in a listening circle. Activity examples are:
creating pictures using natural resources

making fairy dens with twigs, stones and moss

den making

mud/clay creatures

meet a tree

learning the names of plants and trees

storytelling
The children are supported by the adults as required to facilitate their learning.
Finally, we all gather on the log seats to reflect on the session and find out what we learnt and enjoyed.
The Foundation outdoor area is used for so many learning experiences. Some of them are adult initiated whilst others come from the children's interests and imagination.
The Year One children use the outside area every week. They have the opportunity to create dens, use the mud kitchen and water area among other activities to explore different elements of our topics. Here are some of the things that we have been getting up to.
Our Year Two children have really enjoyed attending our new 'Outdoor Club' on a Tuesday night after school, where they have learnt how to shelter build, whittle, fire build and cook! Below are some photos of them in action.
Woodland Warriors.
In the Autumn and Summer term, Mrs.Jackson & Mrs.Simpson take groups of children to Kingsmill woods on a weekly basis for a 5 week block of planned activities. The autumn term included journey sticks, clay faces, symmetrical woodland creatures, picture frames and woodland homes.
These sessions are aimed at improving the social and emotional aspects whether it is confidence building or team working. Once back in the classroom, the children then keep a scrap book of what they have done or prepare for the next session. The children are kitted out in full waterproofs - whatever the weather the warriors go out!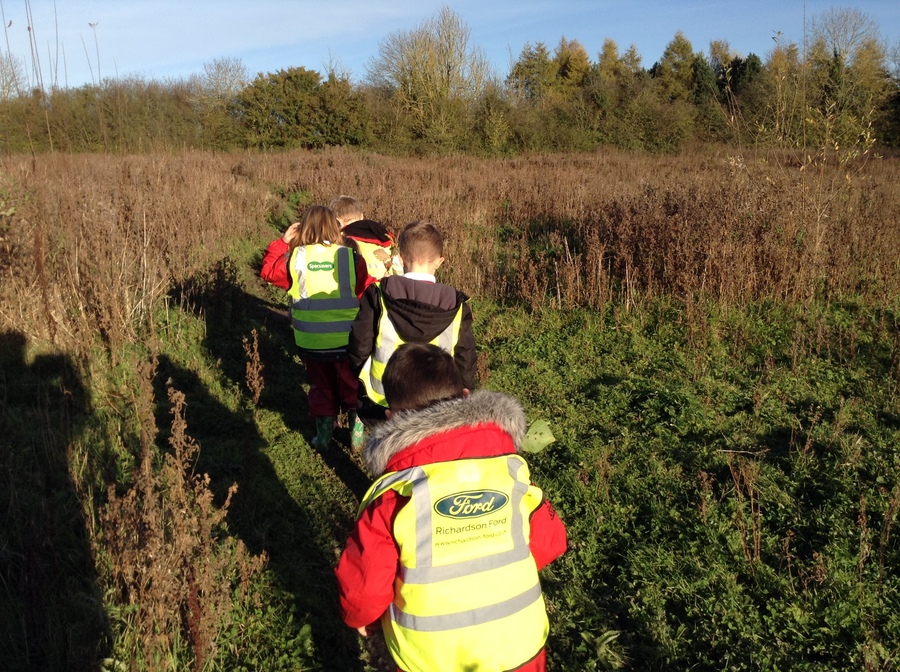 Outdoor Learning

We have invested a lot of time and resources into developing outdoor play over the last few years. We have created an all weather footpath through the few trees that we have around school which the children love, this was provided by Friends of School. We have also created a den making area for pupils to use at playtimes and lunchtimes which really enhances their team building and problem solving skills
Active learning and adventure outdoors can take place in a variety of environments: our school grounds, Kings Mill, Elmswell Farm etc. Outdoor education involves both young people and adults in a wide range of experiences, including adventurous activities! Methods used include skills-focused learning, problem solving, team building and self-reliant journeys and activities.
"There is no such thing as the wrong weather. Only the wrong sort of clothing"
Scandinavian saying