Starfish Class
News 2018-2019
For photos and updates about what the children have been up to, look at the Y1 Photo Gallery.
23rd November 2018
The children have been thinking about their families these week in 'Super Me' - and have been using colour mixing and different painting techniques to paint a 'family tree' which we will continue next week!
The children have had a super party to celebrating winning the lining up award for last half term, AND for filling their marble jar again! They had a cinema experience, and watched Mr Bean with a few treats and a dance party with a few party games. We were very impressed that the children wanted to have lots of fruit at the party - even spinach was requested!
The children have continued with subtraction within numbers to 10 this week, and have really grasped how you have to start with the whole number, and take away a part which will leave you with another part!
This week we have been looking at split digraphs in phonics - and are now know the sounds 'i_e' (like) 'a_e' (cake) and 'o_e' (phone)! They are a tricky concept but they have blown me away with their understanding already.. we have a couple more split digraph sounds to learn next week!
16th November 2018
The children have been enjoying the new topic of 'Super Me' this week - a PSHE and Science based topic. We had a special trip to Tesco to discover more about healthy eating, and there are photos of our trip on the Y1 Photo Gallery.
Thank you for those who brought in donations for Children in Need! We also had a special dramatic performance from Image Theatre group of the Selfish Giant which the children loved - it has helped us think about how we can be kinder and more welcoming to people who we may not really know yet.
We have started looking at subtraction this week, and the children have been using their number bond knowledge (please keep playing the number bond games at home) to help them, and have learned the 'crossing out' method.
In Phonics the children have learned the aw (awful) 'wh' (what) and 'ph' (phone) sounds.
9th November 2018
The children have had a brilliant week back learning about the Hindu festival of light, Diwali! They have had a go at acting out the story, dressing up in traditional Indian clothing, and creating a diva pot out of clay (which will be coming home next week!).
The children have also enjoyed a visit to church to see the poppies that they created before half term - the church looked amazing so if you get the chance to go and see, our poppies are near where the toilets are!
This week the children have worked really hard on their phonics assessments, and have finished off the Maths topic of addition to 10.
We also met Miss Lawson and Miss George, who are first year student teachers from York. They will be in with us at different points throughout the year to help us learn and we are very excited to have them!
26th October 2018
The children had an exciting visit from 2 of the PCSO this week - and were able to try on some of the outfits, and go into one of the new cars that they have. Photos are on the Year One Photo Gallery.
In phonics we have revisied the sounds we have learned so far this term.
In Maths the children spent more time learning about addition number sentences, and how we can use a part whole model to help us.
Have a fun and restful half term everyone!
19th October 2018
This week the children have spent time learning new skills in the areas, and have still been enjoying the Supertato adventures!
This week we had an important visitor in school. Everyone should be very proud of how hard they work everyday, but especially on Thursday!
In Phonics we have revised the 'oo' sounds (zoo and book). We have also been introduced to new sounds, such as 'ea' (sea) 'oy' (boy) and 'ue' (blue/due).
In Maths the children have been using part whole models to help them write addition number sentences. They have been thinking about how the = sign does not always have to go at the end. 5+3=8 8=5+3.
12th October 2018
Another great week exploring with Supertato - the children have looked at different materials, and have written some descriptions of what their Superveggie would need to wear. (For example 'Supercarrot is wearing a belt made from metal.').
In phonics the children have been revising the 'ee' .... and have been learning the 'ay' (day) 'ou' (cloud) 'ie' (tie) sounds.
In Maths the children have continued working on their number bonds within numbers to 10. We have also started addition within numbers to 10.
5th October 2018
Thank you for all of you who came to parents evening this week - it was lovely to talk to you all.
The children have really been enjoying the adventures of Supertato, and have been making their own superhero vegetables, writing about the superpowers and outfits they would wear.
In phonics the children have been revising the 'ck, zz, ng, th, sh, ch' sounds, as well as the 'oo, oa, ar and or' sounds.
In maths the children have been looking at number bonds. For example, 7 is 3 and 4.. it can also be 6 and 1 etc. They are starting to get the hang of it, and also have been filling in missing numbers in the part whole model.
(7)
/ \
(3) (4)
28th September 2018
Another great week in Starfish, the children have been continuing to look at numbers to 10, and have been comparing different numbers and and ordering them from greatest to smallest and smallest to biggest.
The children have enjoyed learning about and exploring with Traction Man again this week, and next week we will be looking at a new superhero...!
Starfish had an excellent trip to Elmswell Farm. They were given a guided tour of the farm by Farmer John, who talked about what his plans for the fields are this year - we are looking forward to going back later in the year to seeing how they change. The children each created a self portrait using natural resources collected on the walk.
21st September 2018
This week the children have been looking closely at numbers to 10, and have been using resources such as a tens frame to help them. They have been counting forwards, and backwards - and also trying to fill in missing numbers in a number pattern!
In phonics the children have been revising some of the phase 3 sounds, such as 'ear' 'air' 'igh'(light) 'ure'(sure) and 'er' (brother). Although learned last year, summer was a long 6 weeks so please do practise sounds on the Phase 3 sound mat. If you have misplaced yours from last year, just google 'Phase 3 sounds' and all the sounds will come up. We should be sending home a new sound mat next week.
The Year 1 children are feeling pretty 'super' about the new Superhero topic! They have been reading about the adventures that Traction Man and his sidekick Scrubbing Brush get up to, 'all in a days work', and creating their own adventures for them in the different areas around the Year 1 unit.
14th September 2018
Welcome to the new Starfish children! It has been a brilliant 2 weeks getting to know the children, and they have worked really hard on their Starfish projects.
The children have carefully make Starfish biscuits, learned a helpful technique to help them draw Starfish (which is a tricky shape to draw!) and learned lots of Starfish facts.
Next week we will be starting a more structured timetable, with special 'area jobs' to complete throughout the week.
2017-2018
Summer Term 2018
20th July 2018
It seems only yesterday that some very little Starfish came into Year 1 in September 2017, and now look at them! The children have worked so hard this year and learned many new and exciting things. A big thank you for the ongoing support at home, you should be feeling very proud of your little Starfish, I know I do! They are all now ready for their next adventure in Year 2, and will be brilliant Kingfishers, Puffins and Robins!
At the leavers service in church, I asked the children what they wanted to do/show and there was a unanimous decision to show everyone some sign language. We decided to learn some of the signs to 'Roar', and the children very bravely sang and signed in front of the packed church. The video is below!
Have a brilliant summer Starfish!
13th July 2018
These last couple of weeks in Starfish have been action packed! We received a threatening letter from Captain Redbeard, so the children each made a wanted poster to pin up around school. The posters scared off the nasty pirate, but he left a map with an X on it! The children quickly picked up map reading skills and the Starfish Crew found their way to a hidden treasure chest with some very yummy treasure inside! The children then had a go at creating their own map, and had a go at reading the co-ordinates to plan where their X was going to go.
We had an excellent trip to Little Big Sing, and enjoyed the ocean breeze on the beach. The children sang their hearts out and did Driffield proud!
This week we have been reflecting back on this last year, and thinking about what next year will hold. We spoke about their exciting new adventure, and discussed any anxieties the children had about being in Year 2. The children should feel very proud of themselves for all their hard work over this last year!
They all enjoyed spending the day in their new classes with their new teacher on Thursday, and we now heave lots of excited little Puffins, Robins and Kingfishers in our class!
One week left Starfish.....
29th June 2018
It has been Creative Arts Week this week, with a focus on 'Dreams and Happiness'. The children were taught a carnival dance to the song 'Do Rio Bellini' and really enjoyed listening to the 'happy' music. They learned about the artist Romero Britto, and used his style of art as an inspiration point for their own work and all got to join in with a large scale Starfish-meets-Britto painting! They composed a class piece of music that made them think of happiness and dreams, and showed everything off this week in a performance to Kingfisher and Hedgehog class!
The children all got into the spirit of sports day and did really well! Well done to the children in the winning team Germany, you displayed some excellent team work skills!
In Maths we have been looking at the 'space' between different objects, and the Mathematical language such as top, bottom, forward, backward, up, down, close, far as well as looking at a full, half, quarter and three-quarter turn.
22nd June 2018
We had a really lovely day learning about what happens in a Hindu wedding, so we can compare it to what we know about a Christian wedding (that we have been learning about in RE, and looking at when it was the Royal Wedding). The children were creative and designed some henna tattoos for a bride to have, and also made a necklace to give to a friend in our class, similar to a ritual in a Hindu wedding. They also had a go at making a special paste that is normally used at a 'Pithi ceremony' to help clean and soften the skin. In the afternoon, Mr Indriyesha Das came in, and he helped us pretend we were at a real Hindu wedding! The children were able to dress up as guests, and some of the children were in the bridal party! It was a really exciting day and we all learned a lot!
Below are some photos from the day, a video of the 'bride' and 'maid of honour' entering the ceremony, and a video of the 'bride and groom' walking around the sacred fire 4 times.
In Maths this week have been investigating and comparing the 'mass' of different objects.
In Phonics we have revised all the sounds we have learned so far this year.
Meet the newest members of Starfish Class... Pancake and Marty!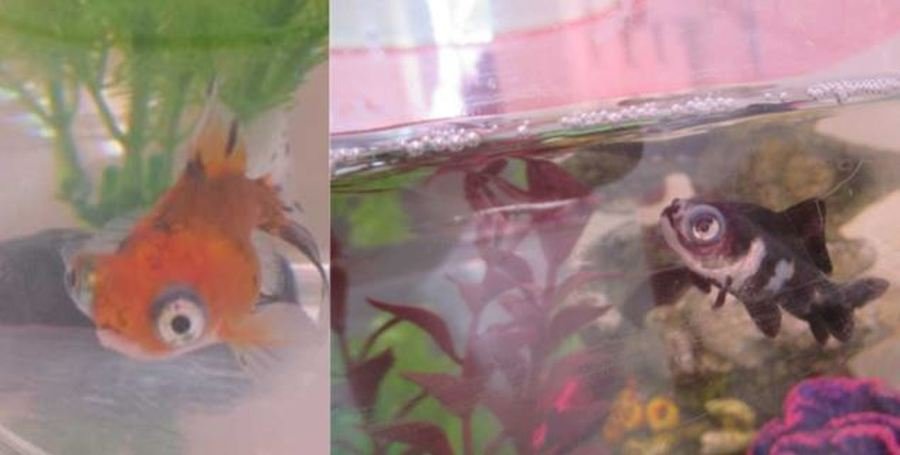 15th June 2018
Spellings: October, November, December. (They must have capital letters at the start!)
The children have been continuing to write their stories about an imaginary land, and the plots are definitely getting interesting!
In Maths we have finished looking at volume and capacity this week, and have just started looking at mass. We have looked at things that are 'light' and 'heavy' and have had a go at using the scales to help us compare.
In Phonics we have continued to practice using the correct plural ending for words, and now have a firm understanding of how to change a word to its plural form. On Monday the children were able to show off to Mrs Thackray all their phonics knowledge and she was so impressed with how everybody did. Well done everyone for working so hard in phonics this year.
Starfish have had a brilliant and sunny trip to Elmswell this week! We loved exploring the farm again, and spotting the changes that have happened since last time we were there. Each child worked hard at collecting natural resources for them to use on a collage that we made in the afternoon. They carefully planned what they were going to design and we saw some very creative pieces.
8th June 2018
The spellings did not post on the app, and so we will repeat the previous spellings to give everybody an extra week.
The children came back after term ready to hit the ground running! They designed a front page for the story that they planned before half term and have now started writing them. It has been interesting to think about the structures and what makes a good story.
It was world environment day on Wednesday and we were thinking about 'Plastic Pollution'. The children went on a plastic hunt around the class room and found that most of our things are made from plastic - plastic can be very useful. The children were shocked to find out that plastic doesn't disappear when we bin it, and that it causes lots of harm to the world around us. We have been watching how a crisp packet and an apple core 'decompose' and the children are really understanding the importance of recycling, and recognizing the choices we make can help. They all made a poster promoting using reusable everyday items such as proper water bottles and bags for life.
In Maths we have been learning about money! We have been learning how to recognise different coins and notes that are used in the UK. We even had a go at 'spending' the money in the Starfish Shop! We have also started learning about volume and capacity and we have been comparing different amounts of water using the terms 'more than' 'less than' 'full' and 'empty. We also have had a go at measuring different amounts of water using different 'units'.
In Phonics we have been learning about the word 'plural' and how we can change words so they are plural. We know that with lots of words we only need to add an 's' on the end (one cat, two cats). But if a word ends with 'ch' 'ss' 'x' 'sh' or 'tch' then it needs an 'es' (one brush, two brushes). We have also been practising sounding out lots of different words and deciding if they are real words or alien words! We are ready to WOW Mrs Thackray next week when we go to show her how well we know our sounds.
Sadly today was our last day with Miss Hackett, the childcare student who has regularly been with us since September. She has been a brilliant member of the Starfish Class! We will all miss her a lot and wish her all the best with her future!
24th May 2018
Spellings for after half term: July, August, September.
And another half term is over - wow! Only one half term left of being in Starfish class, and every child should feel so proud of their progress.
This week we have been planning our stories that we will be writing after half term using a story mountain. We are going to write a story about a brand new land at the top of the Faraway Tree. (We have been reading The Magic Faraway Tree at story time and really been enjoying it!). We finished our science investigation this week, and decided that water was definitely the best liquid for a bean to grow! Remember to keep watering the beans now they are home, I wonder how big they will grow?!
The children have worked very hard on our 'time' Maths focus the last few weeks. This week we have looked at using calendars to help us with dates.
Well done Starfish, we won the lining up award again this half term! Keep working hard at making sure you are lined up just as well at lunch time.
This afternoon we went to the park to explore the seasonal changes. The children were all really interested at looking at the different types of flowers that were growing now that it is almost summer. We also had a quick play on the play park as a special treat!
18th May 2018
Spellings: April, May, June
What an exciting week! We have been on a trip to Bridlington Spa to watch Northern Ballet perform the Ugly Duckling, we have been to Tesco and tried different types of bread and enjoyed making coleslaw, and we have spent today celebrating the Royal Wedding! We had special word-searches, colouring sheets, and had a go at making an edible teacup and saucer (they were very yummy!) We also played party games, and had a royal banquet outside with the rest of Year One!
In Maths we have been looking at telling the time to the half hour, sequencing events by looking at the time, and estimating different lengths of time.
11th May 2018
Spellings: January, February, March
Last week we spoke about the Loch Ness Monster when talking about Scotland and Katie Morag, and the children were eager to learn more. This week we looked at the story of St Colmcille, who supposedly had the first sighting of the Loch Ness monster. We spoke about how some people just think the monster is a myth, and others believe it is real and the children had a think about what they believe.
We have started a plant investigation in science this week that will run until the end of this half term. We wanted to know what liquid was best for a plant to grow. We have each planted a bean in some soil and will regularly give it water. We also have planted a bean that will have no water, another that will be given milk, and another that will be given washing up liquid! We had some interesting predictions, and are looking forward to seeing how the beans grow!
The role play area has been transformed into FLYDISairlines, an aeroplane so the children can visit what ever land they like!
In phonics we have continued revising the 'oa' sound. We know it can be sometimes be 'oa' 'ow' 'o' 'o_e' 'oe' and 'ough'.
In Maths we had a couple days looking back at everything we have learned so far, and the children should be very proud of how much they remembered. We have also started looking at time this week. So far we have only looked at how to tell time to the hour (eg 2 o'clock).
4th May 2018
Spellings: Wednesday, Thursday, Friday, Saturday.
This week the children have designed some new tartan kilts for Katie Morag using their colour mixing skills. The also learned more about the island Katie Morag is from, the Isle of Struay. We had a go at describing it using some adjectives, and remembering our full stops and capital letters! The children worked on their teamwork skills this week when they went outside to make a habitat for a hedgehog.
In Maths we have been looking at numbers to 100, and partitioning them into tens and ones.
In phonics we have been revising different ways to make the 'oa' sound (goat) and will continue to do this next week.
Have a lovely bank holiday weekend.
27th April 2018
Spellings: Sunday, Monday Tuesday.
This week the children have been learning more about Katie Morag, and enjoyed reading more of her stories. We found out that she was off to visit Granny Mainland, and needed our help to pack her a suitcase. The children thought carefully about what she would need.
In Maths we have been thinking about halves and quarters of shapes and numbers. We are going to spend a bit more time on it next week, it is a tricky concept however the children are trying hard.
In Phonics we have been revising the different ways to make the 'ee' sound.
20th April 2018
Spellings: To be confirmed and sent out on Monday next week!
Starfish Class were very excited to have a letter from Katie Morag this week! The children decided to write letters back to her, and have produced some amazing pieces of writing.
Our new topic is 'Land Ahoy' - where we will be exploring different lands, both real and fictional!
In phonics the children have been revising sounds we have learned so far this year, and thinking about all the different ways to write sounds like 'igh'.
In Maths we have spent several lessons on multiplication and division, looking at equal groups and sharing between different groups. We even had a Maths lesson outside in the shade of one of the trees in the playground!
Thank you to all the parents who came along to parents evening, if you weren't able to make your appointment we will rearrange.
13th April 2018
Spellings - next week the children will be tested on a random 6 words from last terms spelling lest.
The children came back refreshed and ready to learn after the Easter break,
We have looking at the vocabulary around multiplication, such as '5 groups of 2 is 10', '5 rows of 2 is 10' and '5 twos make 10'. The children have been using practical objects to help them count in groups. We have also had a lesson on doubling.
In phonics we have been looking at different ways to make the 'or' sound in 'for'. 'au' (August) 'ore' (more) 'aw' (saw).
We loved having northern ballet in on Tuesday morning! We talked about how ballerinas use dance to tell stories. We were taught some of the dance movements that they do in the show the Ugly Duckling, that year 1 are booked in to go and see later in the Summer term! We are very excited!
23rd March 2018
This week in Phonics we have looked at how the 'air' sound (hair) is some times spelt: ere (there) and ear (pear).
In Maths we have spent our final lesson on our 'Numbers to 40' topic, looking at how we can easily recognise and write a number if we think carefully about the 10s and 1s.
Today we celebrated Sports Relief, with the children coming into school in Sporty clothes to raise money for the charity. We spent some time this afternoon in the hall with the Dolphin and Turtle class, doing some dancing and also having a go at doing some story yoga which all the children loved! We also had our Easter Bonnet competition, and were blown away at the number of entries and how carefully they were made! Well done to all the children (and parents!) who entered the competition.
The Starfish children have worked so hard this term, each one of them making progress that they should be proud of! It is hard to believe we only have one term left in Year One! Have a wonderful Easter everybody.
15th March 2018
The final spelling test of this term will be on Friday 23rd March. The spellings will be: ask, friend, school, put, push, pull.
Starfish class have really enjoyed British Science week this week! On Monday we experimented with floating and sinking, and had a go at writing some predictions. On Tuesday we looked at how different things react when mixed together. We watched a balloon inflate because we mixed vinegar with bicarbonate of soda, and we saw a yogurt pot fly into the air because we mixed a vitamin c tablet with water in a small contained pot. On Thursday we made aluminium cans move by hovering a balloon over them - we had charged the balloon with static electricity by rubbing it on our jumpers! We also had a go at making our hair float, and sticking the balloons on the walls in our classroom! We also spent time finding out about Professor Stephen Hawking, who died this week. The children asked some very thoughtful questions about his life, and his contributions to science.
In Phonics we have looked at how 'al' can make an ar sound, in words like 'calf' or 'almond', and how 'o' and 'i' can make short and long sounds - such as'pot' and 'go', or 'fish' or 'find'.
In maths we have been looking at numbers to 40 to help us with place value. We have just learnt the word 'digit', and have been working hard at working out 10s and 1s in numbers.
Below are some photos and a video from our Science week.
9th March 2018
DUE TO WORLD BOOK DAY - THE SPELLING TEST WILL BE ON MONDAY 12.03.18.
The following spelling test will be on Friday 16.03.18 with the words: where, love, come, some, one, once.
This week in Maths the children have been using rulers to measure things around the classroom. They each made their own 10cm ruler using 1cm strips of paper to help them, and had lots of fun with them. The rulers have gone home (to their request) so they could measure different things around the house!
We also spent a lesson investigating numbers to 40, and how we could partition them into '10s' and '1s'. We will be looking at this more next week!
In the Phonics children have been looking at the 'ear' sound, and how some times it can be spelt 'ere' or 'eer'. We also looked at how the 'ear' trigraph can make an 'ur' sound.
We had a look at the different countries in the United Kingdom this week, and looked at the different native animals for each country.
We have FINALLY had our World Book Day! We have really enjoyed learning all about Beatrix Potter and the stories she wrote - she is now one of our favourite authors!
Today......
We had a costume parade with the whole school this morning,

We got to spend some time reading with some of the foundation children from Hedgehog class! Well done Starfish for being such an excellent example, and reading so well with the younger children!

This afternoon we had a whole school book quiz, where teams of 2 children from FS, Y1, Y2 joined together to try and win the grand prize. Unfortunately the 'Matilda' team that the 2 Starfish children were in did not win, but we were very proud of how carefully they thought about the answers they gave!

We also spent time today doing some drama of Beatrix Potter stories, the 'shows' turned into 'comedies' with some very comedic running away from Mr McGregor!

We also learned a song about Peter Rabbit, and

learned some makaton signs to help us sing along.
The lovely staff at WHSmiths came into school with books for the children to buy using the World Book Day vouchers that everyone had been given!
All the children were so excited, I hope you all enjoy reading them over this weekend!
3rd March 2019
Spellings for next weeks test: so, by, my, here, there, where.
A slightly chaotic week due to the extreme weather, which sadly meant lots of our book week fun had to be postponed until next week! Thank you to parents for being so understanding when it was not safe for staff or children to travel into school and making the necessary arrangements.
This week we started looking at length and height in Maths, and have been measuring things around the classroom using cubes, paperclips.. and even our body parts! I wonder how many 'hands' long/high things in your house are? You could make me a list and show me on Monday!
In phonics we have looked at how the 's' sound can some times look a little different.. like the 'se' in mouse and house or the 'st' in listen. They all make the same sound!
We are still enjoying our Beatrix Potter stories at story time, and are enjoying completing some of the Book Week challenges as a class. We have created freeze frames, told a story with puppets, and created drawings about A A Milnes poem 'wind on a hill'.
Our new Book Day will be on Friday the 9th of March.
Have a lovely weekend and enjoy the rest of the snow!
23rd February 2018
This weeks spellings: be, he, me, she, no, go.
This week in Starfish Class, we have been learning about animals over in Australia. Explorer Jim sent us some photos of some Aboriginal Australian's artwork and we decided to create our own. We used cotton buds to dip into paint and then dab them onto black paper. We thought about how we could use the dots to create swirly, stripy and wavy effects on our animals.
We also thought about different climates around the world, and how some animals like hot climates near the equator, and other animals like cold climates like the North Pole.
We have had a look at labeling and comparing the structures of different types of animals, and talking about why some animals might have body parts such as tails or claws.
In Phonics we have investigated how sometimes 'ou' sounds different. So far we have looked at the digraph in 'cloud' 'soup'and 'mould'. We have also been looking at how the 'ch' sound can sometimes be spelt 'tch'.. in words such as 'catch'.
We have spent our last lesson on the topic of addition and subtracting numbers 1-20, and the children have done really well. I am so impressed with the hard work they are all putting in.
We are all looking forward to book week next week - and the children are very excited about dressing up as characters from the Beatrix Potter books! We have been reading some of her stories this week at story time, and will be looking at more next week.
- Book Week -
Letters went out on the last week of term about book week, however a few copies were left behind on the carpet! An electronic copy is on the app, and hard copies are available from the office.
Tuesday 27th February: Year 1 children from 6-7pm are invited to come into school in their PJs for a bedtime story and hot chocolate. Parents are invited into the hall for a brief presentation about reading for enjoyment, and then to take a look at the brand new library.
Thursday 1st March: Children in year one are dressing up from characters from Beatrix Potter stories.
9th February 2018
Spellings for the first week back are: his has I you your they.
This half term truly has flown by!
This week we were off to Africa, and learned that animals are either carnivores (eat meat) herbivores (eat plants) or omnivores (eat both)! We also imagined we went on holiday to South Africa, and wrote a postcard explaining some of the geographical features, such as table mountain and the high skyscrapers.
We had a video from explorer Jim explaining that some of the animals that live in Africa are endangered - and may go extinct if action is not taken. We decided to use the computers to help us make posters to raise awareness for the endangered animals.
In phonics we have carried on looking at alternative pronunciations for some of our sounds. We have looked at 'ea' (sea vs head) a (path vs baby) and y (yes vs happy).
In maths this week we have been looking at different ways to subtract teen numbers. We have been looking at 'subtract by subtracting ones' method.
15-4= ?
/ \ 5-4=1
10 5 10+1=11
Have a lovely half term.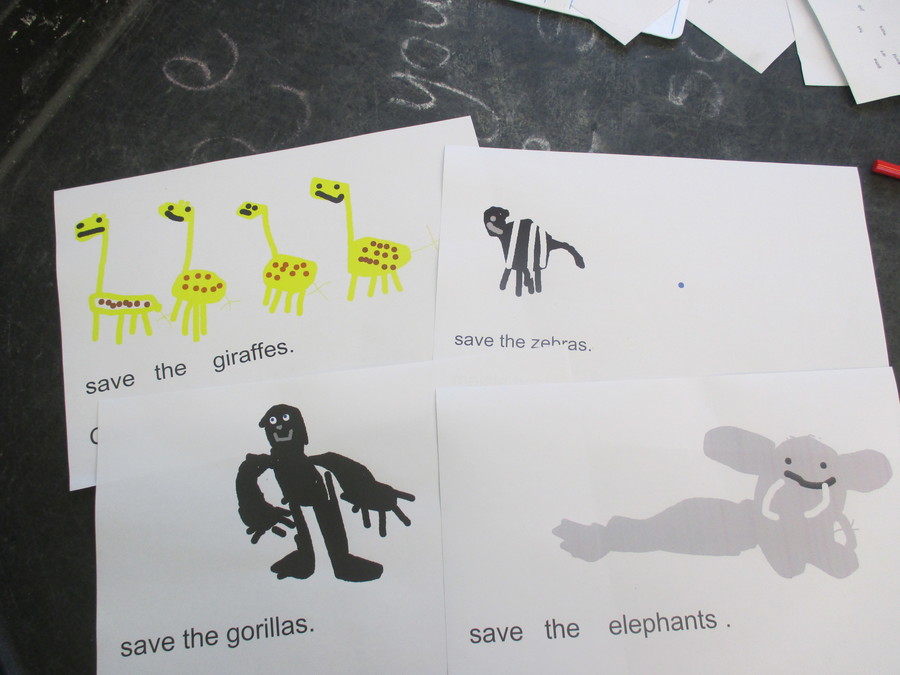 2nd February 2018
This weeks spellings are: said, says, are, were, was, is.
We dove down into the Ocean this week, learning all about the creatures in the sea! We imagined we were swimming in the Sunlit Zone, the Twilight Zone and the Midnight Zone. We had a look at all of the different Oceans in the world. We enjoyed making our own rainbow fish in the modelling area by weaving ribbons and pipe cleaners to be his scales, and we had another video emailed to us by Explorer Jim, where he gave us a few jobs to do! We are hoping to hear from him again soon.
In maths we have been looking at adding teen numbers to single digit numbers. We used the 'counting by adding ones' method.
15+4= ?
/ \ 5+4=9
10 5 10+9=19
This is a new way of doing addition that the children haven't seen before - and they need good number bonds to 10 knowledge. There are lots of great resources in the homework pack to help practise this at home. We are spending lots of our time in school trying to learn them as well.
In phonics we have been looking at sounds that share the same digraph. Such as ie - which is different sound in tie and in shield. So far we have looked at ie, u and ow.
Our value for this half term has been perseverance, so we are very proud of one of our Starfish who has been awarded with Driffy this week. Well done for persevering on your writing - keep it up!
We've got a brand new writing area where the children have templates to help them write stories, poems, books, cards, lists and post cards and we have seen some amazing independent writing being produced! This was a next step for lots of the children so we are very glad to see everyone challenging themselves.
Sadly, our class fish Bubbles passed away this week. We spent a bit of time talking about how this made us feel, and what we could do to feel better. Some of the children wrote lovely letters, and drew some great pictures of him. We are looking forward to getting some new fish next week.
26th January 2018
Spellings for the next few weeks are in the back of everyone's reading records. The first 6 spellings are: the, a, do, to, today, of. After the test on Friday, we will highlight ones that the children still could do with learning.
We started our new topic 'wings, fur and scales' this week, and we are excited to learn all about animals! We were emailed a video from Explorer Jim, who told us that he travels the world to find out about different animals and their habitats. Lots of the children chose to write him letters and ask him some questions in their independent learning time.. I wonder if we will hear from him again?
We have been looking at some of the different classifications of animals, such as mammals, reptiles, birds, fish and amphibians! Can anyone remember how we can tell what animal goes into each group?
On Wednesday we had a lovely trip to Tesco - where we were learning about food from all around the world. We were able try prawn crackers, poppadoms, different fruit, cheese and some hot cross buns. We were all very intrigued by one of the new vegetables that Tesco sell, Mooli. We were surprised at how wobbly it was, and said it almost felt like a banana, but looked like a white carrot.
In maths we have been looking at adding numbers to 20, and the different ways we can do it. It'd be really useful for you to be practicing your number bonds to 10 at home using some of the games in the homework pack! It's been great to see (and hear!) that the children are enjoying mathletics.
In phonics we have spent the week looking at all the split digraphs!
a_e e_e i_e o_e u_e.
They are sometimes a little tricky to find in words when we are reading - but can anyone spot any in their reading book this week?
19th January 2018
What a way to end our topic on 'Our School in the Past' than with Victorian day on Thursday. We came into school in the morning, to find the areas had gone, and the tables were in rows. We had a handwriting lesson using 'slate' (black sugar paper!) and chalk, and a maths lesson that involved lots of chanting. One of the lessons that used to be taught at this school, was an Object Lesson. This lesson involved children coming to the front, choosing an object and saying a fact about it, so we had a go ourselves! Girls and boys used to have separate lessons in the Victorian times, with the boys learning about manual activities, and the girls focused on domestic education. In the afternoon we had a 'girls' side of the room and a 'boys' side of the room. However, we decided that we all wanted to have a go at the different 'girls' and 'boys' activities, and we each had a go at making a cup-and-ball game, and drawing a flower in a vase.
In Phonics this week we have been looking at 'split digraph' sounds. We've looked at the 'a-e' 'i-e' and 'e-e' sounds. Can you find the split digraphs in these words?
cake, time, delete.
In Maths we are looking at 'teen numbers'. We've been using tens frames and numberlines to help us. We know that sometimes it is easier to group 10 objects, and then count on how many are left rather than counting from 1 every time!
The logins for Mathletics are now in the front of the red reading records. They have had a brief introduction to it on Friday, so feel free to explore it over the weekend!
Thank you everybody who took the time to come to parents evening, If you couldn't make it I will be in touch soon to find a time for us to get together to talk about your Starfish!
16th January 2018
We are really enjoying finding out about 'Our School in the Past'. We went on a mission around school today to find out what has changed since the 1800s. We first looked at a blueprint plan and a sketch of what the building was orignally like. We found that there are still fireplaces on the outside of the building, but blocked off on the inside as we don't use them any more. We have new windows, and even got rid of a door!
We can not wait for Victorian Day on Thursday to learn first hand what school used to be like for children.
Spellings and Bug Club notice.
Please find listed below the first spellings of 2018. This week's words are all numbers. We have been practising writing them during our maths sessions this week. Children will be tested on Thursday 18th of January.
1. one
2. two
3. three
4. four
5. five
6. six
7. seven
8. eight
9. nine
10. ten
Thank you for your continued support.
Every child's Bug Club has been updated with new exciting books to read. Bug Club is an excellent reading tool for you to use at home with your children, we sometimes use it at story time and all the children love it. Don't forget the login details are at the back of the reading record.
9th January 2018
Say hello to 'Bubbles'! He has come to live in Starfish class as our new pet! He is a bit shy, so we have to remember to be quiet in area time, so we don't scare him!
19th December 2017
Starfish have had so much fun at the Year One Christmas party.. Everybody dressed up in their best party clothes and looked fab! We played pass the parcel, musical bumps and a few other games.. and we danced a lot! Thank you for the snacks that were brought in, they were really yummy. We also had a surprise visit from Santa!!! He gave everyone an early Christmas present because we have been so good at school.
Not long to go now..!
15th December 2017
Thank you to all the parents who came to our Christmas Craft day today, we all had lots of glittery fun! The crafts look great and will be going home next week.
We had our 4th spelling test today, thank you for those of you who are revising them at home.
8th December 2017
Another busy week for the Starfish. We had our first KS1 practice in church for our Nativity, we are all really excited now we know our parts! We watched Foundation's Nativity, Shine Star Shine, and thought they were all very brave. We also walked down to the Christmas Tree Festival at Church this morning, and had a good look around at all the trees that had been decorated. We felt very proud to see the decorations that we had been working on the last couple of weeks on the Year 1 tree!
We have been looking at 2D and 3D shapes the last few weeks, and learning properties of shapes such as edges, sides faces, and vertices. You could have a look at objects in your home to see if you remember any of the 3D shape names?
In phonics we have been revising our new sounds. We have played some phonics games to help us remember them.
So far we have learned 'ay' (day) 'ue' (glue/issue) 'ou' (cloud) 'ie' (tie) 'ea' (sea) 'oy' (boy) 'ir' (girl) 'aw' (saw) 'wh' (when/who)
We have changed on of our PE days, and we now have PE on a Wednesday and a Thursday. If for whatever reason your child takes their PE kit home, please bring it back as soon as possible. We do ask for a named PE kit to be in school at all times. Also if you notice your child's feet growing, don't forget to bring in some new PE shoes! We have been having a few squashed toes recently.
1st December 2017
What better way to celebrate the countdown to Christmas than our trip to Hope Central for the Christmas Experience on Friday!
We travelled back in time where we met Mary and Joseph in Nazareth, we spoke to a wise man who was following a star to Bethlehem, and we saw a shepherd who was approached by an angel and told to go to a stable where God's son has been born.
The children all were completely enthralled by the story that was playing out in front of our eyes, and came away with a deeper understanding of the Christmas story.
Well done everybody for being so well behaved, and for listening and joining in so well!
21st November 2017
We have been looking at 'materials' in Science the last few weeks. We started by distinguishing between an object and the material from which it is made, and then we looked at properties of different materials, and we found out how the shapes of solid objects can be changed by squashing, bending, twisting and stretching. Today we looked at the suitability of different materials.. by seeing which would be the best one to protect an egg from breaking!
We split into 5 different teams - team bubblewrap, team cotton wool, team kitchen roll, team tin foil and team J-cloth!
But which material would be the best protector for the egg?
We predicted that the bubblewrap would be best.. however, it was one of the worst! The best protector was the tin foil! It saved 3 eggs, and 2 more were only slightly cracked.
17th November 2017
This week in maths we have been looking at subtraction. We have been learning some different methods to help us find the answer to a subtraction question! Can anyone remember any of the methods we have learned?
In phonics we have been looking at some new sounds (the 'ea' in 'cream' and the 'oy' in toy) and been playing some phonics games to practise reading them.
On Wednesday we had a really exciting trip to Tesco, where we had a look around the store to see what we might take on a Teddy Bears picnic, and even had a go at making some sandwiches ourselves! They were very yummy! Did you all enjoy the muesli you made?
Today was really exciting, as this morning we had a theatre group come in and perform Wind in the Willows. Do you recognise any of the actors in the photos below? I'm sure that horse looks familiar..!
This afternoon the whole school went on a wellie walk for Children in Need, thank you to everybody who donated!
10th November 2017
What a great first week back!
On Monday we had Carol Burton come in to tell us the story of 'A Chair for Baby Bear', which was really exciting! We all loved joining in with the actions!
On Thursday afternoon we went for a walk in the park to have a look at the seasonal changes - we went on a leaf hunt to find out what kinds of trees there are in the park! We also spent a bit of time in the Memorial Garden, thinking about people who have died in wars for our country. We have spent a lot of time in collective worship thinking about why people might wear a Poppy. Lots of the children were curious to know if they had a relative who fought in any of the wars.
Just a reminder that PE started this week, but several children hadn't bought back their PE kits! Please can we have them back in for the start of next week.
(Below are some photos of our first week back, but also some photos from the Welly Walk from before half term! We didn't let the rain get us down!!)
20th October 2017
Another great week in Starfish this week. In maths we have been looking at adding and subtracting, and in phonics we have been practicing our tricky words and looking at syllables. We also have been looking at properties of materials in Science, and we decided that the perfect teddy bear would be made from wool, and definitely not made from glass!
We have been reading lots of Paddington books in our story times for the last two weeks, and have really enjoyed all of his funny little adventures.
On Friday, we did a bit of drama, and acted out Goldilocks and the three bears! Miss Thompson, Mrs Lock and Miss Hackett think that we might be seeing some of the Starfish class on the West End in a few years time! Some brilliant (and brave) acting from all of the Starfish - well done!
6th October 2017
Starfish have really been enjoying our teddy bear topic so far, this week we have been reading the 'Old Bear' books by Jane Hissey. We made some 'lost' posters for Little Bear, and had a go at sequencing one of the stories. We were inspired by the book 'Jolly Snow' where the toys decorated the house to look snowy for winter - so we collected leaves from the playground to create our own work of art for the classroom based on Autumn.
Thank you to everyone who came to parents evening, it was lovely to properly meet and talk to you all. If you couldn't make parents evening we will try and find an time after school to have a chat about how your starfish is getting on!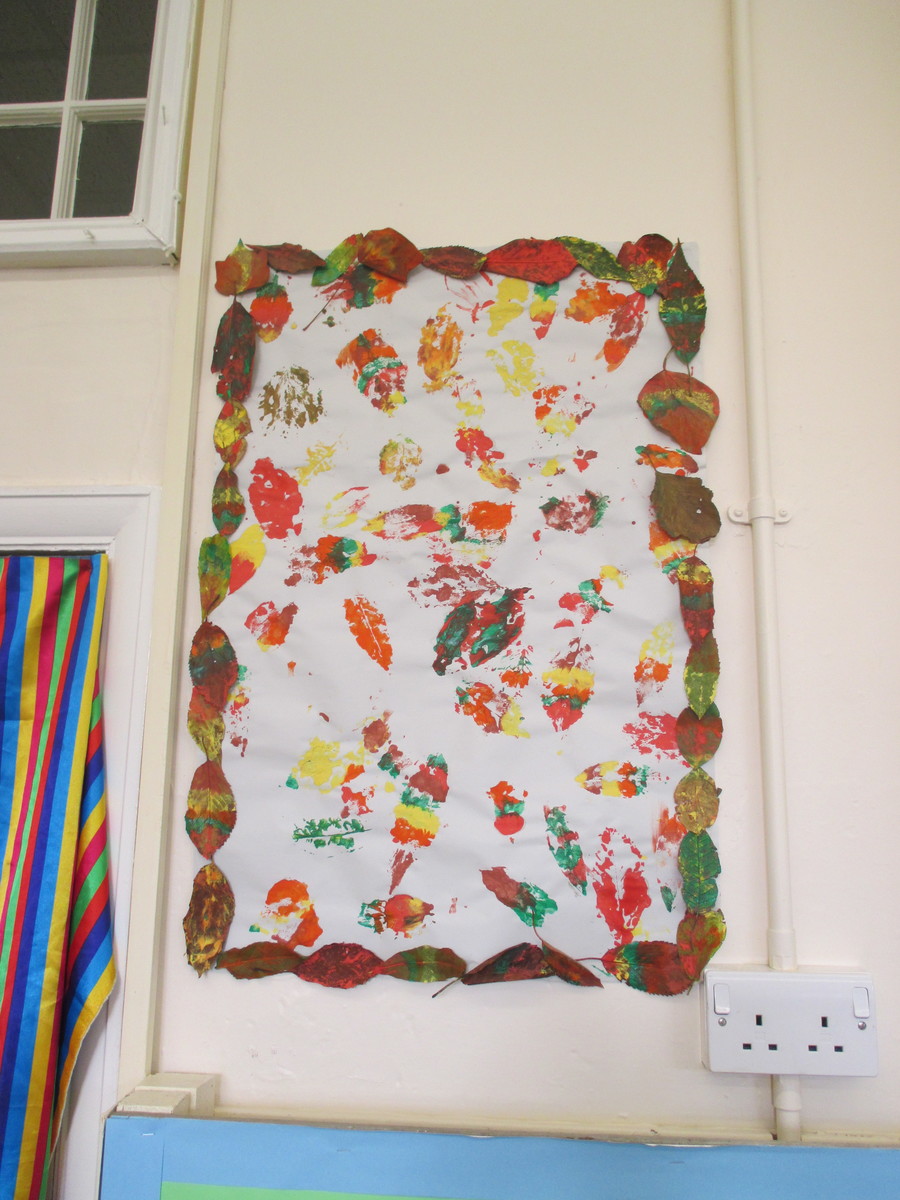 26th September 2017
We are really good at tidying up in Starfish Class, so you can imagine our surprise when we came inside after lunch to find our classroom a complete mess. We all became detectives for the afternoon.. and found clues such as porridge oats, honey and paw prints in the play-dough! We found a bag under a table.. and inside was Bobby Bear!
Bobby Bear has come to school to help the children learn all about Teddy Bears. He will be going home with a different child every night.. I wonder what adventures he will get up to!
21st September 2017
We all loved our trip to Elmswell Farm today! Farmer John took us for a tour around the farm, and even showed us the grain that they send off to the mill to make flour we use to make cake! All of us managed to fit into the scoop from a tractor - it was a bit of a squash and a squeeze... you can't even see all of us in the photograph! One of the highlights was looking at the cows in the field.. we learned that the cows horns point up, and a bulls horns point out. Can you see which one the bull is in the photo?
15th September 2017
What an exciting week we have had in Starfish! We are all enjoying learning about cake, and everybody loved making cakes on Tuesday - they were delicious! I wonder if anybody can remember how we made them? Next week we will be learning even more about cake, and we look forward for our families coming into our classroom on Friday and seeing what we have been doing (more information on that to follow!). Have a lovely weekend Starfish!
11th September 2017
After a week settling into our new Starfish classroom, the children are now excited to explore our class project 'cake!' over the next two weeks.
We change reading books on a Tuesday and Friday but this may not always be the case due to visitors in school or other timetabling issues. Please sign the record when you have heard your child read. If the record is not signed then we will assume that the book has not been read. In the front of the reading record there are the login details for Bug Club, where the children can access different books.
Our PE sessions are on Wednesday and Friday, but we would appreciate the named PE kit being in school all week in case of any extra sessions.
We love being creative in starfish class, so it would be useful to have materials that the children could bring in to go in the Modelling Area (such as empty card board boxes, plastic bottles etc). If you could spare anything that would be great!
FRIDAY 14th JULY
Only one week left ! The time is going too quickly! We have an action packed week next week with Sports Day, Open Evening, Driffield Show and our Leavers Service. No doubt time will fly next week as well, but we are really looking forward to an exciting last week of the term.
Monday 3rd July Starfish had a lovely day in Bridlington at the Little Big Sing. First we had a lovely time on the beach building sandcastles, becoming mermaids and having lots of fun.
After lunch we joined lots of schools to take part in singing some songs . I wonder what your favourite song was?
FRIDAY 30th JUNE
We really enjoyed being creative during our Art Day today. We tried sculpture, painting, collage and drawing. Watch out for some pictures next week!
W/C 19th June 2017
Another busy week in the areas and the classroom this week. The role play area has now become the Darlings bedroom from Peter Pan. We hope Peter Pan turns up soon.
June 16th 2107
This week we have been very busy in the areas exploring our own ideas from our topic work .
June 2107
We had a fantastic sunny visit to Elmswell . We enjoyed a lovely walk before heading back to the farm buildings for a play before lunch.
After lunch we split into two groups and continued with our compass and maps work from the week. We did some orienteering and made maps from natural objects. The children worked so well together.
May 26th 2017
Another busy week! We have been continuing with our Lighthouses models, we are looking forward to the collage part of the models after the holidays. We made buns on Wednesday following instructions in preparation for our picnic . On Thursday we went to the park to do some outdoor learning, we played a bee game and also looked for seasonal changes . Our last task was to find the biggest and the smallest leaves. We really enjoyed looking and comparing our leaves.
In the afternoon we made sandwiches to have a picnic in the front garden. We carried our picnic out in a basket like Mr &Mrs Grinling have in the Lighthouses Keepers lunch. We all had a great time!
Friday 19th May.
The Starfish had a brilliant time yesterday for Outdoor Learning Day. We used natural objects to create a story outside including ideas from the whole class. The story was so imaginative we have been busy writing them up this morning! We then spent the afternoon up at Kings Mill where we made artwork in the style of Andy Goldsworthy and some bunting decorated with natural materials. Making the bunting was really fun but we had to be very careful using the hammer!
Friday 12th May.
We have started to make our lighthouses this week. Thank you to everyone who sent in tubes to helps us make them.The mod roc is very messy , but fun.
HAPPY EASTER FROM US ALL!!!!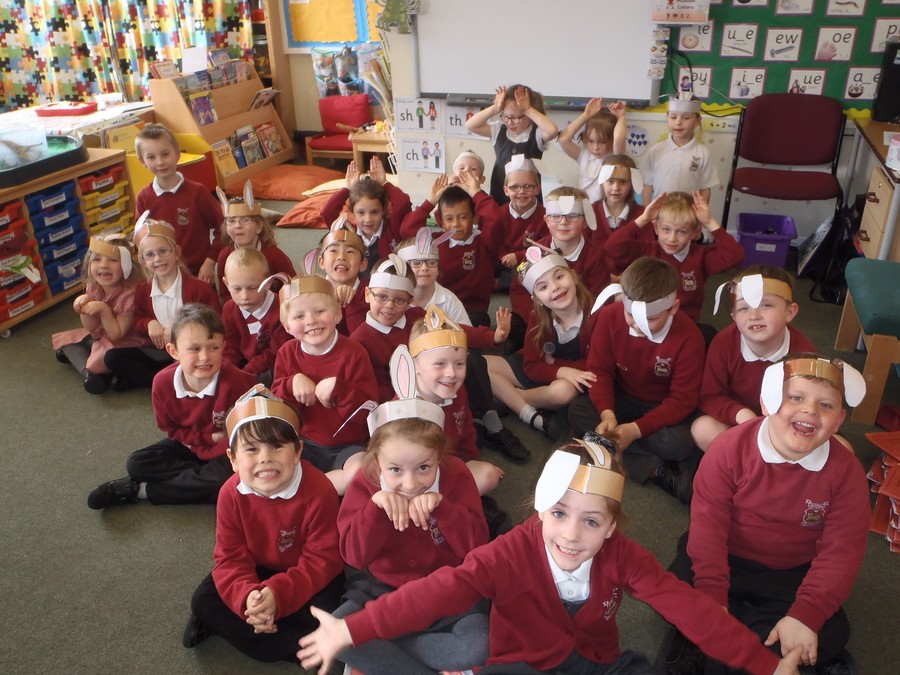 A few pictures from the Easter Experience on Tuesday inside the church. We all learned the meaning of Easter through activities. We can't wait till Thursday when we are outside the church.
We had a wonderful time at Elmswell Farm-even if we did get wet in the morning!! Have a look at our classroom window to spot some of the art work we did in the afternoon.
Happy Red Nose Day!!
We had a really good day with lots of fun. We also thought about all the people who are not as lucky as us and we are glad that the money we raised will go to help them.
We really enjoyed the lovely weather this week! The Starfish class have been busy making bird feeders for the front garden.
FRIDAY 10th MARCH
We had a brilliant time making pizzas with Mrs Edeson this week. Our classroom had a delicious smell in it all day!
W/C 13th February 2017
We think we need a holiday!!!!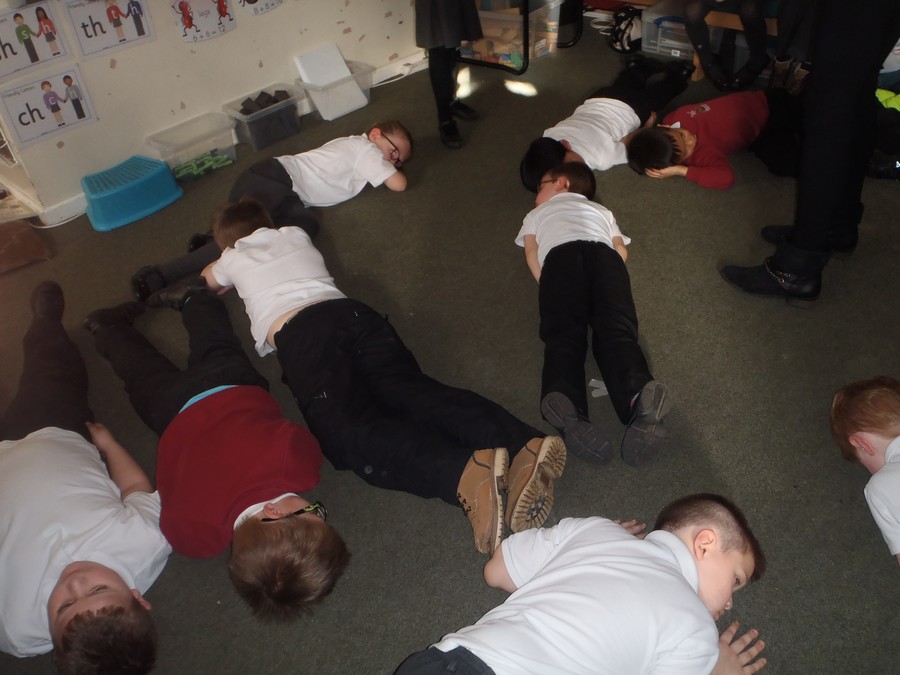 W/C 6th February 2017
What a busy week we have had ! First we found the role play area had changed into the ocean. In the ocean there are lots of fish and jellyfish to swim with. There is also a shark in there too. We have some snorkels so we can explore the ocean bed.
In numeracy this week we have been learning all about 3 D shapes, we have looked at how many faces they have and if they are curved or flat faces.
On Thursday we went with Dolphins and Turtles to The Deep. We had a lovely trip . We saw lots of different types of fish and learnt all about their habitat.
W/C 30th January 2017
This week in Starfish we have started to look at the different oceans and seas around the world. In the play-dough area there are sea creatures in green/blue sea. We had great fun playing in this this week ! Lots of mums and dads joined us for maths this week. We enjoyed showing them how we do our maths and enjoy it. We are all looking forward to our trip to the Deep next Thursday.
W/C 23rd January
We have had a lovely week learning all about Chinese New Year. We have had fun in the new role play area .Terrance brought some Chinese candy for us all to share.
Starfish have been busy this week in science sorting different animals into groups! Then we had a go at painting and making a collage of our own animals ready for Chinese New Year!
We have had a busy week in Starfish class! As part of our geography work we have started to find out about the polar regions of the world. It's looking pretty chilly in our classroom!
A very Happy New Year to you all! We look forward to sharing our news with you this year. Watch out for some photos next week of our role play area- it's looking pretty cold in there!
We have had another busy week in the Starfish class! Our visit to Hope Central in Malton really brought the Christmas story to life, it was an amazing experience.
We loved visiting the Christmas tree festival in the parish church on Friday. What a lot of beautiful trees!
We had a lot of fun making reindeers in the classroom this week. They smelt of chocolate because there was cocoa powder in the playdough mix!
Christmas has arrived in the Starfish class! We are enjoying being in the stable at Bethlehem.
We enjoyed playing Snakes and Ladders this week! What a shame there was a snake on the top line, it caught a few people out when they thought they were going to win!!
What a busy week we have had! Lots of measuring ,thinking about left and right,then Children in Need Day. On Friday we had a party. This was our treat for having the most lining up cards last half term.
We have had a busy week investigating materials. Miss Cousins took us on a materials hunt outside. Then we sorted materials and talked about their properties when we were in the classroom.
Happy Diwali! We had a wonderful time on Thursday learning about Hindu customs and listening to the story of Rama and Sita. Do you recognise anybody here?
17th October 2016
Wow, what a busy week Starfish have had .We have been learning about place value in maths. We have also written some traditional stories using adjectives.On Thursday we went to church to watch the year two Starfish in the production of The Enormous Turnip before heading out on our Welly Walk . We also visited Tesco. We were lucky to be able to make some a bread and look at different fruit and vegetables.
Thursday 13 th October 2016 Trip to Scarborough Castle.
Starfish set off to visit Scarborough Castle. We had great fun looking at the ruins of the castle. Mrs Jackson and her team of soldiers set off to win the castle back from the enemy. Fun was had by all even though the weather was not very kind to us.
Starfish trip to Elmswell Farm October 4th 2016
It was a lovely sunny October day when we visited Elmswell Farm. Farmer John took us on a long Autumn walk ,showing us the signs of Autumn. We visited Boswell and the all the other cows. We looked at the signs of autumnal change in the leaves and plants. We headed back for our lunch through the fields and enjoyed our lunch outside.
Had an exciting week this week learning all about castles. We have been enjoying acting out in our role play castle. Looking forward to our trip to Elmswell next week.
What a busy first week we have had!
We have had a great time exploring the areas and getting to know our new classroom.
Starfish 2016 - 2017
------------------------------------------------
We had a brilliant day on Monday when we went to the beach! We were joined by the lifeguards and were able to give them £100 which we raised from our bun sale.
Our Tesco ladies visited us this week and made some delicious treats for us!
We were lucky with the weather at Elmswell and had a wonderful day walking in the fresh air.
Little Big Sing, Beach and Tesco visit.
Year 1 enjoyed their trip to The R.N.L.I and asked lots of questions. The outfit was a bit big and heavy too. The weather was kind to us which meant we could go to the beach and show off our building skills. Hope it is as nice next week when we go to Elmswell and the week after for Little Big Sing.
We had a wonderful time last Friday celebrating the Queen's birthday. The Horse looked fantastic in the church with all the flowers around it.
Hope the weather is kind to us on Friday for the BBQ! We hope to see you all.
This week we are looking at the story of Grace Darling. Next Wednesday we are going to the lifeboat station at Bridlington to look at a real lifeboat.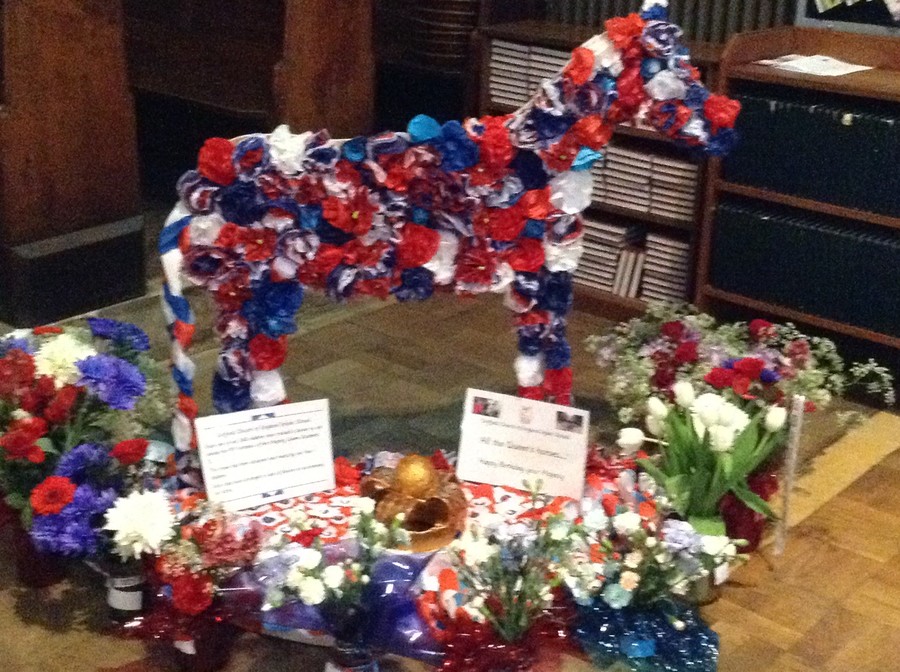 We have had a busy first week back!
We have all made a flower to decorate the horse which is on show at All Saints Church for the Flower Festival this weekend. Also we had our Sports Day on Wednesday which all the children enjoyed. They did very well! Then in the afternoon on Wednesday Mr Steele took us for P.E so we are all very fit.
The children are looking forward to our Queen's party on Friday, we will put some photos on next week.
Thursday 26th May 2016 We made Fruit Kebab Swords.
On Friday we went to the park to look at the changes on the trees also to identify trees by their leaves.
YES it was the boat that was missing from the "Seascape in the style of Vincent Van Gogh" the children enjoyed doing these and they are now hanging in our classroom. Think we could have some budding artists in Starfish.
Starfish once again have been working hard, we have done the second part of our "Seascape in the style of Vincent Van Gogh" and am looking forward to finishing it next week - can you see what is missing?
In Clic we have been looking at "fact families"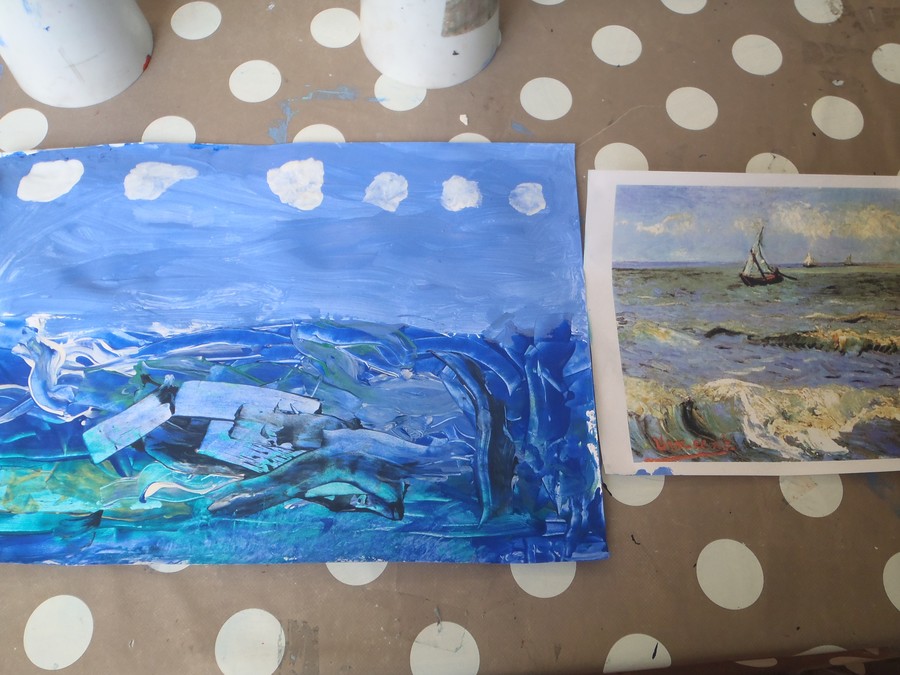 We have had another busy week, Mrs Edeson helped usto make buns. We had to measure out the ingredients. It was hard work but worth it as we got to eat them at the end.
We have also been learning how to do division/sharing using playdough.
Finally we have started to create our own "Seascape in the style of Vincent Van Gogh". For the the sea we used a glue spatula rather than a brush. Watch out for the finished pictures next week.
SHIVER ME TIMBERS!
We all had a Jolly time on Pirate Day.
Carol came and we sang some pirate songs also she told us a story about a pirate with her puppets.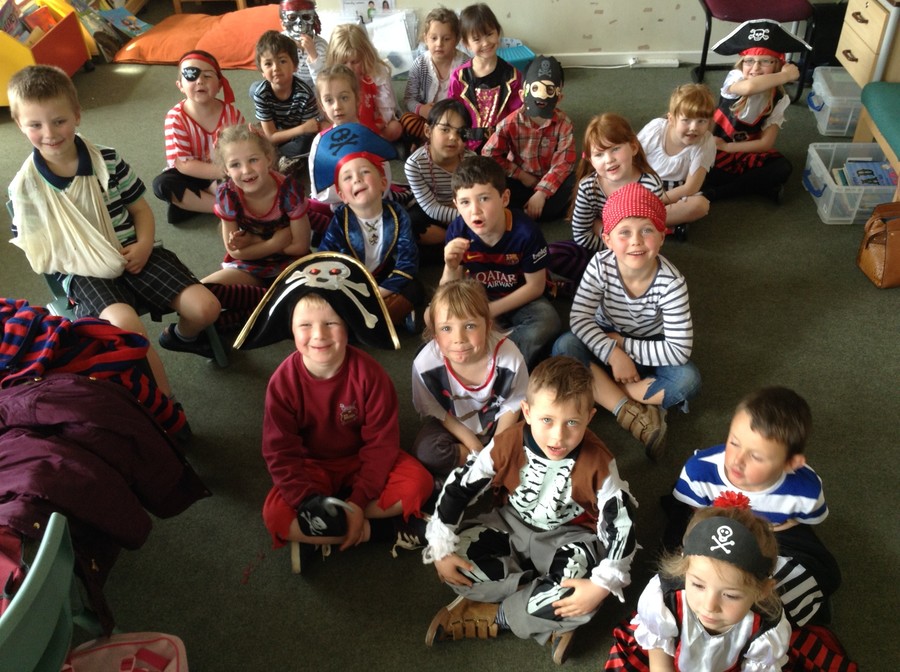 We have had another busy week! We baked Oaty Biscuits on Friday, they were delicious! We were so excited to come into school on Monday and discover that we have our own pirate ship in the classroom.