This page is no longer updated weekly with photos but if you wish to see what we have been doing then please visit the Year Two information page as this is were you will see just how busy we are!
11.9.17
We have had a great first week back from the holidays and I am really impressed at how hard the children (and families) have worked on the Robin Project.
Thank you for sharing your holidays with us in the form of the holiday bags - the children have loved looking at each others.
Have a great Summer everyone and enjoy Year Three.
7.7.17
No spellings or homework this week. Please spend the time learning your lines and songs for the play.
Thank you
The Robins have had a great time at Elmswell Farm with Farmer John. We talked about how the animals fit in to the food chains, we saw a huge trout and lots of interesting bugs. We enjoyed our picnic lunch outside on the lawns (under the shade of the trees) then spent the afternoon creating arty masterpieces.
Thank you for such a lovely day children.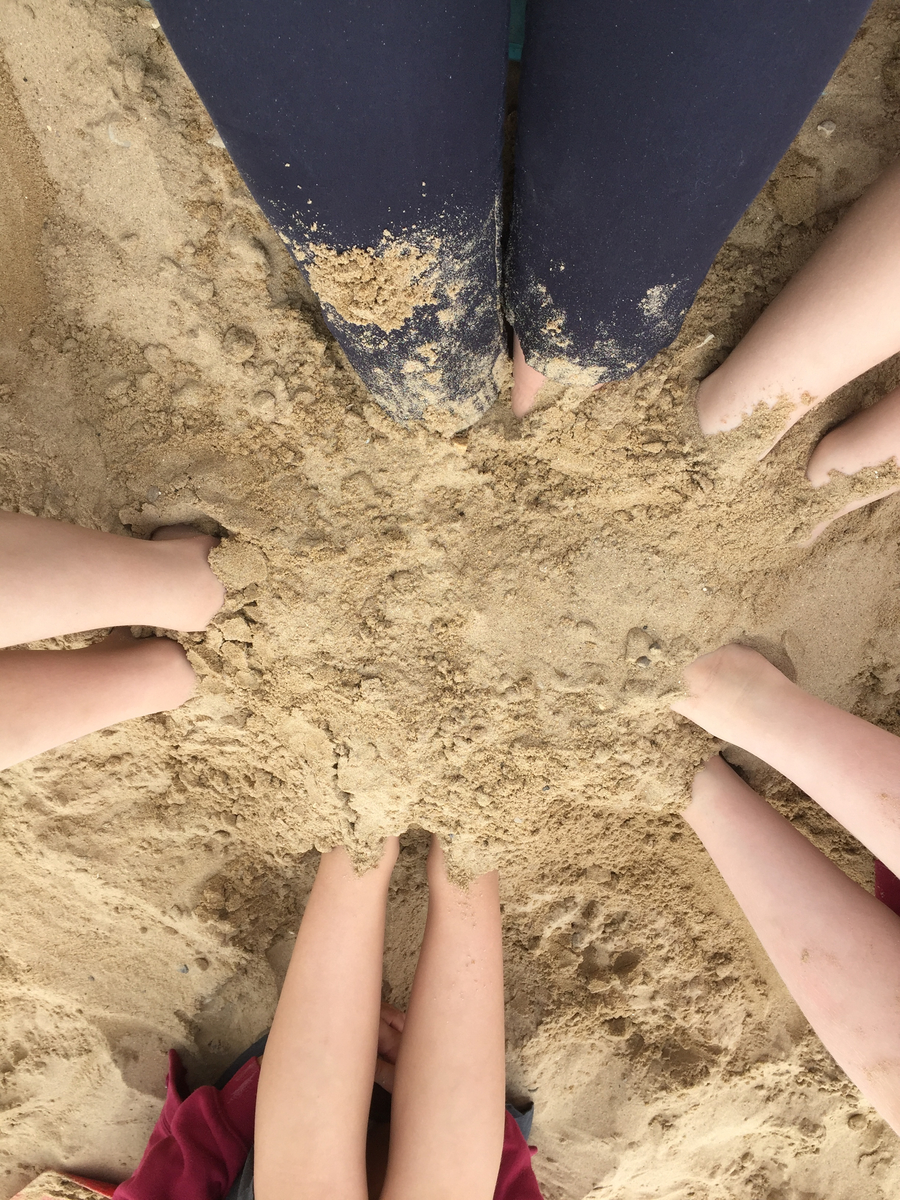 4th July
we had a fantastic time in Bridlington- digging and building and singing and dancing featured highly during the day.
22nd June
This week we have been having lots of fun reading poetry. We have also written our own poems and reviewed poems we have read. We have read poetry by lots of authors. we REALLY enjoyed 'Please Mrs Butler' by Allan Ahlberg and 'On the Ning Nang Nong by Spike Milligan.
Lots of the children enjoyed 'please Mrs Butler' because it has a funny teacher in it!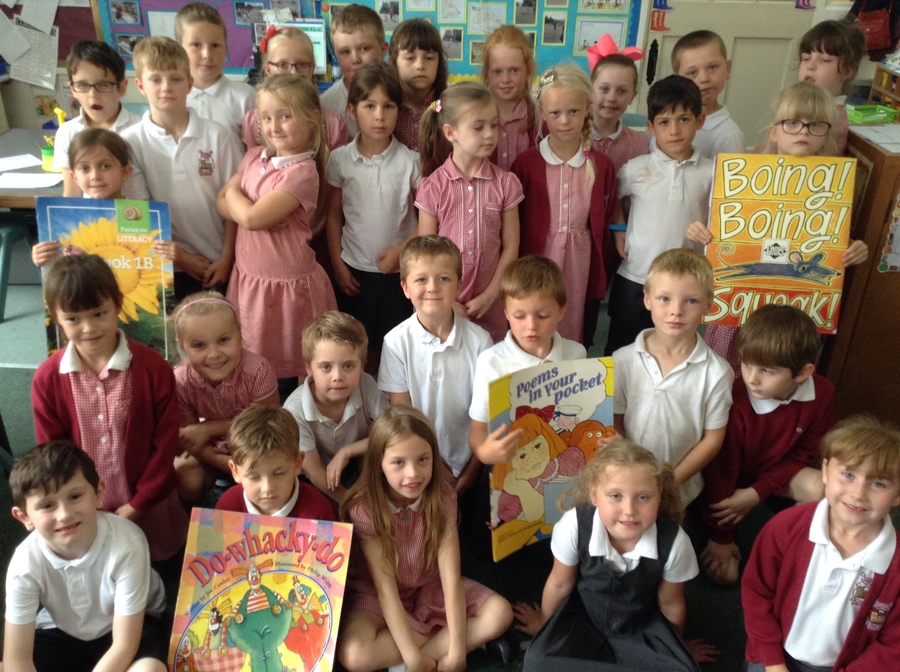 8.6.17
Welcome back!
We have got straight back to working hard, so the rest must have done you all good.
We have been looking at different kinds of trees as part of our science topic this week, when you are out and about ask your child to tell you what they know. We have also been working hard with our hand writing as we are keen to enter some of it in to Driffield Show. Mrs K brought some sweets back from Corfu so we enjoyed them (not all of them) and described and identified the flavours in them! We have also done lots more things of course.
We are looking forward to our visit to The Junior School next week.
Here are some photos of us at Kings Mill Woods.
26.5.17
What a fantastic week we have had!
Well done to all of the children, they have all worked really hard these last two weeks completing the SATs for reading and maths
I hope you all have a lovely half term break and that the children come back rested for an exciting term ahead.
I haven't set any Maths Homework but have sent spellings as normal. Please enjoy hearing your child read the additional reading books I have sent home.
Homework champions for the term have been awarded a certificate and prize, so well done to them.
19.5.17
The Year Two children have had a great week demonstrating just what fantastic readers they are. We are really proud of how hard they are working.
National Outdoor Classroom Day was enjoyed by all and the children were able to demonstrate lots of different skills.
Thank you for the continued support with home reading, spellings and maths work, we really appreciate it.
12.5.17
We have had another busy week in the Robin Class.
We have been working hard adding two two digit numbers together, perhaps this is something you could have a go at at home.
We have written some fantastic friendship poems, some of which are on the Facebook page.
The large scale mechano was used this week as part of our outdoor provision and the children worked really well making life sized go-karts out of it!
Have a lovely weekend.
4.5.17
The children have worked really hard this week and I am really proud of the work they have produced. We have been looking at making amounts with coins and reading a scale on a jug (or similar) both of these activities could be carried out at home in a practical sense.
Try giving your child a challenge such as:
How many ways can you make 35p using only silver coins?
What is the least amount of coins needed to make £2.39?
If you had 89p in your purse which 7 coins might you have?
Can you make 25p using only copper coins?
The children were so excited to find themselves in the position of making some Dragon nests to hatch the Dragons eggs that we were given. The purpose of the task was for the children to use subordinating conjunctions to link two parts of a sentence. Fortunately everyone followed the instructions and made nests which hatched Dragons.
27.4.17
Welcome back everyone!
What a fantastic week to come back to! (Not the weather though!)
We have been looking at the route the Tour de Yorkshire is taking and we can't wait to see the riders as they come past.
We loved designing the obstacle course for our very own Tour de Yorkshire... however some of our designs were a little bit adventurous! We re evaluated and came up with something more suitable. Below are some of the photos showing how much fun we had.
Today we have worked hard as newspaper reporters and have started to write articles for our own newspaper advertising what a great place Driffield is to live and visit. The children came up with lots of suggestions about why visiting Driffield is a must do... some are listed below.
Jessica age 6 - Driffield has fantastic schools with great teachers.
Ellie - Mae - lovely, pretty gardens
George 6, - Riverhead is beautiful, has lots of ducks and some colourful boats.
Katie 7 - Driffield has at least 5 parks so children can play.
Mrs Basson 51 - Driffield is The Capital of the Wolds creating trade between Driffield and Hull.
Sam - Driffield has a skate park for everyone to use
Lily - It has a Sports Centre so people can train and it means they can ride bikes really fast.
Mrs Kettlewell 33 - Driffield is home to the countries largest One Day Agricultural Show.
When the newspapers are finished we will be displaying them in school.
5.4.17 We had such fun using the natural things we brought from home to create our own version of the crosses on the hill. We enjoyed exploring the Easter story using the Church grounds and look forward to Thursday when we will explore other elements using the inside of the Church.
We had a fantastic time creating some natural art at Elmswell Farm and below are some photographs of our creations. We were lucky enough to see lots of signs of Spring in such a beautiful setting with our tour guide Farmer John. Excitingly we were also able to meet Lila, the newest addition to Johns Farm, the calf born the day before our visit.
23.3.17
We have had such a fun week this week and are really looking forward to Comic Relief in the morning... don't forget to wear something red or funny! The children had a great time at Hope Central today experiencing the Easter Story with the help of Lucy and her fantastic team.
Our maths this week has been focusing around two and three step word problems - so see if you can help your child out by asking them some questions for them to work out.
An example would be:
Tim had 12 red crayons.
Dan had 3 less red crayons than Tim.
Joe had 6 more crayons than Dan had.
How many crayons did the boys have altogether?
We have been looking at suffixes and prefixes in my phonic group this week, so as you are reading your books investigate how many prefixes and suffixes you can find and discuss what they do to words. As some of the children go to Mrs Cunningham for phonics they have been doing slightly different things and they have been focusing on reading comprehension. This is something that you can help with at home too.
Homework will go out tomorrow (and spelling test and book change will take place then too!)
I hope you have a lovely weekend.
18.3.17
We have said goodbye to Miss Skelhon this week (but she plans to come back to do some work for her dissertation so we will be seeing her again! The children and staff will really miss her and I know she will miss us too.
Following on from our Science and Geography work we have had a fantastic time at Flamingo Land and learnt such a lot about different animals and the habitats they need to survive. Well done to Sammy who could answer lots of the questions James our leader at Flamingo Land asked us.
This weeks maths has been focussing on arrays for multiplication and algebra (or missing number) the children have done really well and have tried hard to solve some tricky number problems. A big thank you to all of the parents who are supporting the homework at home, it really makes a difference to the children and the learning and they are always really proud to bring it and show me. ActiveLearn is also well used by the children in school, so make use of this resource at home if you can.
We are looking forward to our upcoming trips over the next couple of weeks.
Enjoy your weekend Robins.
12.3.17
The Robin class have been working very hard this week looking at the seven continents of the world and making an information booklet to share our knowledge with other people. In science we have been having lots of fun looking at different forces and how these impact the world around us.
Miss Skelhon has been very impressed with how much effort has been going into their maths work this week where we have been looking at two step multiplication problems.
We have some very exciting things to look forward to next week including Flamingo Land and an ice experiment!
5.3.17
We had a fantastic day celebrating World Book Day in The Robin Class and it was great so see the children so passionate and enthusiastic about reading and how much they enjoy it.
Well done to the children who entered the Potato Competition, all of the entries are on display in the classroom.
2.3.17
We have had a lovely week back at school after our break and have worked really hard. We have explored the real meaning behind Lent and Ash Wednesday and enjoyed thinking about positive changes we could make over the next forty days.
Well done to everyone who has completed the first piece of homework already (the SPAG homework was sent out as an additional at the request of some of the children, as always I appreciate the support from home, but if you haven't done it please don't worry.)
If you could encourage your child to tell the time at home that would be really useful and for them to make links between which things happen at certain times, i.e what time is it now? What time do you go to bed? How long until we leave the house? We are using both an analogue and a digital clock in school.
I am looking forward to seeing what the children come dressed as for World Book Day tomorrow.
27.2.17
Welcome back!
I hope you have all had a lovely half term holiday. We have been really busy today re writing the story of The Little Red Riding Hood, we walked through school grounds imagining we were in the forest on the way to Grannys house!
This afternoon we did some investigations about forces... we are becoming proper little scientists and making predictions about what we think might happen.
We are looking forward to Shrove Tuesday where we will be making pancakes while learning about why we have Shrove Tuesday and Ash Wednesday.
17.2.17
We have had another great week but are ready for a break now.
This afternoon was really fun and informative, we used the fire pit to cook bananas with chocolate and toast marshmallows... which we thoroughly enjoyed eating!
Well done to all children who completed every piece of homework this half term, they have proudly taken home a prize and a certificate, they are:
Joshua,
Dylan,
Logan,
Benjamin,
Tilly,
Sammy,
Alexa
Bethany,
Izzy,
Ruby,
Bailey,
George,
Jessica,
Elliot,
Amber and
Ellie-May
Well done all.
10.2.17
We have had another busy week in the Robin Class and can't believe that we are approaching another half term. In maths this week we have been adding two two digit numbers together, looking at real life problems and working with fractions. At home it would be good if you could do some work with your child linked to fraction. I.e with a packets or raisins, 'We have 20 raisins in the packet and we need to share them equally between 4 people, how many does each person get?' then look at how 20 divided by four is the same as quartering a shape or number.
We have invited Becky and Di from Tesco to come in next week and they are going to do some work with us linked to our topic. We are going to look at how we can use fire to cook on (similar to when we were explores) We always have a fantastic time when they come in to school (and we know they thoroughly enjoy it too!)
Well done to everyone who has completed the homework this half term, we have lots of people on track for a prize, so well done.
Thank you for your continued support.
8.2.17
The children took part in our internet safety day and helped Dotty the Superwoman to solve some cases!
We learnt lots on how to keep ourselves safe on the internet; ask your child for tips on keeping safe online.
Miss Skelhon is really proud of the children working so hard in maths. Keep it up! Jessica, Katie and Alexa were all very close in estimating amounts of objects, they were not easy!
We are looking forward to maths this week where we will be looking at doubling and halving numbers.
Well done to the children who scored a personal best in this weeks spelling test.
It was nice to see so many Mums and Dads in this week and last week for the maths sessions, we have listened to suggestions and will be offering the option of coming in to school to see a SPaG/Phonics lesson.
We enjoyed recreating The Great Fire of London and we were shocked at how quickly the fire spread.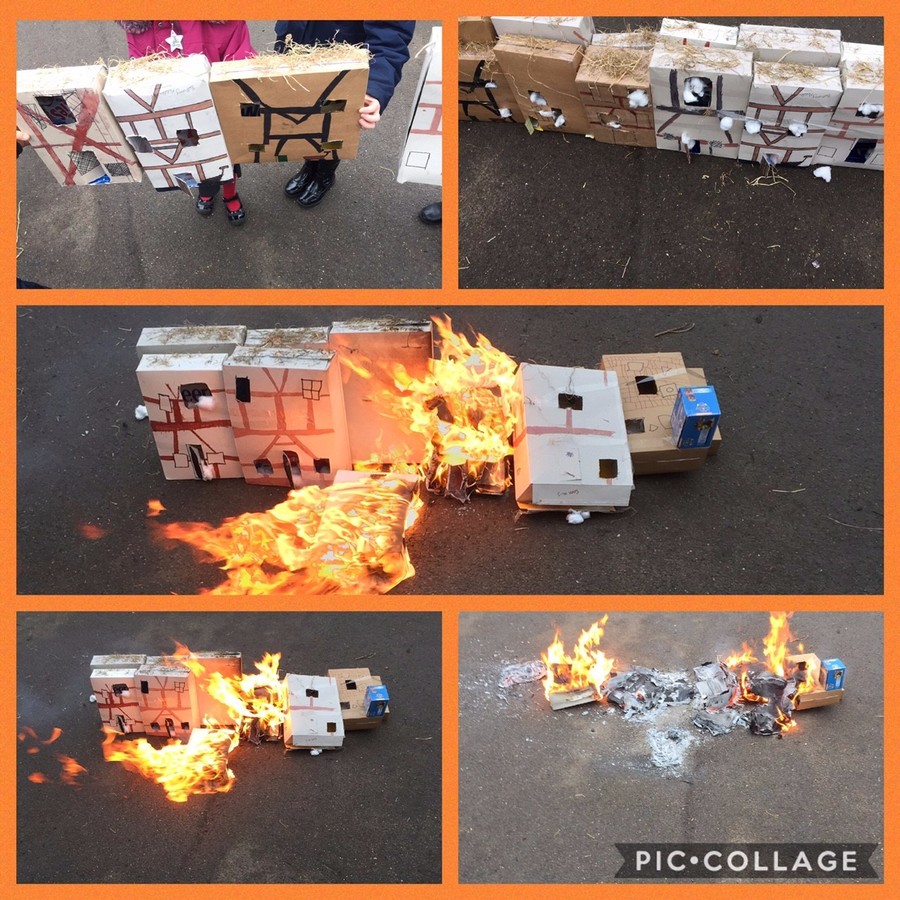 The scooter training was enjoyed by everyone who did it and I am so proud of them. The instructors said how well behaved and sensible they were. They showed that they could all safety navigate through the cones and stop and start as instructed. From the scooter training some of the children are famous, appearing in the local paper!
Well done children.
Here are some of the photos as promised from us finding the time capsule!
Some of the Robin's helped YEAST act out the story of The Good Samaritan in collective worship this morning. During the story we explored the importance of saying thank you to people who help.
Mrs Basson, Miss Skelhon and myself are really proud of the children and how dedicated lots of them are to completing homework. Keep it up!
Thank you to all who came to Parents Evening, it is lovely to see so many of you and I really value the support you offer.
Well done to Ruby and Sophia who featured in Rev Colins modern day version of the Good Samaritan; ask your child to re-tell you the story!
We are looking forward to the scooter training next week and will take lots of photos to show what we have been up to!
Wow! The children were so excited this morning to discover a time capsule in the school grounds which appears to have been planted by Samuel Pepys... a man we know very little about but he seems to have left some clues for us so we are going to see what we can find out abut him and why he is an important man. Any research done at home would be useful and could be shared with the rest of the class.
Well done to everyone who is completing homework - it is lovely to see it come flooding in to school.
Welcome back to everyone - I hope everyone had a lovely Christmas and New Year - I certainly did! Old Robbie and New Robbie had a fantastic time in the New York on the surpirse trip they went on over the holiday with myself and Tim.
I hope everyone is ready for an exciting term ahead, we have trips planned for Elmswell, Flamingo Land, Tesco so far!
We had a fantastic time at the Tree Festival at All Saints Church
We had a fantastic time exploring the Christmas Story
We have been busy making Christmas crafts
We have been using the Bibles which were kindly bought for us by The Friends of School.
We thoroughly enjoyed watching The Jungle Book.
We enjoyed Mrs K's Birthday buns!
This week I have asked the children to contribute to the website:
We have been doing lots - Sammy
We have learnt about Bullying and why it is not nice - Ava.
We have joined Choir!- Lexi
We have had our first singing session at Choir - Bethany
We have been learning about Friendship - Alfie
We have been learning about Diwali - George.
We have come dressed in spots for Pudsey Bear - Amber.
Another busy week has gone by!
I am am so pleased with how hard the children are working, they are trying really hard and it is like they have been year twos forever! Amber and Joshua helped Mrs Chapman today as they were interviewed as part of the Pupils Voice.
William was awarded Patch the Praise Puppy as Mrs Jackson was so taken with his kindness. I had a lovely time on the golden table with Lily today who was a great role model to the younger children. Sam Crooks has written a fantastic poem which was recognised as so and shared in achievement worship this morning.
Have a lovely weekend.
We have had a lovely week exploring why people celebrate Diwali. Ask your child to tell you the story of Rama and Sita and why people light Diwa lamps. The children were very lucky to take part in workshops which I am sure they can tell you all about (photographs to follow.)
We are very much looking forward to Collective Worship on Monday which is about Remembrance Day.
The children in the Robin class were thrilled to have been awarded the party for last half term for the best class at lining up. A letter about this will follow with details on.
Wow! We are at the end of the first half term of Year Two and what a half term it has been! We have built fires, made shelters, drawn maps, mixed colours with powder paint to name but a few new skills acquired!
We are so proud of how well the children did in Church and how quickly they learnt the lines they were given!
Thank you to everyone who came on our Welly Walk - we had a great time as you can see below.
Our collective worship went well on Monday when we explored the value of friendship for the rest of the school. The children planned and delivered it, even choosing who sat where and which music we should include!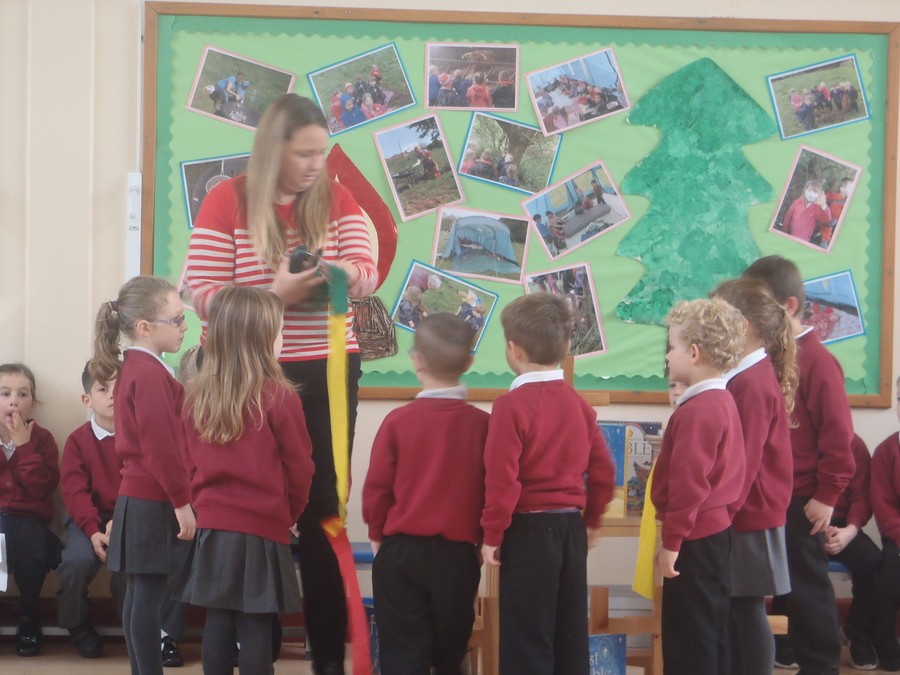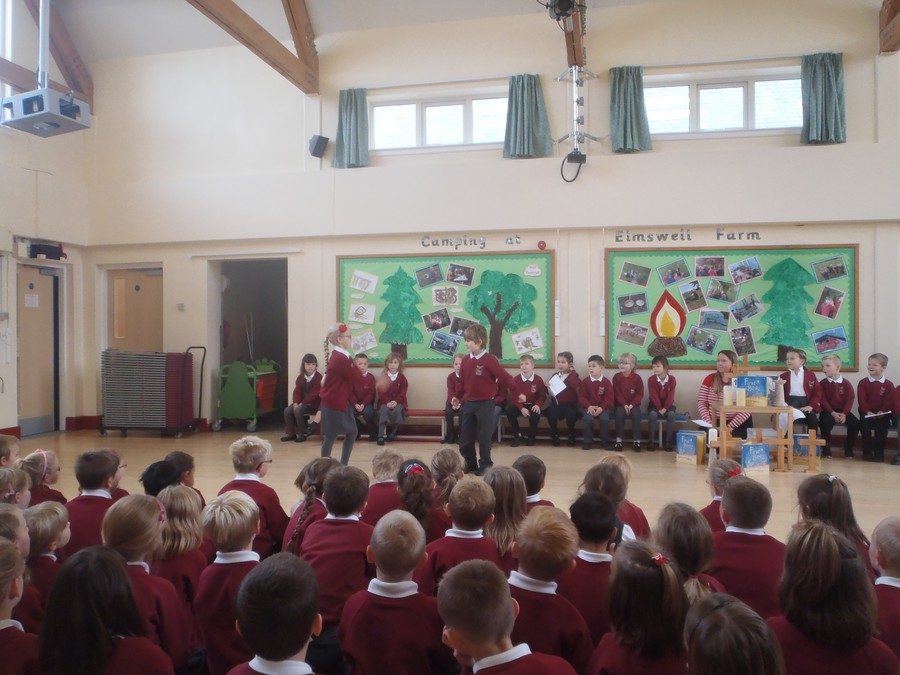 Wow! What a week we have had! We are all back from our expedition where we real explorers for the day... we lit fires, built shelters and cooked food! (We did cheat a little bit and use Farmer Johns hob in the school room to heat the milk for the hot chocolate!)The rehearsals are going well for The Enormous Turnip and we look forward to seeing you all there.
I have been really impressed with the children in the class and just how well they are doing with reading but it is so important that they read books at home too - so please ensure you are hearing your child regularly and record it in the red home school book.
Below you will find the photographs from Sewerby (where we met up with Toby the penguin while we were there) We did lots in the education rooms upstairs but we were so busy we didn't take many pictures!
You are also able to view some of the photos from Elmswell Farm.
We have had another busy week in the Robin Class, Robbie's Dairy has been shared (and both Robbie's are busy busy as ever!)
We have enjoyed our time at Tesco where we learnt about what food would be good to take on an expedition to give us lots of energy.
We were fortunate to be invited to the Junior School Multi Skills event on Wednesday where we had a great time learning new skills and improving on our existing ones.
We are looking forward to our trip to Sewerby tomorrow where we will learn about Amy Johnson.
Our Numeracy this week has focused around numbers and place value.... we had a disaster as all of the numbers had fallen off our interactive whiteboard 100 square so we had to work really hard putting them back on again!
Wow! What a great day we have all had at the Olympic Multi-Skills event this morning ....... we enjoyed it even more when we were crowned winners!
Here are some photos of our first Y2 PE lesson - we really enjoyed it!
I'm impressed with the children's attitude to learning, I know that some of them have found the jump a little tricky but they have all come in to school smiling and positive for the day ahead.
Your support at home is very much welcomed and appreciated - please keep an eye on the website and for homework coming home in book bags. Regular reading really helps too, whether it be the book sent home from school or one you read from home or the library.
We can't believe that we have completed our first week in Year Two already!
We have done SPAG, PE, CLIC, Maths, group writing etc etc! We know that we are going to have to work really hard in Year Two but we have lots of exciting things already planned including a visit to Tesco, Elmswell Farm and Sewerby Hall!
Keep an eye on this page for news and photos.
.................................................................................................................................................................
Robins 2015 - 2016
Have a lovely summer and I hope you are looking forward to your Year Three journey.
What a lovely last couple of weeks we have had – we are so lucky to have gone on some fantastic trips. We enjoyed the beach and our performance at The Little Big Sing, then later on in the week we went to Elmswell Farm where we were fortunate to have yet more sunshine and the opportunity to explore such amazing surroundings. This week has seen our visit to East Park in Hull where we let off steam and looked at the different types of animals.
Wow! Where is this half term going!
We have been busy enjoying ourselves and working hard.
We have competed in Sports Day (it was lovely to see so many people joining us) and watched the Year Three Sports Day too.
Later this week we will send out the parts for the end of year performance - so please look out for these in book bags.
Photos to be uploaded when Mrs K can get the web site to work!
This week we finally got to build our mini-beast hotels. We have been planning these for a few weeks. Our work has included creating our own designs for the hotels, taking part in mini-beast hunts around the school grounds, finding out facts about mini-beasts, making up mini-beast riddles and writing invitations to come and stay at the hotels!
We built different types of mini-beast hotel. Some were for bees who like staying in high-up hotels, others were on the ground in dark shady places - perfect for spiders and woodlice to cosy-up in. We also built some mixed-hotels out of plastic bottles to attract many more mini-beasts. We hope that lots of mini-beasts come to visit.
On Tuesday we spent some time at the cricket ground as a reward for all our hard work this half-term. We had ice-creams and made up some racing games. These included an obstacle course as well as playing bean-bag tag, and we even practised our quarter and half-turns from maths by following a trail of cones.
Well done to the Footballers, you were all fantastic. It was lovely to see team work as well as good football skills. You all worked so hard.
We have been down to the Cricket Ground in preparation for Sports Day and had a few practices of the races. We hope that lots of you can watch us and cheer us on!
The children have worked really hard this week on some special challenges we have had to complete and I am really proud of them all.
This coming week we are building our Bug Hotels in the front garden (in the wild area at the end) we hope it encourages lots of minibeasts to come and stay! We have lots of things planned for the week, including our Multi-skills festival on Thursday and our afternoon out on Tuesday afternoon (we may go to the park or the cricket ground, or even Kings Mill, we've not decided yet!)
We have thoroughly enjoyed planning our Bug Hotels this week (and writing a piece of persuasive writing to invite the bugs to come and stay at our newly designed hotels!)
Mr Steele is working us hard in PE and the Footballers had a great time down at he Cricket Ground with Mrs K, Mrs Simpson, Miss Jibson and Gav working on some football skills and drills in preparation for Mondays Tournament.