18th May 2017
On the only warm and sunny day of the entire week all the children in FS went to Kingsmill wood to see how much it had changed since their last visit in March. They looked at the different leaves and flowers and also to see the various water birds by the stream. The Badgers went to see the tree they looked at in March and were amazed by the change. A great time was had by all.
23rd March 2017
This week the Badgers went to Kingsmill and had a brilliant time. The focus was to look for signs of Spring, listen to different birds and explore the area. The children found lots of different holes in the ground and discussed what kids of animal would live in the size of hole. They visited the ducks and swans and saw that the swan has a condition called "angel wing" caused by eating bread. Next time they visit the class will take frozen peas. The robin that comes to see Mrs.J every Wednesday also popped down to say hello. The Hedgehog class will visit next week.
16th March 2017
The Squirrel class went to Kingsmill woods today for the first time. Everyone was very excited and put on their wellies and waterproofs. The children were looking for signs of Spring and also a focus on listening to the bird songs. The badger class will be going next week.
7th - 11th November 2016
We are very lucky in that we can access a local farm called Elmswell. It is situated just outside Little Driffield. It is privately owned and Farmer John welcomes children onto his farm for the purposes of science, bio diversity and what is grown in our local area. Every class visits once a term so they can see changes in nature, start to learn the names of various plants, trees and animals. He has a super classroom to use as well. The children have taken part in drama and art activities and it really enhances the curriculum.
This is the first time FS have visited. They had a tour of the area and saw the crops Farmer John grows and visited his herd of Highland cattle and the famous Boswell the bull. In the afternoon they listened to the story "Stick Man" and went on a hunt of Stick Man numbers and also found sticks to make their own Stick Man. They also explored the streams which have trout growing in them. Every class had a fabulous time - and all came back very tired.
22nd February 2016
It was the turn of the Badger class to visit the woods this week. A very chilly morning made the adventure even more exciting! The ground was hard and frosty, every leaf and cobweb was silver and sparkling. The poor daffodils looked a bit cold.The children were very curious about the fallen tree and explored by looking inside and climbing on top of it. It gave the children an opportunity to talk about things and places, sharing time with different children in their class.
8th February 2016
The second Squirrel group went to visit the woodland this week. The sun was shining and the swans came to have a look at what the children were up to! The daffodils are in full bloom and the buds are starting to come out on some of the trees.
25th January 2016
The Squirrels have launched our return to our Forest School activities. The children were really excited to find out just how much the woodland had changed since their visit in the Autumn!
They could not believe their eyes when they got to the clearing and saw a large tree had been blown down in the storms. They also discovered that some daffodils were flowering in January!
4th June 2015
All FS went to Kingsmill this week to do some environmental art, look at the changing season and observe the different insects around.
In the Forest School area we found a surprising little visitor!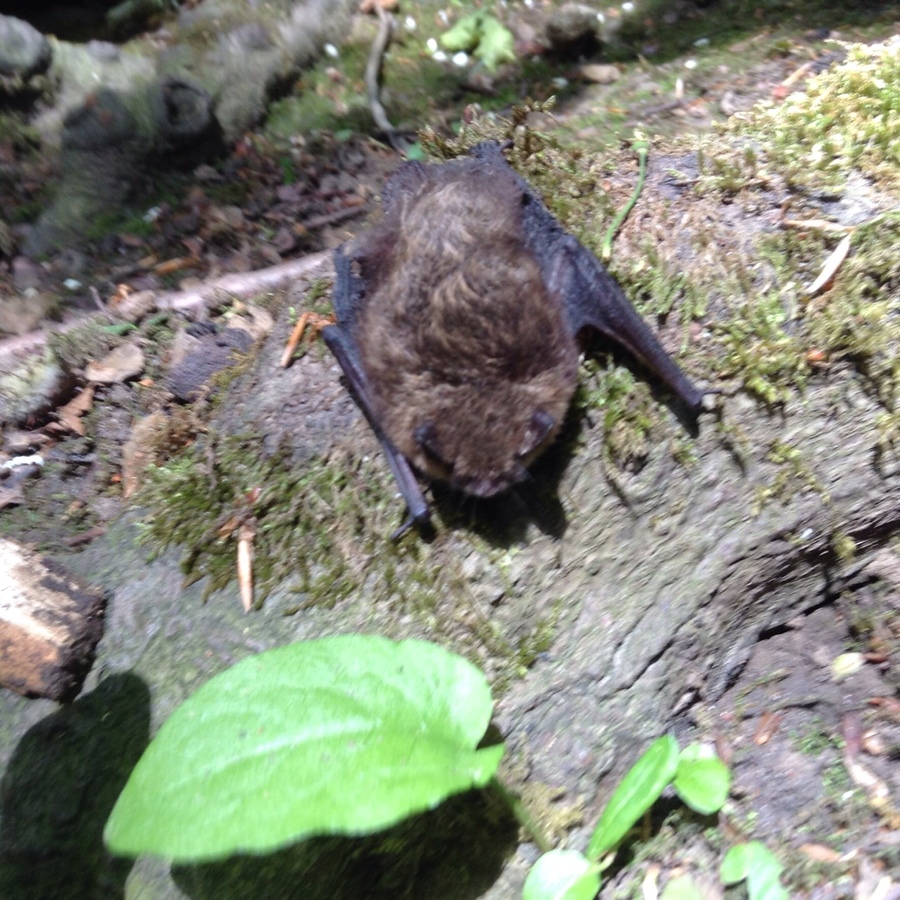 We all carefully had a little look at it. Mrs.P says they cant fly up from the floor and it would have to crawl up a tree to take off. Some people were more intrigued than others, but we are certainly lucky to get so close to observe such an animal.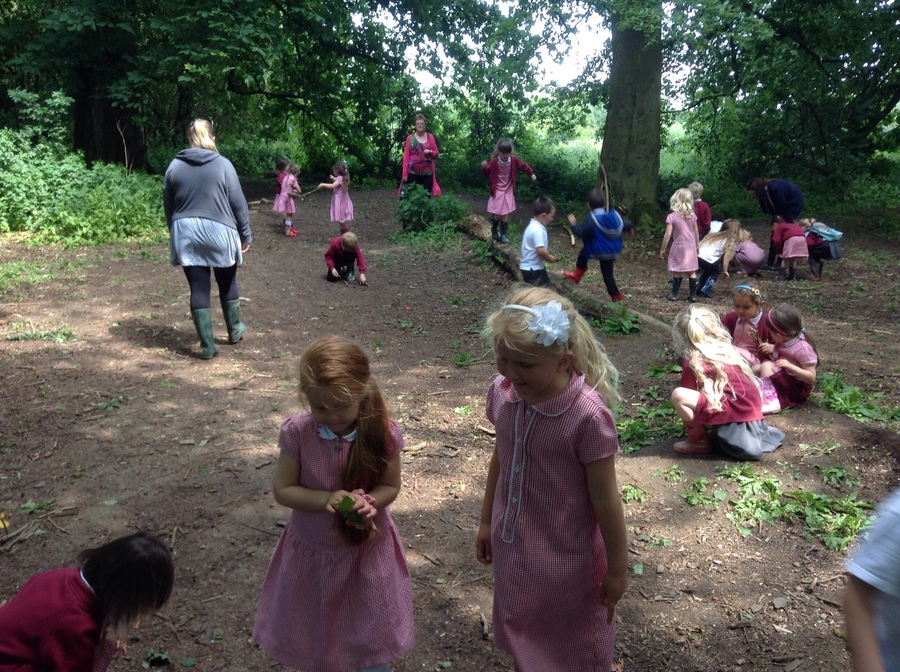 We had a walk across the bridges and watched the different types of birds that were in the water. We saw ducks, swans and geese - nobody fell in!!
Our final task was to use Pooters to hunt for insects and observe what we had caught. The meadow area was full of flowers such as buttercups and even orchids!
March 25th 2015
Today was a slightly different visit to the forest school as each class went in turn and did some Easter based activities. The activities included waving branches just as the people did to welcome Jesus into Jerusalem.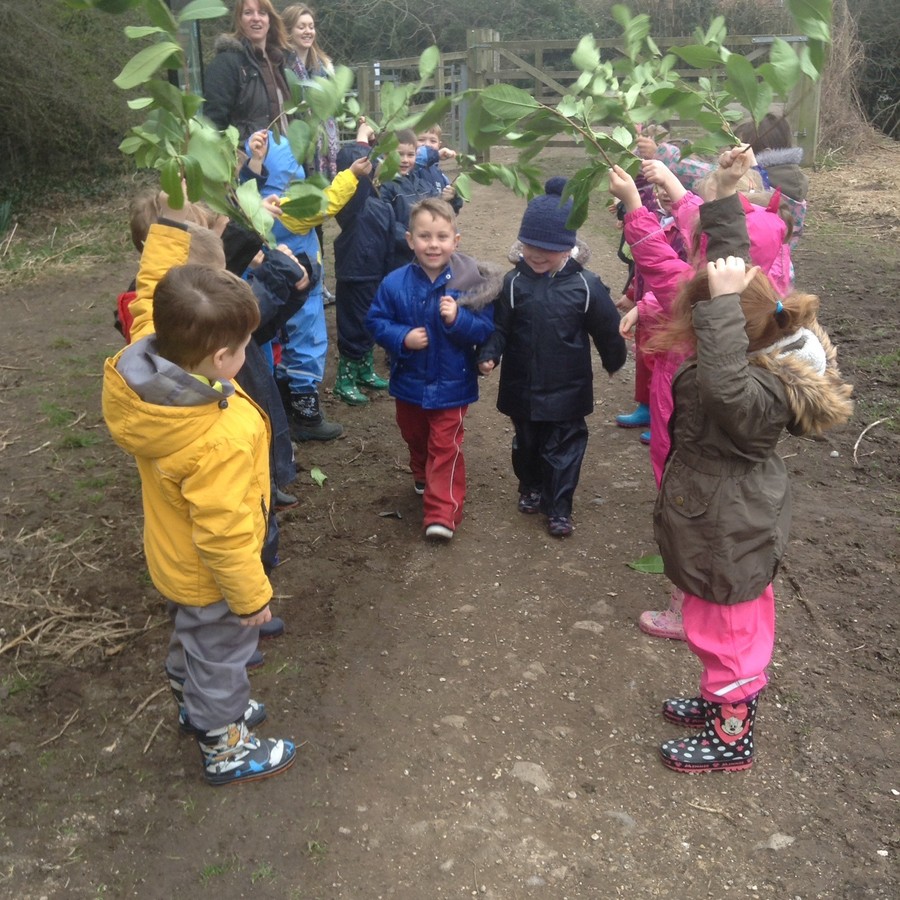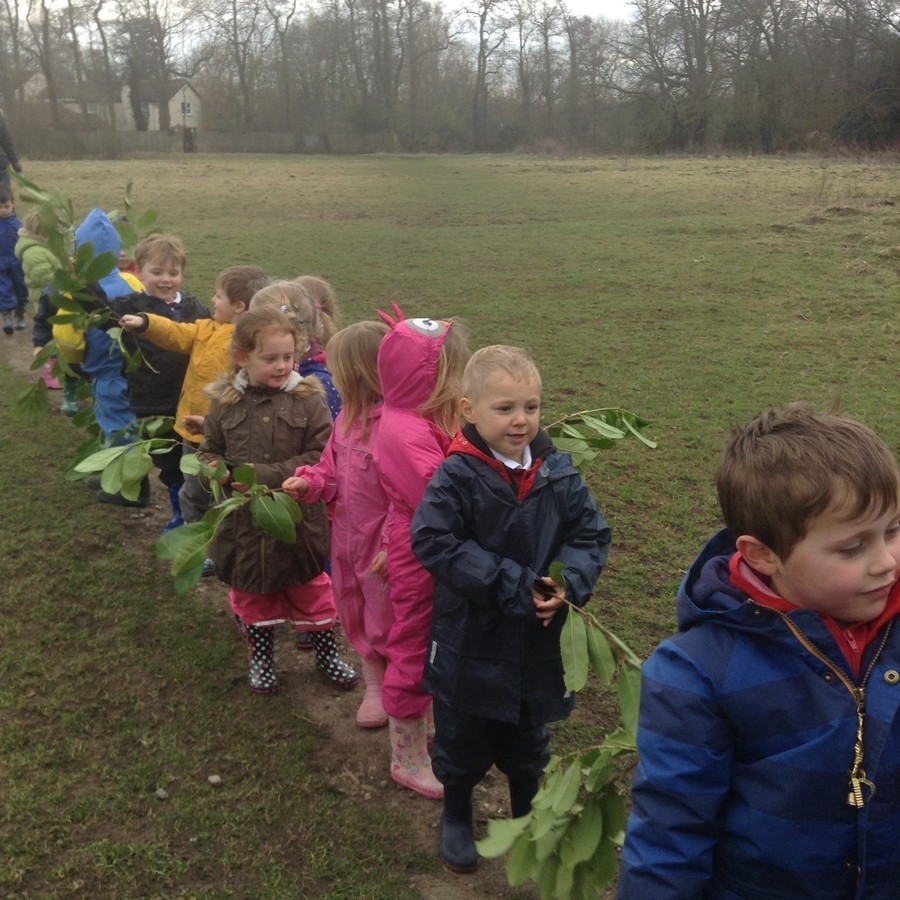 We used natural materials to make a cross.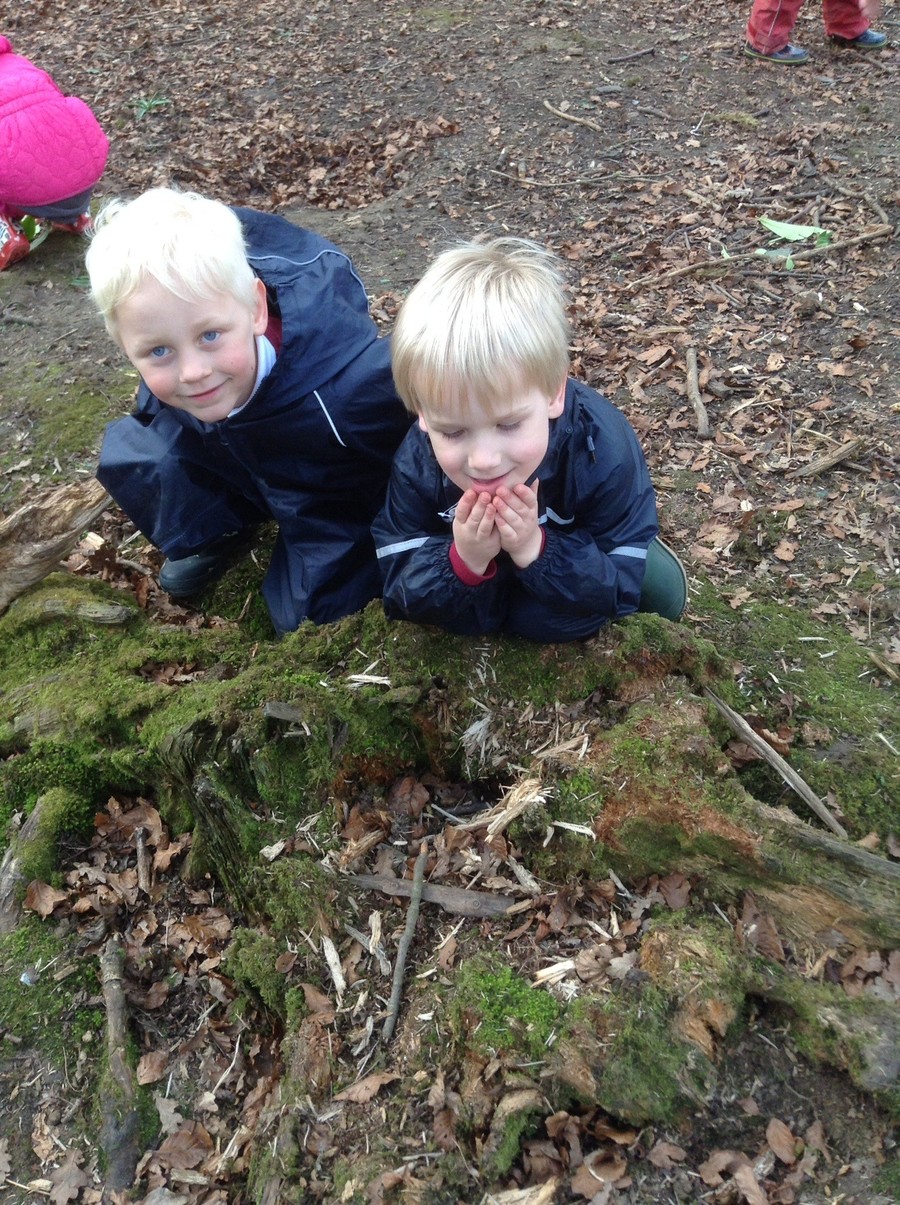 And of course - we ended with an Easter egg hunt!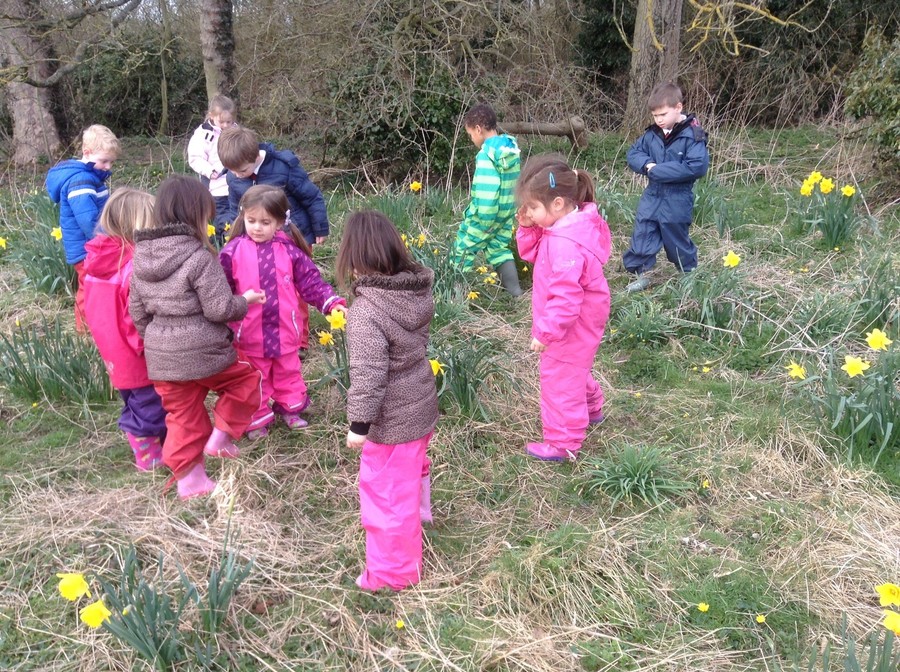 Here are some more wonderful images of the day in the woods.
March 17th 2015
The Squirrels headed off to the woods today. There were signs of spring everywhere!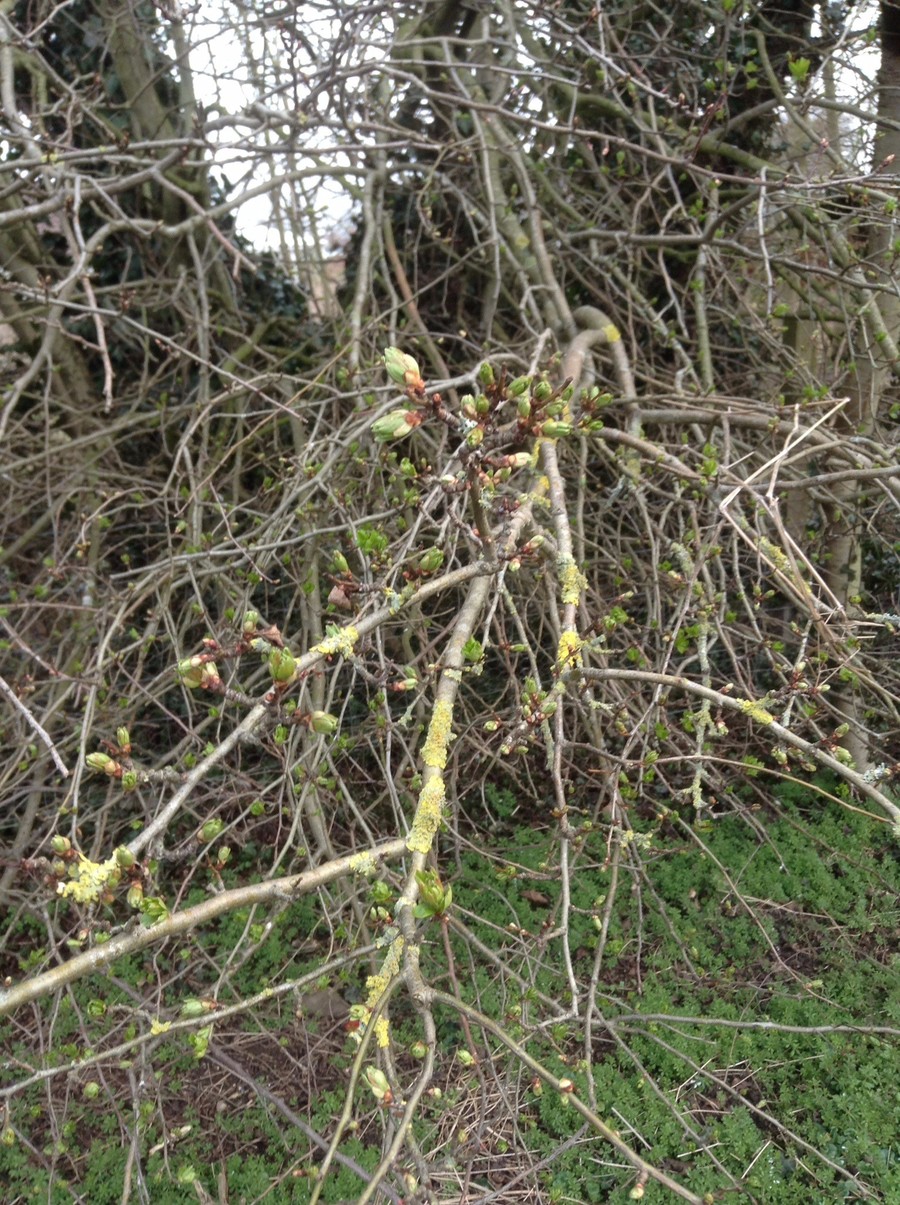 The children had to make a little home for a woodland creature. Some worked in pairs and others chose to work alone.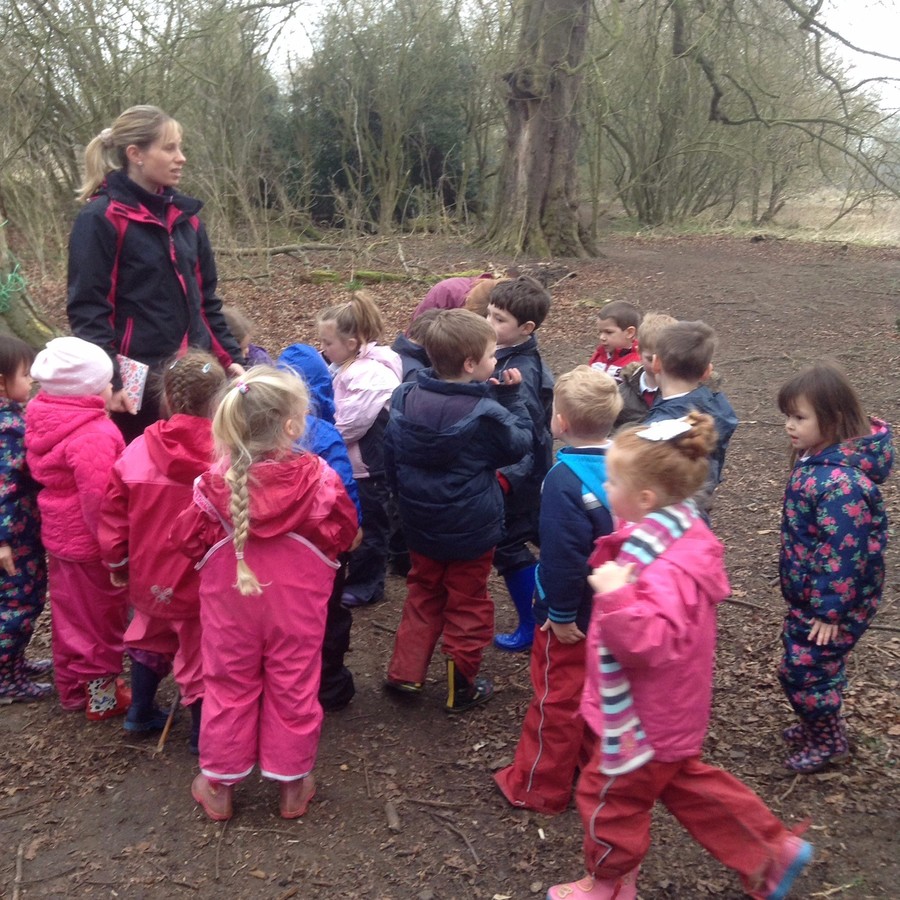 There is always time for a quick game of hide and seek!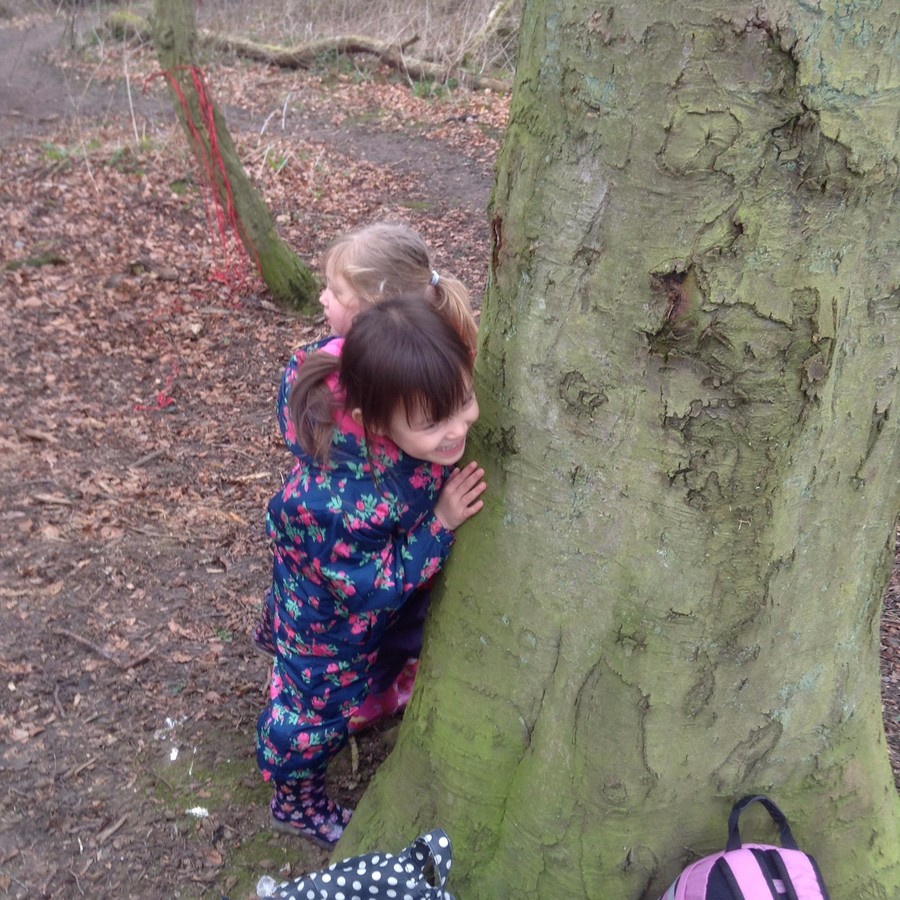 After a fun packed morning its always a pleasure to sit down with a snack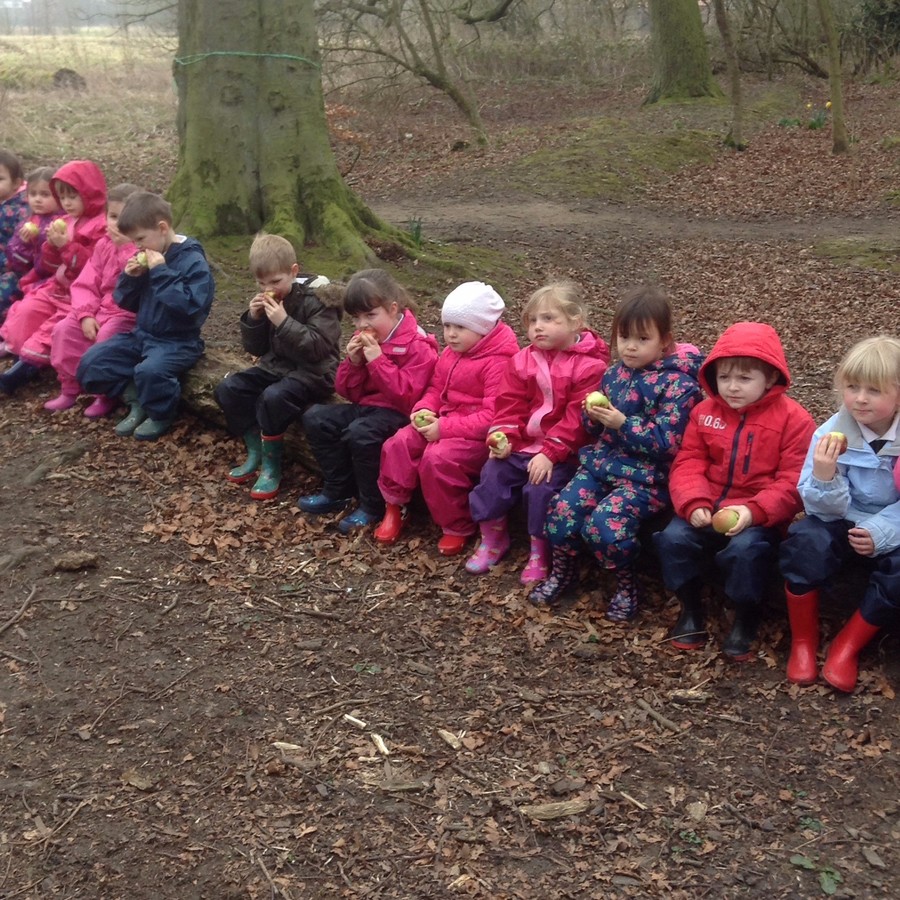 We would love the children to be able to stay longer in the wood for each session and many have asked if they can eat their lunch down there. Unfortunately we have no toilet facilities - if any parents have a genius plan please let us know.
On Monday all three classes will be in the woods at some stage as part of our Easter celebrations.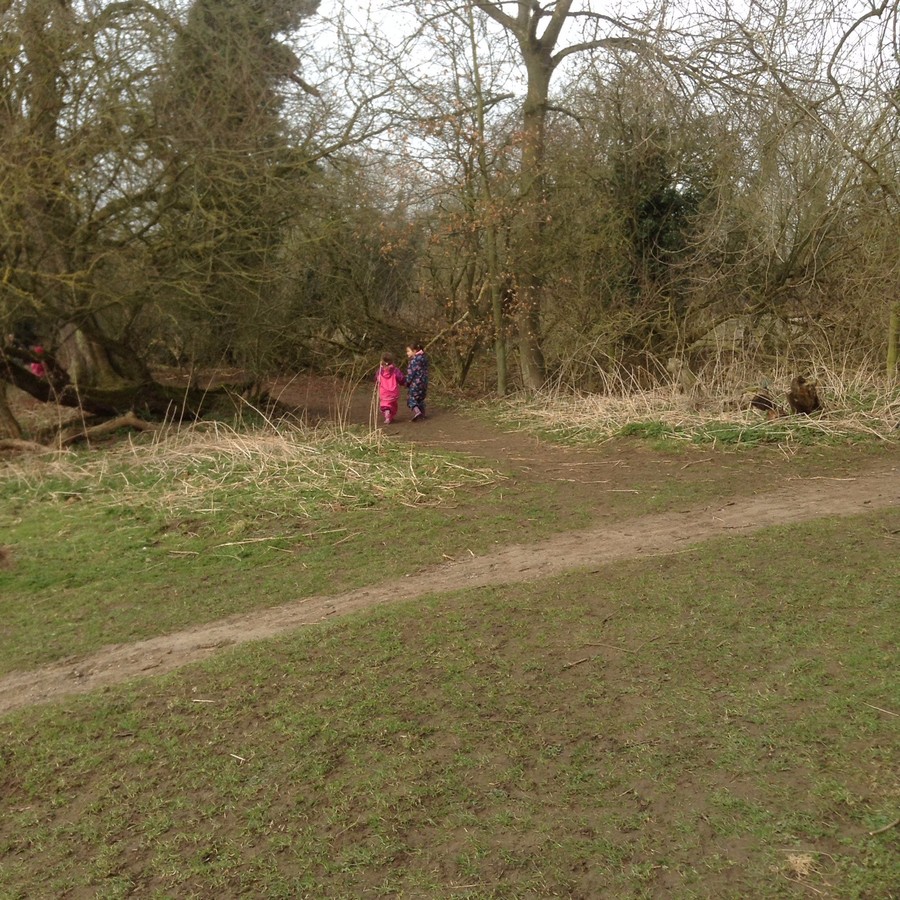 March 3rd 2015
The Badgers went to the Forest school today. It was a lovely sunny spring day but we still wrapped up warm.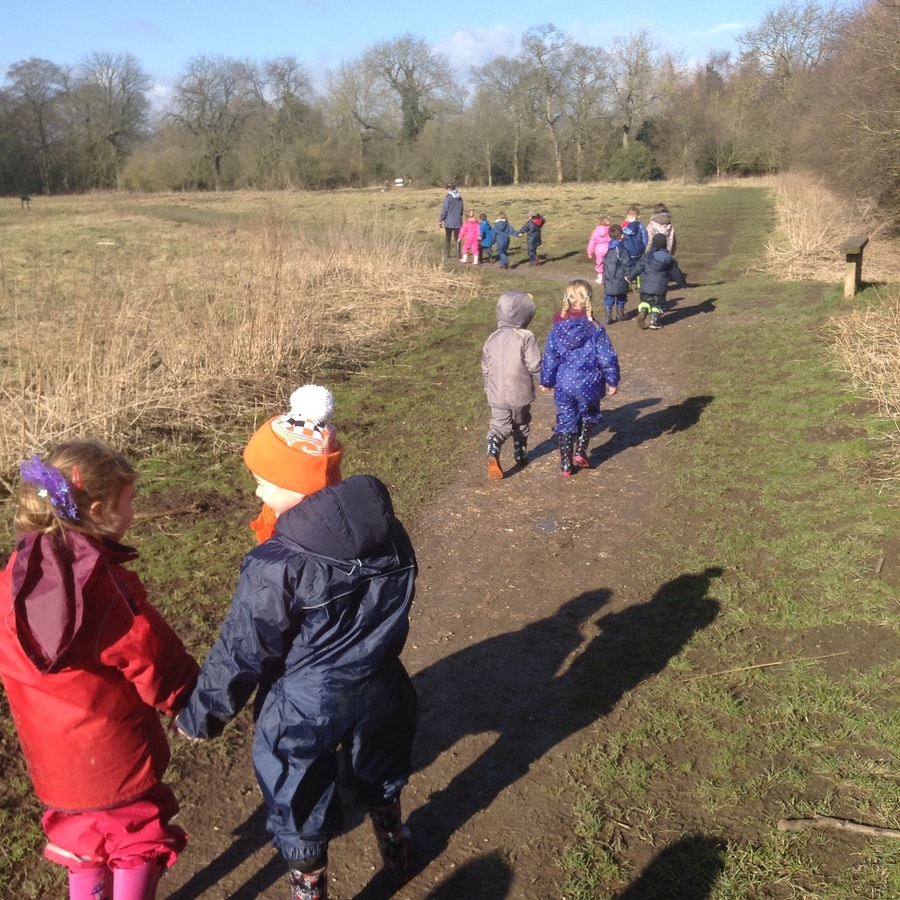 Today's task was to work together and make a home for a small creature. We had to collect suitable pieces of wood.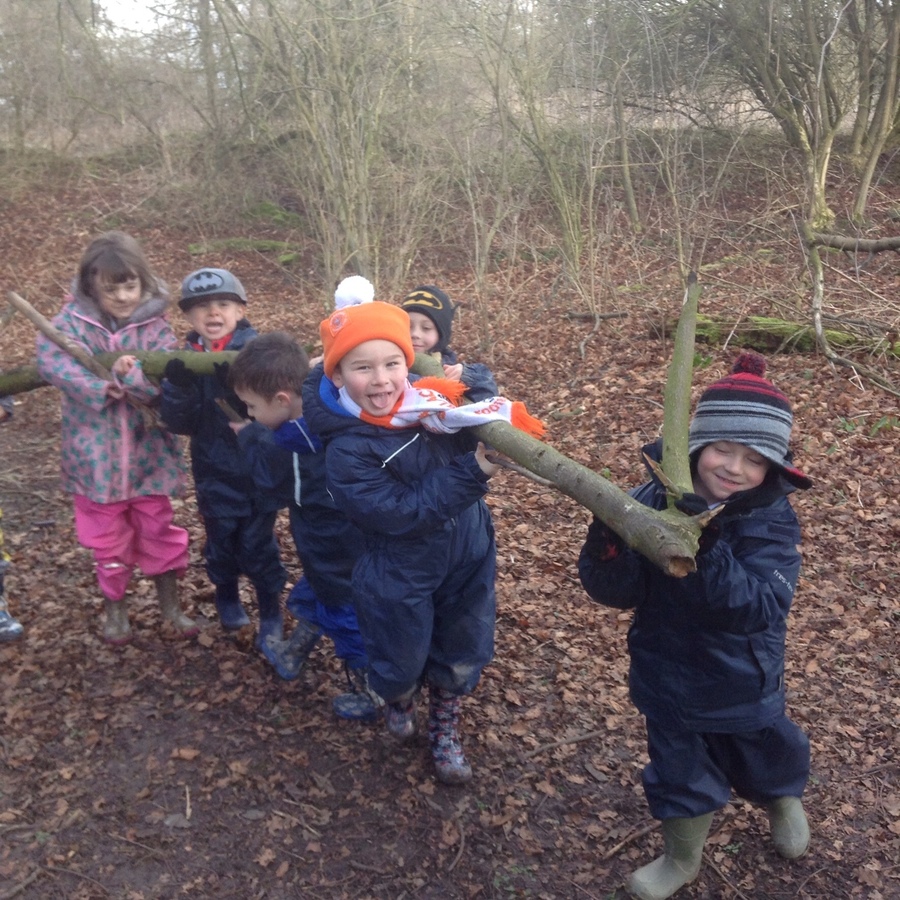 We always remember the rules, we stay safe and we work together. Though sometimes it's just nice to take in your surroundings.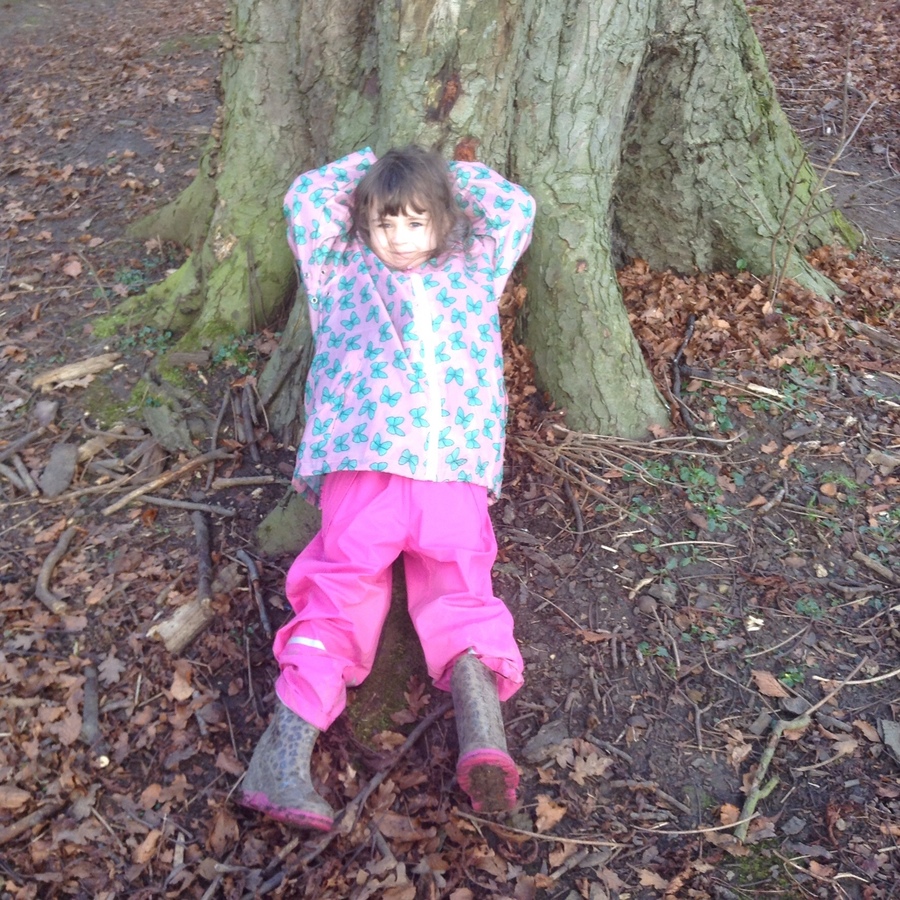 Here are some more wonderful photographs of the Badgers being busy and creative in the woods.
February 24th 2015
Once again the Hedgehogs descended on the woods for another action packed morning.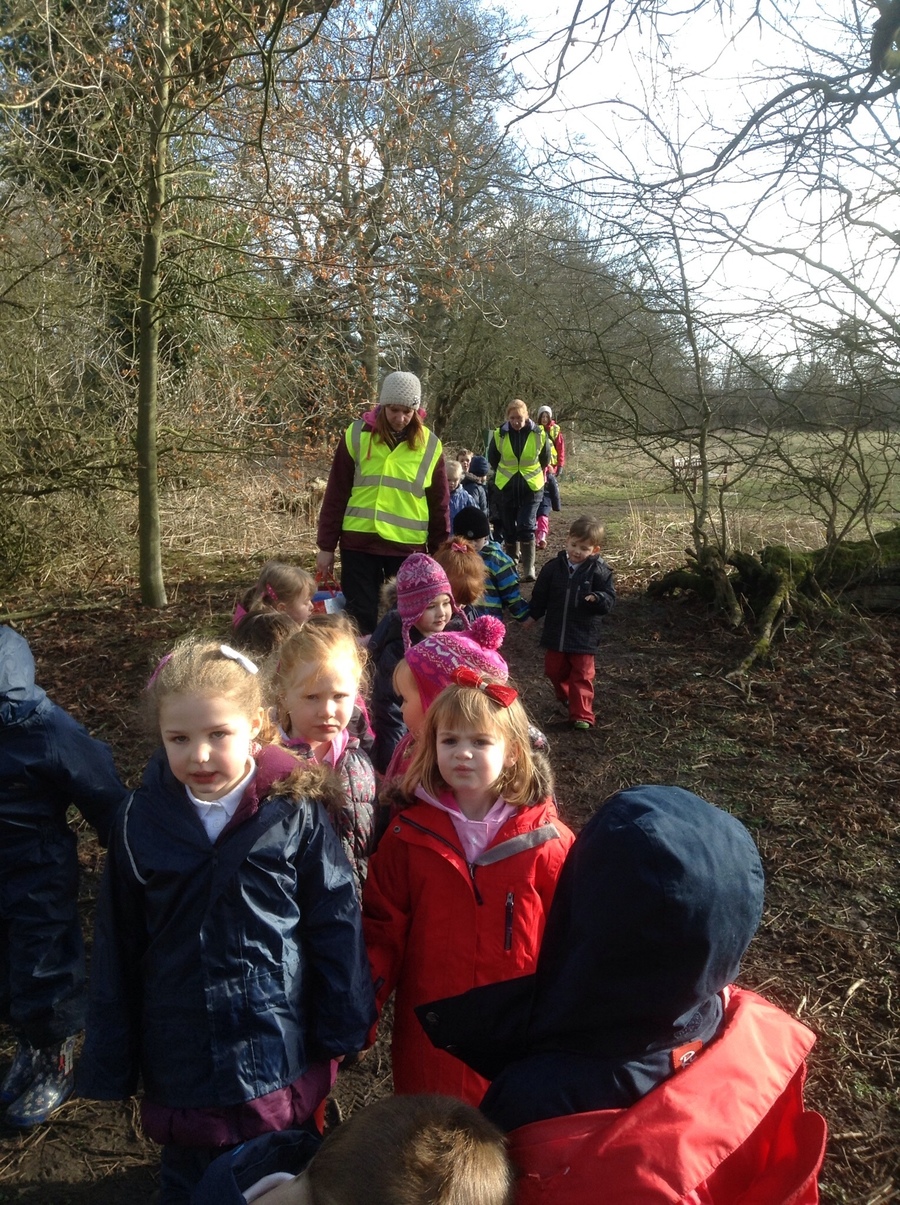 This weeks main aim was to build a little house for a little creature! The children scurried around thinking about what they would need to keep a creature warm and dry. There were some amazing creations!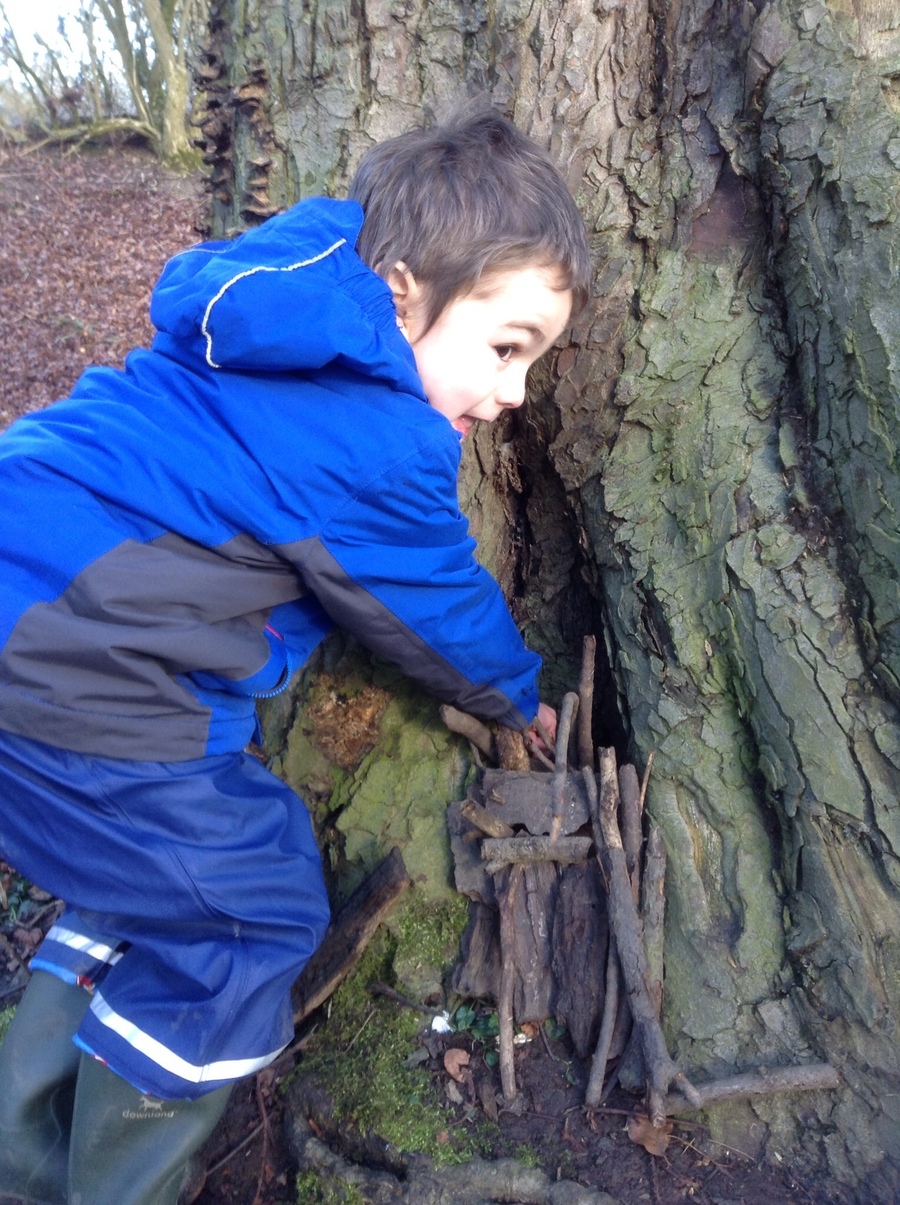 Of course, a trip to the woods is never complete without a game of hide and seek! We also had some story telling and looked for signs of nature.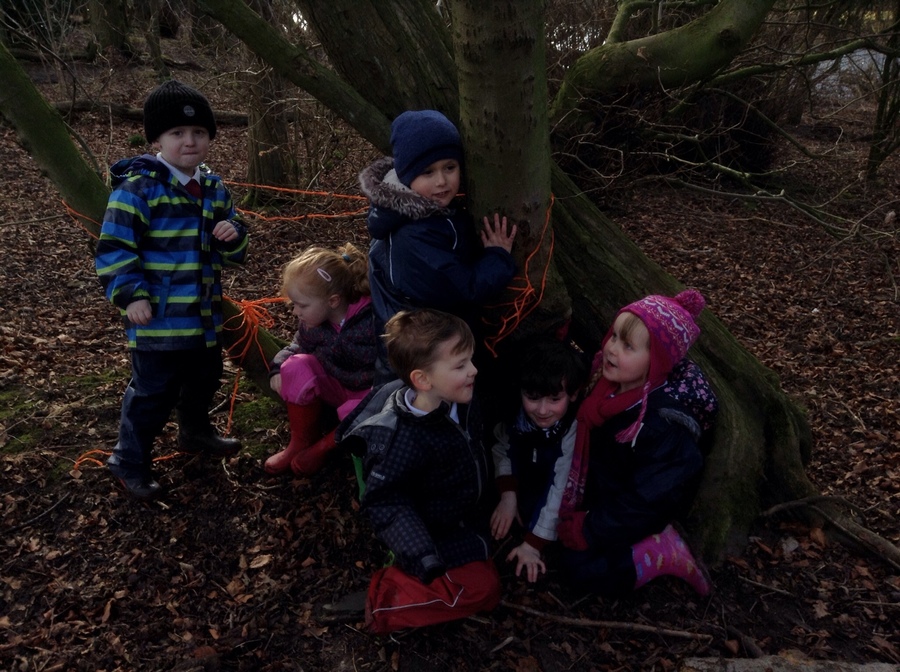 Here are some more images of the Hedgehogs in the Forest School. Next week it will be the turn of the Badgers (3rd March).
February 10th 2015
Squirrels headed down to the woods today. Everyone wore their outdoor clothing and set off for an adventure.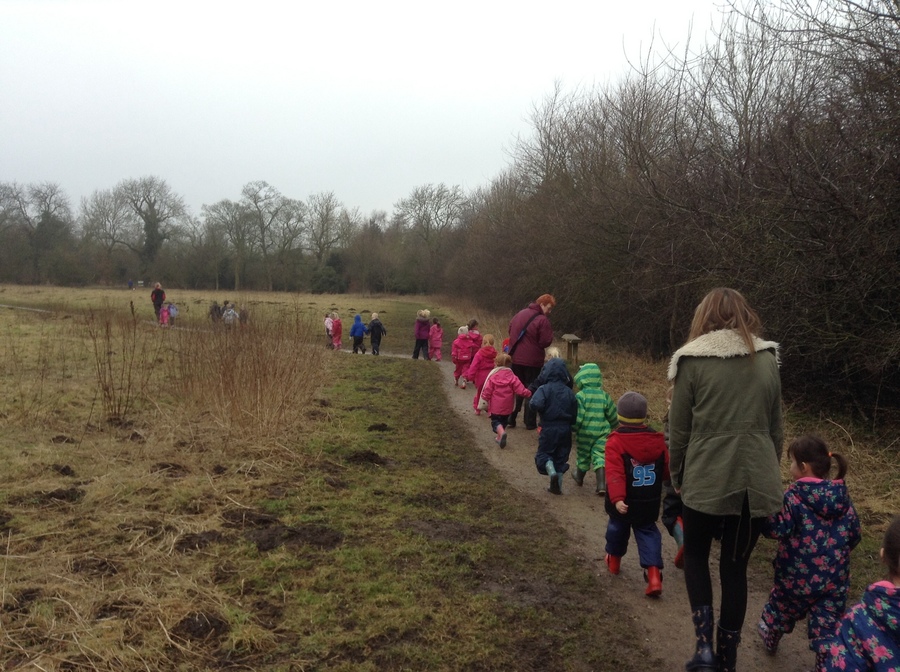 When we got there we had a look around and sang some songs, we explored our Forest School area and made a den.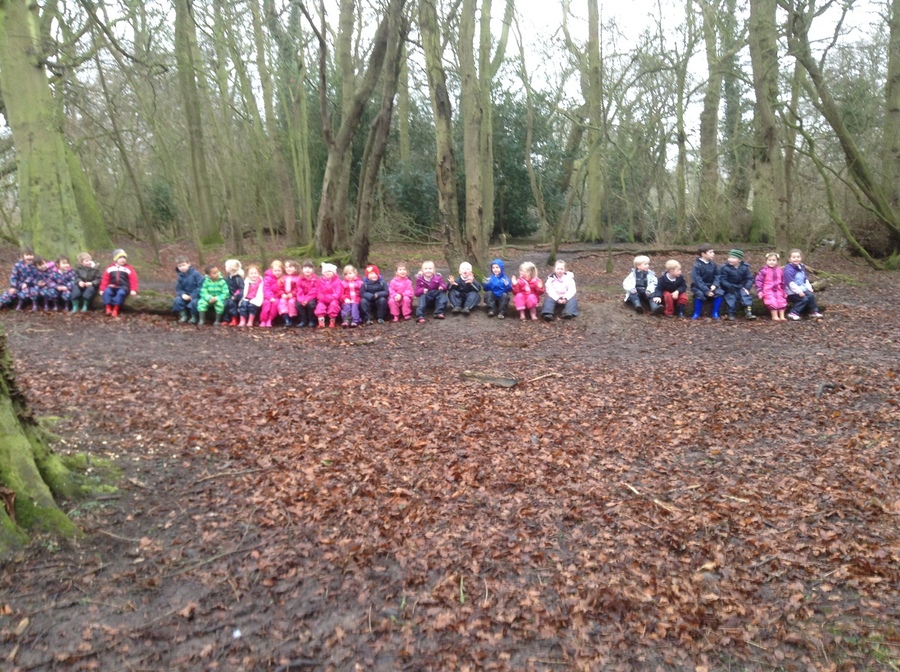 One of our tasks was to use the natural materials around us to make some artwork Millie impressed Mrs.Saltonstall so much we put her into the Achievement assembly.
Is this the Lesser Spotted Sam Bird? Is he trying to be camouflaged with the tree? Or has all the excitement worn him out?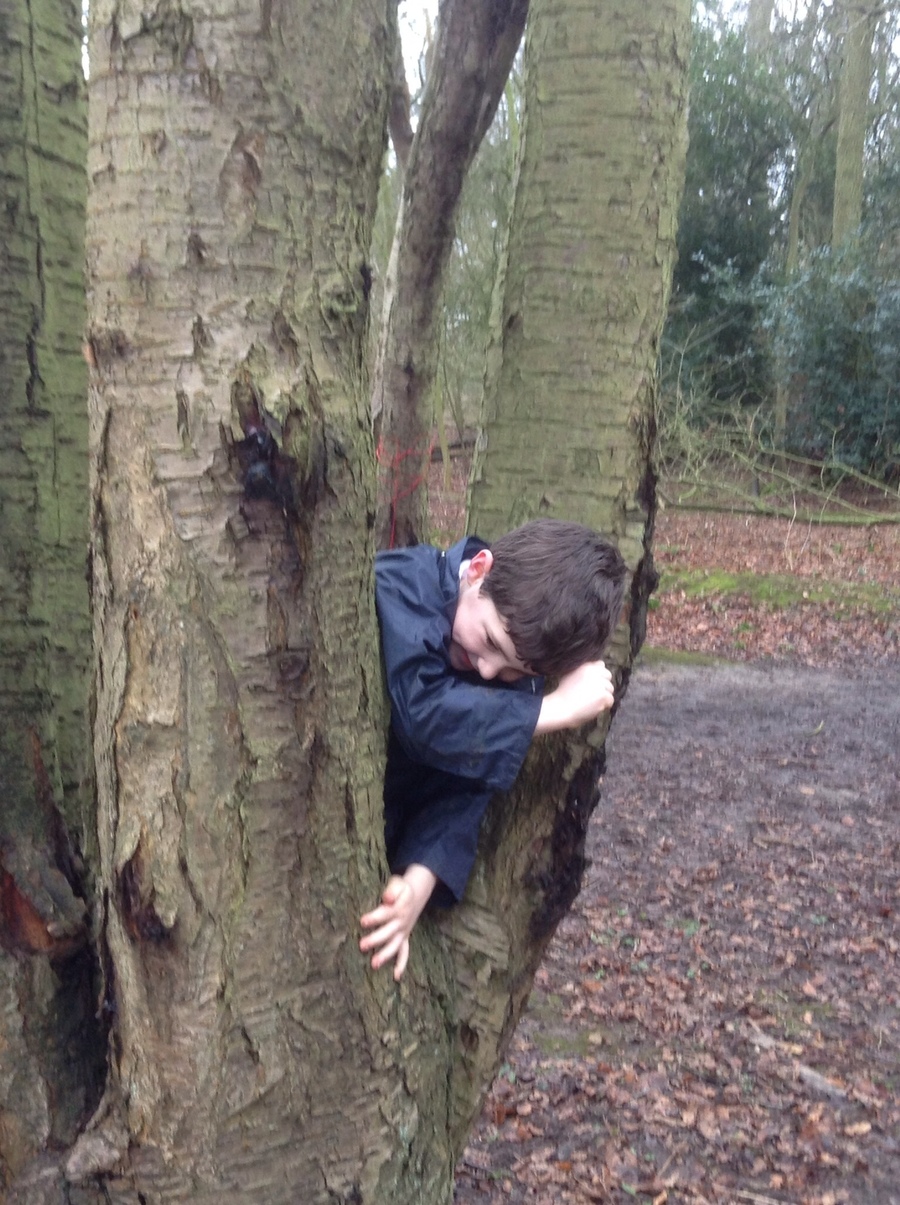 The morning went very quickly. Here are some more photos of our time in the woods.
February 3rd 2015
Today was the turn of The Badgers! We put on our waterproofs and wellies and warm clothing to go down to Kings Mill. It had snowed the night before and we were very excited to be going out.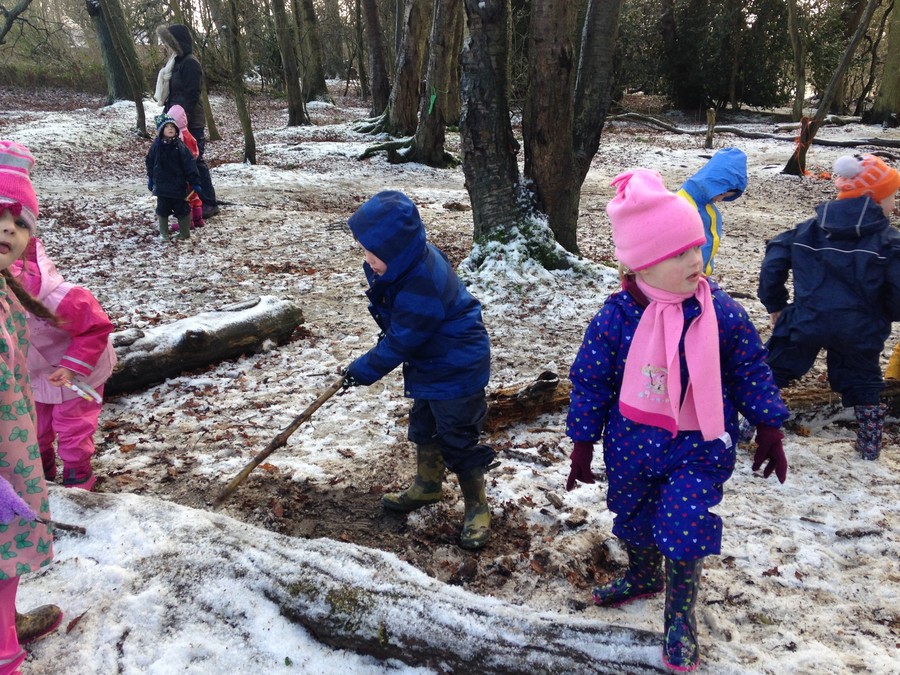 We took a tarpaulin and made a shelter. Can we get everyone under?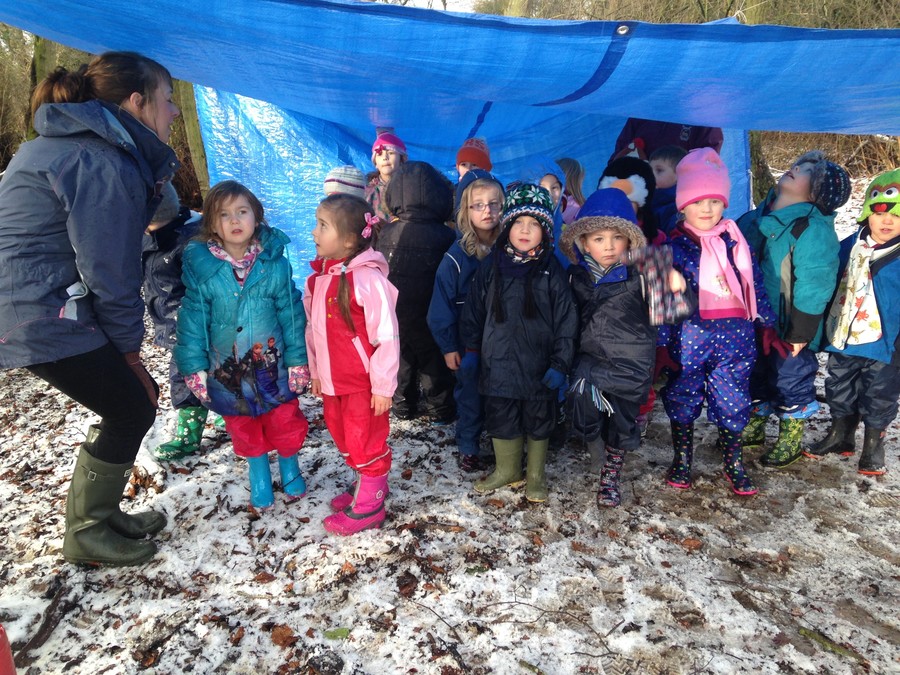 We played hide and seek and the used natural materials to make some art work. Here are some more photos for you to enjoy.
January 27th 2015
The Hedgehogs were really excited to be starting their Forest School activities at Kings Mill woodland. Here are some pictures to show you what we got up to.
We started our activities with a game of 'One, two, three, where are you?'
Time to explore the woodland floor, what picture can we create?