As part of their spiritual,moral, social and cultural development we like our children to think about people in both their local and the wider community who are not as fortunate as themselves
Friday 1st May 2015
We held a very successful impromptu non-uniform day to raise money for the earthquake victims in Nepal. We raised £280!
Friday 13th March 2015
Comic Relief: We wore 'something funny for money' and raised £280 for Comic Relief- this will help people both in Africa and UK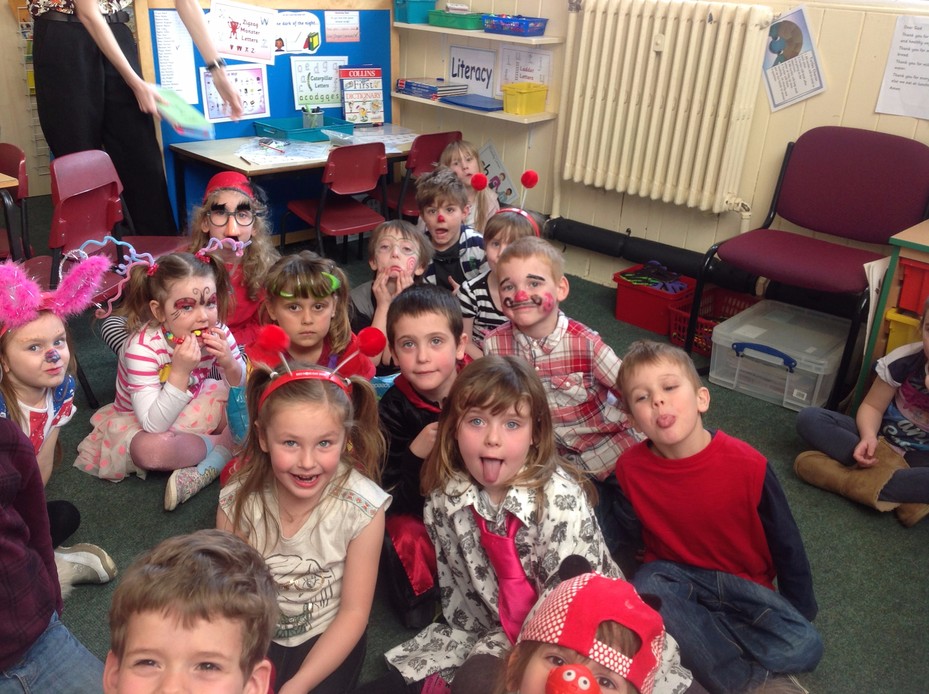 Friday 6th February 2015
Wear it Red - we all wore something and red to raise money for the Children's heart hospital in Leeds
Friday 11th December 2014
We help a 'Wear your Christmas Jumper' Day to raise money in memory of our Lollypop Man Tom. We raise £350 which we are going to use to create an outdoor reflection area. The children now have the task of designing it and deciding where to put it.
Thursday 23rd October 2014
We donned our wellies and headed off to All Saints Church for our Harvest Festival. The Church was packed with friends and family. School Council had once again chosen to raise money for Farm Africa- to give Hunger the Boot and raise money for African Farmers. Their target was £300 - enough to provide a village with seeds, tools and irrigation. Thanks to the generosity of everyone, as well as great wellie shaking by our School Council as parents left Church and we started our walk, they raised a magnificent £505. Well done everyone!
Friday 26th September 2014
School Council organised our second MacMillan Coffee Morning. We raised an amazing £363.10. Thank you so much to everyone who donated cakes and raffle prizes- we had an wonderful selection. The children know that the macMillan Nurses can give lots of help to people who are ill with cancer. Well done School Council and to all our extra little waiters and waitresses!
During 2013-14 we fundraised successfully for a number of local and global charities:
MacMillan- £460

Farm Africa - £335

Sports Relief - £183

Poppy Appeal - £21

Children's Heart Unit at Leeds General Infirmary - £440

Driffield Children's Society - £213

Children in Need - £307

Marie Curie - £440
Marie Curie Coffee Morning
On Friday 28th February we held a coffee morning to raise money for Marie Curie and also celebrate the way we have cared for our daffodils over the winter. Thank you to everyone who supported us! We raised a magnificent £460. Thank you!
Non- uniform Day for Driffield Children's Society
On February 14th we had a non uniform day and raised. £214
Wear it Red for Children's Heart Unit at Leeds General Infirmary
In December we all wore red to raise money, we also made a collection at our Christmas performances as well as holding a raffle to raise £440
Children in Need
In November we all came to school in our pyjamas so that we could go to Pudsey's Pyjama Party to raise money for Children in Need. We raised £310.
Thursday 17th October: Harvest Festival-' Give Hunger the Boot' - fundraising for Farm Africa.
The children all contributed towards raising a magnificent £360 for Farm Africa at our Harvest Festival. They did this by donning their wellies and walking around the cricket field. School Council helped plan and organise our Harvest Festival- they were great 'collectors' ensuring that nobody left church without putting a donation in the wellies.!
Well done everyone!
Friday 27th September: MacMillan Coffee Morning
Today School Council organised a MacMillan Coffee Morning. This concluded our special week in school when the children had been considering which Christian Values were most important to our school family.
Foundation children baked and decorated 80 buns which were served with coffee to lots of parents and grandparents. Parents donated cakes and raffle prizes. We were amazed how busy we were!
School Council were wonderful waiters and waitresses keeping every one satisfied. Their manners were wonderful.
We raised a magnificent £270.