Creative Characters!
Creative Characters!
3 April 2019 (by schoollogin)
A competition for the holidays.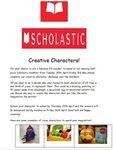 Your children should have received (or soon will be receiving) a note about our competition to win a book token for our half-price Scholastic bookfair that will be on after the holidays. It will run from Tuesday 30th April-Friday 3rd May after school until 4pm and it will be open during Parents' Evening. We hope they enjoy making their creations!