Year 2
Year 2
6 December 2018 (by schoollogin)
We are Young Leaders!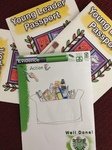 This week we congratulate all of our Year Twos as they have successfully completed their Leaders' Award and become 'Young Leaders'. They have worked extremely hard throughout the award; the pinnacle of this being their Christmas Celebration day on Monday. During the day they played board games, played Christmas bingo, participated in a Christmas colouring competition and, of course, there was the almighty dance-a-thon! The children did an amazing job of organising the day and your response was truly overwhelming. A sincere thank you for all of your donations-you were extremely generous (more news to follow on that!).
Very, very well-done, Year Twos. You did it!