Winter Explorers!
Winter Explorers!
4 December 2018 (by schoollogin)
Nocturnal creatures!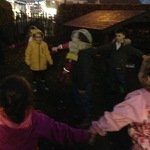 The explorers had good use of their torches tonight as we played detective looking for creatures in the secret garden. The children found out about animals that were found in our country and creatures in other countries. We all loved the owls and bats the best! We finished with a game of bat and moth using the idea of echolocation to find food. Next week is our last session and the children will be presented with their certificates and a short presentation will highlight our activities.
Please join us at 4.15 pm in the Hedgehog Class in the Foundation Stage unit. See you then!