Open Morning
Open Morning
13 September 2018 (by admin)
We have made a few changes this year and are holding an Open Morning for prospective families on Saturday 6th October from 10-12noon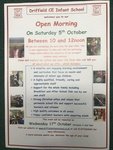 Please spread the word to any families you may know who you think would be interested in Driffield and the surrounding areas.
There will be a trail through school for the children with prizes at the end, activities in all classrooms and visits from Farmer John, the library, Children's Centre and the Junior School.
Please help us spread the word about Driffield Infant School.