Robin Class
Robin Class
13 April 2018 (by schoollogin)
The children in the Robin Class have been thinking about The Nativity today....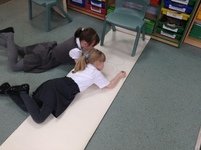 As part of a whole school RE project (more will be revealed shortly) the Robin children have been thinking about the important parts of The Nativity Story. Discussions so far have been around Jesus, the star and the stable.
We have created some lovely art work so far and have lots more ideas of things that will follow.