Robin Class
Robin Class
13 March 2018 (by schoollogin)
What a fantastic day!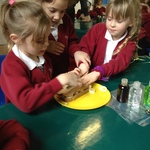 Today Robins and Kingfishers have been on a journey of discovery to explore the incredible world of medicine. Housed in the old Leeds Union Workhouse The Thackray Medical Museum is one of the largest medical museums in the UK. We had great fun following the journey of a banana sandwich, saw (and smelt) what is was like to live in a poor Victorian street and considered the importance of being healthy and hygienic as well as lots of other exciting things!
More photos will be available to look at on the school website.