Starfish Class
Starfish Class
13 March 2018 (by schoollogin)
British Science Week.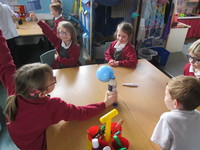 Yesterday the 'Starfish Scientists' experimented with objects that float and sink in water. They also had a go at writing predictions.
Today we were looking at how different things react when mixed together. The children put some vinegar in a bottle with a bicarbonate of soda filled balloon on top. It was very exciting when the balloon started to expand after the bicarb' and vinegar mixed together!
We also went outside and mixed a Vitamin C tablet with water in a small yogurt pot, and we watched the pots rocket into the air!