Turtles
Turtles
9 February 2018 (by schoollogin)
Writing independently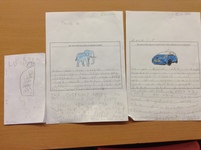 Many of the children in Turtles have been choosing to write independently during their independent learning time. We have had a book about London and stories about animals amongst other things.
The children are enjoying our topic about animals and have been finding out lots of facts about different animal groups.
We hope you have a lovely holiday and come back rested and refreshed.