July 2018
Today we had a fantastic time at Little Big Sing at Bridlington.
We sang all the songs we have learnt this term. Our singing was superb!
Afterwards we went on the beach and dug holes and built sandcastles. The weather wasn't as hot as yesterday but we didn't mind.
We experienced a Hindu wedding this week. We learnt lots of interesting facts.
Elmswell Farm
We had a wonderful day at Elmswell Farm. Farmer John took us for a nature walk around the farm. We learnt that you can find out how old a tree is by counting the rings inside the trunk. We saw a variety of flowers, plants and also looked at Farmer John's rapeseed oil crop. We were very excited to find some wild orchids growing on the farm now that they have the right conditions to grow. We also looked at the different fruit and vegetables that Farmer John is growing and watched the bumble bees collecting nectar from the flowers and then flying back into their hive.
Money, money money!
We have been learning about the different coins and notes we use in the UK. We have talked about what we use money for. Please let your child show you they can identify all the coins in your purse. You could make amounts with the different coins.
Remember the Elmswell trip on Thursday 7th June. Suitable clothing and footwear please.
Please keep learning your weekly spellings as this will help when writing in class.
Please use the homework pack and learn the times tables.
Keep reading and use the online Bug Club. If you need the books updating please see the class teacher.
Thank you for all your continued support.
It was lovely to see all the children and parents who came to have hot chocolate and read bedtime stories tonight. We had a great time. Thank you.
The Turtles have been busy this term.
Mr B Bear brought his friend Paddington to see us. We all got to try marmalade sandwiches. Sadly Mr B Bear has gone now to see children in another school.
We also had a good story day led by Carol Burton and a super trip to Hope Central.
Thank you for your continued support.
We have all settled in so well this half term. We are using the areas well and we do all our 'have to' jobs.
Mr B Bear finally came to see us this week and we were so pleased.
Please keep up the reading you all do at home as this is really paying off. Please keep practising the number bonds as well.
Have a lovely half term. Thank you for all your support.
September 19th
Today we had a lovely day at Elmswell. Farmer John took us to see Boswell. We went on a nature walk and did a scavenger hunt. The children should all sleep well tonight!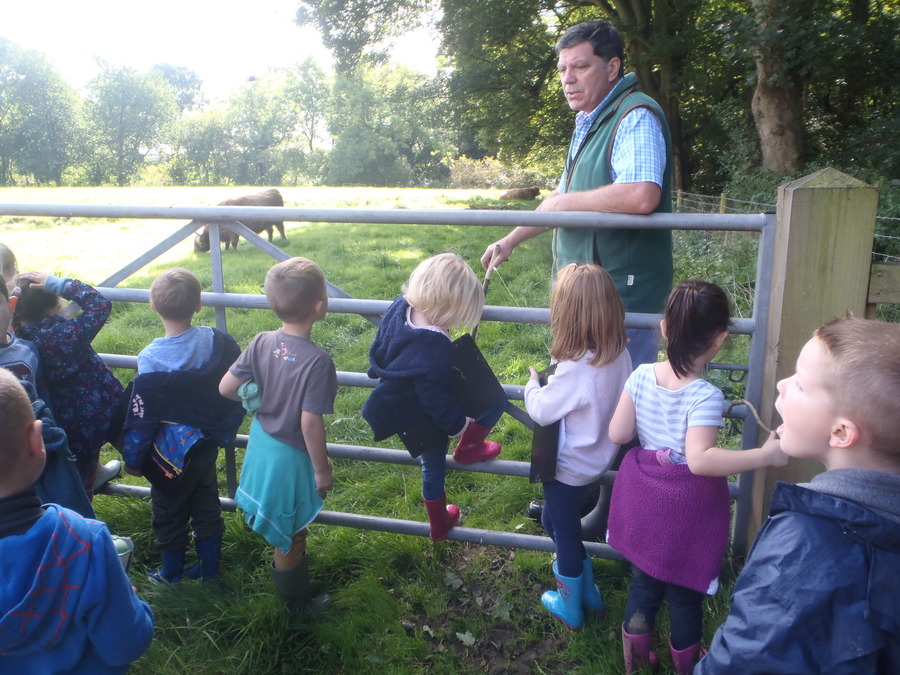 We have had a lovely first week at school. We are becoming familiar with the areas and have been getting used to the new routines.
We all have our own drawer to keep our book bags in. We also have our own water bottles. Please make sure all school clothes are named. Next week we start PE so we will all need our PE bags to be in school. Thank you.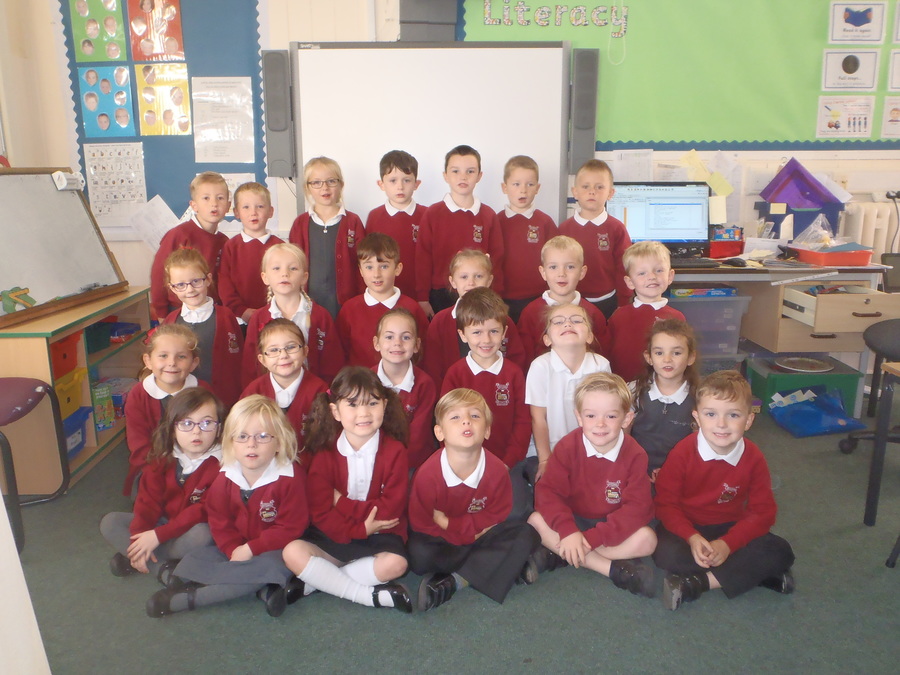 Thank you all for coming to Sports day. We were so lucky with the weather. The Turtles had a great time. When we came back we cooled off with an ice lolly.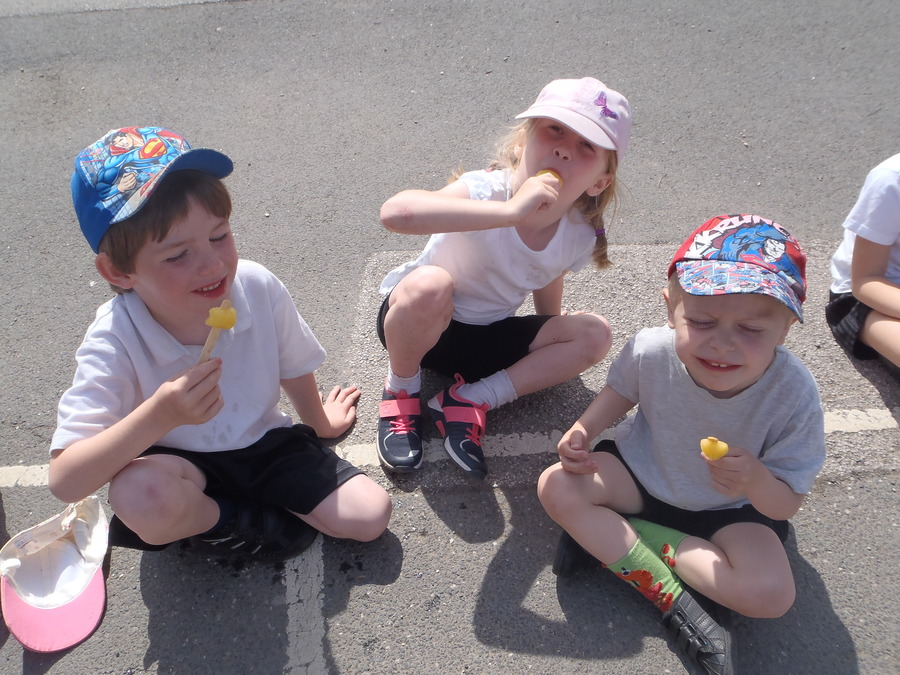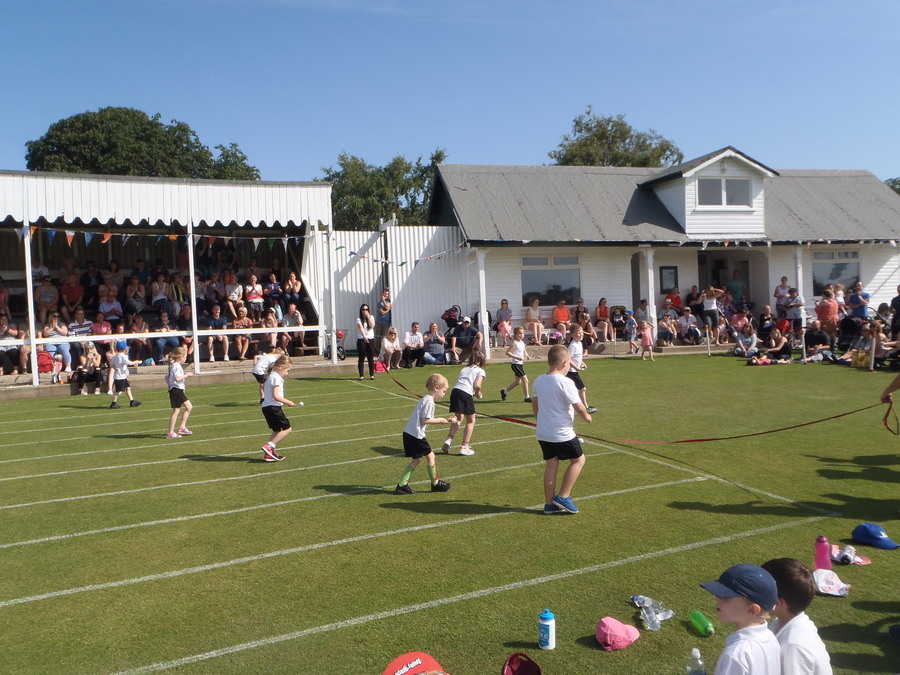 Thank you for all your support this year. A big thank you from myself and Miss Brough for letting us teach and care for your children. It has been a pleasure.
As we said in Collective Worship today they are 'The Amazing Turtles.'
Friday 14th July
The children can come into school next Tuesday in their PE kits ready for Sports Day. Please ensure that they have a jumper as it can get chilly at the Cricket Ground and a water bottle. Please apply sun cream if it is a hot day.
The Turtles found out which Year Two class they were going to be in on Wednesday. They spent the day with their new teachers on Thursday. Everyone seemed very happy.
Open afternoon is Monday from 2pm till 5pm. If you come before school finishes you can take your child home with you. [You just need to sign them out] We look forward to seeing you.
Friday 4th July
What a busy week we have had! Bridlington on Monday and Tesco on Tuesday.
The Little Big Sing was fun. The children loved their time on the beach too.
At Tesco we learnt all about how much sugar was in the drinks we like. It was a surprise to see how much sugar was in some of our favourite ones. We had milk and flavoured water to drink.
It is also spirituality week and we have been writing prayers and thinking about what achievements we have been proud of this year.
Today we made a marble run each and tested them out to see how effective they were.
Friday 30th June
This week Paddington Bear came back to visit us. He brought a letter from Captain Pete Pigeon who invited us to be part of his pirate crew. He left a golden treasure chest and we could only open it when we had written to him to tell him which jobs we would do on his ship.
We were able to open the chest on Wednesday.
Inside the chest we found eye patches, dressing up clothes, shells, gold coins and a compass. We were all very excited. We think we would all make excellent pirates!
Today we had an 'Art Day', and looked at various artists including 'Vincent Van Gogh'. We also had a a go at painting, but not with brushes. I wonder if your child can tell you what they used?
Friday June 23rd
Today we had a wonderful visit to the fire station. We learnt all about the equipment the engine carries, the role of the firefighters and what sort of incidents they get called to. We all got to spray water with the hoses and to sit in the engine. Turtles agreed it was an excellent treat for winning the lining up cards.
June 9th
What a wonderful week. Luckily for us it didn't rain too much at Elmswell. We had our usual long walk collecting different leaves for our bunting. We made our marshmallow catapults which we had great fun testing out. We decorated our bunting with a lot of hammering! [Your child can tell you all about this.]
We have been writing about our ideal picnic this week. This is linked to The Lighthouse Keeper's Lunch. There were some super adjectives used in the work. All the food sounded delicious.
June 6th
For the Summer Fair Turtles are having a bottle stall. The aim is you pull a string and you hope to win a bottle. We need the Turtles class to bring in as many full bottles as they can. This could be shampoo, coca-cola, bubble bath, wine or beer.Thank you for your support. They can bring them into school from now on.
May 26th
We have made the most of the good weather this week and had lots of fun in our outdoor area. We have also all had a go with modroc and made a lighthouse, we loved the feel of it when we put it in the water.
We had a lovely time at the park yesterday, learning the names of trees and playing games. We also took part in a minutes silence at 11 am for Manchester.
When the weather is hot we advise applying sun cream before school as we often go outside. A sun hat is also useful.
May 19th
This week we have looked at 'Lighthouses' and our book has been 'The Lighthouse Keeper's Lunch'. We all wrote a delicious list of various picnic foods we would take in our lunch.
Yesterday was 'Outdoor Learning Day', so we had a treasure hunt in our outdoor area and then explained what our piece of treasure was and why. We had all kinds of weird and wonderful things some of which included a berry as a magical lollipop, a daisy flower was an umbrella for an elf and a sea shell as a phone for a gnome! We then wrote stories about our treasure.
To finish off our week we all enjoyed our lining up party. Thank you to all the parents that donated party food for all of the 'Turtles' to enjoy. We had a great time!
Here are some photographs from our week.
May 12th
This week I was so proud of the children when we did our assembly. We talked about community and what it means. Everyone spoke clearly and we received lots of compliments afterwards.
We retold the story of The Storm Whale this week and the children produced some lovely pieces of writing.
Thank you to everyone who came to the parents evening. It was lovely to see you all. Thank you for all your continued support.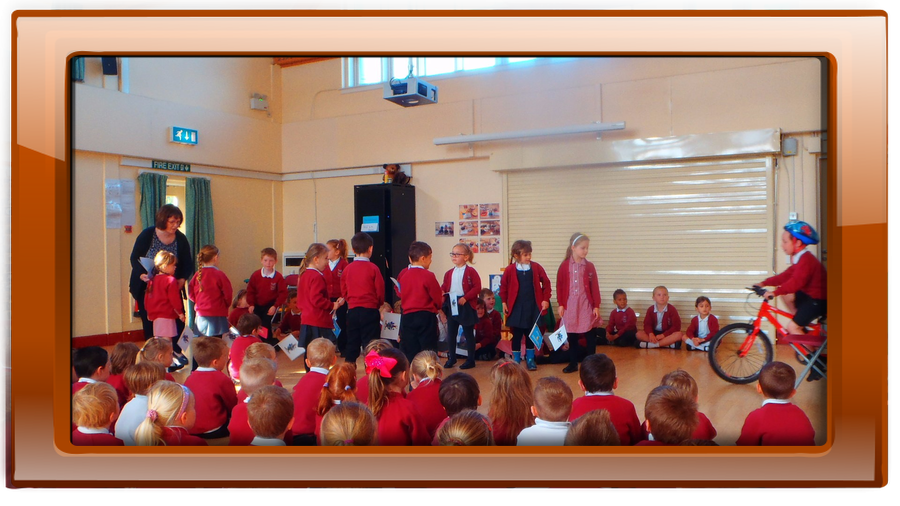 May 8th
We are collecting tubes so we can make lighthouses over the next few weeks. It can be a kitchen roll inner or a Pringles tube etc...
Thank you.
May 2nd 2017
We have been reading a book called The Storm Whale this week. The children really enjoyed the story. We wrote our own whale poems.
Please can the children remember their spelling cards every Friday.
April 28th
What a fantastic week we have had. The scooter challenge was enjoyed by everyone and thank you very much for all your sponsor money.
In the challenge Oscar was the fastest rider and Lacey-Jo was third but well done to everyone for their efforts.
Today we enjoyed the Tour de Yorkshire after our week of activities. The children were so excited to see the riders. They were so well behaved. Just to let them know Adam [GB] came 8th today in Stage One. We have followed his training progress this week.
Not the greatest quality which I apologise for but here is a video of today.
Friday 7th April
What a busy week we have had!
The Easter Experience at church was an amazing day. We enjoyed all the activities in church and we can now recall the whole story.
At Elmswell we were lucky to have a day in the beautiful sunshine. We went on a long walk and enjoyed our nature hunt. We found buttercups, nibbled leaves, blossom and different types of grass. We made bracelets from natural materials and leaf pictures which we laminated. The children always enjoy the tractor ride with John.
Thank you for the donations for the tombola.
We will see you back at school on Tuesday 25th April.
Please remember to bring back your PE kit. Next term PE might be outdoors so plimsolls will be needed. Thank you.
March 31st
This week we have been learning all about plants, and what they need to keep healthy. We have also been busy with our green fingers, and had a go at planting a seed. We are now having a competition to see who has the best growing plant.
We have been looking at plurals this week in our writing, and we have all had a try at writing a shopping list and using them. Following on from writing their shopping list the children had to then buy some items from the 'Maths Area' using the coins.
See our green fingered fun below!
March 23rd
We have had another busy fun filled week in 'Turtles', which included a visit to Tesco and ended with us enjoying some 'Red Nose Day' activities. The class have had a go at making their own clocks this week as part of the maths challenge, and using them to tell the time. They have also had a very special writing job to do, however this is a secret until Sunday.
We also had a visitor from the local paper so keep your eyes peeled as we might be famous!
See photographs below from our busy week!
March 17th
This week we have been revising how to tell the time to the hour and half past. We have also extended this to quarter past and quarter to. Please take any opportunity at home to keep practising. What time do you have breakfast? What time do you go to bed?
Next week we are going to be looking at plants and conducting an investigation. How many flowers can you find in your garden or on a walk around Driffield? Can you draw a picture of your favourite flower and find out its name. Bring it in to show everyone.
March 10th
This week we have been writing poems about Spring. There were some very good efforts. If you have a favourite poem from home about any topic please bring it in to share with the class.
In Geography we have talked about the continents and named them.
There is a new award in school for the tidiest classroom and we are eager to win it so we are trying to keep everything tidy. We are also trying hard to win the lining up cards this term so we can win a party. Keep it up Turtles!
March 3rd
This week we compiled an animal alphabet. We had to think of an animal for each letter of the alphabet. We turned it into a competition and the winners were Harry and Violet. They thought of so many different animals. Did you know there is an umbrella bird?
We have learnt the names of the countries making up the United Kingdom, Can your child tell you them?
World Book Day costumes were amazing, thank you for all your support. The decorated potato winners were Arthur and Lydia. Well done to everyone for their efforts.
Thank you to those parents that were able to come in and share a story. We hope you enjoyed it as much as we did!
February 17th
This week we have written instructions about how to make a jam sandwich. We had to remember to put them in order.
We have been reciting the days of the week and using the vocabulary yesterday and tomorrow.
Have a lovely holiday.
February 10th .
This week we have been learning all about 3D shapes, we have learnt about cylinders, cubes, cuboids, cones, pyramids and triangular prisms.
On Thursday we went to The Deep, we saw all the different fish and the penguins. The workshop was all about the different continents. We were very good at naming some of the oceans.
Please can we remind you that spelling cards need to be in the book bags every Friday so we can mark on the next ones and then you can see your child's progress. Thank you.
February 3rd
Parents joined us for maths lessons this week. Thank you all for coming. We hope you enjoyed the sessions. Every child has a number line to use at home.
This week we looked at the different oceans around the world. See if you can remember any of them and find them in an atlas or on a globe.
Turtles are looking forward to the trip to the Deep next Thursday and we have written lots of questions today that we want to ask the staff. Please remember to hand in the consent forms.
Paddington Bear has been joined by Driffy this week as Aleah received the values award for perseverance in Maths. Well done Aleah.
January 27th
We have had a good week celebrating Chinese New Year. The lunch today was delicious. We have made very colourful dragons. Today we were very lucky as mysteriously a golden coin appeared in each of the lucky red wallets we made.
Today a parcel arrived at school for Paddington Bear. When we were having the biscuit party, Paddington Bear rang Mr Dolby to say we could open it. Inside there were dinosaurs,books and a letter. The letter was ripped so we don't know who the parcel was from. Another mystery we need to solve!
January 20th 2017
This week we have been thinking about 'The Senses'. We had to identify what was inside 5 pots just by using our sense of smell. There were some very good guesses.
Paddington Bear enjoyed finding out about some Arctic animals with us.
Did you know polar bears have 42 teeth? Neither did we.
In the number area we have been working out how to find a missing number in a number sentence. For example 3+?=10 or ?+8=10.
This week we discovered a new 'Turtle' in our classroom. He is brown and furry and wears a blue coat and goes by the name of 'Paddington Bear'.
The children have been very excited about 'Paddington Bear' and decided to leave him a picnic of his favourite marmalade sandwiches. He has settled really well and has written to us twice, and he has a new home called 'The Ice Cave'. He must have known about the cold snap that was coming!
In our number area we have had a go at adding numbers mentally this week. Some children managed really well, and even moved on to adding 10 to a given number. We will continue to practise this at school.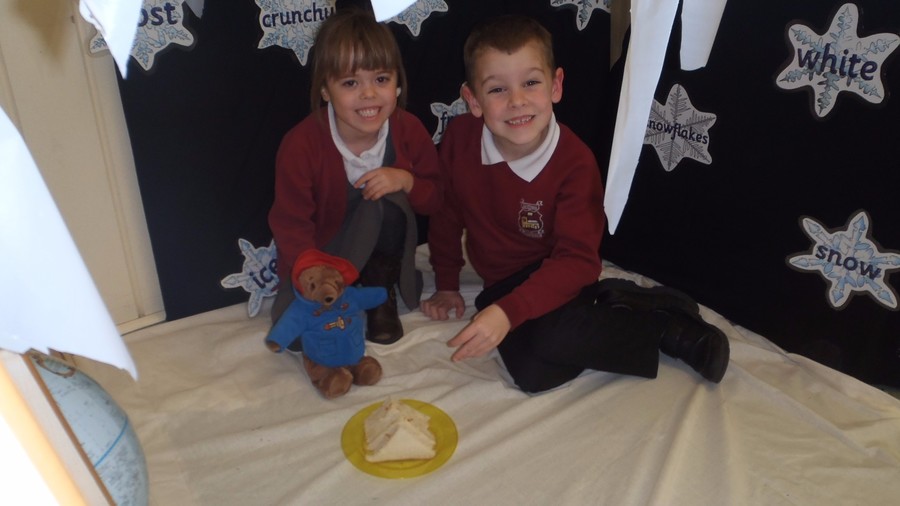 Welcome back.
We have all settled back in to the routine and we have been telling each other about our holiday news.
Our theme this term is going to be 'What a Wonderful World.'