Starfish Class
News and Photos 2017!
8th December 2017
Another busy week for the Starfish. We had our first KS1 practice in church for our Nativity, we are all really excited now we know our parts! We watched Foundation's Nativity, Shine Star Shine, and thought they were all very brave. We also walked down to the Christmas Tree Festival at Church this morning, and had a good look around at all the trees that had been decorated. We felt very proud to see the decorations that we had been working on the last couple of weeks on the Year 1 tree!
We have been looking at 2D and 3D shapes the last few weeks, and learning properties of shapes such as edges, sides faces, and vertices. You could have a look at objects in your home to see if you remember any of the 3D shape names?
In phonics we have been revising our new sounds. We have played some phonics games to help us remember them.
So far we have learned 'ay' (day) 'ue' (glue/issue) 'ou' (cloud) 'ie' (tie) 'ea' (sea) 'oy' (boy) 'ir' (girl) 'aw' (saw) 'wh' (when/who)
We have changed on of our PE days, and we now have PE on a Wednesday and a Thursday. If for whatever reason your child takes their PE kit home, please bring it back as soon as possible. We do ask for a named PE kit to be in school at all times. Also if you notice your child's feet growing, don't forget to bring in some new PE shoes! We have been having a few squashed toes recently.
1st December 2017
What better way to celebrate the countdown to Christmas than our trip to Hope Central for the Christmas Experience on Friday!
We travelled back in time where we met Mary and Joseph in Nazareth, we spoke to a wise man who was following a star to Bethlehem, and we saw a shepherd who was approached by an angel and told to go to a stable where God's son has been born.
The children all were completely enthralled by the story that was playing out in front of our eyes, and came away with a deeper understanding of the Christmas story.
Well done everybody for being so well behaved, and for listening and joining in so well!
21st November 2017
We have been looking at 'materials' in Science the last few weeks. We started by distinguishing between an object and the material from which it is made, and then we looked at properties of different materials, and we found out how the shapes of solid objects can be changed by squashing, bending, twisting and stretching. Today we looked at the suitability of different materials.. by seeing which would be the best one to protect an egg from breaking!
We split into 5 different teams - team bubblewrap, team cotton wool, team kitchen roll, team tin foil and team J-cloth!
But which material would be the best protector for the egg?
We predicted that the bubblewrap would be best.. however, it was one of the worst! The best protector was the tin foil! It saved 3 eggs, and 2 more were only slightly cracked.
17th November 2017
This week in maths we have been looking at subtraction. We have been learning some different methods to help us find the answer to a subtraction question! Can anyone remember any of the methods we have learned?
In phonics we have been looking at some new sounds (the 'ea' in 'cream' and the 'oy' in toy) and been playing some phonics games to practise reading them.
On Wednesday we had a really exciting trip to Tesco, where we had a look around the store to see what we might take on a Teddy Bears picnic, and even had a go at making some sandwiches ourselves! They were very yummy! Did you all enjoy the muesli you made?
Today was really exciting, as this morning we had a theatre group come in and perform Wind in the Willows. Do you recognise any of the actors in the photos below? I'm sure that horse looks familiar..!
This afternoon the whole school went on a wellie walk for Children in Need, thank you to everybody who donated!
10th November 2017
What a great first week back!
On Monday we had Carol Burton come in to tell us the story of 'A Chair for Baby Bear', which was really exciting! We all loved joining in with the actions!
On Thursday afternoon we went for a walk in the park to have a look at the seasonal changes - we went on a leaf hunt to find out what kinds of trees there are in the park! We also spent a bit of time in the Memorial Garden, thinking about people who have died in wars for our country. We have spent a lot of time in collective worship thinking about why people might wear a Poppy. Lots of the children were curious to know if they had a relative who fought in any of the wars.
Just a reminder that PE started this week, but several children hadn't bought back their PE kits! Please can we have them back in for the start of next week.
(Below are some photos of our first week back, but also some photos from the Welly Walk from before half term! We didn't let the rain get us down!!)
20th October 2017
Another great week in Starfish this week. In maths we have been looking at adding and subtracting, and in phonics we have been practicing our tricky words and looking at syllables. We also have been looking at properties of materials in Science, and we decided that the perfect teddy bear would be made from wool, and definitely not made from glass!
We have been reading lots of Paddington books in our story times for the last two weeks, and have really enjoyed all of his funny little adventures.
On Friday, we did a bit of drama, and acted out Goldilocks and the three bears! Miss Thompson, Mrs Lock and Miss Hackett think that we might be seeing some of the Starfish class on the West End in a few years time! Some brilliant (and brave) acting from all of the Starfish - well done!
6th October 2017
Starfish have really been enjoying our teddy bear topic so far, this week we have been reading the 'Old Bear' books by Jane Hissey. We made some 'lost' posters for Little Bear, and had a go at sequencing one of the stories. We were inspired by the book 'Jolly Snow' where the toys decorated the house to look snowy for winter - so we collected leaves from the playground to create our own work of art for the classroom based on Autumn.
Thank you to everyone who came to parents evening, it was lovely to properly meet and talk to you all. If you couldn't make parents evening we will try and find an time after school to have a chat about how your starfish is getting on!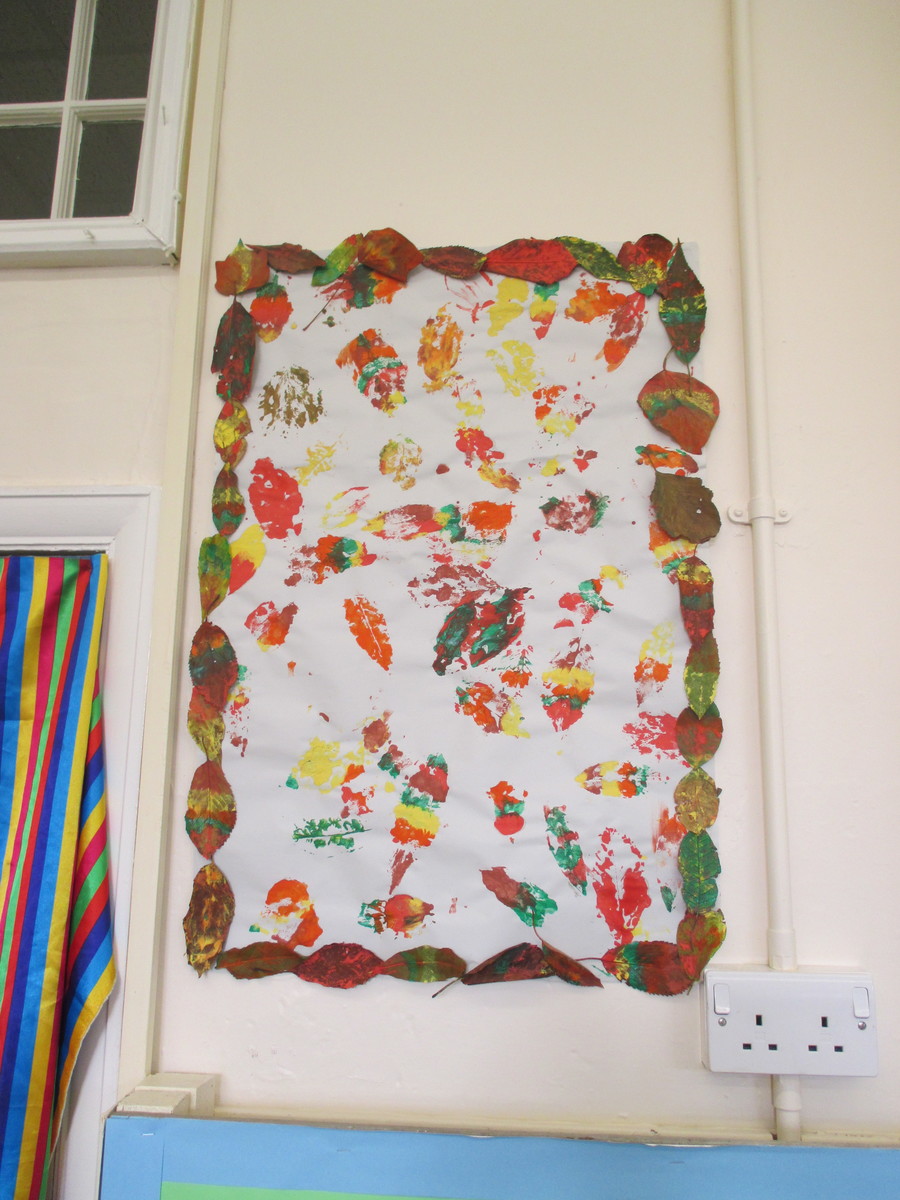 26th September 2017
We are really good at tidying up in Starfish Class, so you can imagine our surprise when we came inside after lunch to find our classroom a complete mess. We all became detectives for the afternoon.. and found clues such as porridge oats, honey and paw prints in the play-dough! We found a bag under a table.. and inside was Bobby Bear!
Bobby Bear has come to school to help the children learn all about Teddy Bears. He will be going home with a different child every night.. I wonder what adventures he will get up to!
21st September 2017
We all loved our trip to Elmswell Farm today! Farmer John took us for a tour around the farm, and even showed us the grain that they send off to the mill to make flour we use to make cake! All of us managed to fit into the scoop from a tractor - it was a bit of a squash and a squeeze... you can't even see all of us in the photograph! One of the highlights was looking at the cows in the field.. we learned that the cows horns point up, and a bulls horns point out. Can you see which one the bull is in the photo?
15th September 2017
What an exciting week we have had in Starfish! We are all enjoying learning about cake, and everybody loved making cakes on Tuesday - they were delicious! I wonder if anybody can remember how we made them? Next week we will be learning even more about cake, and we look forward for our families coming into our classroom on Friday and seeing what we have been doing (more information on that to follow!). Have a lovely weekend Starfish!
11th September 2017
After a week settling into our new Starfish classroom, the children are now excited to explore our class project 'cake!' over the next two weeks.
We change reading books on a Tuesday and Friday but this may not always be the case due to visitors in school or other timetabling issues. Please sign the record when you have heard your child read. If the record is not signed then we will assume that the book has not been read. In the front of the reading record there are the login details for Bug Club, where the children can access different books.
Our PE sessions are on Wednesday and Friday, but we would appreciate the named PE kit being in school all week in case of any extra sessions.
We love being creative in starfish class, so it would be useful to have materials that the children could bring in to go in the Modelling Area (such as empty card board boxes, plastic bottles etc). If you could spare anything that would be great!
FRIDAY 14th JULY
Only one week left ! The time is going too quickly! We have an action packed week next week with Sports Day, Open Evening, Driffield Show and our Leavers Service. No doubt time will fly next week as well, but we are really looking forward to an exciting last week of the term.
Monday 3rd July Starfish had a lovely day in Bridlington at the Little Big Sing. First we had a lovely time on the beach building sandcastles, becoming mermaids and having lots of fun.
After lunch we joined lots of schools to take part in singing some songs . I wonder what your favourite song was?
FRIDAY 30th JUNE
We really enjoyed being creative during our Art Day today. We tried sculpture, painting, collage and drawing. Watch out for some pictures next week!
W/C 19th June 2017
Another busy week in the areas and the classroom this week. The role play area has now become the Darlings bedroom from Peter Pan. We hope Peter Pan turns up soon.
June 16th 2107
This week we have been very busy in the areas exploring our own ideas from our topic work .
June 2107
We had a fantastic sunny visit to Elmswell . We enjoyed a lovely walk before heading back to the farm buildings for a play before lunch.
After lunch we split into two groups and continued with our compass and maps work from the week. We did some orienteering and made maps from natural objects. The children worked so well together.
May 26th 2017
Another busy week! We have been continuing with our Lighthouses models, we are looking forward to the collage part of the models after the holidays. We made buns on Wednesday following instructions in preparation for our picnic . On Thursday we went to the park to do some outdoor learning, we played a bee game and also looked for seasonal changes . Our last task was to find the biggest and the smallest leaves. We really enjoyed looking and comparing our leaves.
In the afternoon we made sandwiches to have a picnic in the front garden. We carried our picnic out in a basket like Mr &Mrs Grinling have in the Lighthouses Keepers lunch. We all had a great time!
Friday 19th May.
The Starfish had a brilliant time yesterday for Outdoor Learning Day. We used natural objects to create a story outside including ideas from the whole class. The story was so imaginative we have been busy writing them up this morning! We then spent the afternoon up at Kings Mill where we made artwork in the style of Andy Goldsworthy and some bunting decorated with natural materials. Making the bunting was really fun but we had to be very careful using the hammer!
Friday 12th May.
We have started to make our lighthouses this week. Thank you to everyone who sent in tubes to helps us make them.The mod roc is very messy , but fun.
HAPPY EASTER FROM US ALL!!!!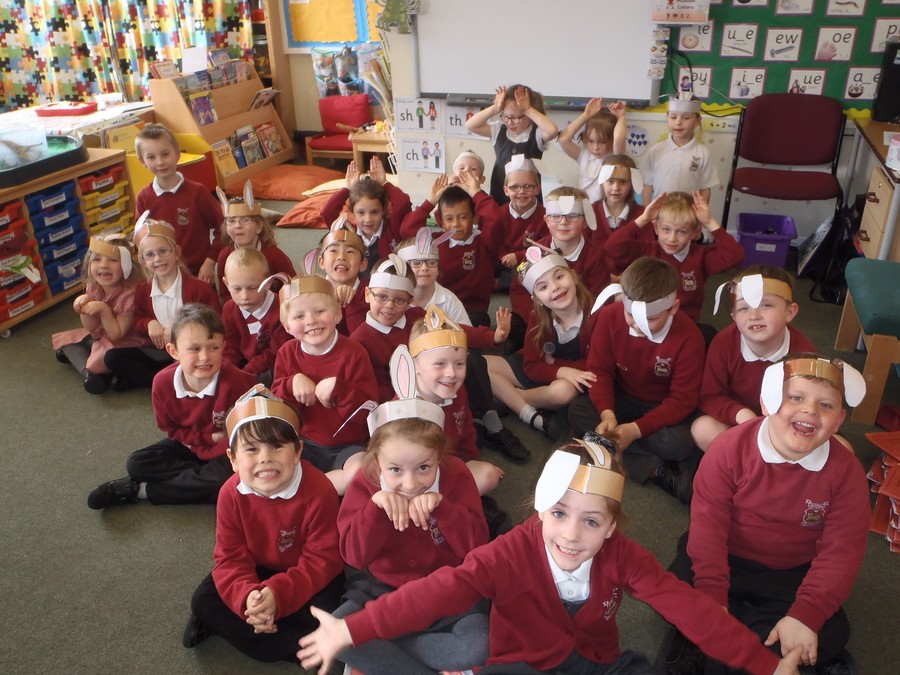 A few pictures from the Easter Experience on Tuesday inside the church. We all learned the meaning of Easter through activities. We can't wait till Thursday when we are outside the church.
We had a wonderful time at Elmswell Farm-even if we did get wet in the morning!! Have a look at our classroom window to spot some of the art work we did in the afternoon.
Happy Red Nose Day!!
We had a really good day with lots of fun. We also thought about all the people who are not as lucky as us and we are glad that the money we raised will go to help them.
We really enjoyed the lovely weather this week! The Starfish class have been busy making bird feeders for the front garden.
FRIDAY 10th MARCH
We had a brilliant time making pizzas with Mrs Edeson this week. Our classroom had a delicious smell in it all day!
W/C 13th February 2017
We think we need a holiday!!!!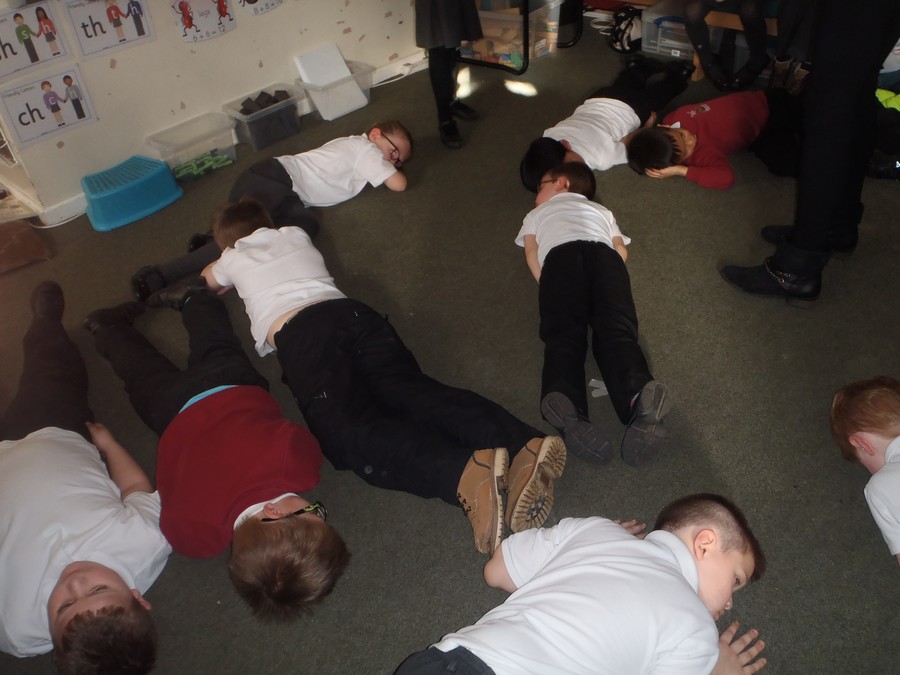 W/C 6th February 2017
What a busy week we have had ! First we found the role play area had changed into the ocean. In the ocean there are lots of fish and jellyfish to swim with. There is also a shark in there too. We have some snorkels so we can explore the ocean bed.
In numeracy this week we have been learning all about 3 D shapes, we have looked at how many faces they have and if they are curved or flat faces.
On Thursday we went with Dolphins and Turtles to The Deep. We had a lovely trip . We saw lots of different types of fish and learnt all about their habitat.
W/C 30th January 2017
This week in Starfish we have started to look at the different oceans and seas around the world. In the play-dough area there are sea creatures in green/blue sea. We had great fun playing in this this week ! Lots of mums and dads joined us for maths this week. We enjoyed showing them how we do our maths and enjoy it. We are all looking forward to our trip to the Deep next Thursday.
W/C 23rd January
We have had a lovely week learning all about Chinese New Year. We have had fun in the new role play area .Terrance brought some Chinese candy for us all to share.
Starfish have been busy this week in science sorting different animals into groups! Then we had a go at painting and making a collage of our own animals ready for Chinese New Year!
We have had a busy week in Starfish class! As part of our geography work we have started to find out about the polar regions of the world. It's looking pretty chilly in our classroom!
A very Happy New Year to you all! We look forward to sharing our news with you this year. Watch out for some photos next week of our role play area- it's looking pretty cold in there!
We have had another busy week in the Starfish class! Our visit to Hope Central in Malton really brought the Christmas story to life, it was an amazing experience.
We loved visiting the Christmas tree festival in the parish church on Friday. What a lot of beautiful trees!
We had a lot of fun making reindeers in the classroom this week. They smelt of chocolate because there was cocoa powder in the playdough mix!
Christmas has arrived in the Starfish class! We are enjoying being in the stable at Bethlehem.
We enjoyed playing Snakes and Ladders this week! What a shame there was a snake on the top line, it caught a few people out when they thought they were going to win!!
What a busy week we have had! Lots of measuring ,thinking about left and right,then Children in Need Day. On Friday we had a party. This was our treat for having the most lining up cards last half term.
We have had a busy week investigating materials. Miss Cousins took us on a materials hunt outside. Then we sorted materials and talked about their properties when we were in the classroom.
Happy Diwali! We had a wonderful time on Thursday learning about Hindu customs and listening to the story of Rama and Sita. Do you recognise anybody here?
17th October 2016
Wow, what a busy week Starfish have had .We have been learning about place value in maths. We have also written some traditional stories using adjectives.On Thursday we went to church to watch the year two Starfish in the production of The Enormous Turnip before heading out on our Welly Walk . We also visited Tesco. We were lucky to be able to make some a bread and look at different fruit and vegetables.
Thursday 13 th October 2016 Trip to Scarborough Castle.
Starfish set off to visit Scarborough Castle. We had great fun looking at the ruins of the castle. Mrs Jackson and her team of soldiers set off to win the castle back from the enemy. Fun was had by all even though the weather was not very kind to us.
Starfish trip to Elmswell Farm October 4th 2016
It was a lovely sunny October day when we visited Elmswell Farm. Farmer John took us on a long Autumn walk ,showing us the signs of Autumn. We visited Boswell and the all the other cows. We looked at the signs of autumnal change in the leaves and plants. We headed back for our lunch through the fields and enjoyed our lunch outside.
Had an exciting week this week learning all about castles. We have been enjoying acting out in our role play castle. Looking forward to our trip to Elmswell next week.
What a busy first week we have had!
We have had a great time exploring the areas and getting to know our new classroom.
Starfish 2016 - 2017
------------------------------------------------
We had a brilliant day on Monday when we went to the beach! We were joined by the lifeguards and were able to give them £100 which we raised from our bun sale.
Our Tesco ladies visited us this week and made some delicious treats for us!
We were lucky with the weather at Elmswell and had a wonderful day walking in the fresh air.
Little Big Sing, Beach and Tesco visit.
Year 1 enjoyed their trip to The R.N.L.I and asked lots of questions. The outfit was a bit big and heavy too. The weather was kind to us which meant we could go to the beach and show off our building skills. Hope it is as nice next week when we go to Elmswell and the week after for Little Big Sing.
We had a wonderful time last Friday celebrating the Queen's birthday. The Horse looked fantastic in the church with all the flowers around it.
Hope the weather is kind to us on Friday for the BBQ! We hope to see you all.
This week we are looking at the story of Grace Darling. Next Wednesday we are going to the lifeboat station at Bridlington to look at a real lifeboat.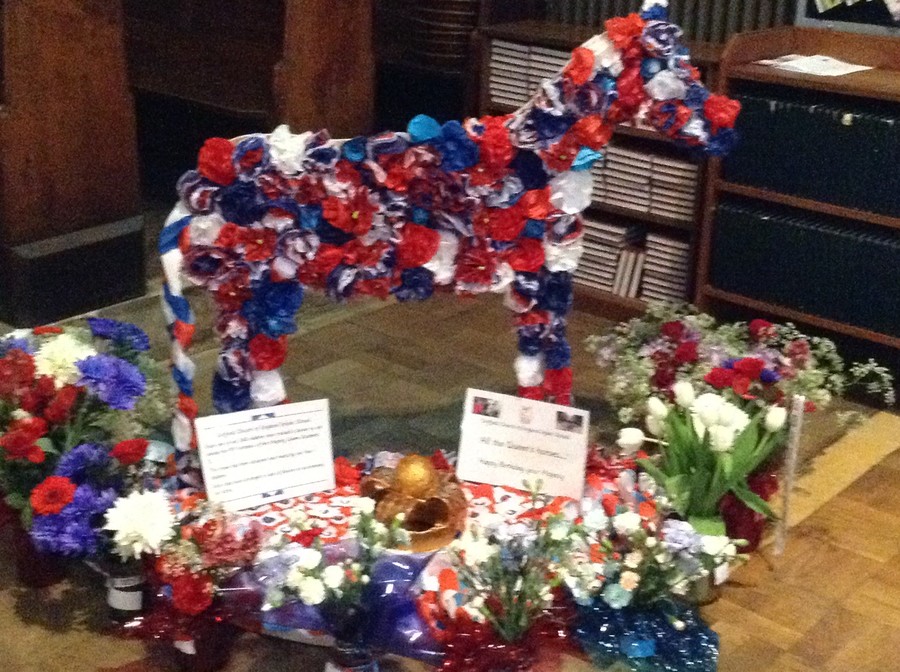 We have had a busy first week back!
We have all made a flower to decorate the horse which is on show at All Saints Church for the Flower Festival this weekend. Also we had our Sports Day on Wednesday which all the children enjoyed. They did very well! Then in the afternoon on Wednesday Mr Steele took us for P.E so we are all very fit.
The children are looking forward to our Queen's party on Friday, we will put some photos on next week.
Thursday 26th May 2016 We made Fruit Kebab Swords.
On Friday we went to the park to look at the changes on the trees also to identify trees by their leaves.
YES it was the boat that was missing from the "Seascape in the style of Vincent Van Gogh" the children enjoyed doing these and they are now hanging in our classroom. Think we could have some budding artists in Starfish.
Starfish once again have been working hard, we have done the second part of our "Seascape in the style of Vincent Van Gogh" and am looking forward to finishing it next week - can you see what is missing?
In Clic we have been looking at "fact families"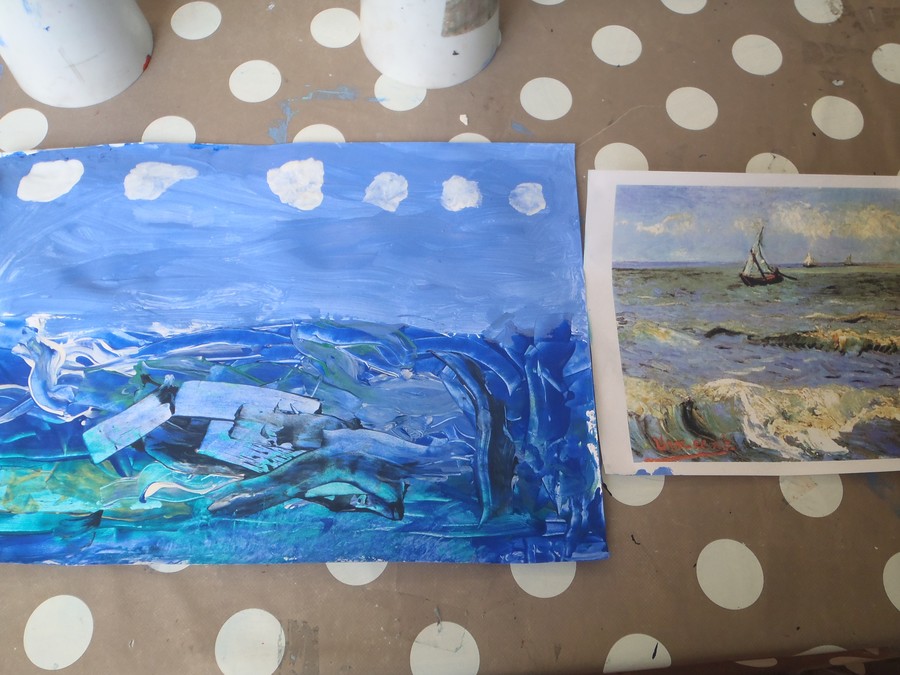 We have had another busy week, Mrs Edeson helped usto make buns. We had to measure out the ingredients. It was hard work but worth it as we got to eat them at the end.
We have also been learning how to do division/sharing using playdough.
Finally we have started to create our own "Seascape in the style of Vincent Van Gogh". For the the sea we used a glue spatula rather than a brush. Watch out for the finished pictures next week.
SHIVER ME TIMBERS!
We all had a Jolly time on Pirate Day.
Carol came and we sang some pirate songs also she told us a story about a pirate with her puppets.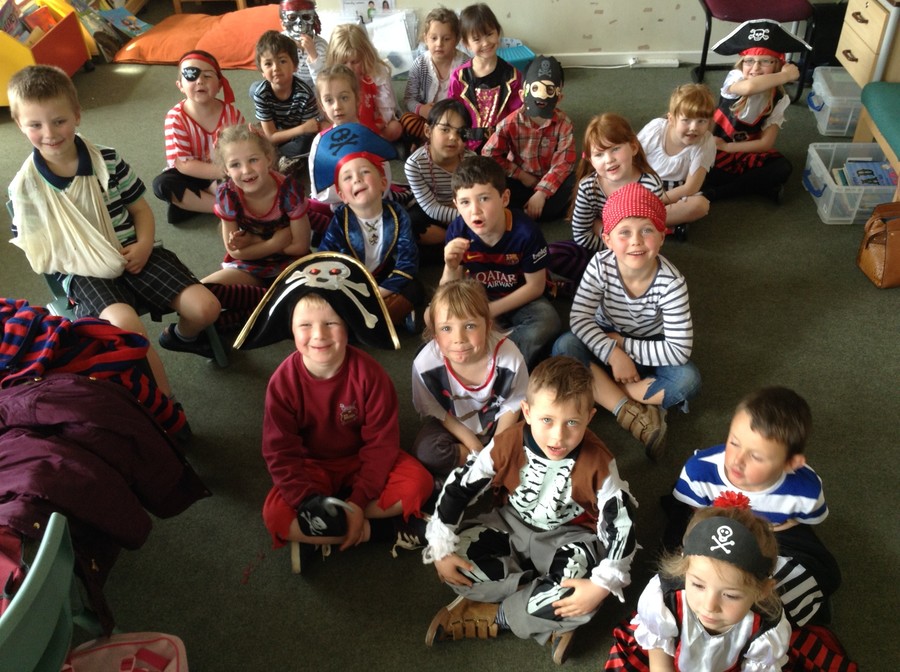 We have had another busy week! We baked Oaty Biscuits on Friday, they were delicious! We were so excited to come into school on Monday and discover that we have our own pirate ship in the classroom.