A warm welcome to all our new parents and children in Badgers, Otters and Hedgehogs class.
The children really enjoyed their nativity performance of Shine Star Shine. here are some photos of the children dressed in their costumes.
During the term we have invited our parents into school for stay and play. We had lots of mini challenges during the week. This included wrting a list of fruit to put in a fruit salad and then making it. It tasted delicious!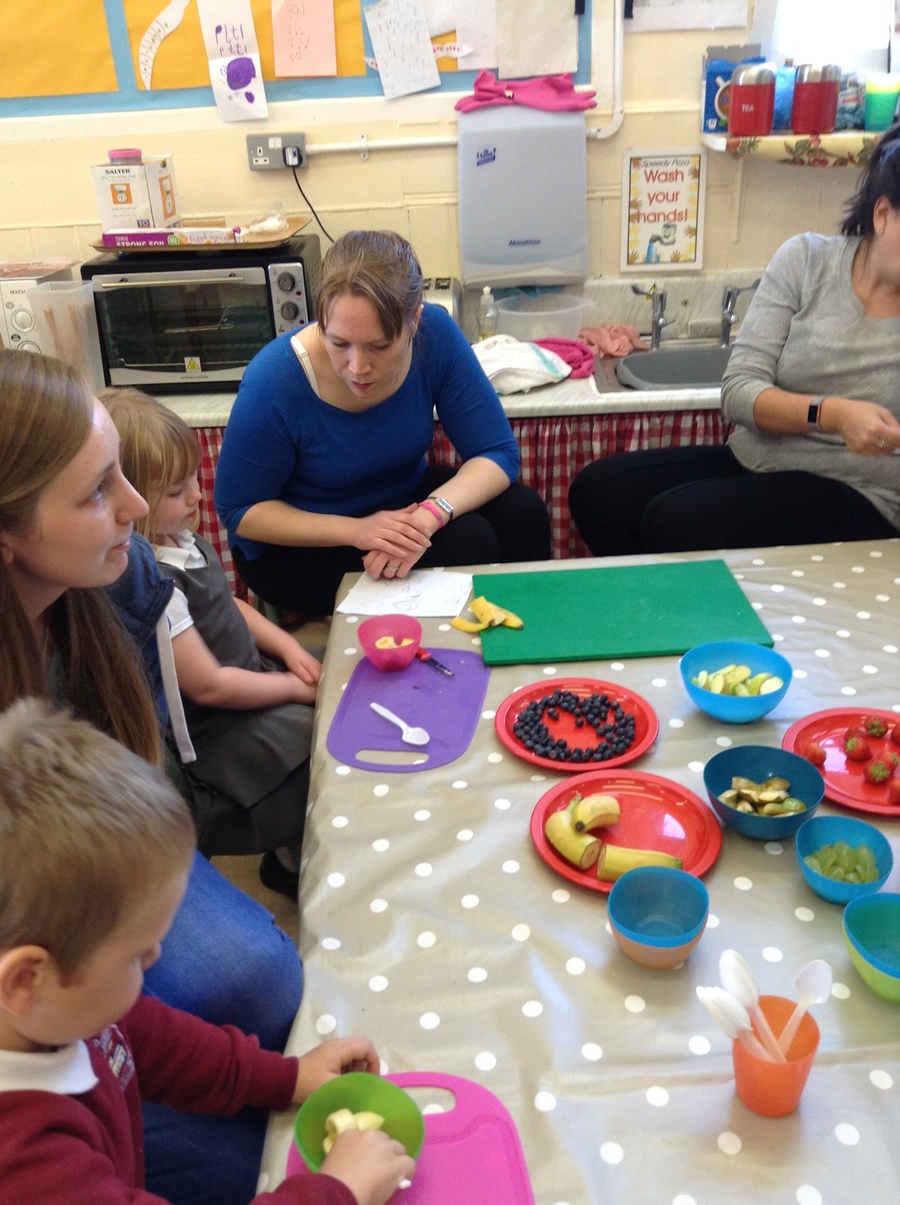 As part of our starting school activities we introduce the children to All Saints Church. The children have lots of time to explore the inside of the building and ask questions about what they saw.
The children have started their phonics and maths daily activities this week. They are showing great efforts with their robot arms to blend and segment letters and words. Remember to play games with the letter sound envelopes and read with them when possible.
here are some pictures of the children in busy time.
The children have been busy getting to know their new environment exploring the class areas and outdoor provision. We have been excited to start full days for many children this week. Well done to all the children for trying their delicious school dinners, yum!
The children will be learning the routines of the day and pictures will be added over the half term to this page to show examples of their activities.
REMINDERS
Children will need waterproof trousers, a jacket and wellingtons to be left in school. This enables your child to access the outdoor provision and visits to the local area when the weather is wet.
PE kits are not required until the Summer term.
Clearly label all clothing so we can return it to it's rightful owner!
Reading books will be changed on Mondays and Fridays each week from September 18th 2017. Please sign the home reader when you have read with your child so that we can give them their next book.
Each half term we will invite families to join us during our stay and play sessions from 2-3 pm. Dates for these will be issued on the school app and sign up sheets will be available at the drop off/pick up gate.
10th - 14th July
After the gardening group had lifted the potatoes form outside the next thing was to cook them. The children washed them and Mrs.Chambers boiled them in the pan. Butter and mint from the garden was mixed in at the end - they were delicious!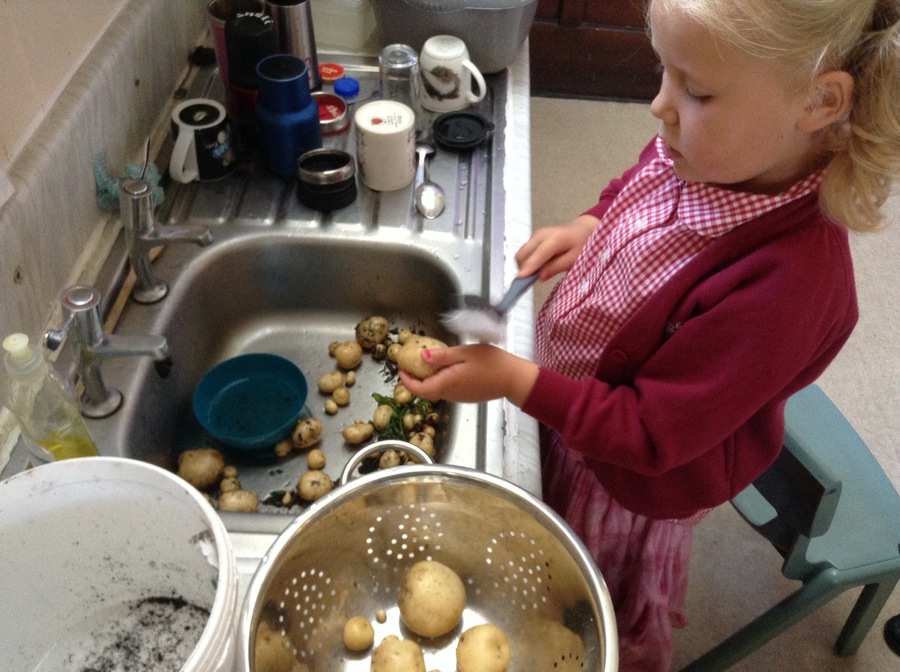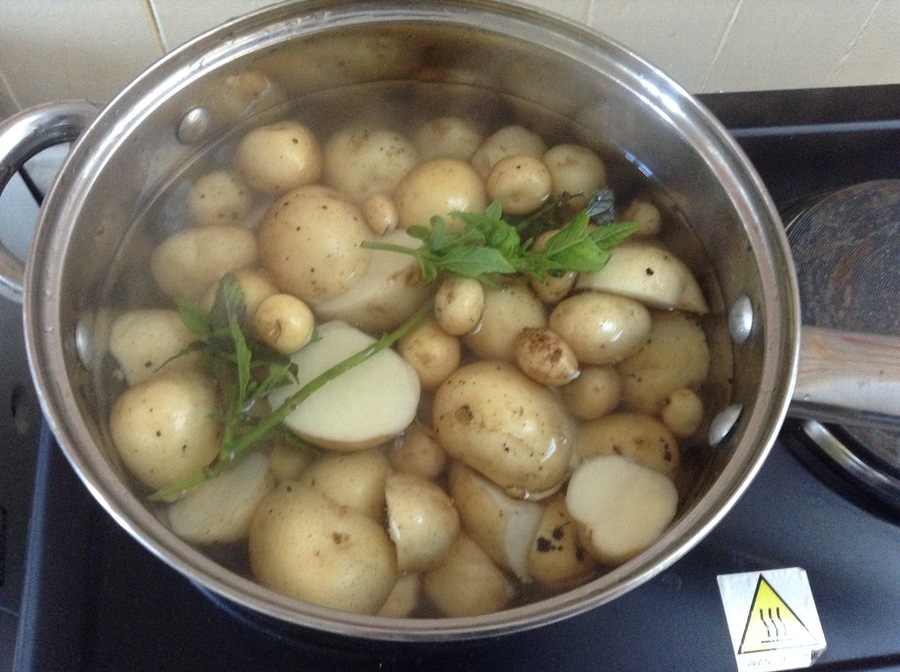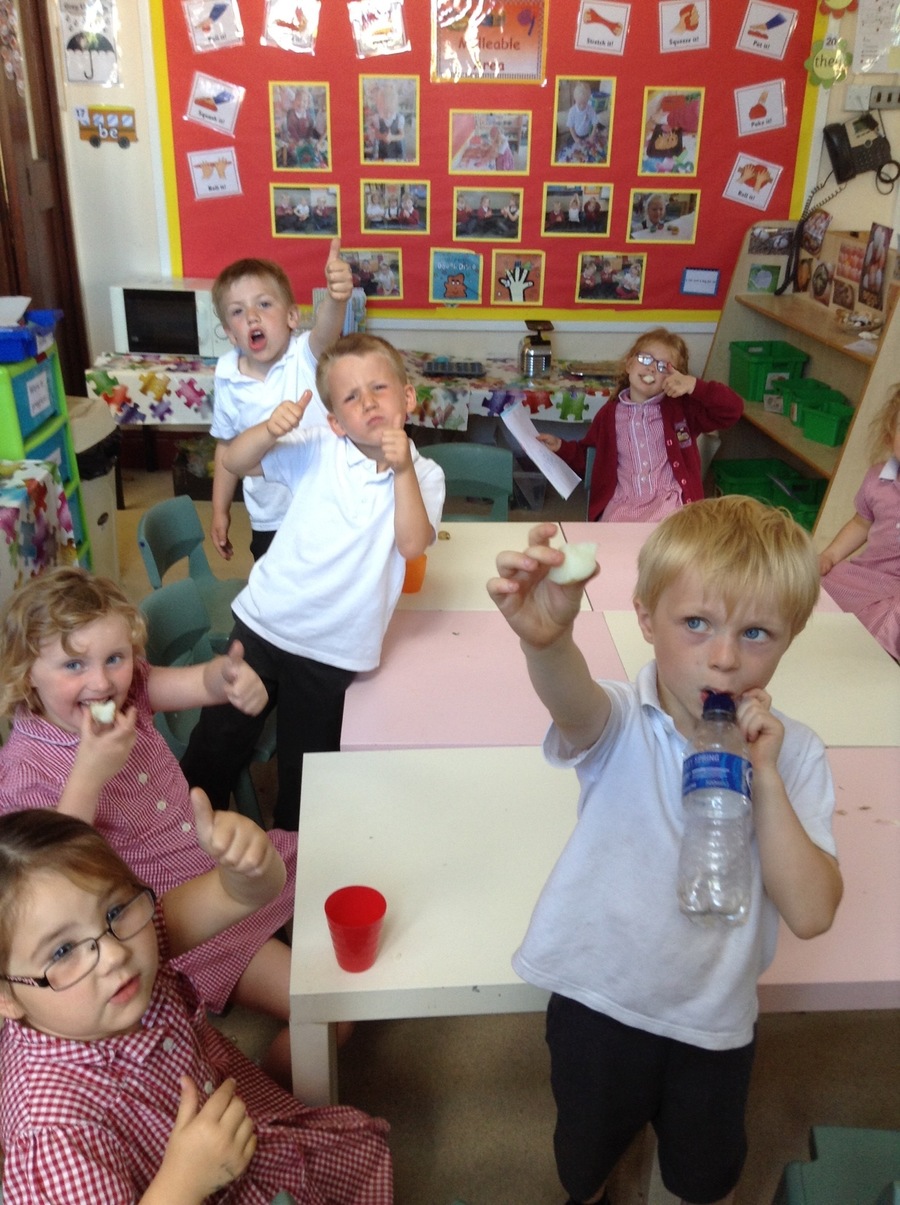 The children have all spent time in their new classes this week and enjoyed themselves. Don't forget it is sports day on Tuesday at 1.30pm at the cricket ground - please come in your kit and don't forget your disco clothes too.
Here are some more pictures from the last week.
3rd - 7th July
This week was whole school spirituality week. In the Butterfly room the children could watch the bubbles from the large bubble tube and reflect. They did some "stilling activities" and wrote notes about what they were thankful for. Also this week they have been writing what they are good at or what they can do now after a year at school ready for the leavers service in church. In red room to celebrate Wimbledon, Mrs.Stead brought in strawberries and the children helped to whip the cream - yummy!
26th - 30th June
All the children visited a Year 1 class this week to see how it looked like. Everyone enjoyed themselves and the Y1 teachers were very impressed by how grown up the children were. The focus this week was very art based especially on Friday when we had a Creative Arts day (see outdoor page for more art pictures).
19th - 23rd June
With the end of term fast approaching and the weather warming up the children have been practising songs for the leavers service in church, been busy painting for Driffield show and also really showing how ready they are for Year 1. Please remember to bring in your NSPCC forms on Monday.
12th - 16th June
This week the children all visited Elmswell farm (see our outdoor page). They have continued to do lots of writing and number challenges.
In yellow room they have been busy painting backgrounds for Driffield show paintings.
The workshop has been as busy as usual with lots of creative models made. Please can you send in any boxes as we are getting low.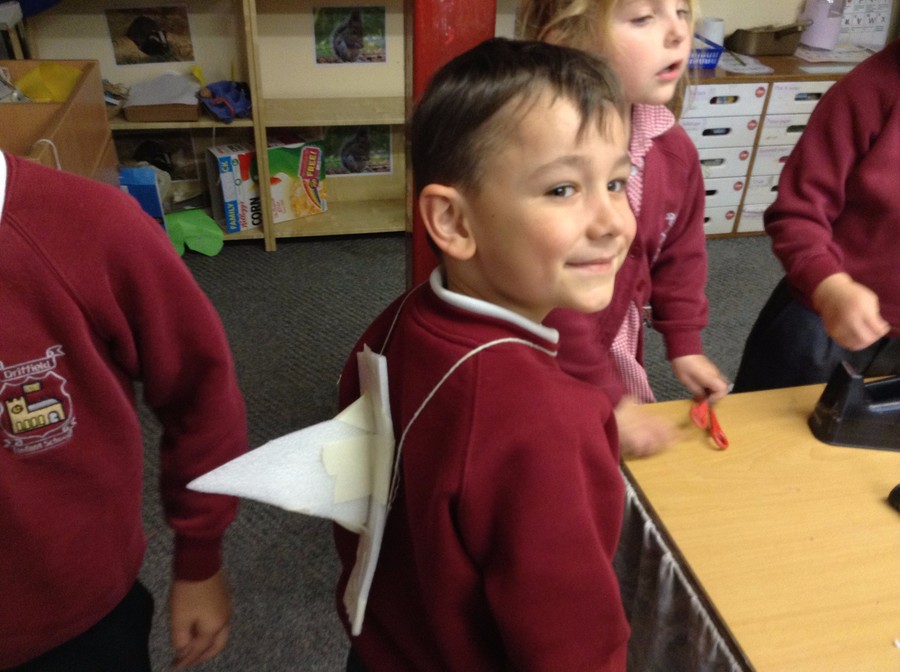 Here are some more pictures from the last week.
5th - 9th June
The last half term of this years Foundation Stage - and it has gone so fast! The children really are showing how they have matured over the year when we have had children from the pre-schools coming to visit.
In maths the children are tackling an increasing number of higher level problems. They have been sharing items between people - the start of using division!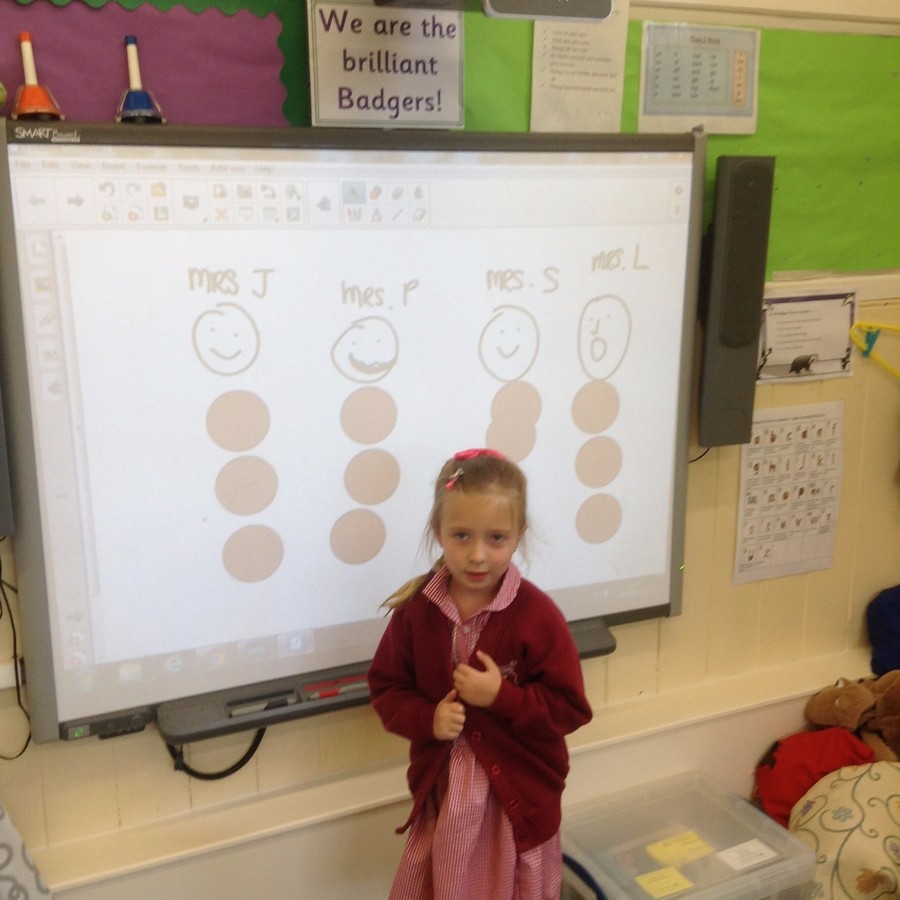 22nd - 26th May
Summer arrived this week and what better way to cool down than to make zesty fruit flavoured water using oranges and lemons. The children prepared it and tested it, most liked it - some weren't too sure.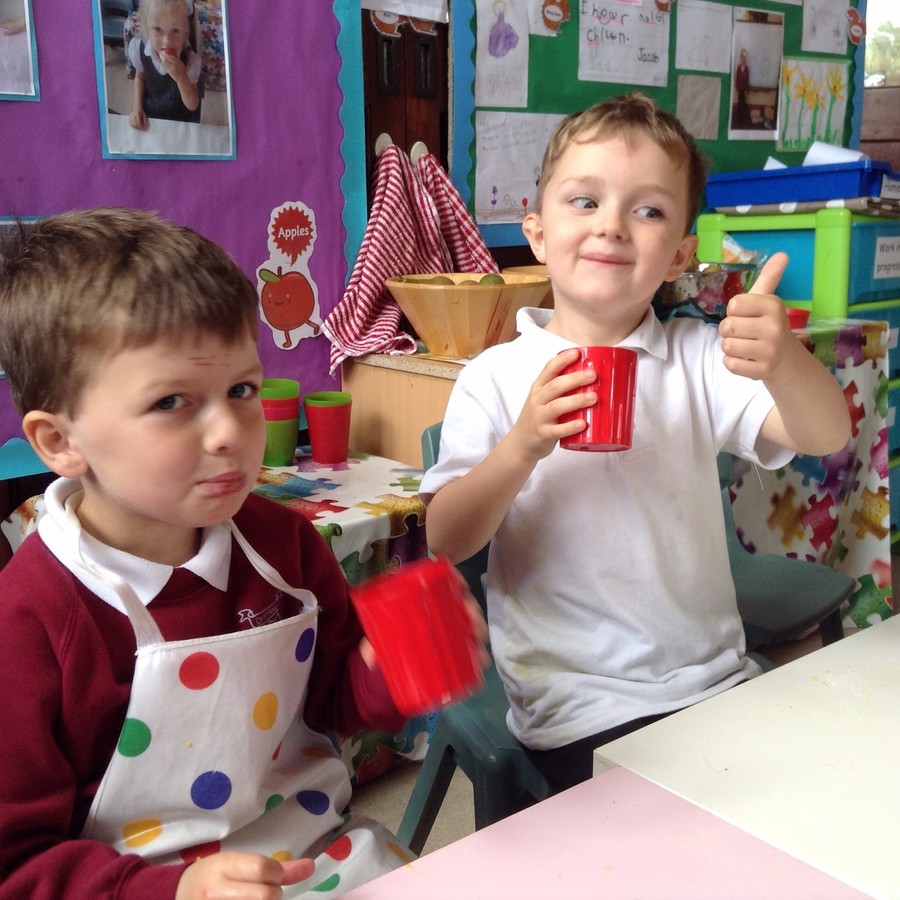 In yellow room the main task during busy time was to use clay and make their own fossils.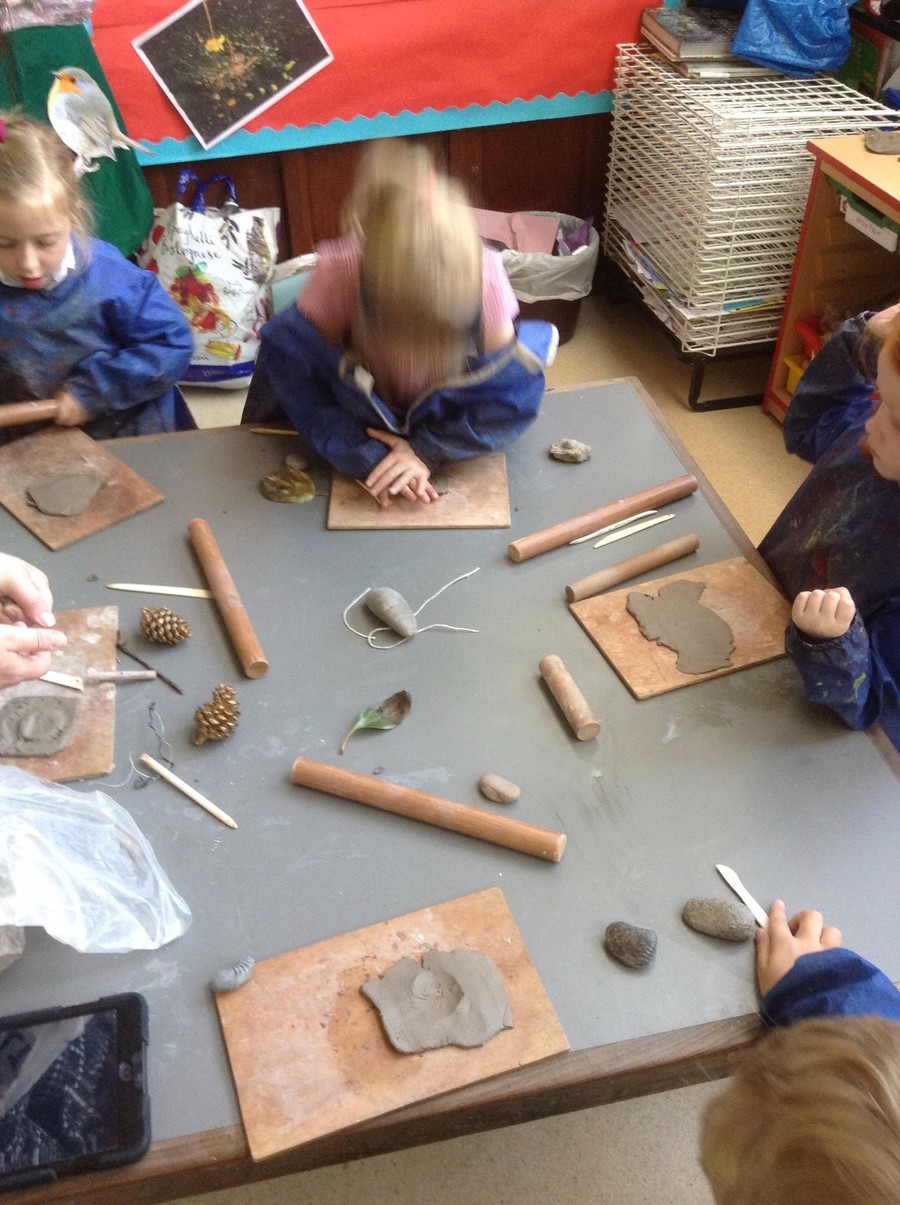 The maths focus this week has been capacity and also measuring hands, first using cubes, then string and ended with using a tape measure.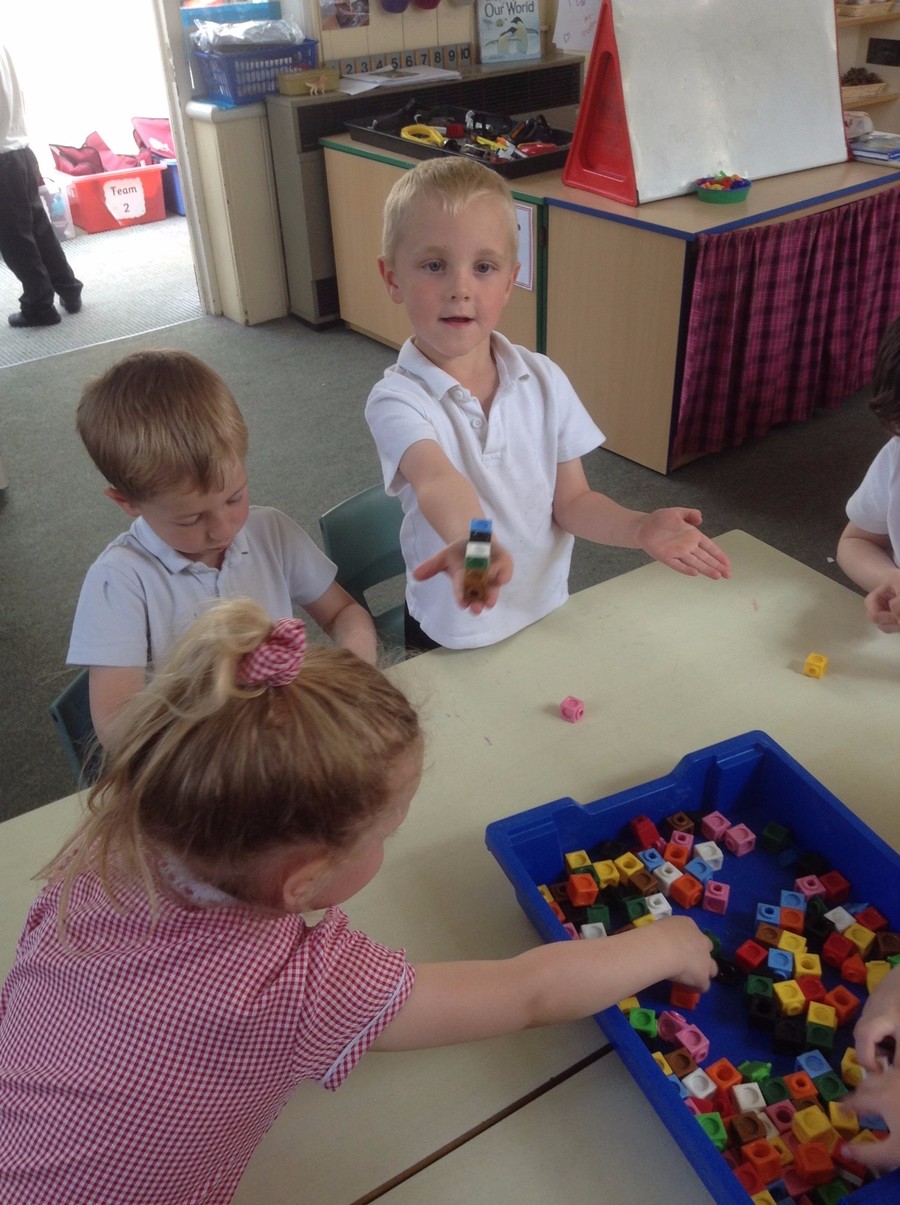 It was lovely to see so many parents (and grandparents!) come to Play n Stay and join in with the children. It seems amazing that we only have 7 weeks left of the school year - all the staff hope you have a lovely half term holiday. Here are some more pictures of a hot and busy week.
15th - 19th May
This week the children have continued to research about dinosaurs and have written about their favorite dinosaur and why. They are eager to find out fascinating facts and share them with their friends - did you know the Stegosaurus had a brain the size of an apple?
This week the new children for next year came for play n stay sessions and our children were very helpful and friendly.
In red room Mrs.Stead has been making fruit salad with a whole range of exciting fruit to try.
The workshop has been as popular as ever. Thank you to people who keep topping up the junk materials we need. The children are now very independent in this area.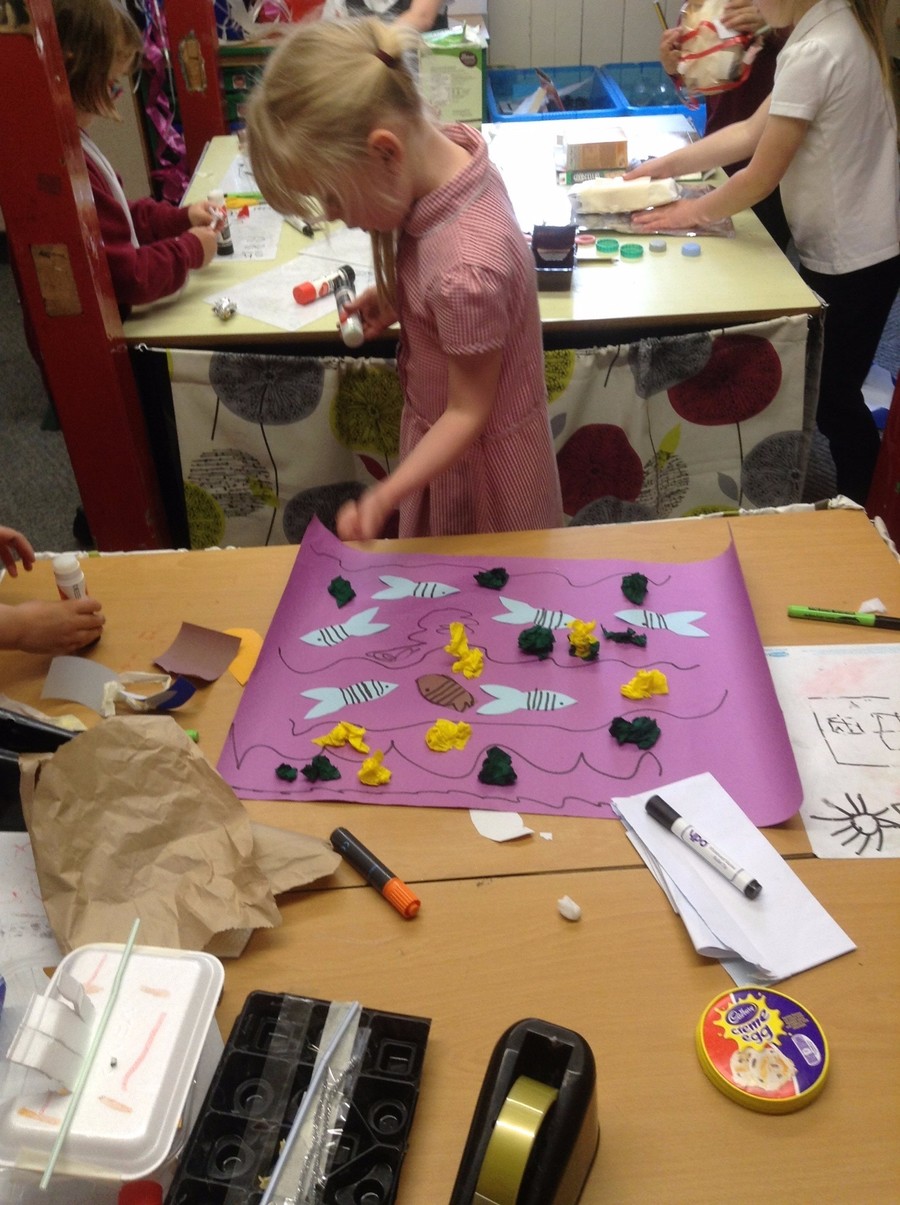 In maths the children have been working on one more or less from 20. Letter formation has also been a focus during phonics. Here are some more pictures from the previous week.
8th - 12th May
What an exciting week it has been in FS. When we arrived on Monday morning we noticed the strange egg had hatched and there were footprints on the floor around the unit. Speculation was rife amongst the children - what was this strange creature?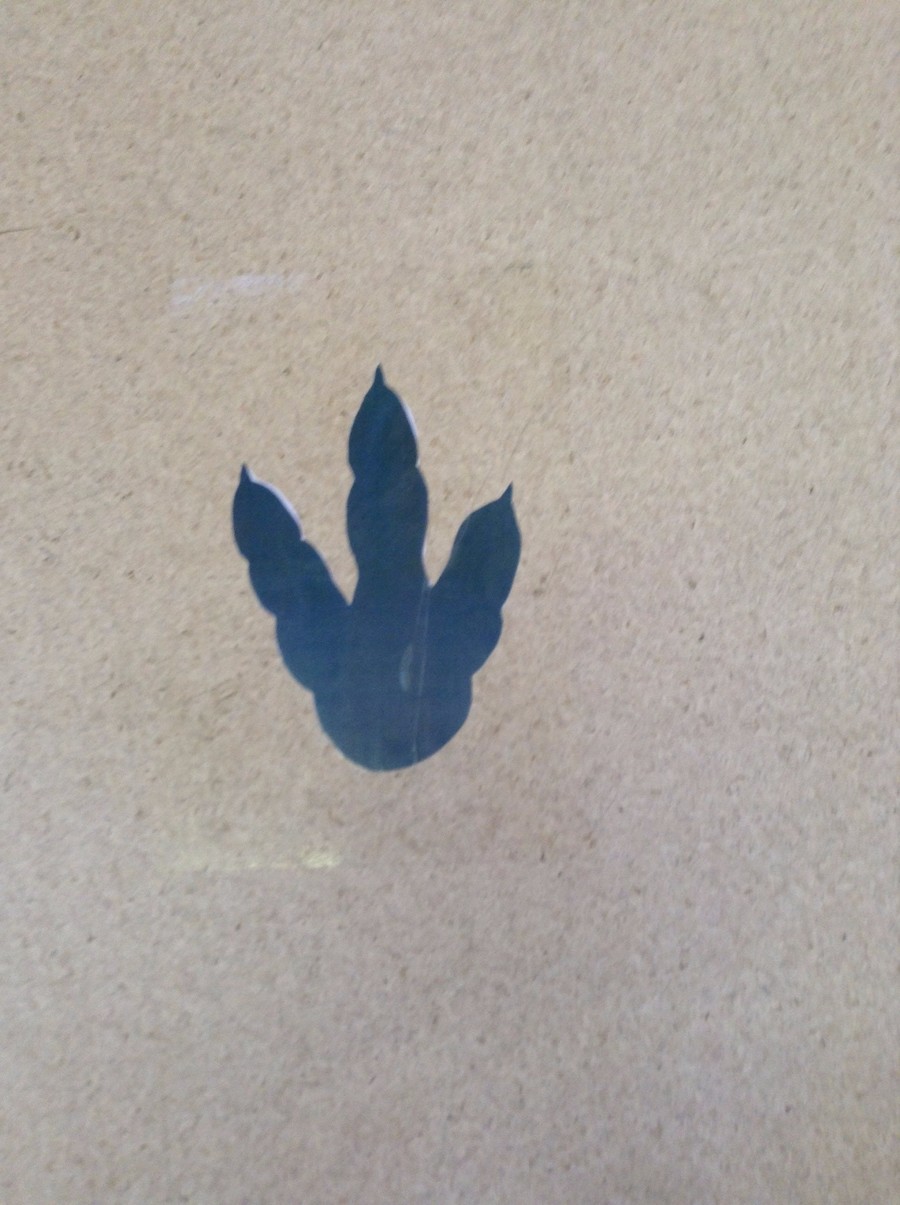 On Tuesday Mrs.Jenson brought in a real fossilised dinosaur egg - it was very heavy. On Thursday Steve came to visit from a museum in Hull. He was a palaeontologist. He was really interesting and he brought with him an allosaurus skull, a thigh bone section from a triceratops, a T-Rex tooth and a velociaraptor egg .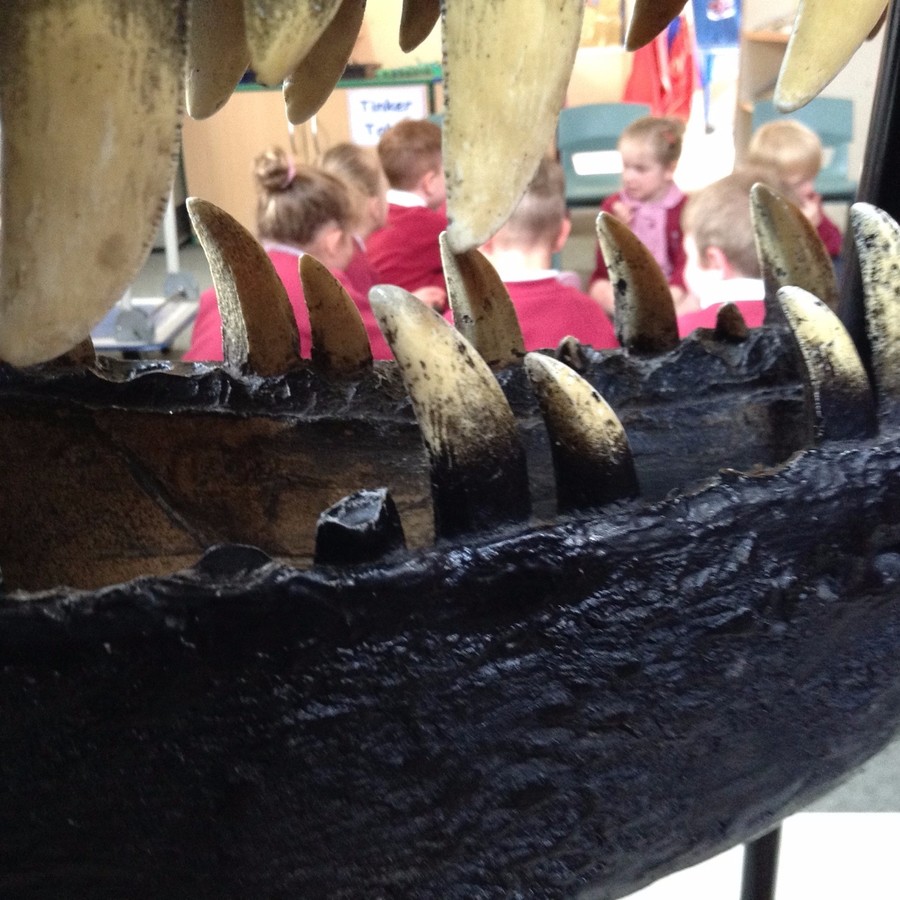 We have been looking at a brilliant book all about dinosaurs and we noticed something strange - lots of them had feet like chicken, some had feathers and one had a wattle just like a hen. On Friday Mr.Sirr came to talk to the children about his unusual pet - Maude the Harris hawk. He told us about what she likes to eat, how he takes care of her and also how wide her wing span is. The children asked lots of questions about her.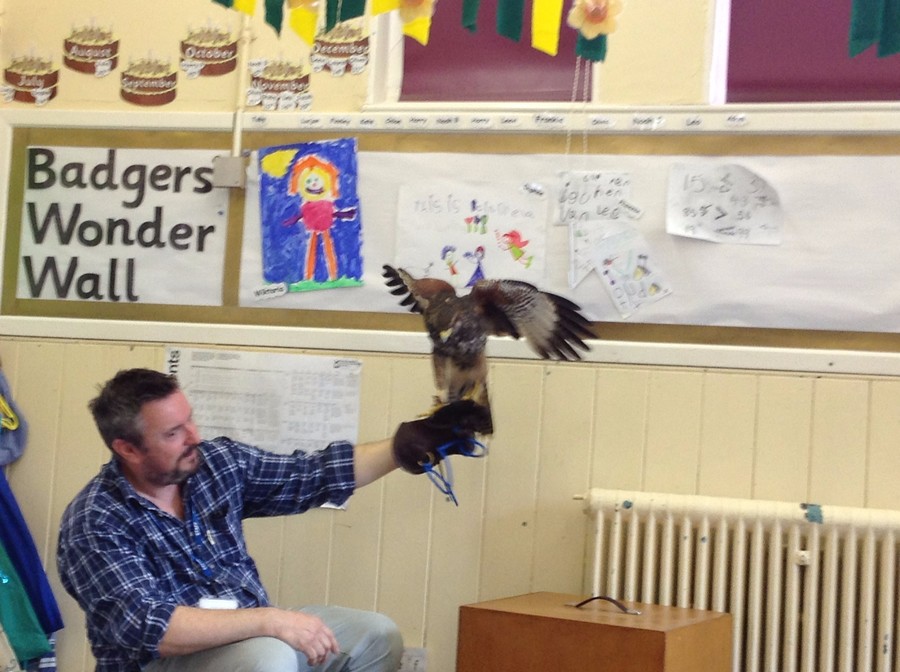 Here are some more photographs from the last week.
2nd - 5th May
The topic this term is all about eggs. The children came into school and found a large green egg shaped object in the middle area. They have been guessing what is inside it all week. The main thought is that it is an alien egg because as we all know (or the children seem to think) that Mrs.Stead is really an alien in disguise!!!
In the Red room there has been cooking activities all week involving eggs, scrambled eggs have been made and tested by the children. The main consensus was positive with just a few not enjoying it.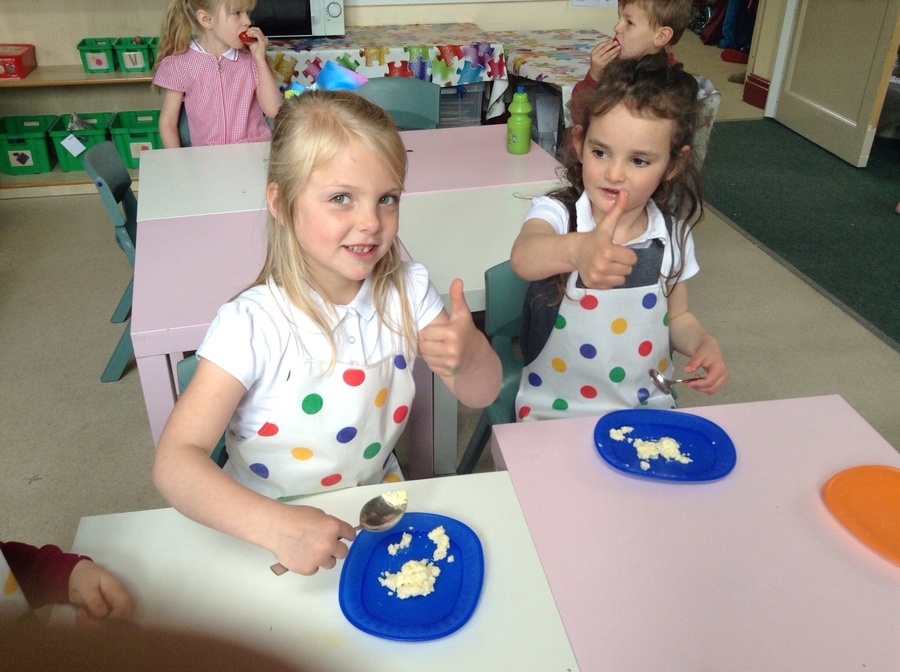 In yellow room the art focus has been to use mod-roc. It was very messy but enjoyable. The tinker table in blue room is still being used. A big thank you to all who supported the bake off challenge and those that came to the coffee morning. Parents evening is on Wednesday and Thursday next week and we are looking forward to seeing you all. If you haven't made an appointment please see the class teacher. Here are some more photos from the last week.
25th - 28th April
This week we've had sun, hail, torrential rain and even snow - a great mixed weather start to the summer term.
This week the children had their first PE lesson which they all enjoyed.
The focus this week was of course the Tour de Yorkshire!
The children have been learning all about bicycles and in blue room there is a tinker table so children could see how various parts of a bike worked.
On Thursday they had a bike obstacle course to complete which was lots of fun. Friday was the big event and the children were very excited (so were the staff). We all waved and cheered everything that passed us. Here are some pictures from the first week back.
Here are some pictures from the Tour de Yorkshire.
3rd - 7th April
Another term has just flown by. This week the focus was very much on Easter. The children did activities in the church following the Easter story and also in Kingsmill woods where they re-enacted Jesus and the journey into Jerusalem.
The week ended with an egg rolling competition and the Easter service in church. Here are some pictures from the last week and we hope you all have a wonderful Easter holiday.
27th - 31st March
This week the unit seemed very quiet as classes went on their trips to Bempton. Each class baked flapjack with varying degrees of success (the local birds may be unable to fly!)
In yellow room there was collage birds being made.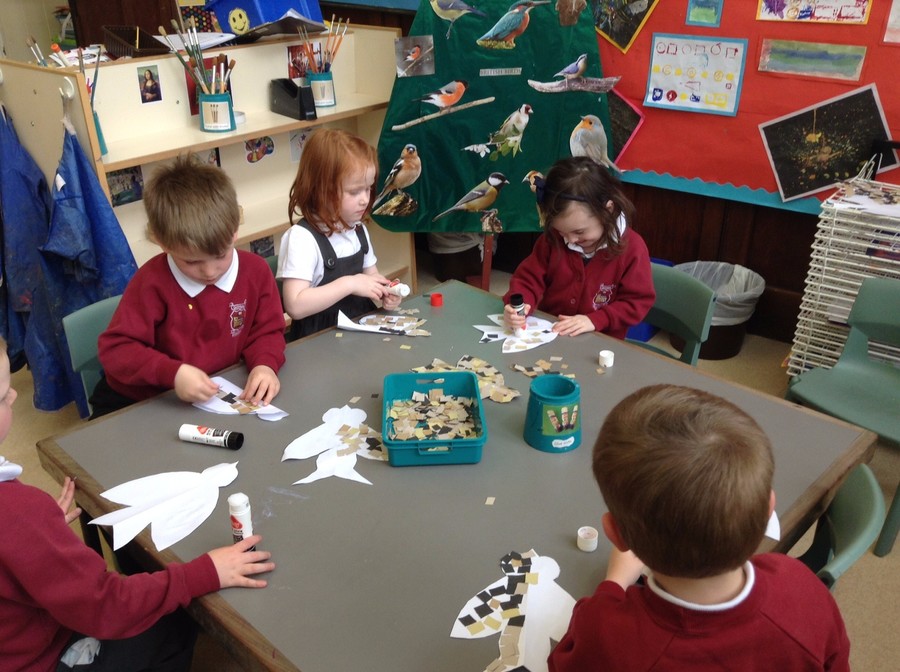 The role play area became a vets and lots of poorly animals were made better by the young vets.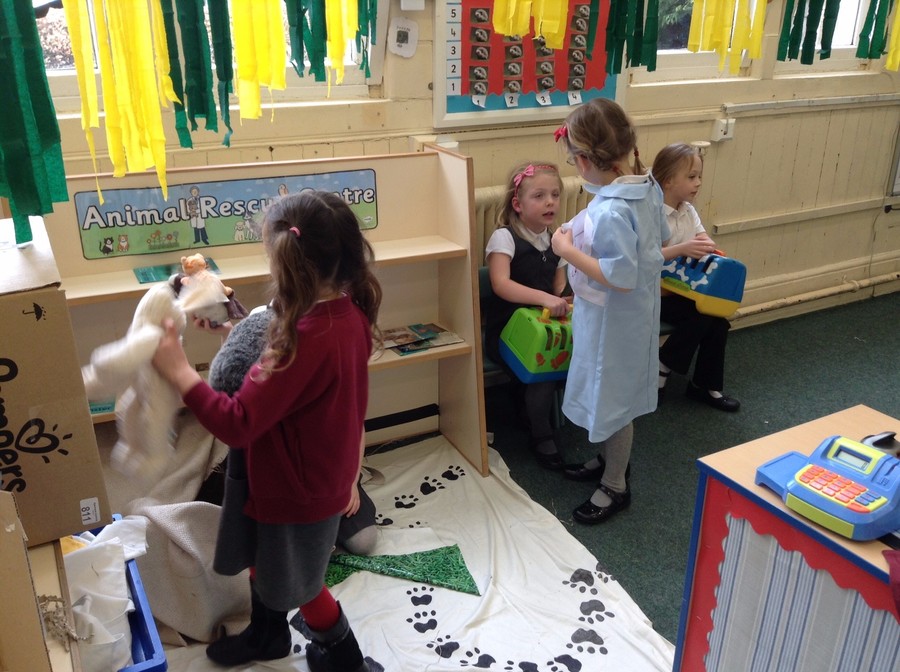 In numeracy the children were learning the words greater than and less than and were using the greedy crocodile teeth to show which was the greater number.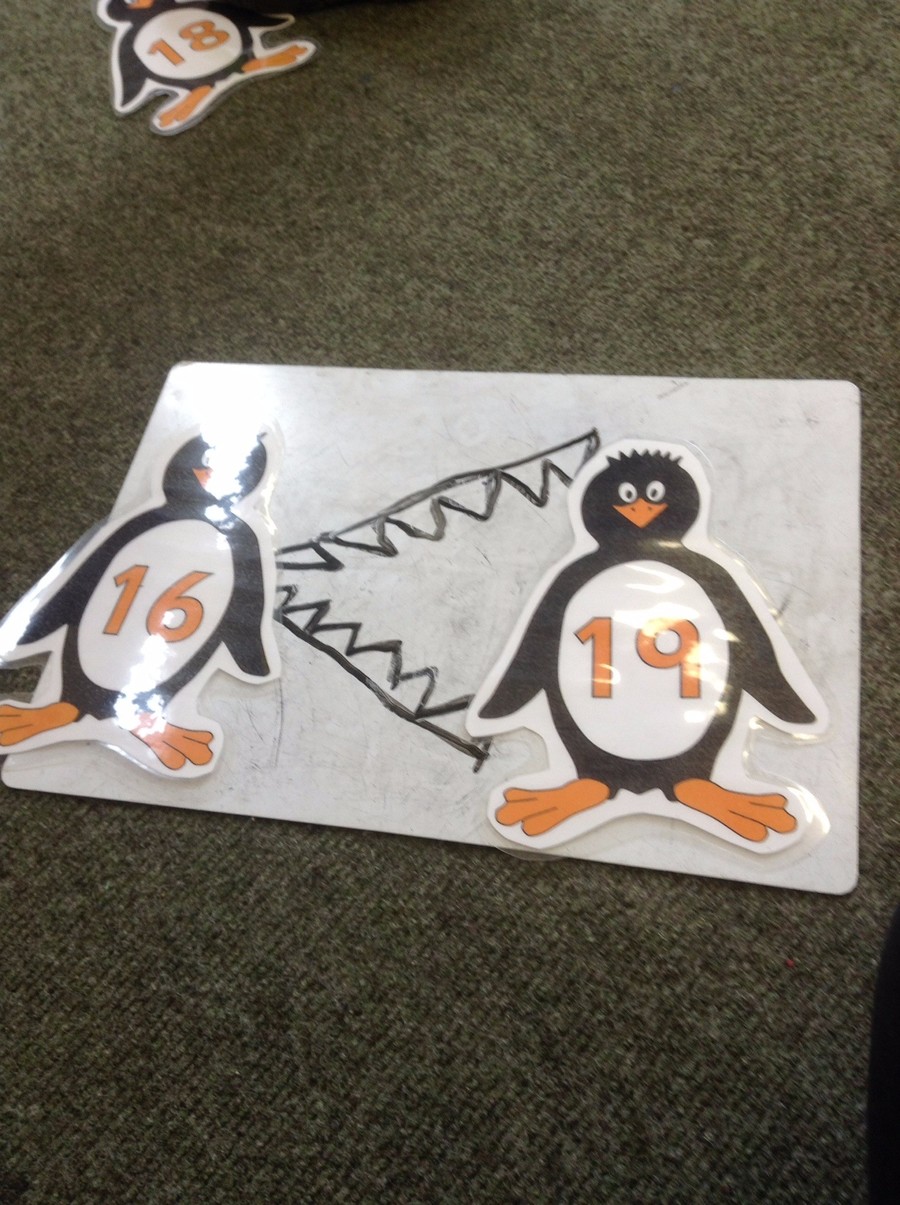 Here are some more pictures from the last week.
20th - 24th March
There was a lot of baking going on in red room this week in preparation for Red Nose Day on Friday. Elsewhere Mother's Day cards were being produced and written. The paintings of daffodils have really brightened the corridor up.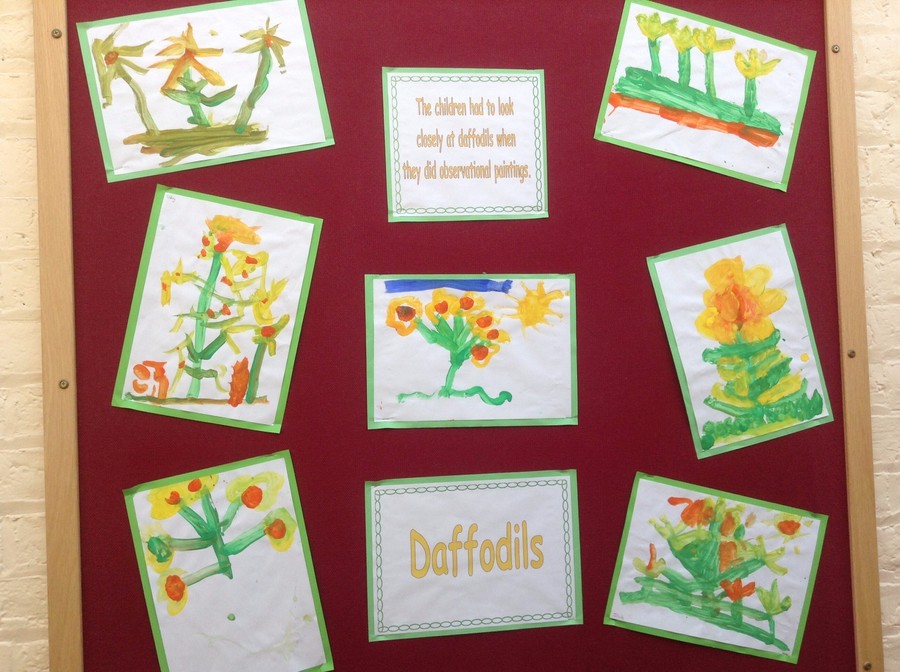 It is really nice to have Miss.Slater and Miss.Heyes in the unit for the next couple of weeks. They have settled in very well and have already set up a lovely reading corner which is being used frequently.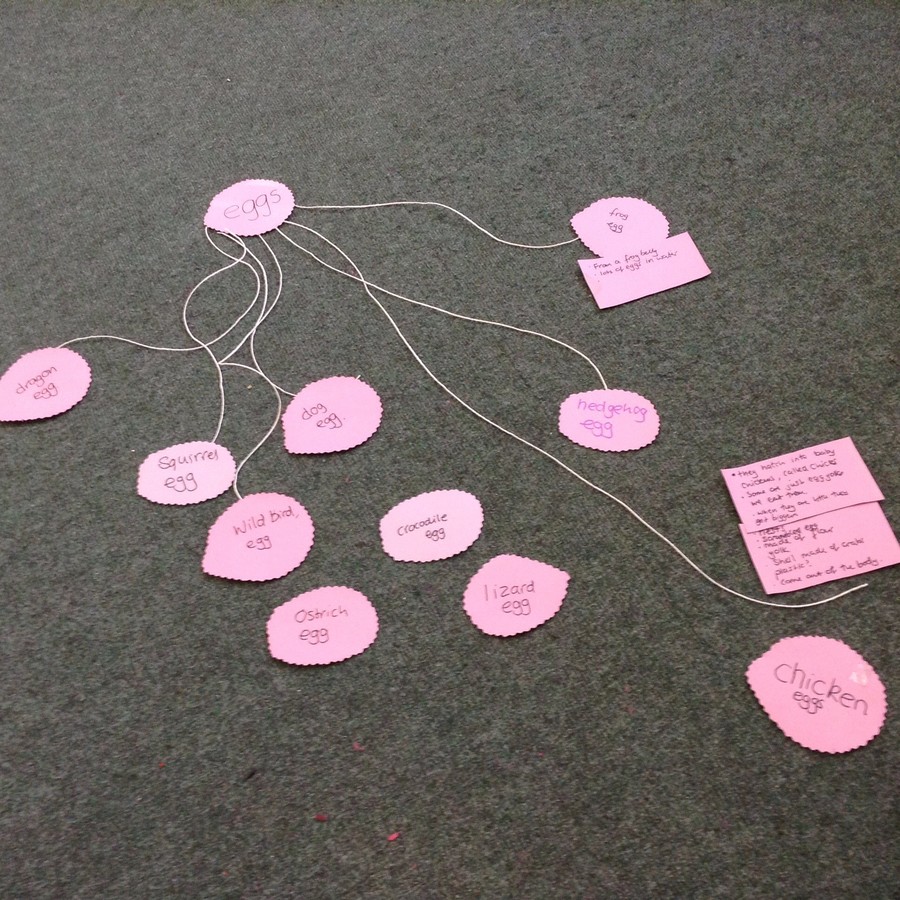 Each class has been putting forward their ideas and knowledge about eggs this week in preparation for next terms topic. This is the ideas web from the Hedgehog class.
Also this week the children have been learning about money and adding up coins and finding alternative ways to make set amounts.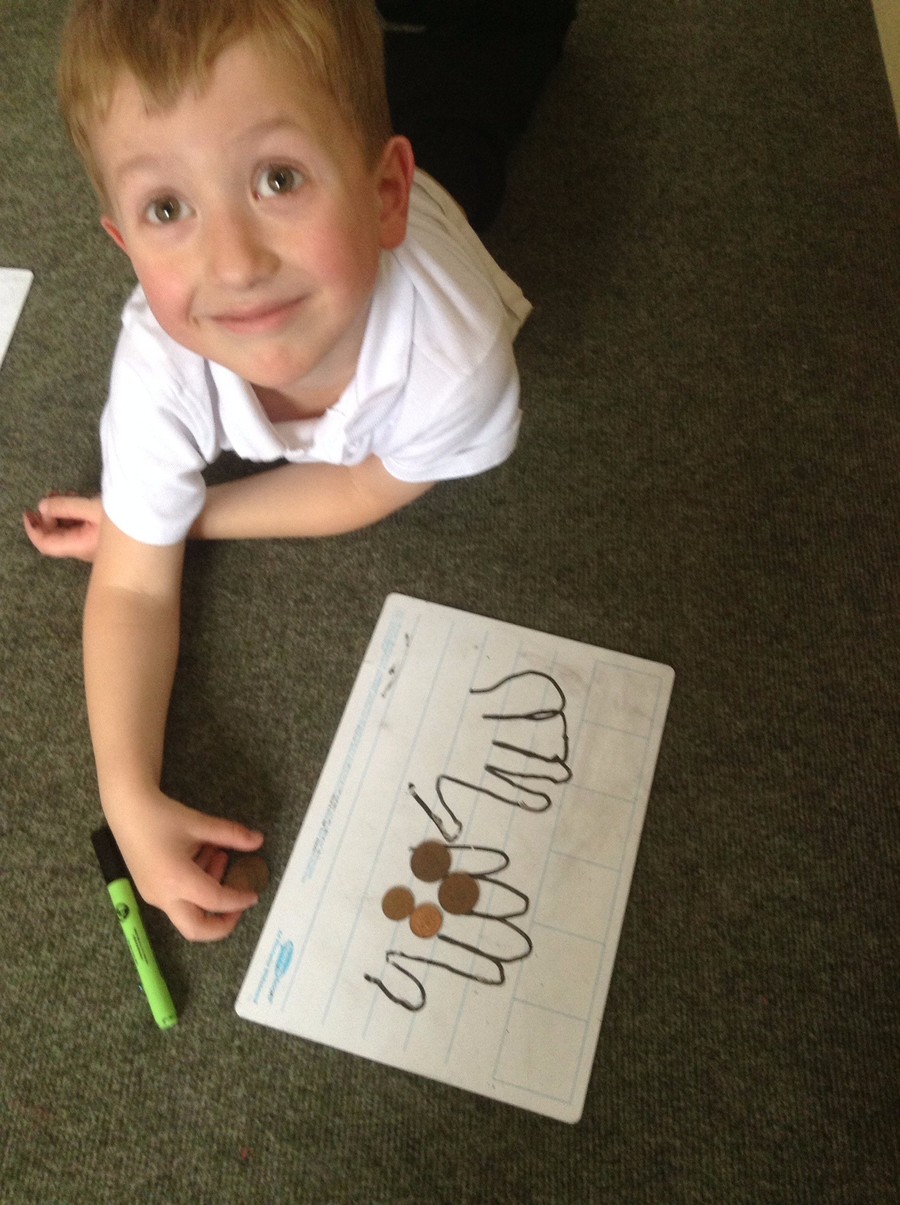 The main event of the week was Red Nose Day. Lots of things were going on but one of the most popular was making a funny face in a picture frame. Thank you for all donations.
13th - 17th March
Another busy week in the unit. The children were learning how to weigh items in maths this week using a balance scale. The frogspawn continued to cause excitement and the children are really doing well with their writing and reading.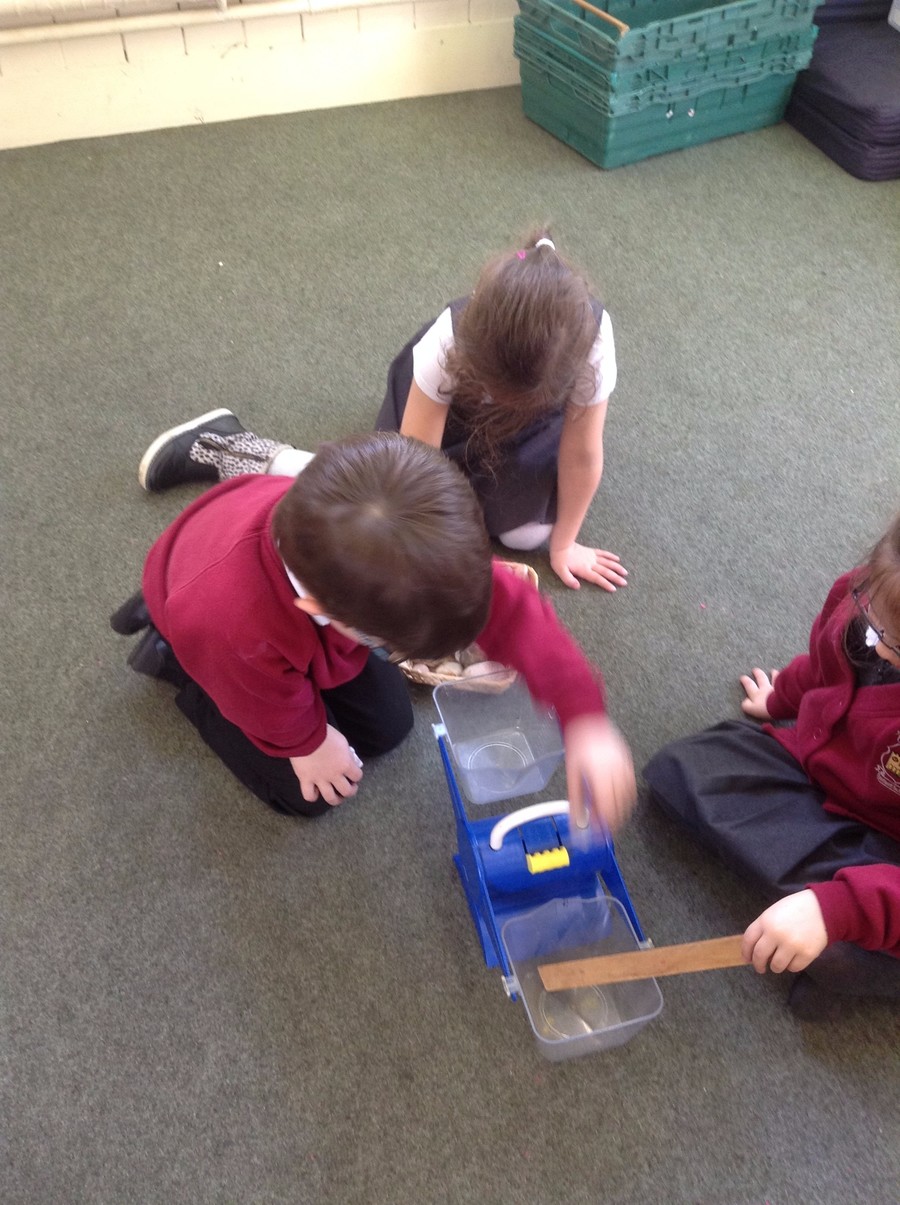 The children have been doing observational paintings of daffodils- they really cheer the walls up and remind us that Spring is around the corner.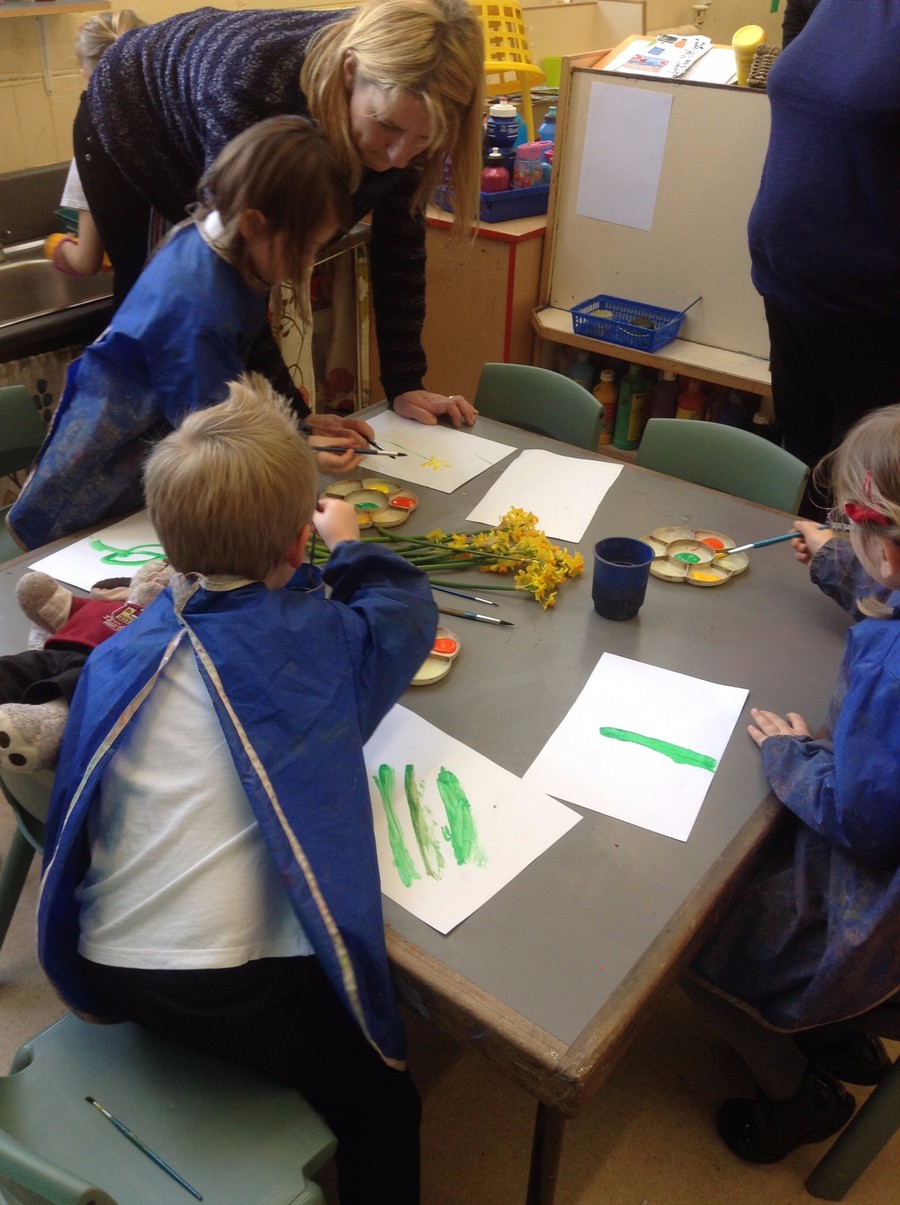 The Squirrel class went to Kingsmill woods to look for signs of Spring - please see our Forest School page for photographs. Here are some more pictures from the past week.
6th - 10th March
There was a science focus this week to try to explain to the children how the masses of frogspawn we have would have been laid by one frog. Mrs.Percival came up with the ingenious use of ........Aquabeads! When the beads are out of the water they are very small and as soon as they mix with the water they grow in size. Some of the children could understand that the eggs inside the frog would be tiny and then once they are laid in the water they expand.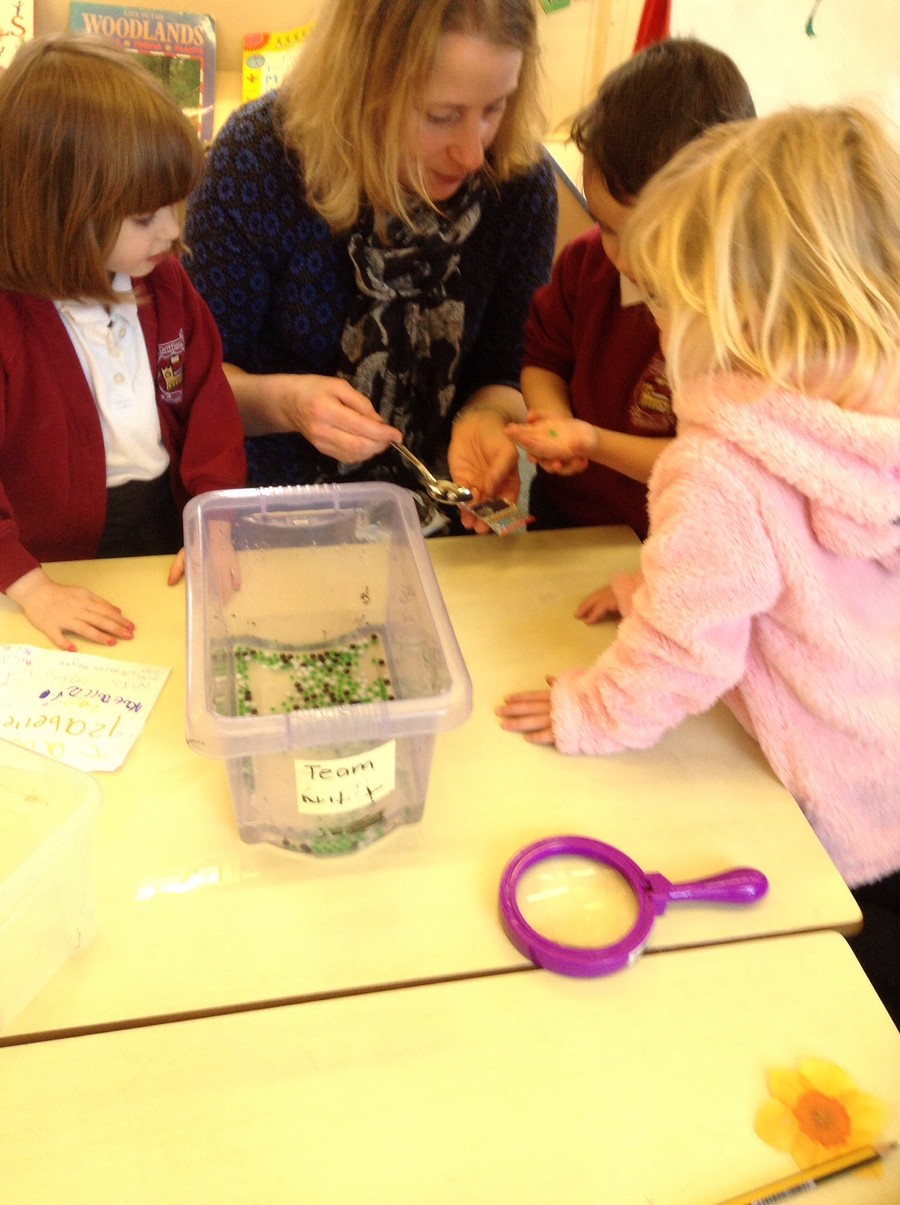 Throughout the week there has been baking, reading, writing, constructing, observing, playing........ here are some more pictures from the past week.
27th - 3rd March
This week was very much dominated by the pancake and World Book Day. Huge thank you to all the parents for providing the children with such wonderful costumes!
In the Blue room this week the children had to write down a list of ingredients to go into a magical potion.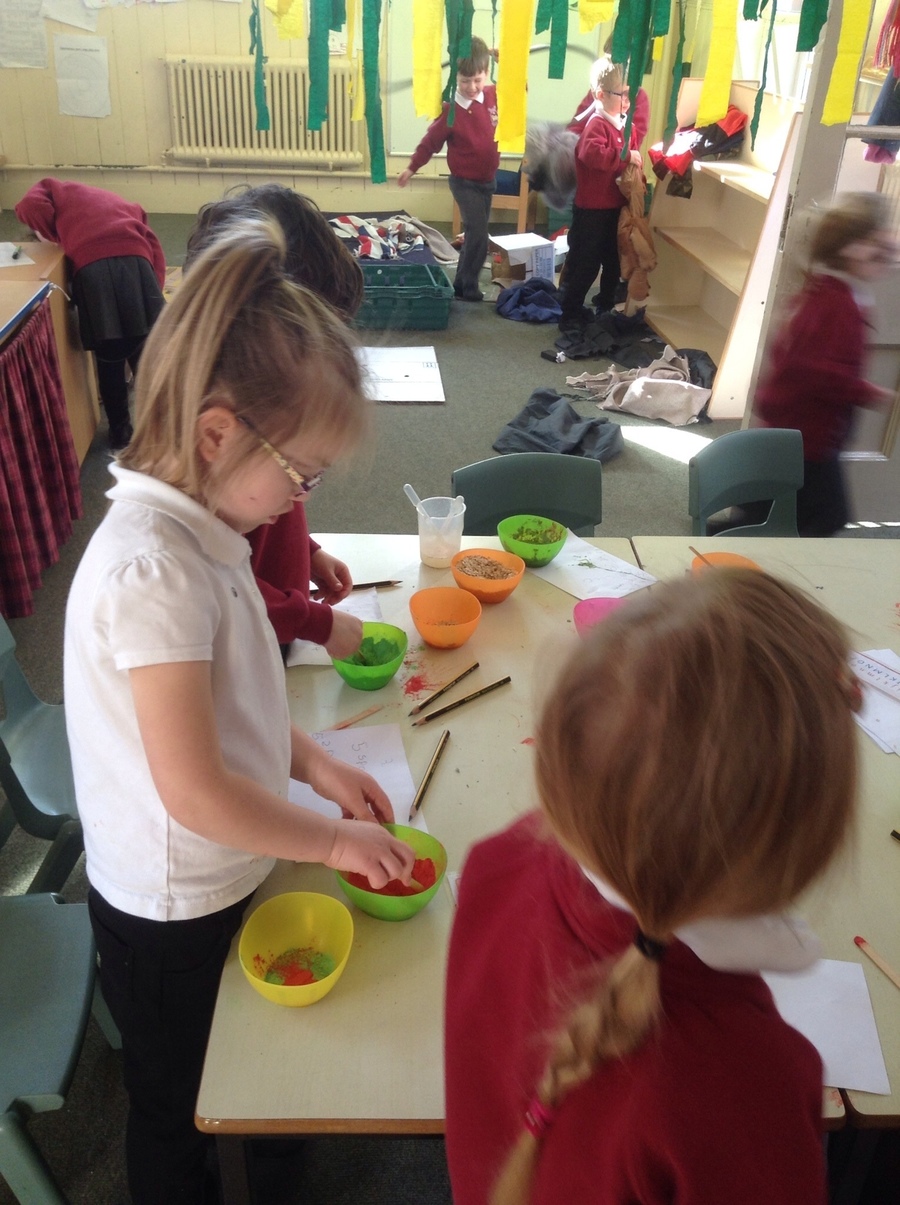 In Red room it was all about the pancakes! The children made them, chose which topping they would have and then had to use a knife and fork to eat it.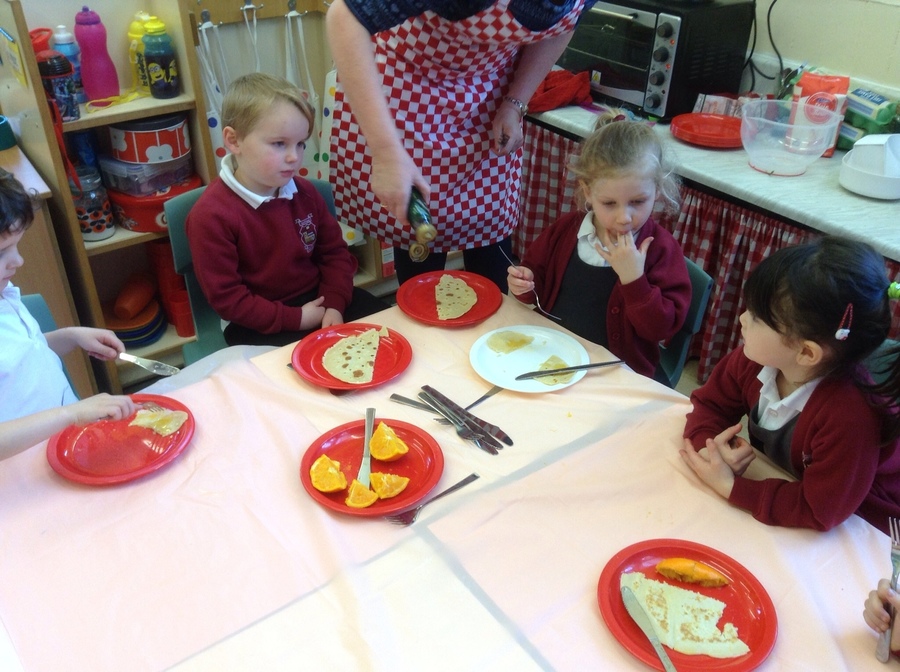 In Yellow room there was lots of painting going on - the children seemed to be using a lot of yellow. I wonder what plants they were painting?
World Book Day was a success and we saw some fantastic and imaginative costumes. Thank you to everyone for putting so much time and effort in.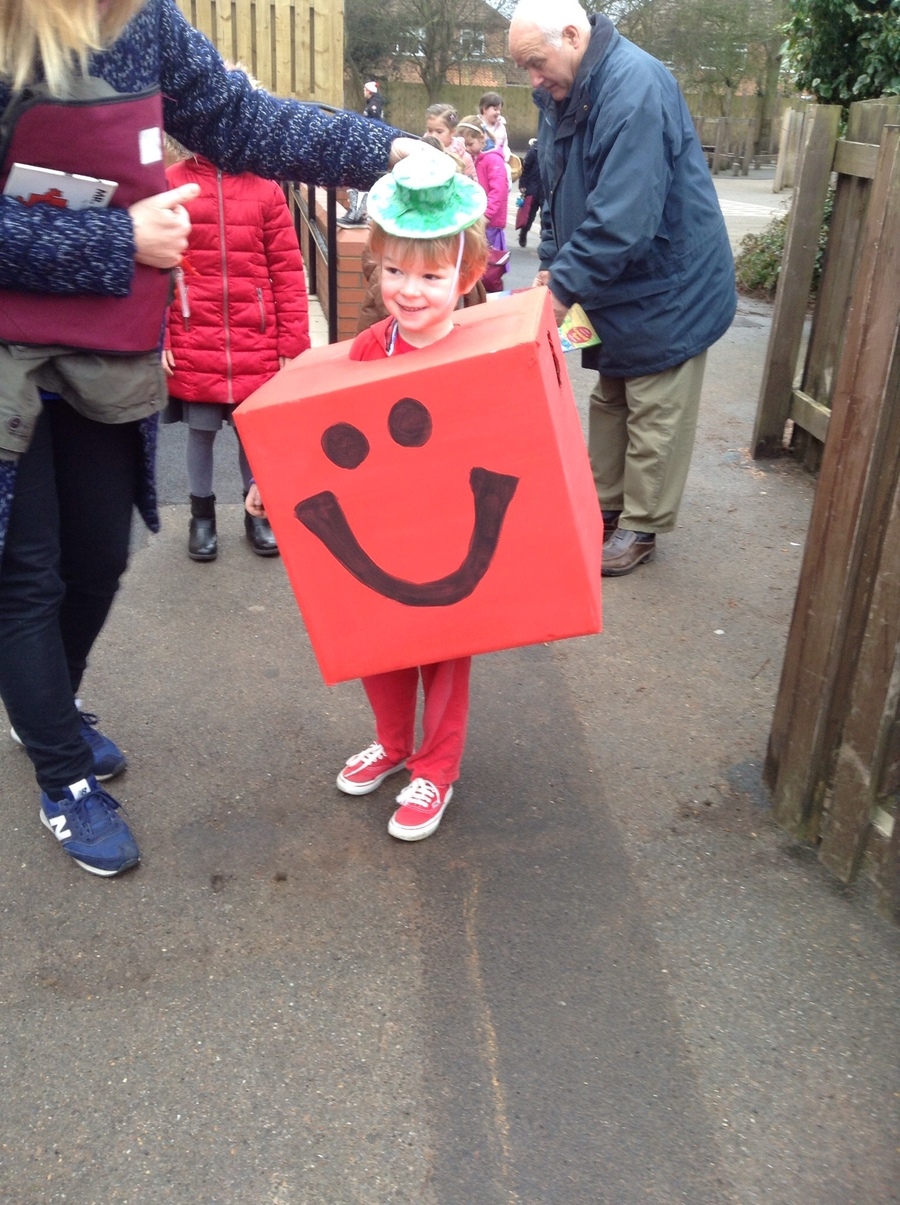 Here are some more pictures from the last week.
13th - 17th February
Wow! Can you believe we are now half way through the school year. Another very busy week in FSU with the children working hard in all the areas. The hairdressers was still a popular destination and Miss.Lock the hairdresser came in to talk to the children about her job. Mrs.Buckton looked very nice with her "Victory rolls" and many a different style walked around the unit that day.
In maths the children were learning about partitioning numbers, some children really enjoyed tackling larger numbers and the staff are very impressed with how they are progressing.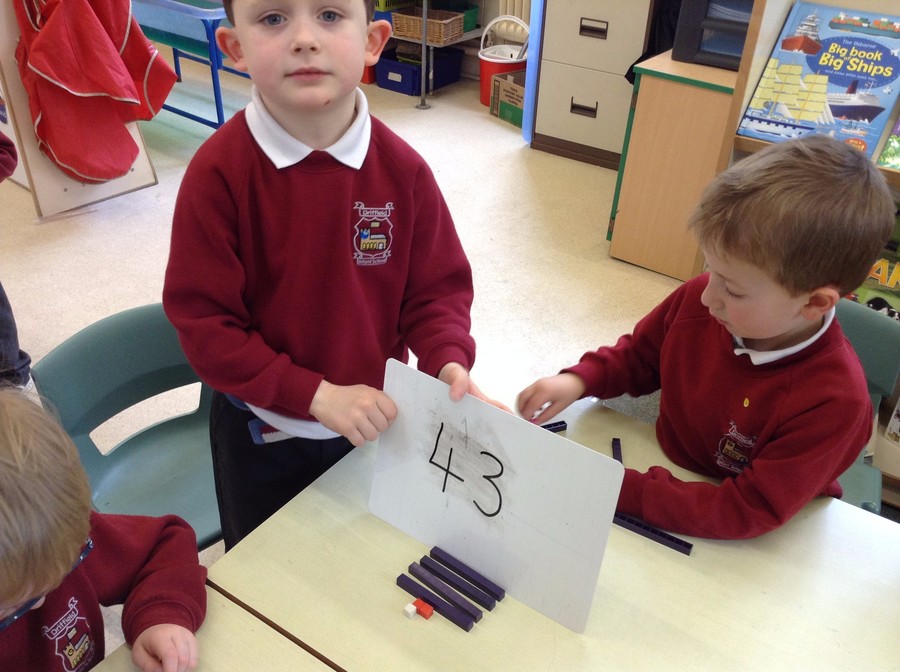 At the end of the week we dressed up in an outfit to show what we wanted to be when we grew up. Two ladies in Hedgehogs were fantastic teachers and manged to organize the class beautifully.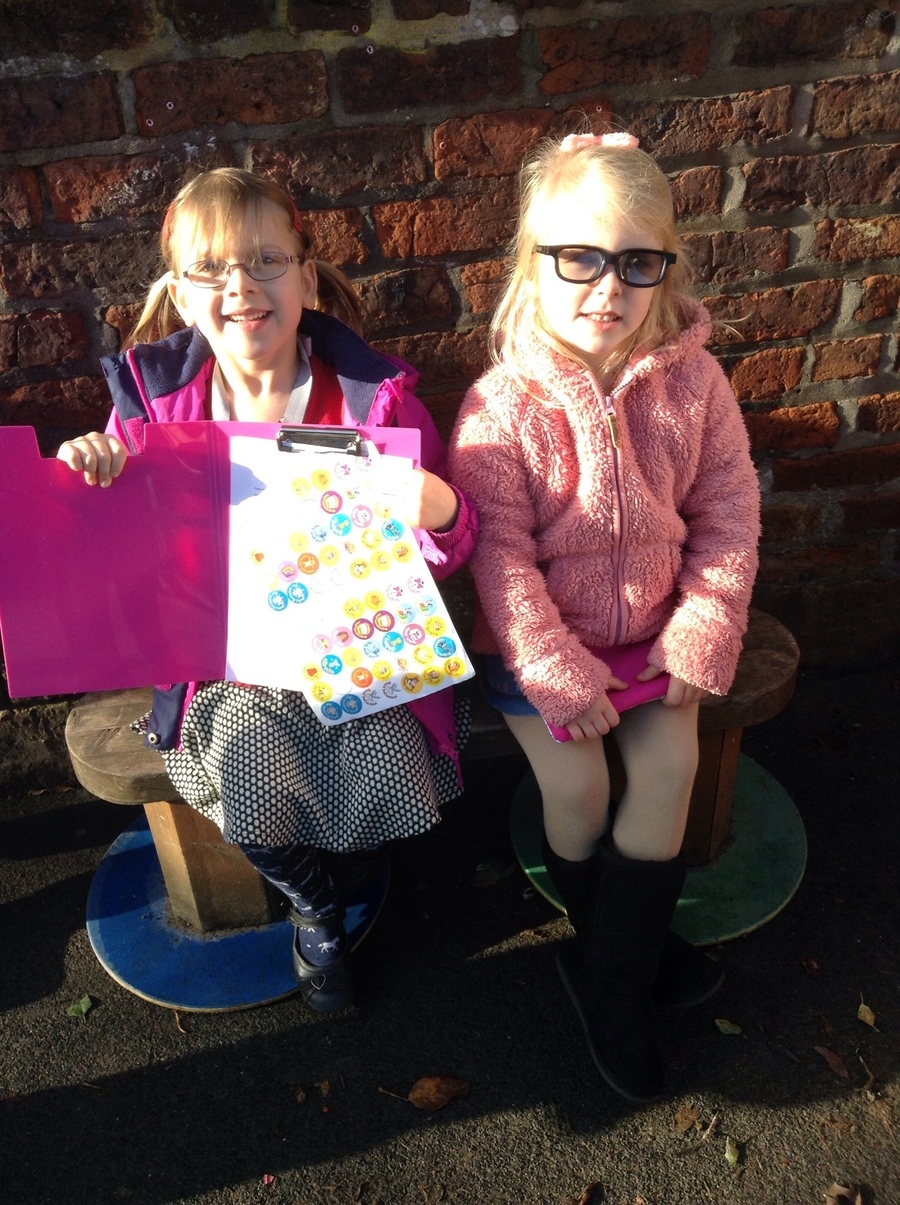 Some mornings we start the day with "Dough Disco" - this helps us warm up our fingers before we start work. Have a look on YouTube to see what we do.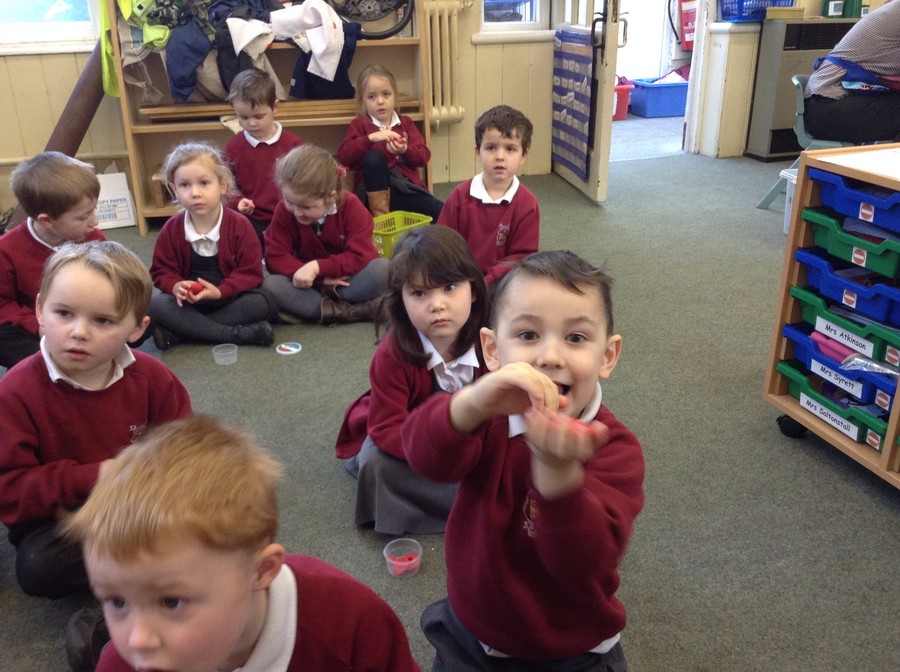 Here are some more fabulous pictures from the past week. We hope you all have a wonderful half term holiday.
6th - 10th February
The role play area gets changed frequently and at the moment it is a hair dressers as many of the girls had said they would like to be one when they grow up. It has been fascinating to observe the children!
In maths the children have been learning about symmetry and patterns. They have also been practising counting in 2's and recognising odd and even numbers.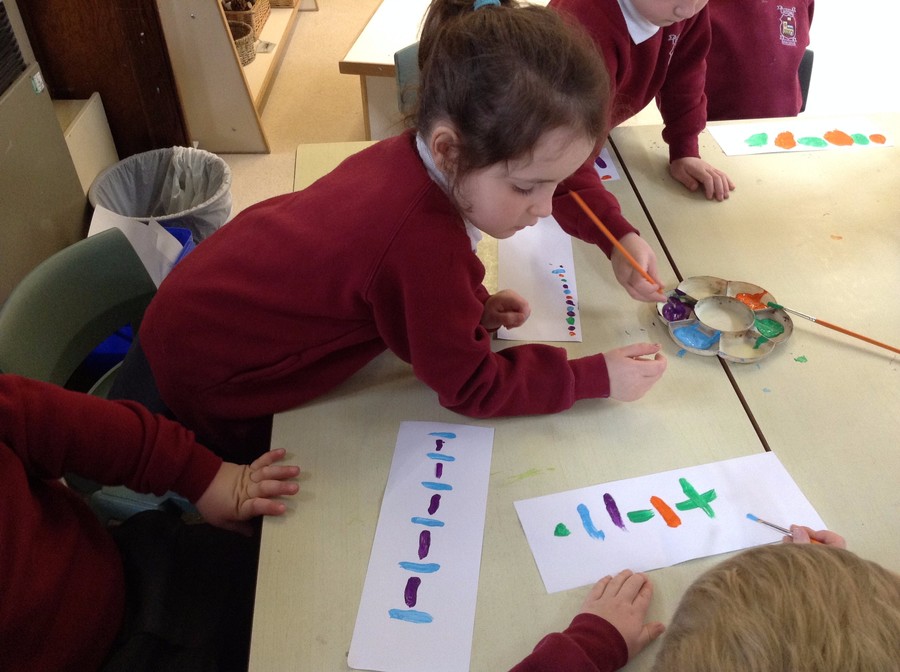 Some children just love the workshop area. One Badger decided he had better practise carrying his models before he took them out of the building! Please bring in any boxes and other junk materials for us to use. Here are some more pictures from the children working last week.
30 - 3rd February
The children are enjoying the workshop area. Their challenge now is to write a caption to go with their model. We are low on cardboard boxes so please keep them coming in.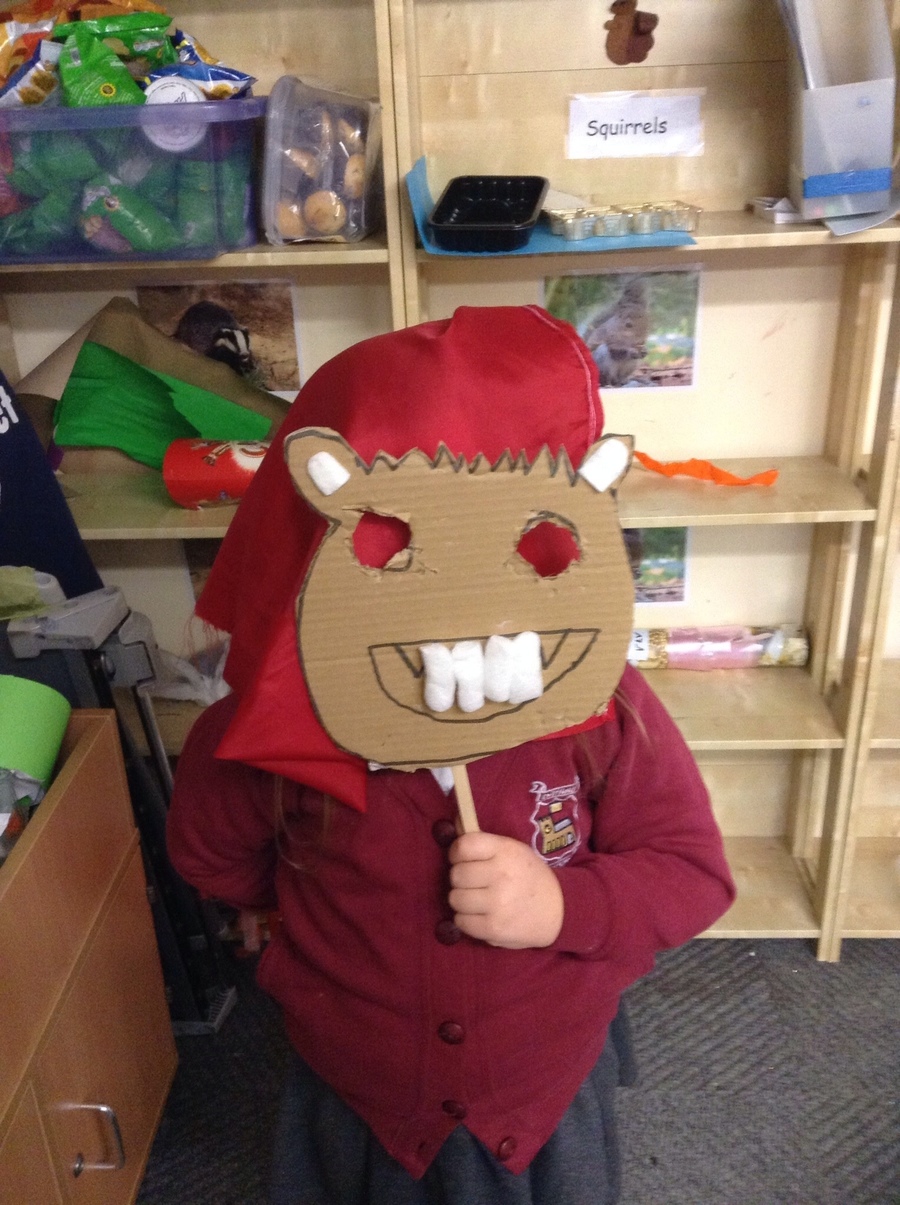 It was really nice to welcome parents in to the classroom to watch what happens in our maths sessions.
On Wednesday it was Mrs.Syrett's birthday and one little Badger made her a super birthday bonnet!
23 - 27th January
This week the children learnt all about Chinese New Year. The activities included eating prawn crackers with chop sticks, making lanterns, making a huge dragon outside and trying to copy some writing.
It was also Stay n Play this week and it was great to see so many parents joining in.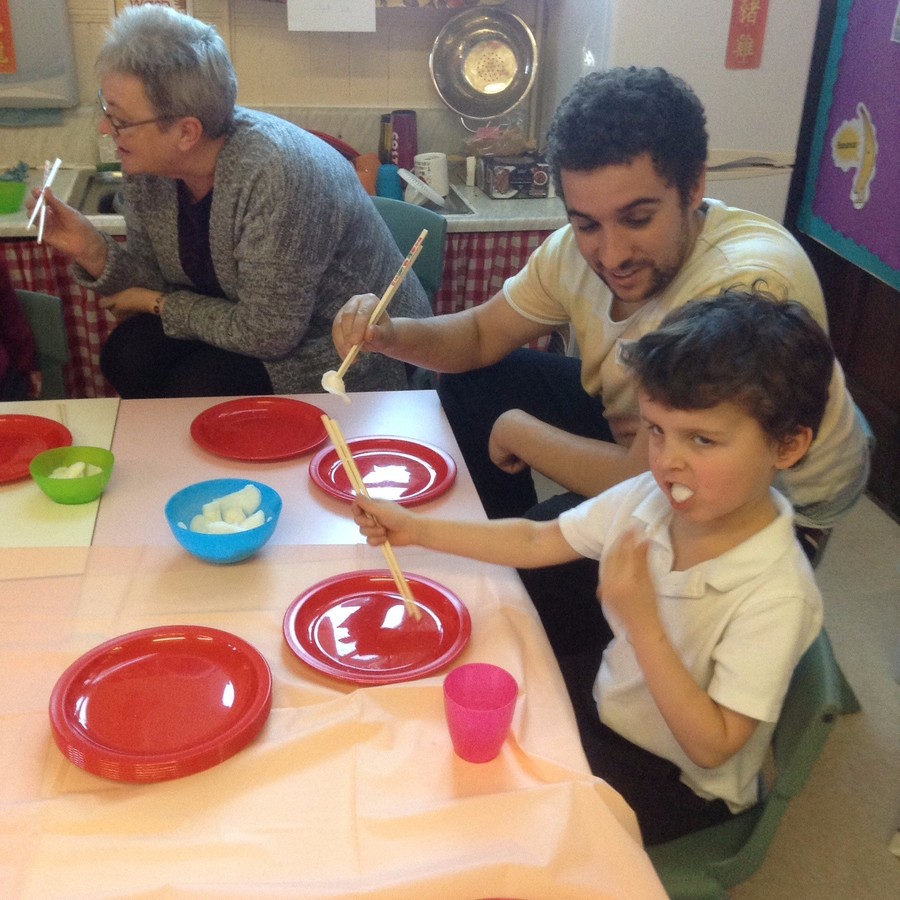 Following on from our police visit the unit has been turned into a station and lots of budding PC's have been scurrying around trying to solve the crimes. The mug shots of possible criminals are quite scary!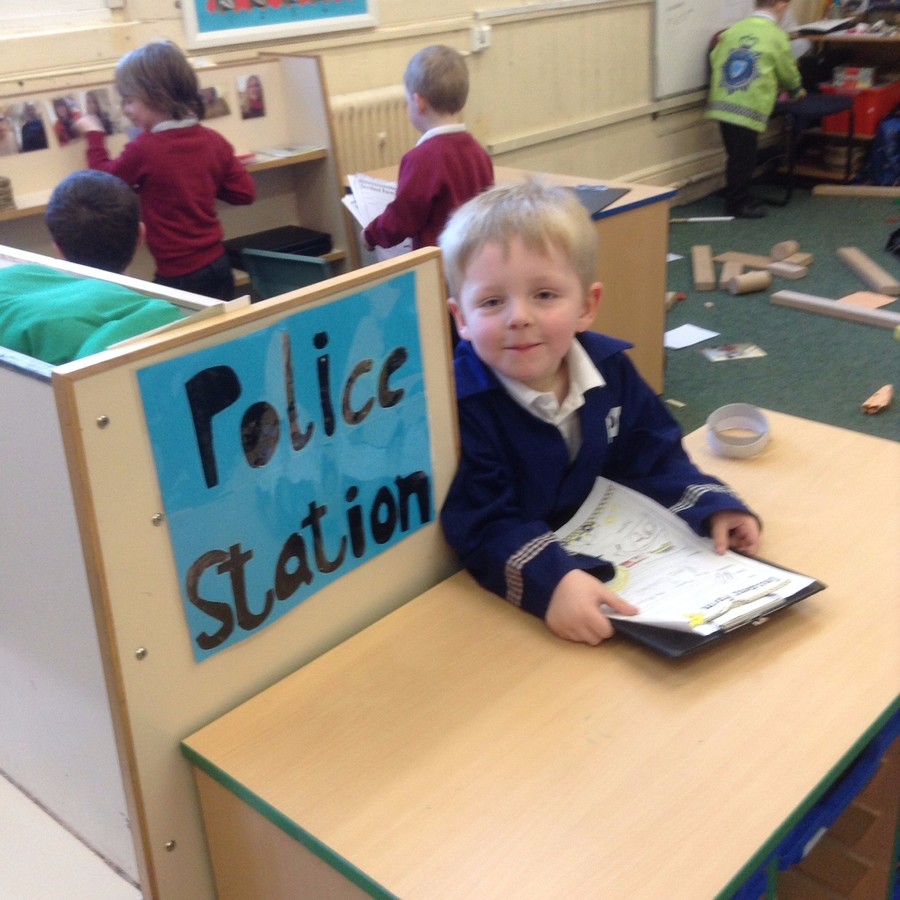 The children have been learning how to partition numbers and combine them to make totals. They are doing really well. We are looking forward to parents joining in our maths sessions next week.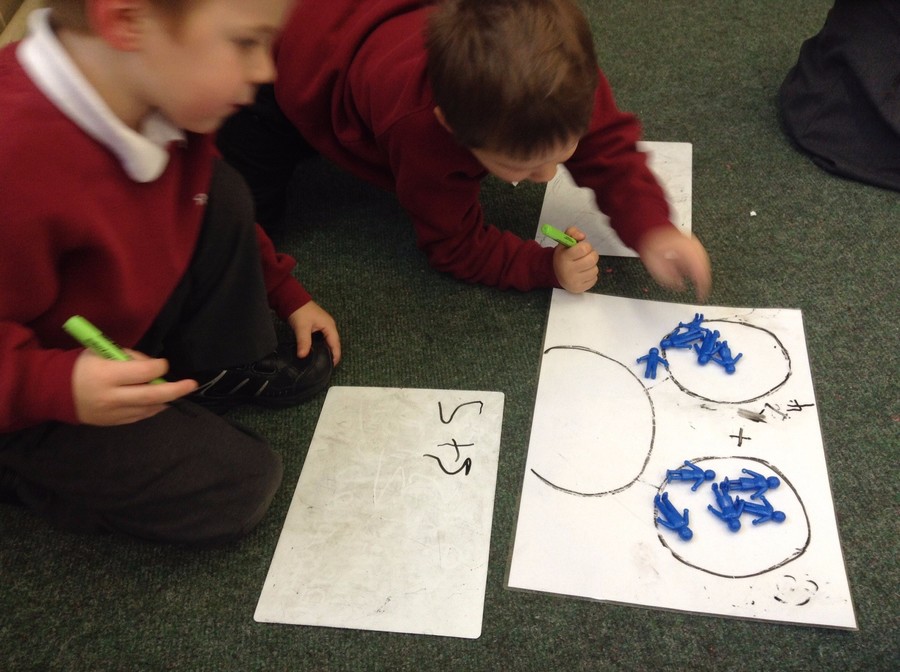 Here are some more photographs of an exciting week in Foundation.
16-20th January
There was much excitement on Friday as the Police came to talk to use about what they do. We all got to sit in the car and put the siren on, wear the different hats and learn about what equipment they use and all the different things they do to keep us safe.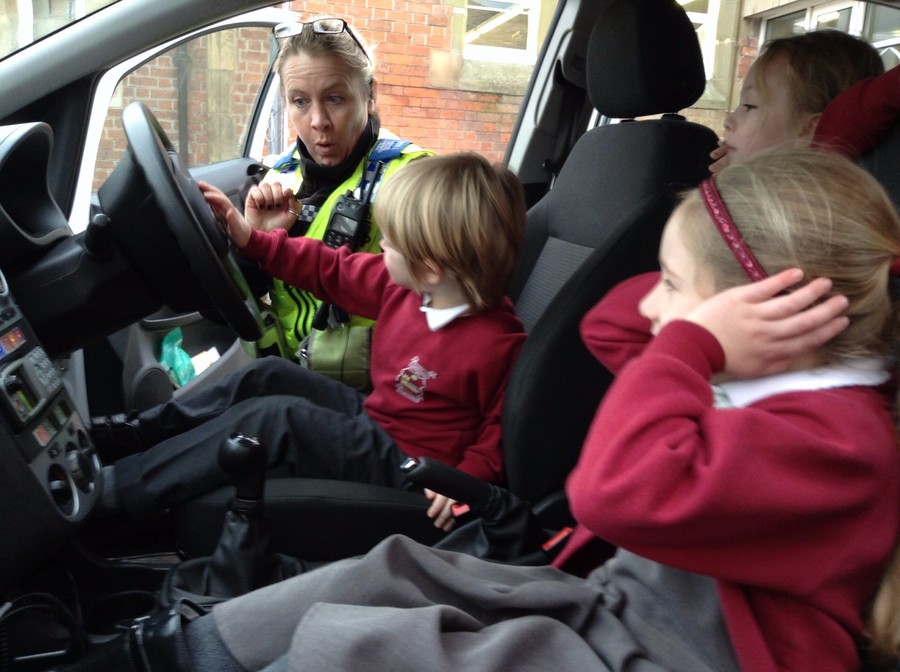 We have continued to learn how to mix powder paints both inside and outside, we've been busy in the workshop and lots of writing and number work has been done. Here are some pictures of a very busy week.
9th - 13th January
In yellow room this week the children have been learning how to mix powder paint and add colours to make a different colour.
In maths we have been learning about the different coins and matching 1ps to the corresponding coins such as 5p, 10p and 20p.
In phonics the children have been writing sentences using cvc words and some tricky words. They are really making good progress. The children should now have the next set of tricky words and phase 3 sounds in their book bags.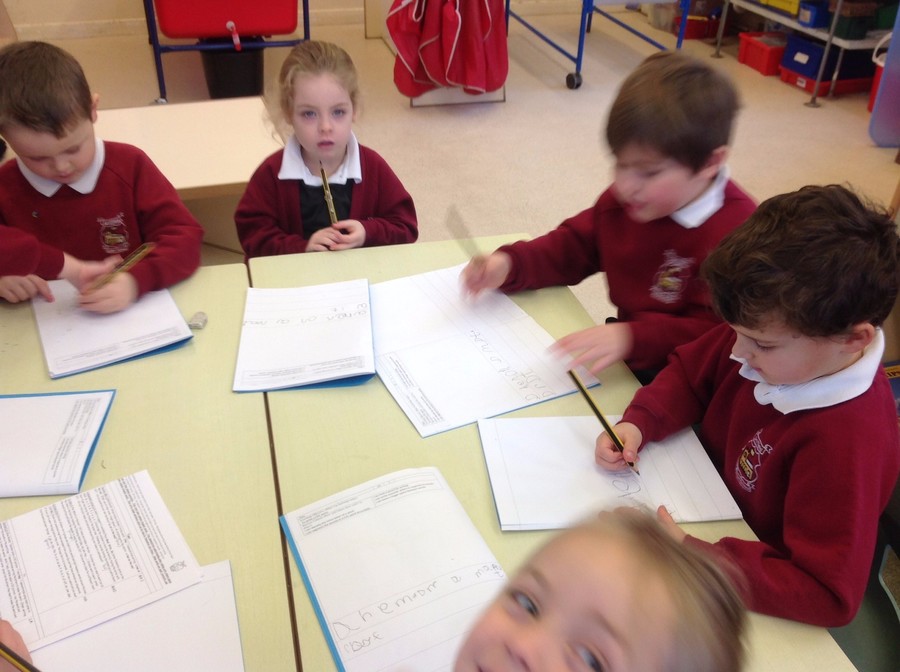 Here are some more photos from the last week.
4th - 6th January 2017
Welcome back to a new term and a new year. It was lovely to see the children after their Christmas holidays and hear about what they had been up to.
This term the children will be looking at what people around us do. They are already thinking about what they would like to do when they grow up. The thoughts ranged from being a ballerina and a racing car driver through to being a social worker or in the police. We will have lots of different visitors into school to tell the children about their jobs - so if any parents out there with an exciting job who would like to talk to the children about it please see a member of the Foundation staff.
In the yellow room this week the children were asked to help paint a large box. Mrs Magin wouldn't tell us why!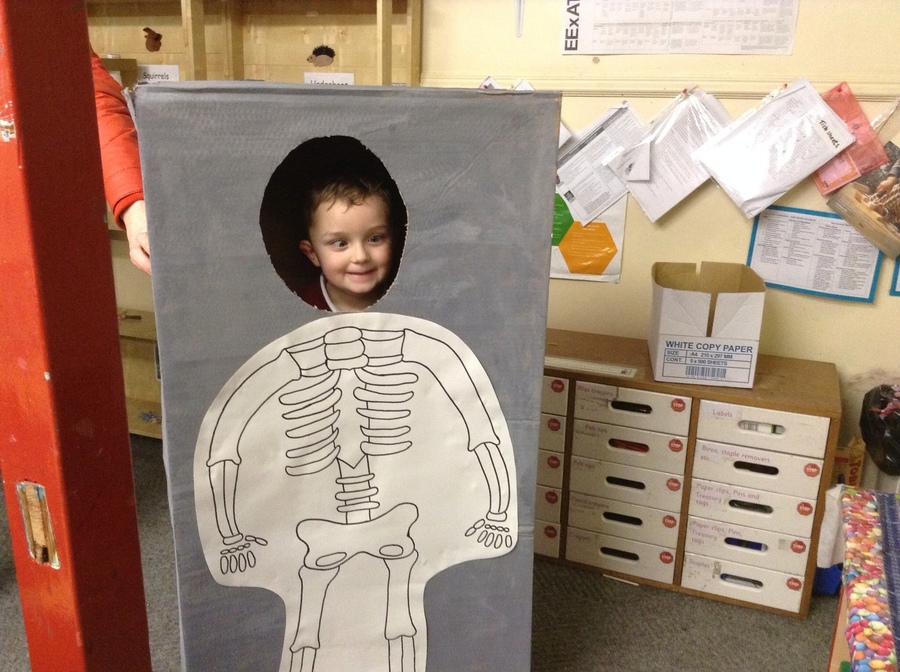 Here are some more pictures of the first week back.
12-16th December
Parties, pantomimes, disco's, nativities and Christmas dinners! It has been a very hectic week. All the staff wish you a very happy Christmas and we will see you on Wednesday 4th January.
5th - 9th December
Thank you to everyone who came to see our Christmas production. We are very proud of all the children who have been practising words and songs over the past few weeks.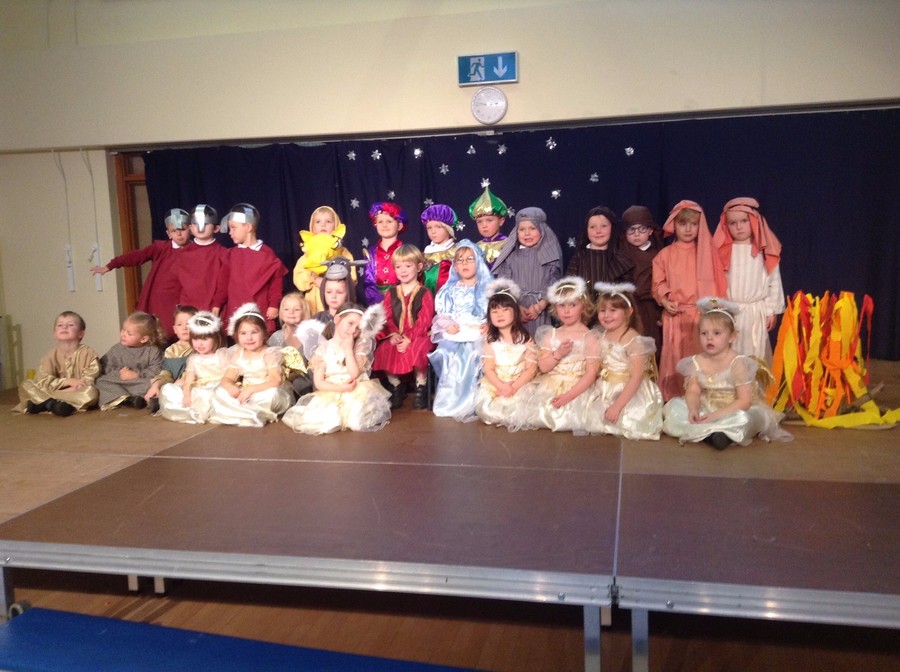 Next week is extremely busy. On Monday it is the party - don't forget your party clothes and food. We might even get a special visitor!! On Tuesday we are all going to Bridlington to see the pantomime. On Thursday we will be going to church for 10am for the Nativity and on Friday it is the Christmas dinner and jumper day. All the staff wish you a merry Christmas and Happy New Year and we will see you all bright and breezy on Wednesday 4th January.
28th Nov - 2nd December
Christmas certainly came to Foundation Stage this week. We arrived on Monday to find a huge present in the middle area. We didn't have clue who it was from or what was in it. We had to leave our thoughts on the box.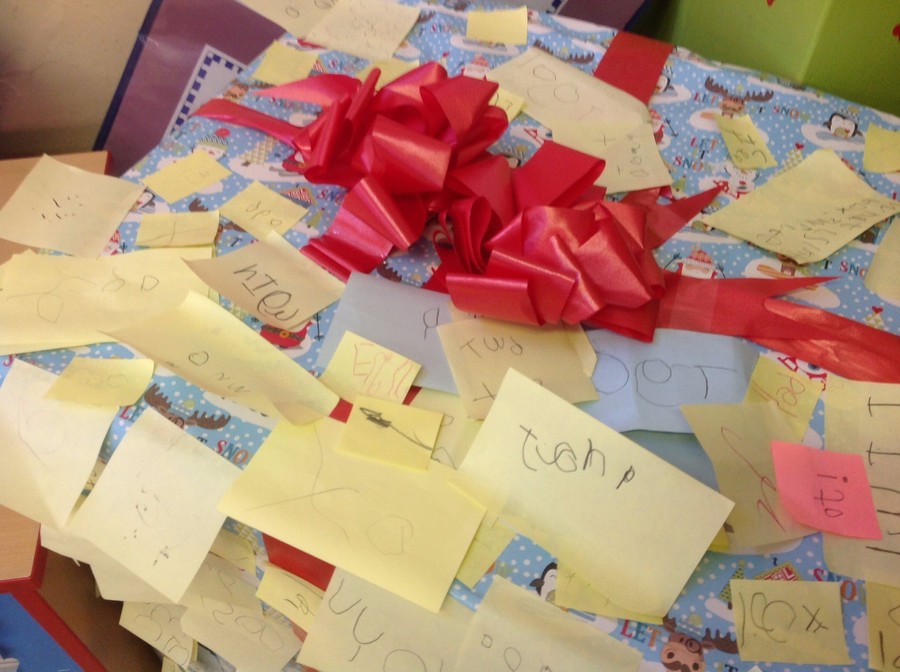 In the workshop it seems that Santa's little helpers have been busy. There was lots of singing and busy elves everywhere.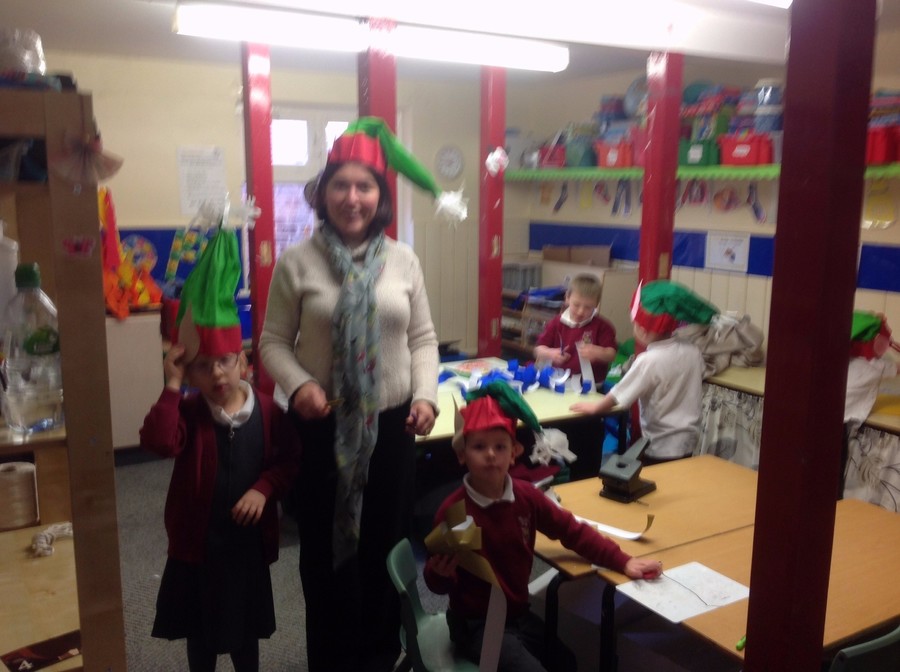 On Thursday we discovered what was in the giant box. It had 3 boxes inside and had gifts for us to decorate. It was very exciting. On Friday some of the classes went to church to learn about the Christmas story. They had a wonderful time on the journey from Nazareth to Bethlehem.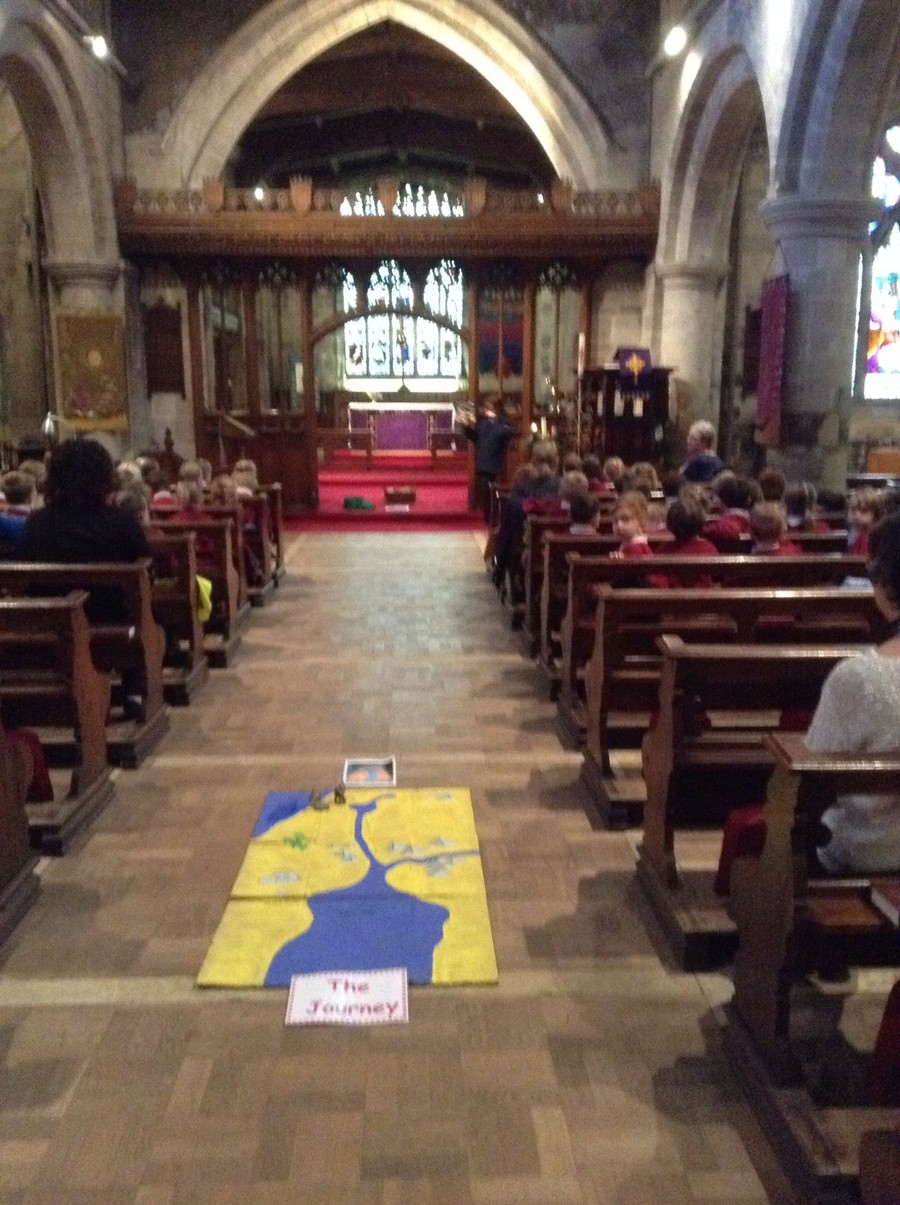 Here are some more pictures from the previous week.
21st - 25th November
It was really nice to see so many parents come to play n stay this week. The start of the week the weather was terrible and those children that ventured out certainly needed their waterproofs!
As Christmas is getting closer the children have decided we needed some decorations making for the unit.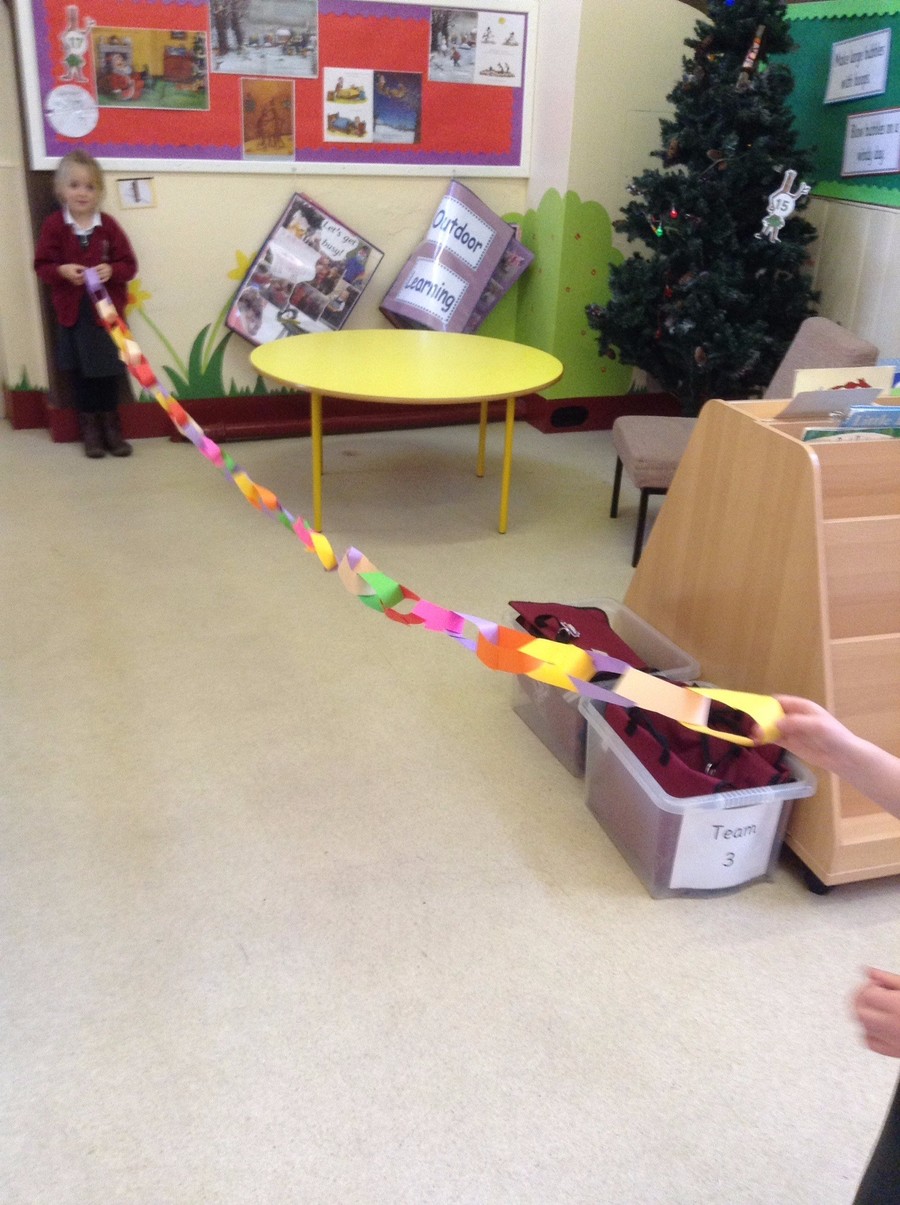 Everywhere you go you can hear classes singing and practising for Christmas. The Badgers are very lucky as Mrs.Saltonstall is a great musician.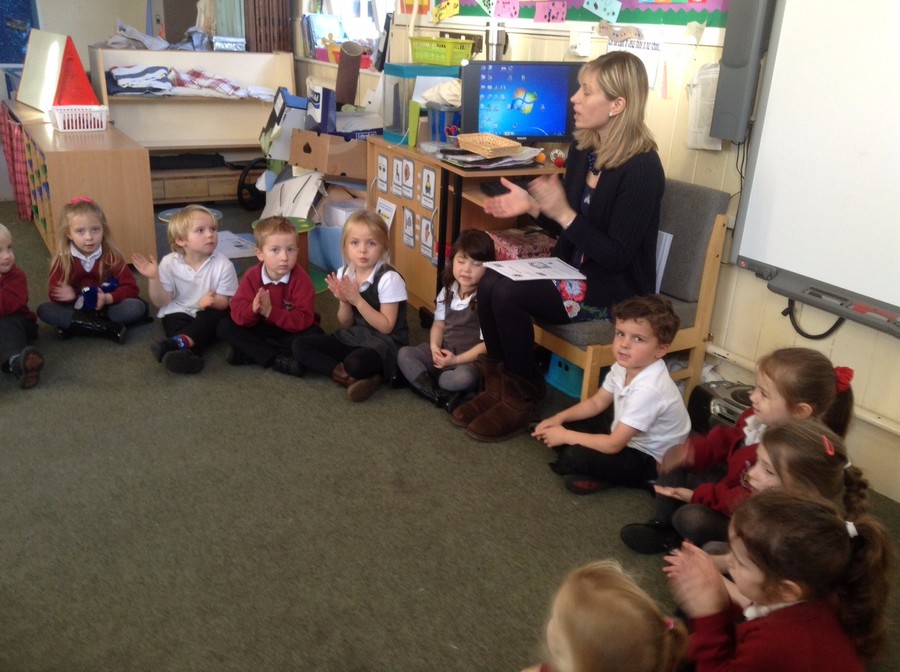 Here are a few more photographs from the past week.
14 - 18th November
This week we had lots of visitors in FS who came for play and stay sessions. These were children who may be attending next year. In red room we were busy baking biscuits for Children in Need. We helped grate orange into them and mixed the ingredients.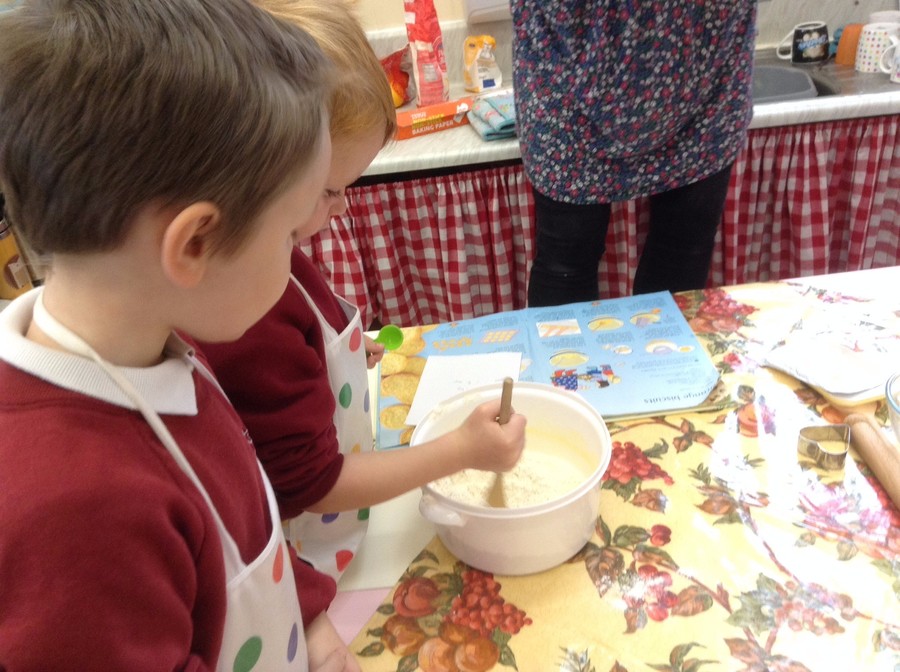 In yellow room we practised our scissor skills to make a pretty snow flake. Mrs.J checked her fingers at the end of the day to make sure they were still intact!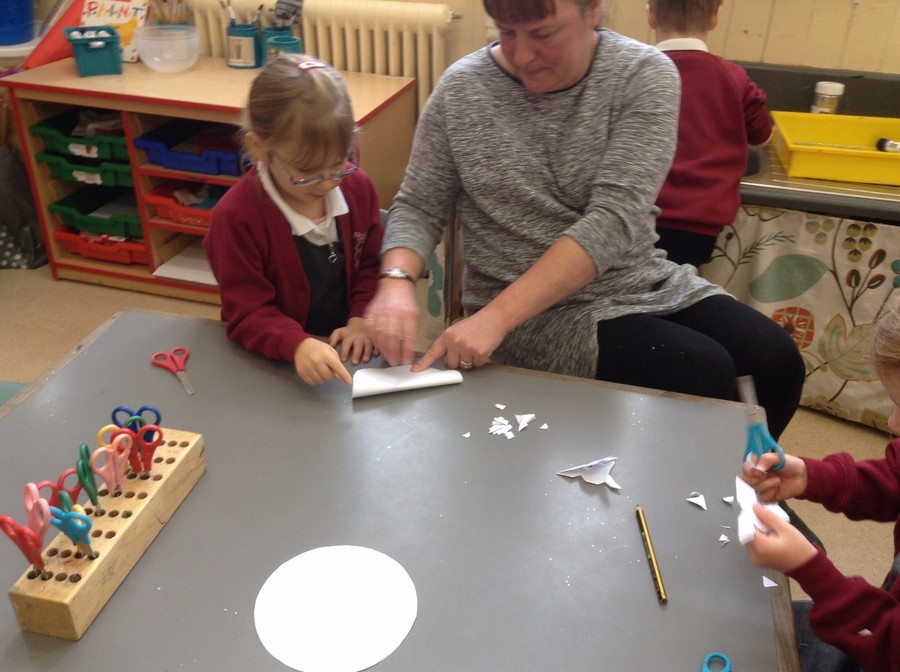 In blue room there was lots of maths activities going on. Children used numicon to recognise number pattern, ordered numbers on a line and used the water area for capacity.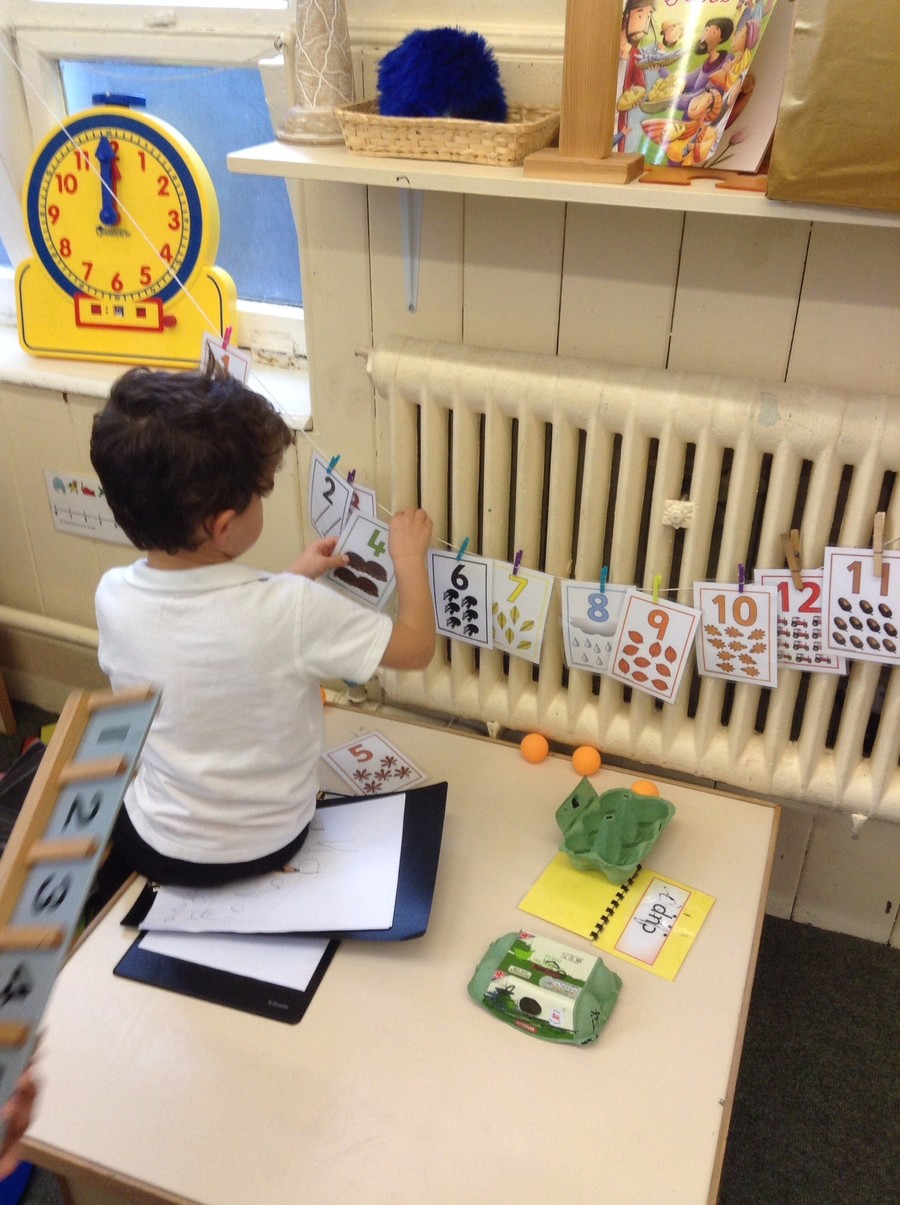 An amazing creation appeared out of the workshop on Friday - Pudsey Bear!!! Thank you for all your donations.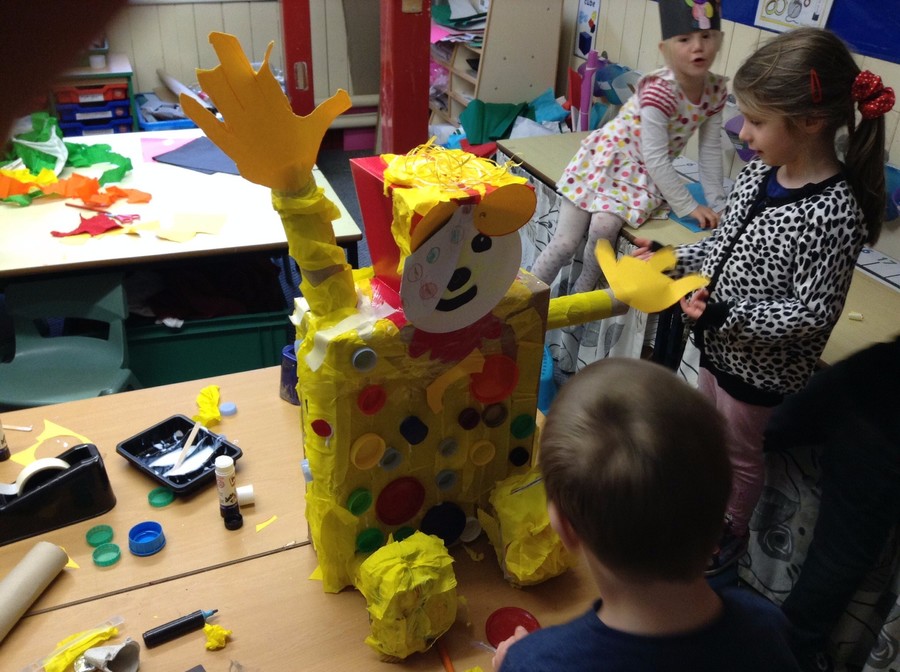 Here are some more pictures from the last week!
7th - 11th November
In the yellow room this week, children were painting firework pictures using the splatter technique - it was messy but fun!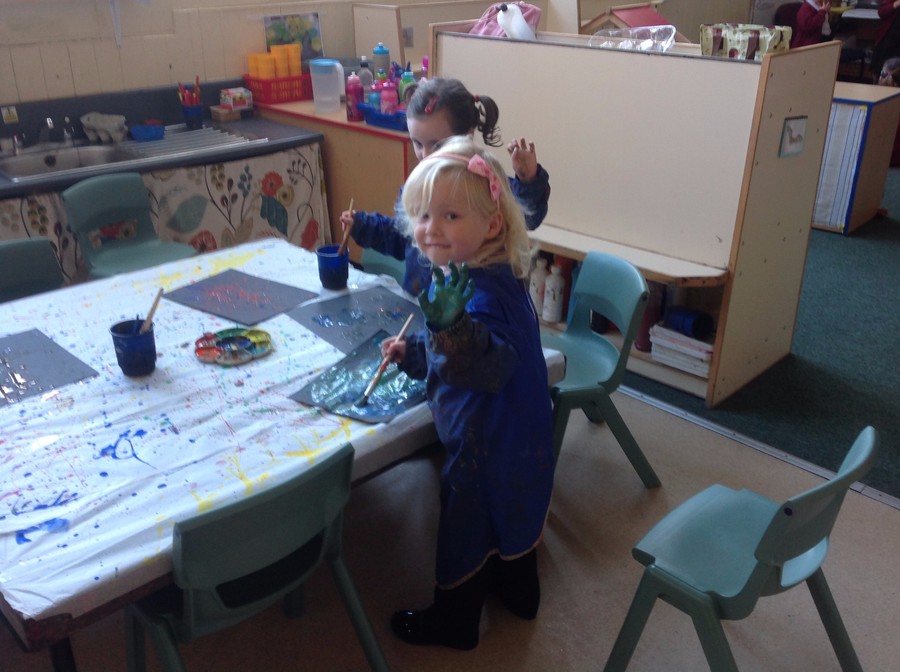 In red room the snack this week was croissants - they certainly were popular!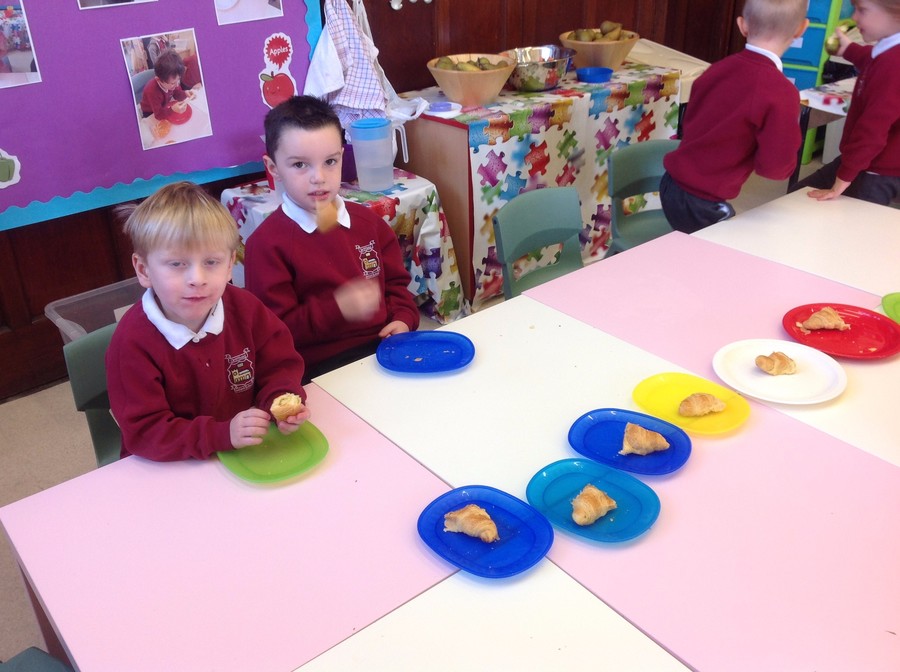 The children have become very confident at accessing the areas, working together and using their imagination. We have been practising the songs for our Christmas production and it was nice to see our pre-school settings visit on Wednesday to watch phonics - they were amazed at the progress. Here are some more photographs from the week.
31st Oct - 4th November
It was nice to see all the children back after the half term holiday. In phonic sessions they have continued to learn their letter sounds and build up CVC words such as cat, sun, web etc. In maths they have been seeing the different ways to make totals of 6 5+1, 2+4, 3+3. The workshop has been very popular - a big thank you to everyone who keeps bringing in junk materials to make models with.
We are still trying out beetroot! Some of us are loving it - others aren't convince. But at least we are giving it a go!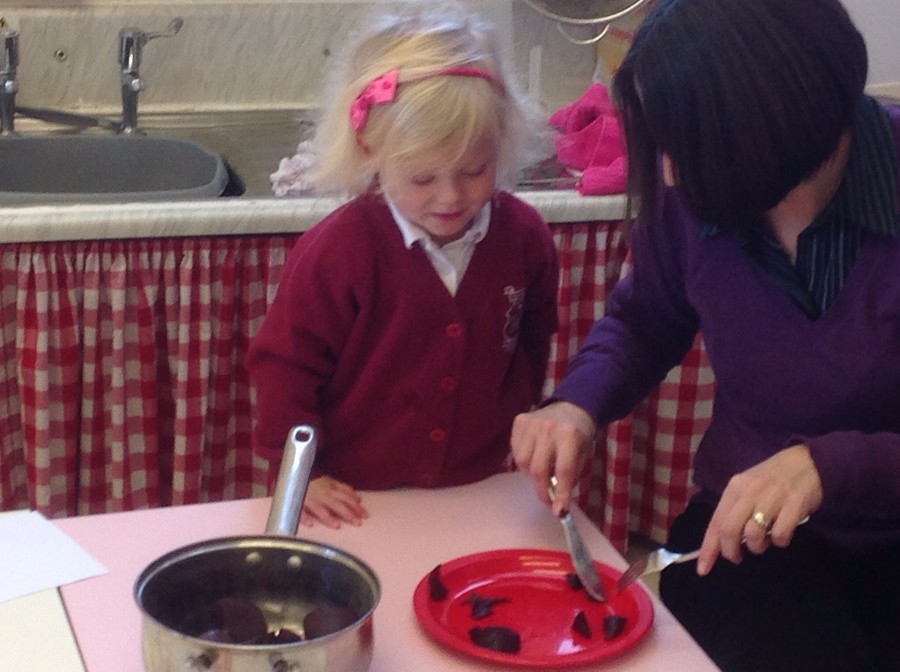 We encourage children to visit all the different areas in the unit during the week and the children are working together, building new friendships and help each other solve problems. Here are some more photographs from the past week.
17th-21st October
The first half term over already - time certainly flies!
In red room this week we dug up some beetroot from the garden, washed and prepared it and marveled at the purple juice that came oozing out of it.We ate it just like we would a carrot.
The workshop has certainly been popular. The children have to design their model first before making it. The next challenge is to tidy away after ourselves!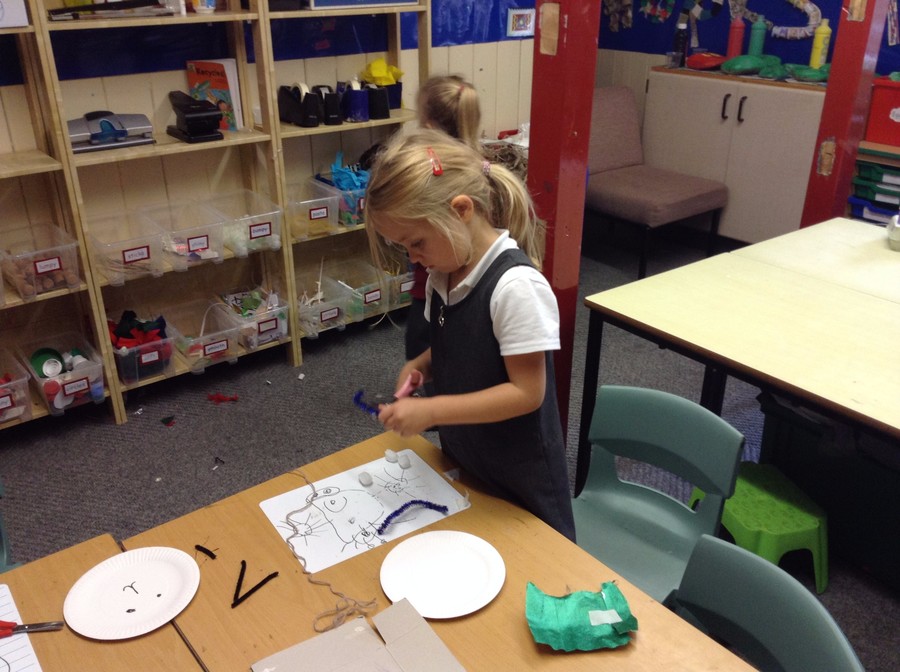 In our maths sessions we have been learning the days of the week and ordering them. Have a practise at home!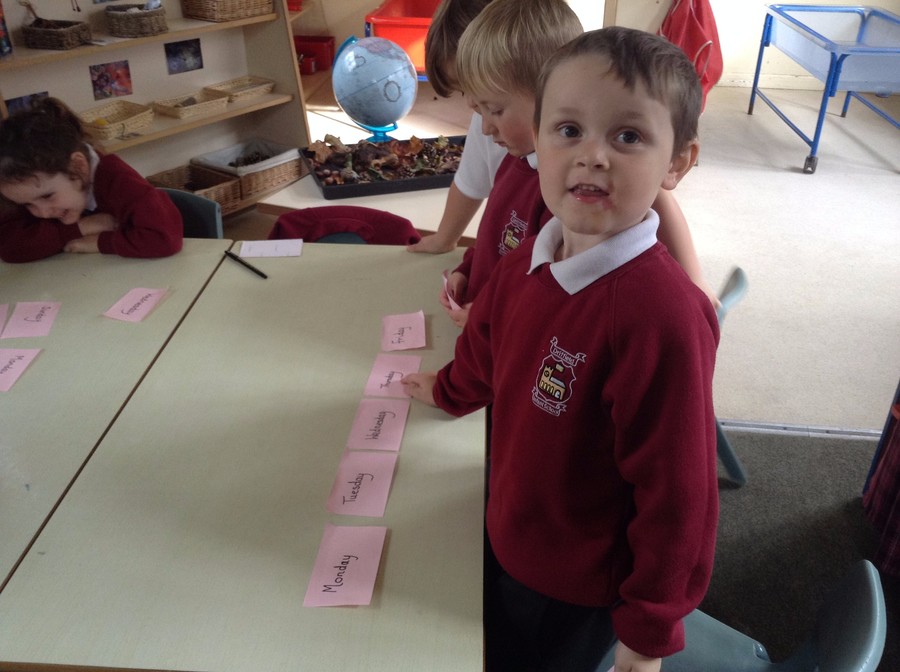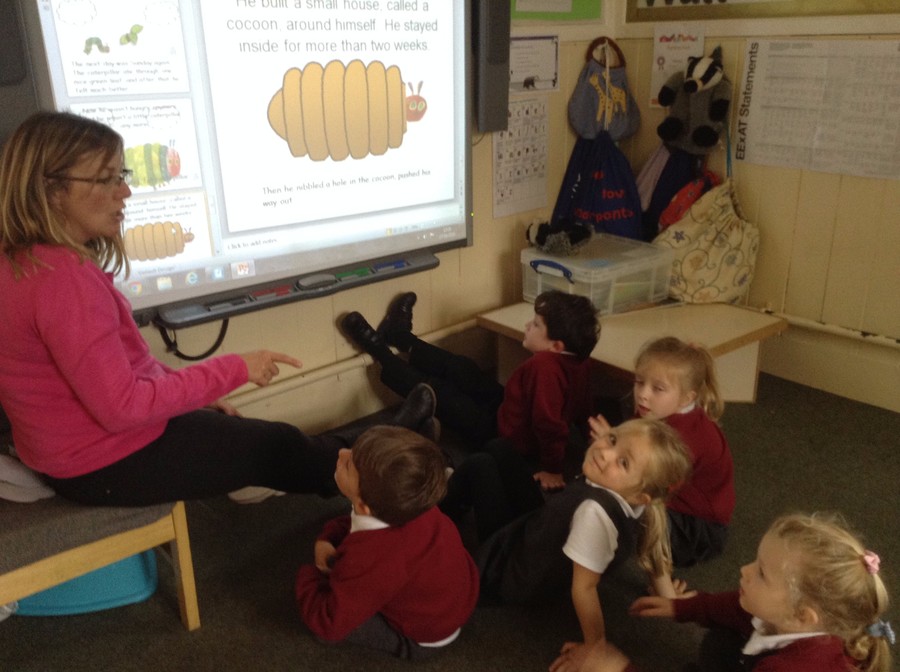 Its always nice to see children finding a quiet corner to read some books.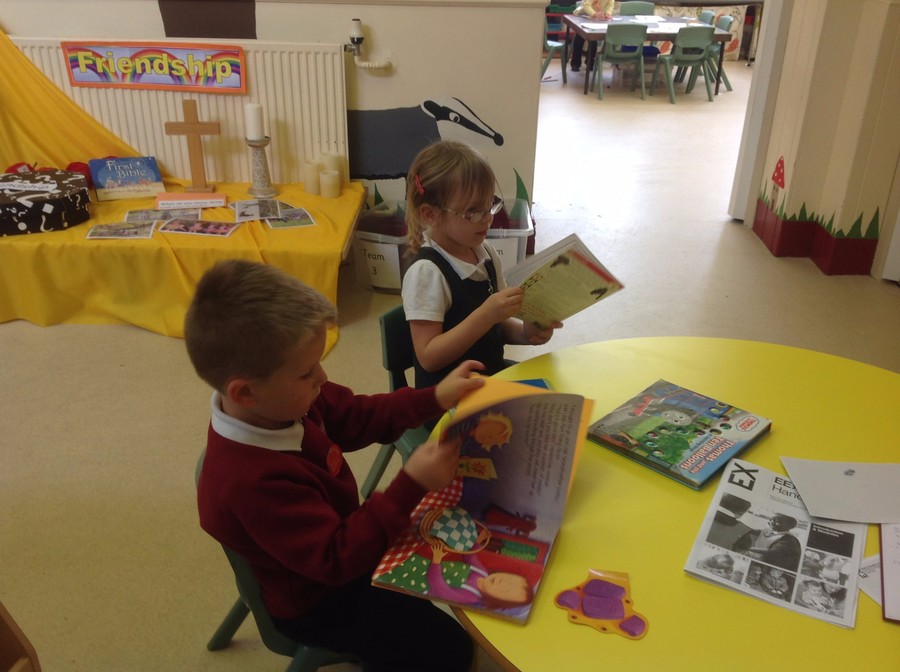 All the staff hope you have a lovely well earned rest before the next very busy 7 weeks. Thank you to everyone who came to the Harvest Festival and Wellie Walk - We're sure you know all the words to the Big Red Combined Harvester , get ready to hear lots of Christmas ones in the next half term.
Here are some more photographs of the past week indoors in the Foundation Unit.
10th - 14th October
A busy week in the Foundation unit! The children have been learning how to mix powder paint with the focus on red + yellow to make orange. In the red room soup making using seasonal vegetables was the main focus and most children really enjoyed it.
In the blue room the children have been looking at a range of natural objects found at this time of year. Conkers are a firm favourite!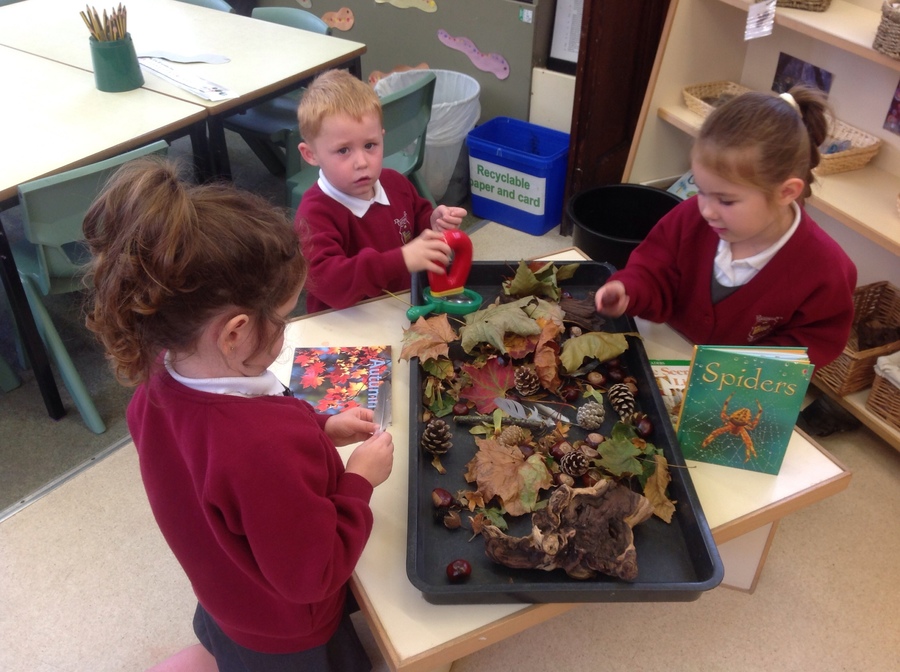 Mrs.Jackson has joined the Badgers class and is really enjoying herself and getting to know everyone. Next week we will be going to church for Harvest festival followed by a wellie walk around the cricket ground. We do hope you can join us. Here are some more pictures from the past week.
The children have been enjoying taking part in a range of fun and exciting activities this week. They have been able to toast marshmallows on the outdoor fire pit, decorate happy face biscuits, paint sunshine pictures, make a bubble wand, blow giant bubbles, experiment with ice, create funny faces in our fun photo booth and build foam structures. They have also enjoyed perfecting their dance moves every hour, on the hour for 'Dance O'clock!
A huge 'Thank you'to all the parents/grandparents/carers who joined us for 'Happiness Week' it was lovely to share this special week with you and we know the children loved having you there too!
12.9.16 Fun in the sun and the rain!
Our first week at school...
22-7-16
Thank you all so much for your support this year. The children have engaged in many diverse activities which have really enriched their learning. We will miss them and look forward to seeing how their journey develops this Autumn.
Have a lovely summer holiday from all the Foundation Team!
4-7-16
Our holiday journeys end in Africa where we found out about the drumming and traditional stories of the country. We were joined by Unbeatable Energy Steve Rivers to teach us about rhythm and story telling through drumming.Each class had their own tuition workshop learning about different drums and how to play them. At the end of the day, parents came to watch our performance. Thank you if you were able to support that day. I think you will agree it was a unique experience for the children who are still 'beating' their rhythms about the school!
27-6-16
This week we said goodbye and thank you to Miss Dibb in Hedgehogs and Miss Traunter in Squirrels as they had completed their final practise. They celebrated with picnics on our front grassed area and played games. The children have also said goodbye to our frogs that fully developed over the last week and have been returned to Mrs Percival's pond. We started observing the frogspawn back in the middle of March and only now in July is the cycle complete. It has been a very valuable learning experience for the children.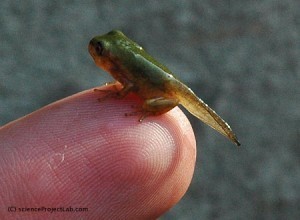 20-6-16
The sunshine has returned and the plants have started to grow much faster! The children are taking care of the herbs and salad plants each day. The new build kitchen has started to look more like a wall now and the children have been keenly observing how quickly the kitchen is starting to take shape. Lots of the children have started writing their own versions of simple stories. We have been very impressed with how their confidence continues to grow.
13-6-16
We all went to Church to see the flower displays. Our school horse looked amazing. We are looking forward to the BBQ summer fair and thank you for all the donations for our stalls. The children have been thinking about Royal holidays on a cruise ship and will be 'docking off' at different destinations this half term. A drumming workshop is happening on July 4th. It will be exciting to explore different instruments and find out which countries mainly use them.
6-6-16
The children really enjoyed finding out about the Queen and her life this week. We celebrated by having a big party and joining all the school for a picnic. We all helped to make a flag.
It was a lovely hot day that we celebrated our Sport's Day. Thank you for coming to support your children.
23-5-16
The children had a wonderful camping experience at Elmswell Farm. They learnt about campfire cooking of popcorn, damper bread, baked bananas, toasted marshmallows and hot chocolate.They went on an explore and made mini dens, mud painted and found out how to set up a camp with blow up beds!
Here are some photos from their'holiday'.
16-5-16
The tadpoles have started to grow back legs. The children noticed this change after the weekend. We used the information books to find out about the stage of development and the children read the information about the tadpoles needing fish flakes to help them grow.
We have been exploring number sentence writing by sharing, adding and taking away.
The kitchen new build had been inspiring some imaginative creations with the mini bricks.
09-05-16
We have had lots of fun exploring the camping role play area. We cooked fruit kebabs on the fire and made marshmallows for toasting. The children explored making patterns with cubes.
The new starter children for the September start, came to visit and play. We are very proud of how the children supported and welcomed the visiting children and parents to their classrooms and learning areas.
2-5-16
It was great to speak to so many parents at out Parents Evenings, thank you for supporting your children. It was lovely to hear how interested they were in their learning and to share their successes and next steps. Thank you for your feedback about our new unit scrap books that are on our Parent Board in the middle room. These will be regularly updated with the the activities we do in school and on our trips.
Our next Stay and Play will be our final one for your child in Foundation. It has been really evident that this opportunity is mutually beneficial to all who can come along. A sign up sheet will be available the last week of this term for the Stay and Play the first week back to school June 6th-10th 9-10 am each day except Wednesday as we have PE.
25-4-16
The children have been exploring patterns all around us and being creative with their activities. Some children were able to make their own patterns during busy time. The stage has had it's final shows this week ending with a Toy Story Show. The children were able to use their phonic knowledge to write the show title independently.
18-4-16
It was Stay and Play this week and we were delighted so many parents could join in our activities. The Red room had a lot of cake baking exploring our skills in true Mary Berry style of a lovely light sponge! Lots of whisking and folding mixtures. The tadpoles have been set up in a tank in the Blue room for the children to observe and comment on change over time. The holiday theme has developed into an interest of packing for our holidays, writing lists and estimating how many items can fit in a bag. We have been finding out about technology and programming Bee-Bots to follow instructions
Welcome back to the Summer Term!
The children have started their new theme exploring ideas about holidays and what they do during them. We made some plans on paper about where we would like to visit if we could fly somewhere new! The areas of learning are starting to develop alongside the ideas from the children.
During the week, the children have been exploring their Church value of 'Creativity' through repeating patterns using different toys to print with.
The workshop has been very popular again this week and it was positively packed during play n stay!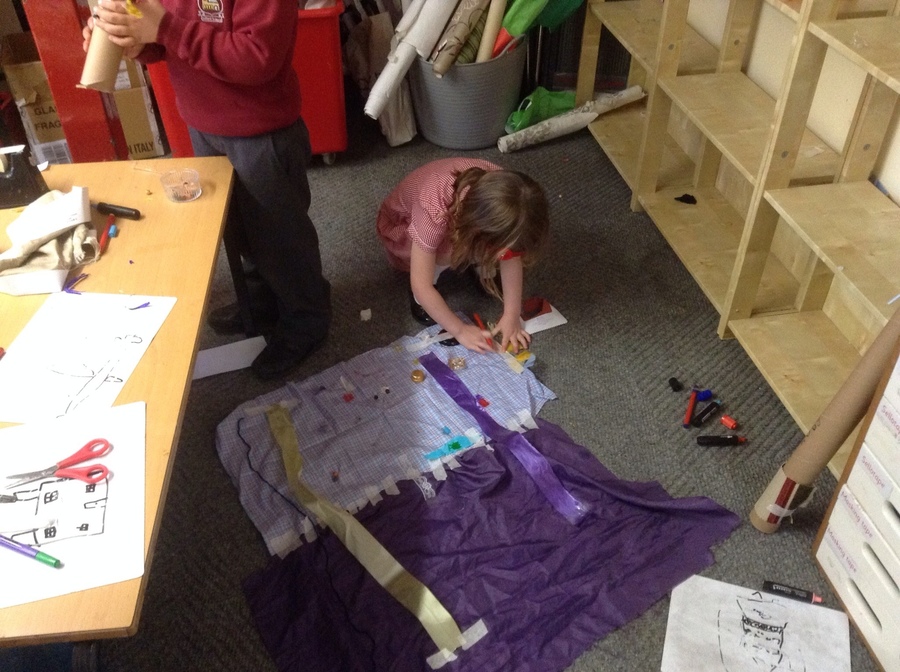 This week the Squirrels "learn something new" session was all about magnets. Mrs.Jackson showed the children how she could move an object without touching it - magic fingers! But every time one of the Squirrels tried the object moved towards them and stuck!!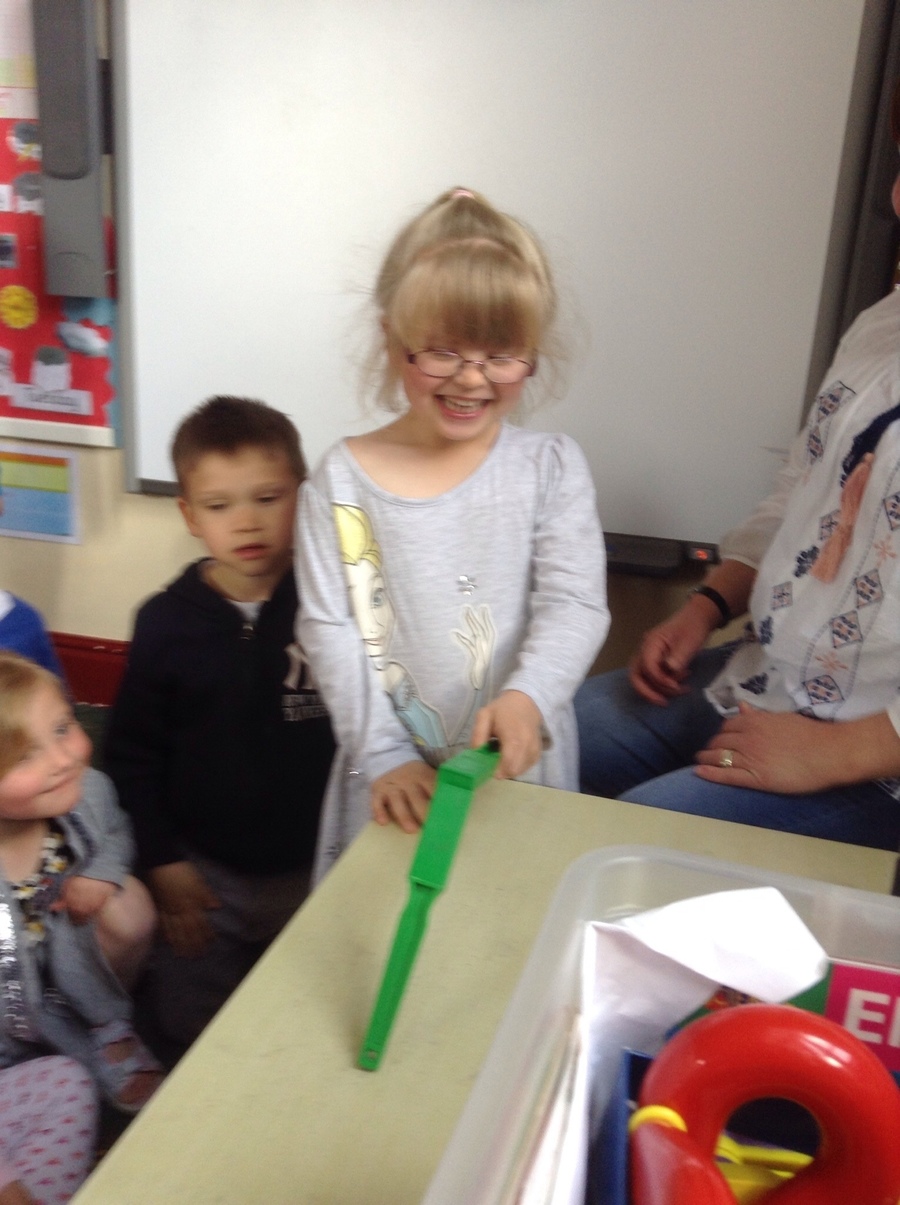 Mrs.Jackson and her magic fingers also made paper clips move just by waving her hands over them! The crowd were agog!! Finally we learnt about magnets and 2 big grown up words REPEL and ATTRACT. Then we had time to explore by using some ourselves.
The children have also been using iPads, some used the sock puppet programme, the Hedgehogs learnt about taking pictures and recording sounds. As you would expect there were some rather funny photographs!
Here are some more photographs from the week.
20th - 24th April.
This week we had a fantastic visitor to the FS - the police paid us a visit! We saw the different types of uniforms and equipment used, we even got to sit in the car. Ben showed us all the things he uses in his job - we're pleased to report that nobody got arrested and taken away, though the role play that came after showed that he made a big impression on the children.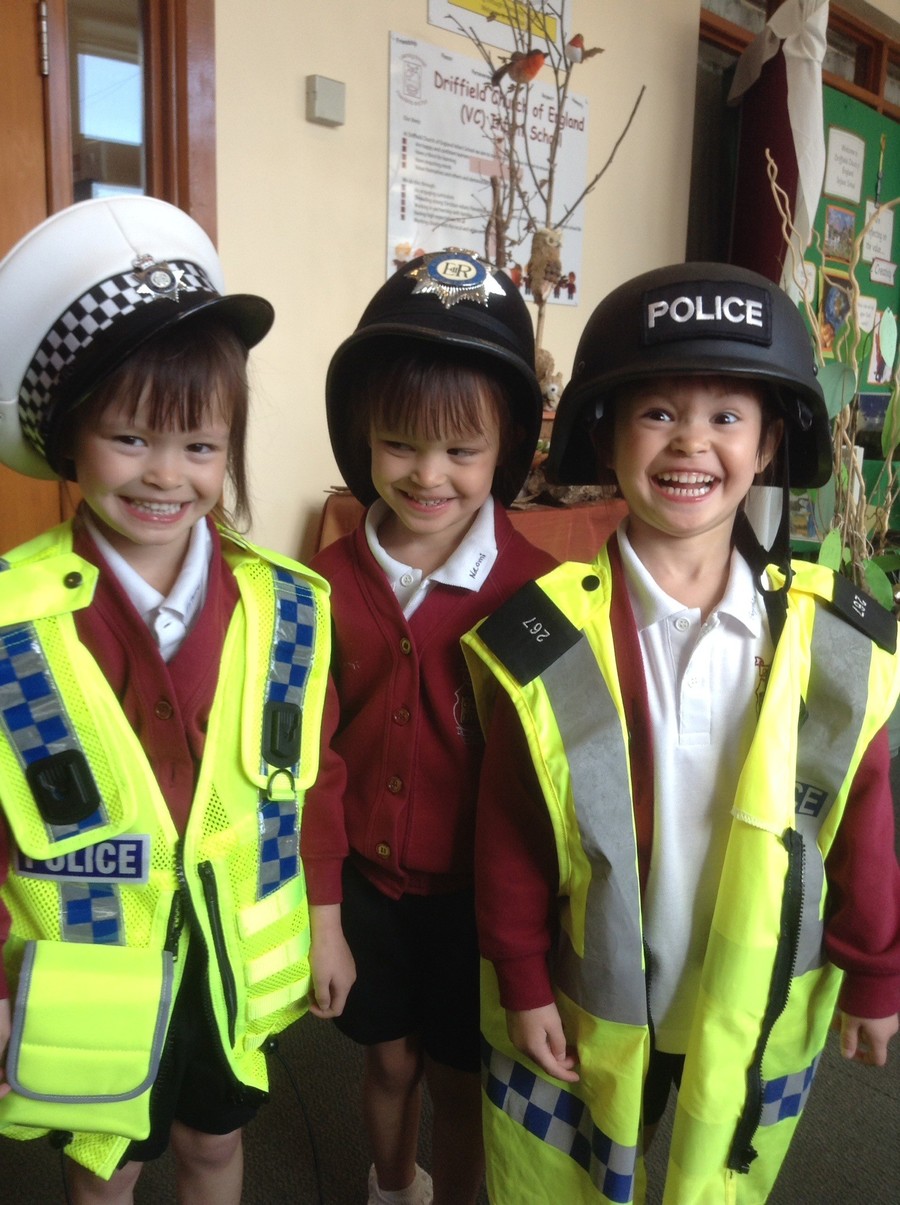 This week at snack time we made our own fresh orange juice. The workshop seems to have attracted some budding fashion designers, if anyone has some old dressing up clothes they no longer use we would love to have them in school. Please keep junk model making items coming in too.
PE is becoming very popular and this week focused on lots of balancing. Please make sure all kit is named, we keep having items misplaced especially after the club on Wednesday evening .
14 - 17th April
Welcome back to school and the summer term. This terms topic is all about our town Driffield. There are lots of activities and visits planned over the next few weeks - its going to be a very busy time indeed!
Thank you for remembering your PE kits. The children really enjoyed their first session and they impressed everyone with their sensible attitude and enthusiasm.
In the yellow room there is now a fantastic football set, this is really encouraging the boys into role play, turn taking and rule making.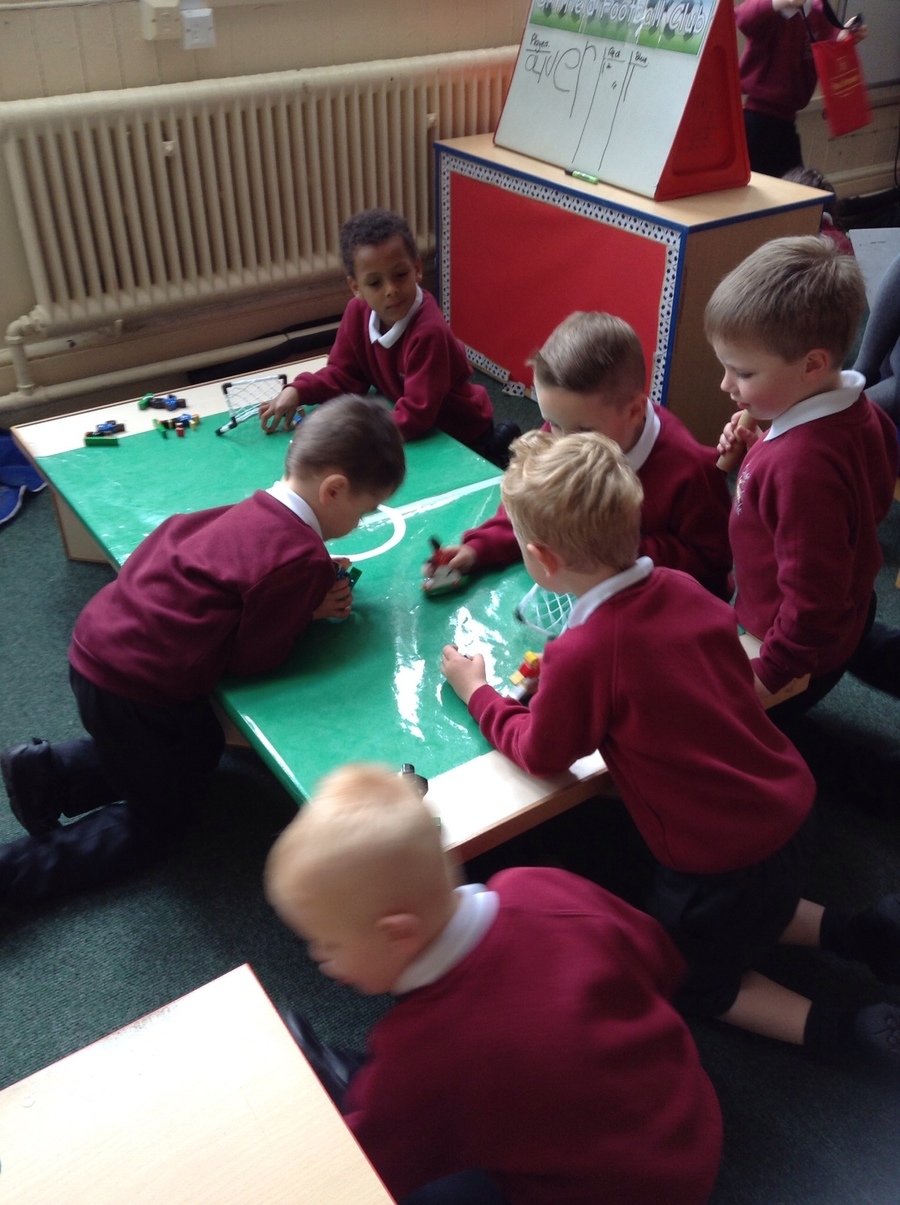 The workshop has been a hive of activity this week. The children are making sure they design their model first and are so much more confident at joining materials and persevering to solve problems which might arise.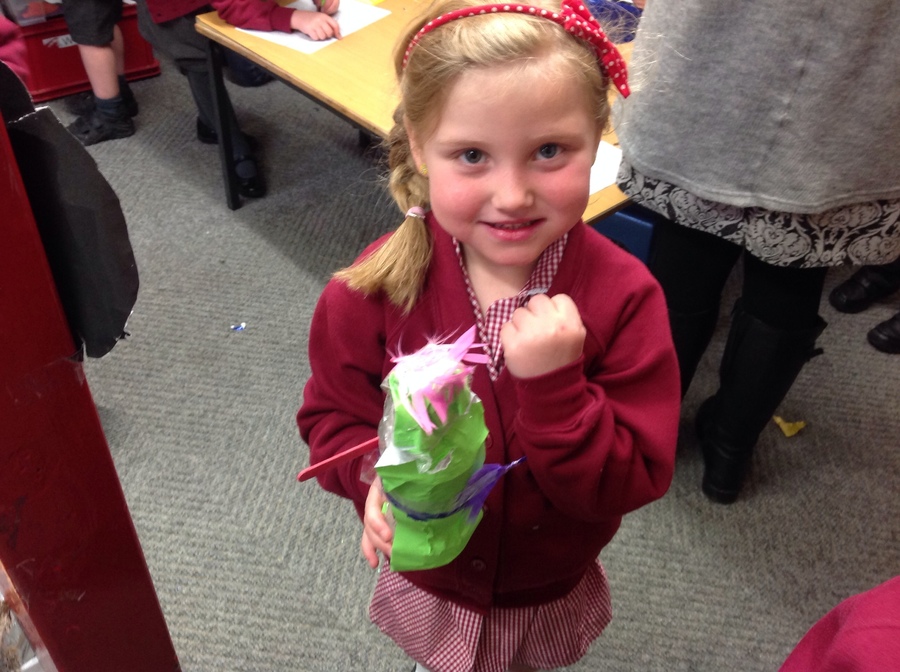 We are really encouraging the children to become independent writers, they are given lots of opportunities throughout the unit. We also find children doing lots of counting and problem solving - they really are developing into little thinkers!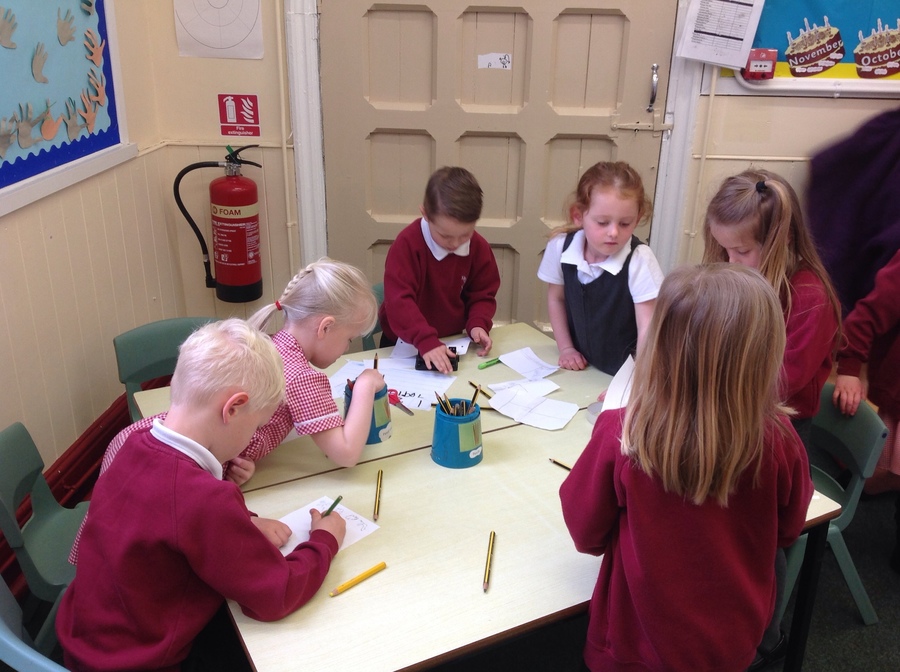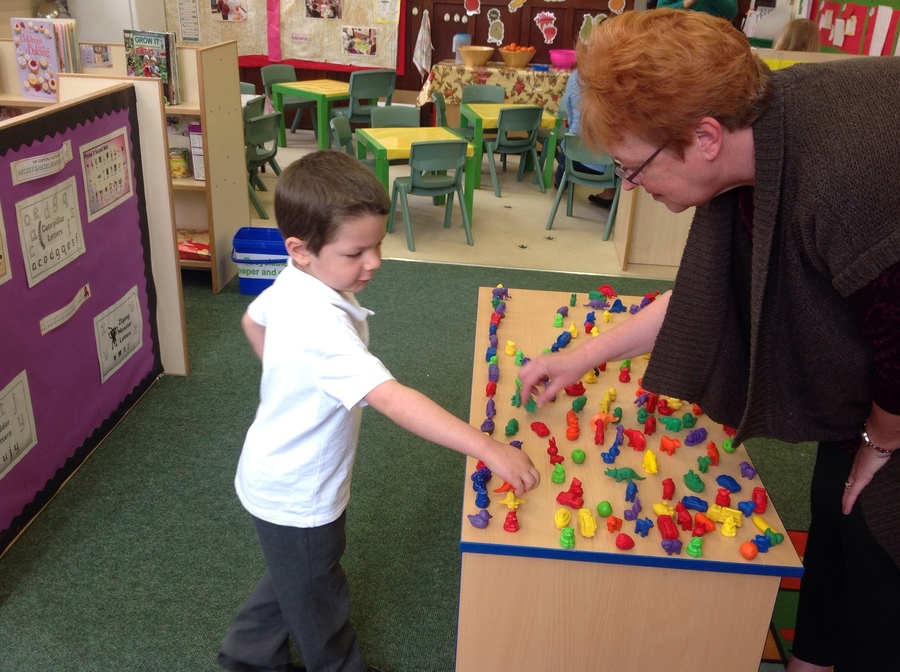 On Thursday we had our local vet Nick, his wife and their lovely dog Archie come into FS to talk about looking after different types of pets. We will be meeting lots of different people from the community that help us over the next few weeks.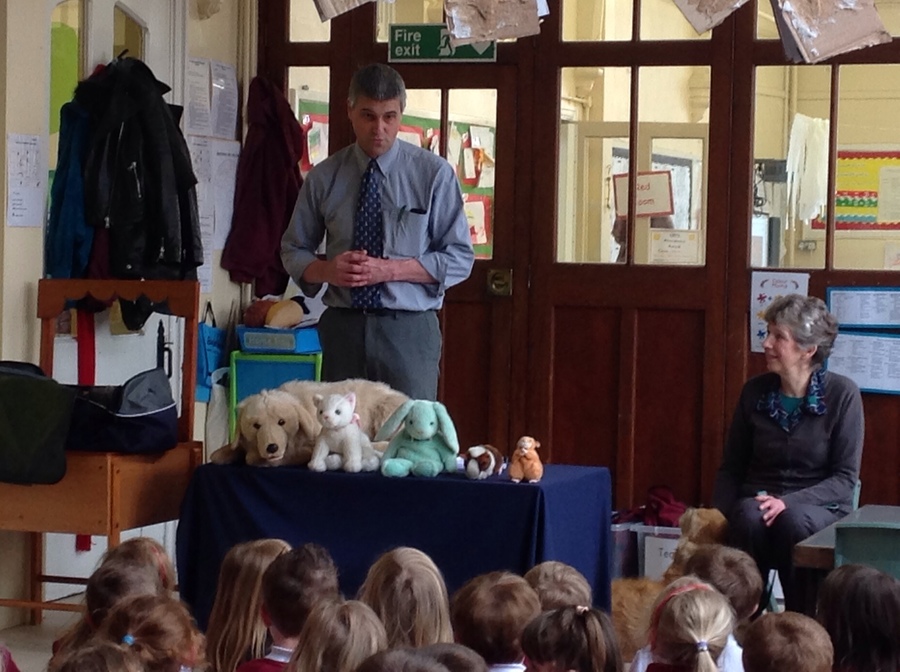 Here are some more photographs from our first week back.
23-27th March
This week we had a focus on Easter. Lots of activities were planned and it turned out to be a very busy week!
On Monday we all went down to the woods (see our Forest school page), Tuesday we had a special visitor to show us his collection of fossils, Wednesday we went to the church for some more exciting Easter activities, Thursday we went to church for our collective worship and finally on Friday we competed in our annual egg rolling competition! Phew!!!
We were really pleased to welcome Mr & Mrs Wynn into school to talk to us about fossils and the different plants and animals that were found millions of years ago. It was fascinating and quite mind boggling to think how long ago these creatures existed.
On Wednesday we went to church to find out more about the Easter story and we did lots of different activities to help bring it to life and give relevance to us.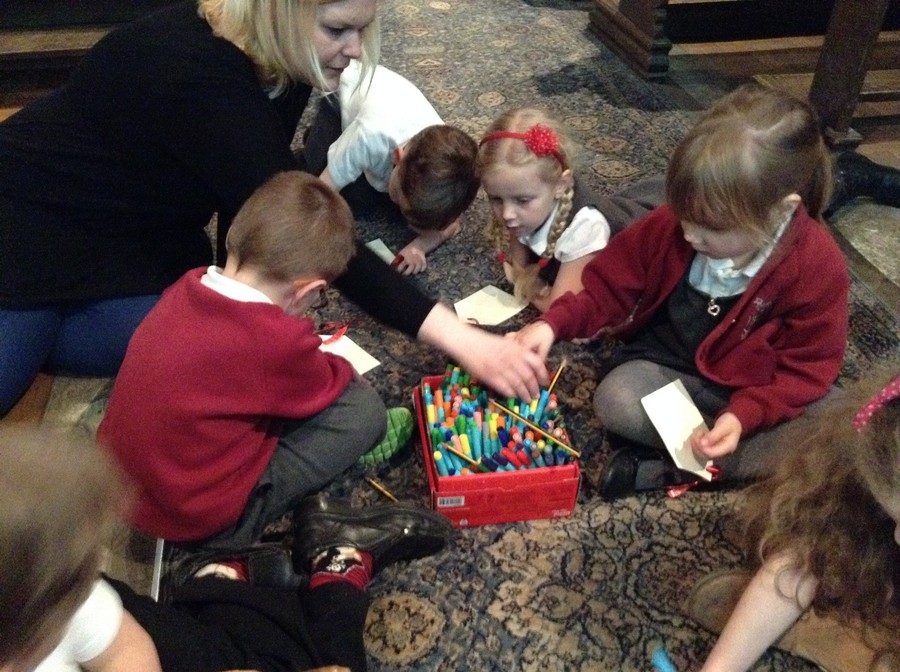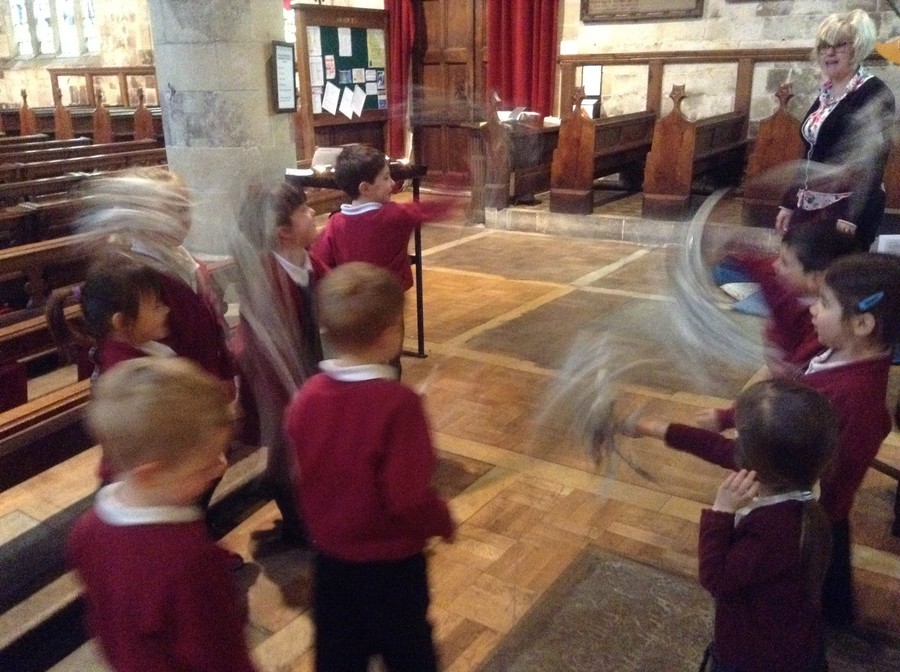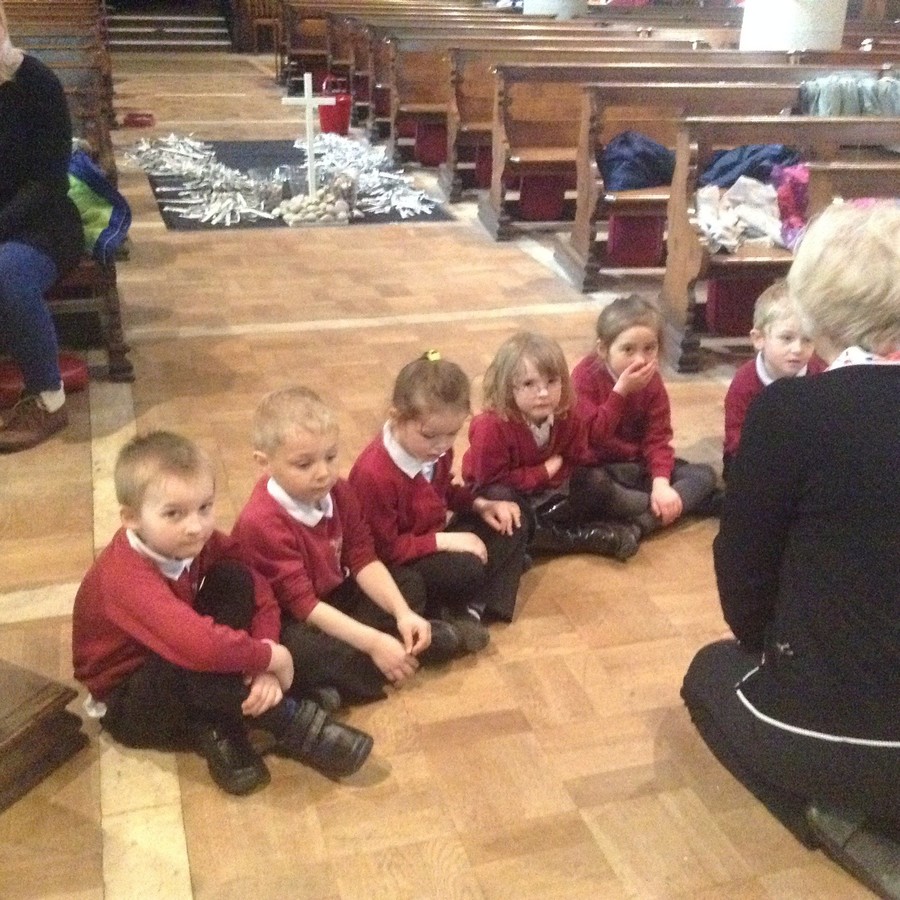 We do love snack time! This week we had hot cross buns of course!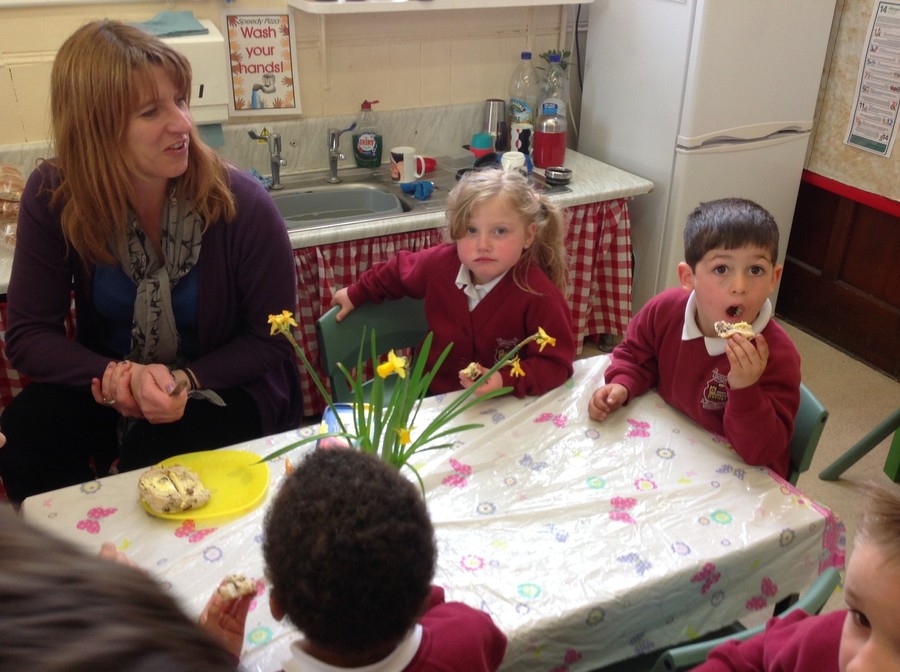 By the end of the week, preparations were hotting up for the contest of the term - the annual egg rolling competition! Team talks were given about rolling techniques, cracked eggs and decorations.
Here are some more photos of the very busy week we have had in FS. A huge thank you for providing glass jars, boiled eggs, yellow clothing and money. You are fantastic - all the staff wish you a happy Easter.
16-20th March
The week started with class photographs being taken and ended with an eclipse of the sun and an Easter dance session - there is always something exciting happening!
We had quite a focus on fossils this week and looking at bones.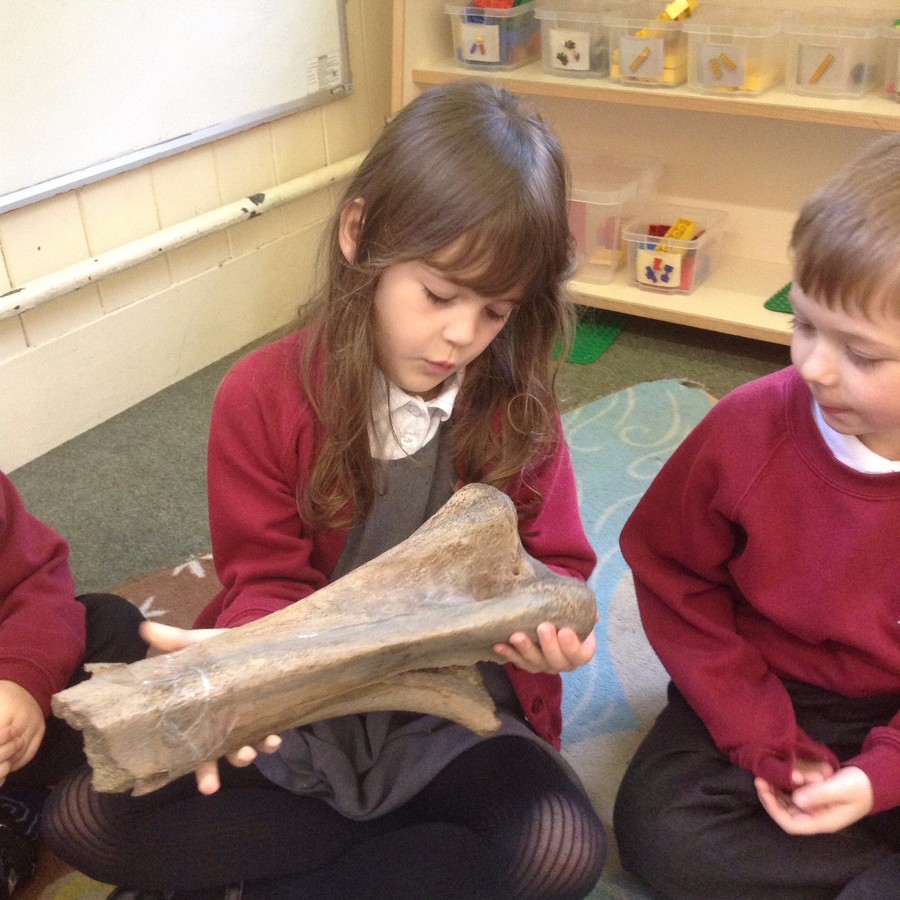 In the yellow room children tried to make a fossil using different materials. Its was a fun and messy job.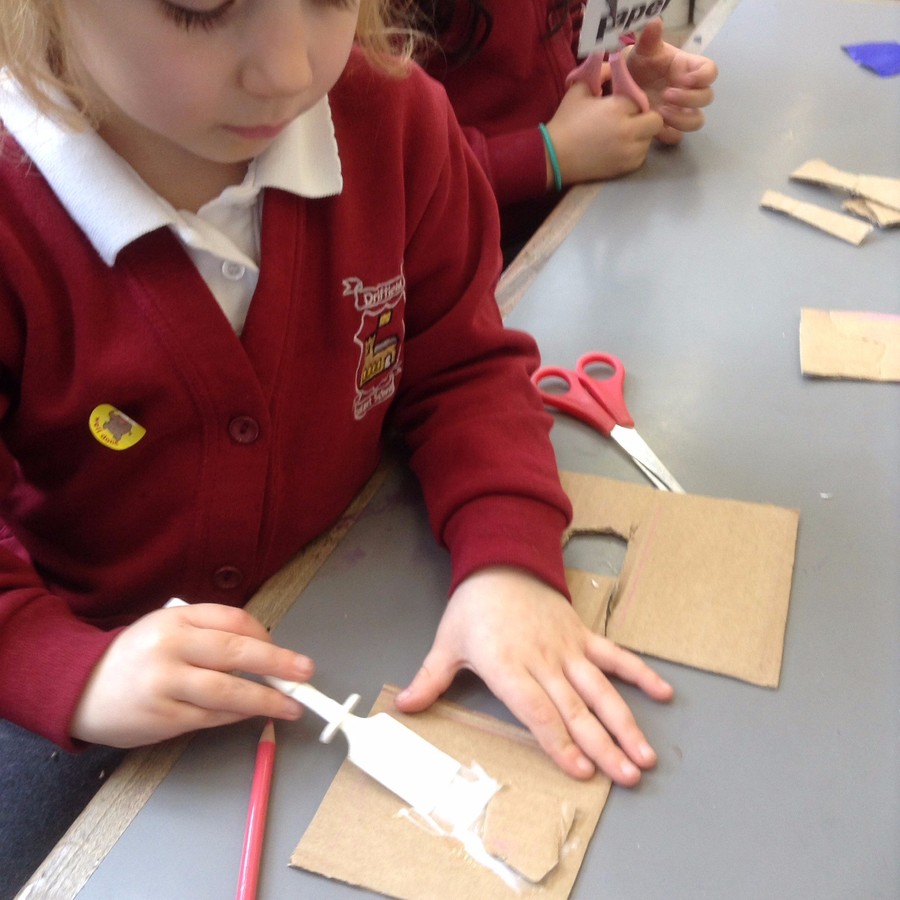 Also in yellow room a lot of painting went on this week. The children are becoming quite independent in washing their brushes out and organising themselves.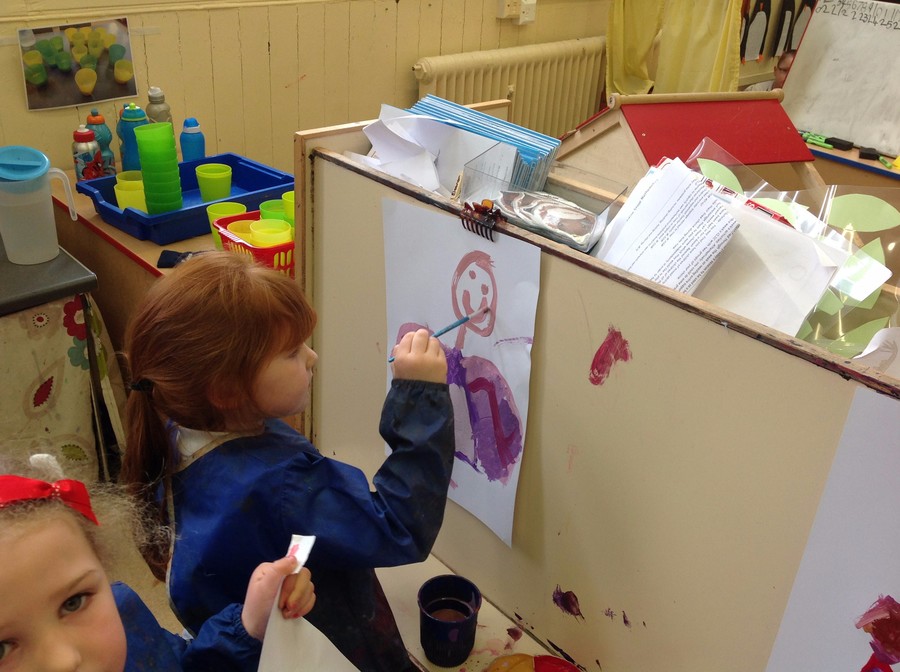 Puppets come in all shapes and sizes and the children enjoy using them for all different activities. Cyril the Squirrel often helps children with their writing!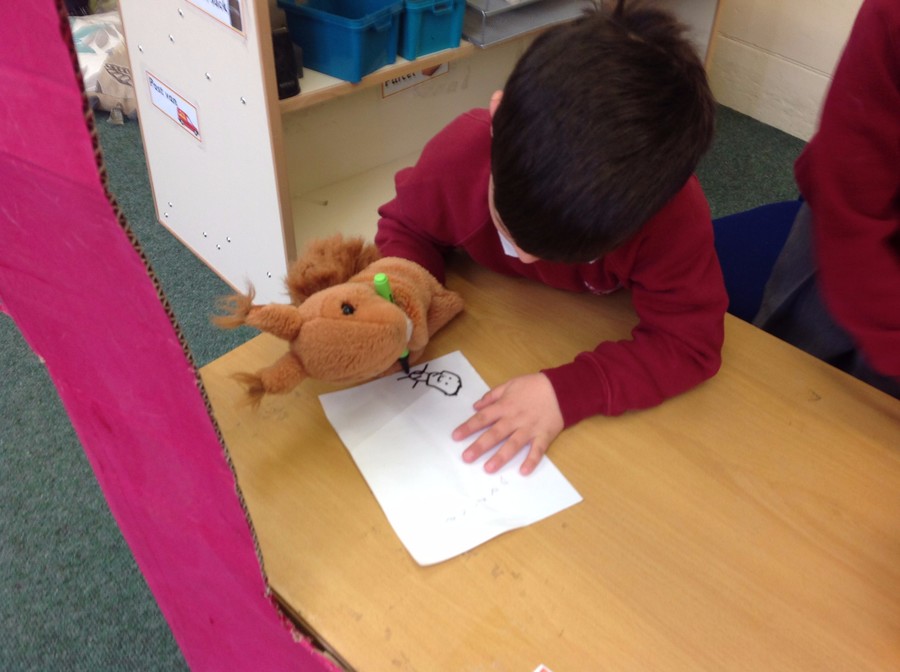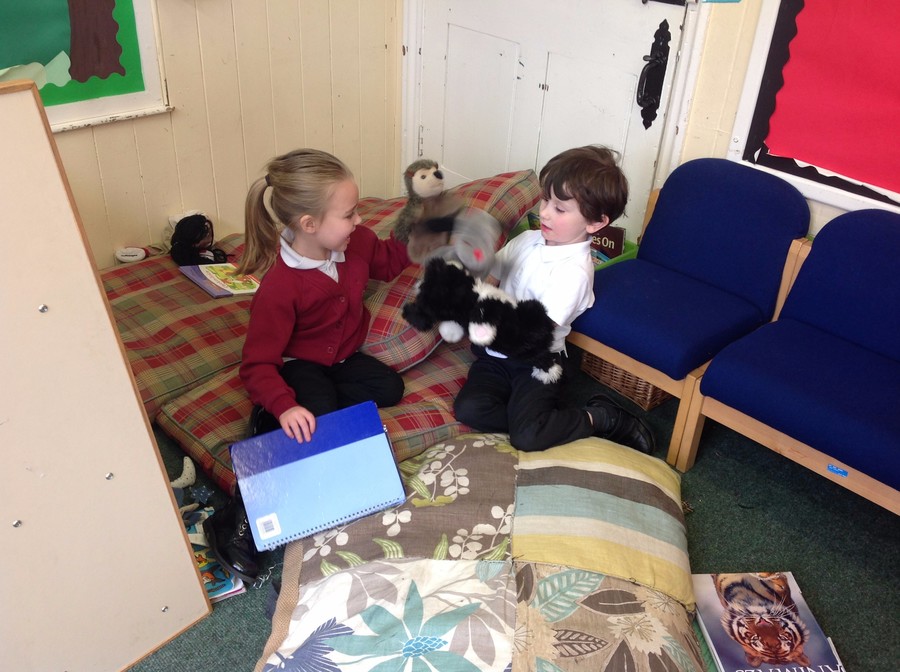 We are very lucky in FS to have so many adults who can help us learn in so many different ways. Mrs.Lock works with children to help them understand about turn taking through the use of games.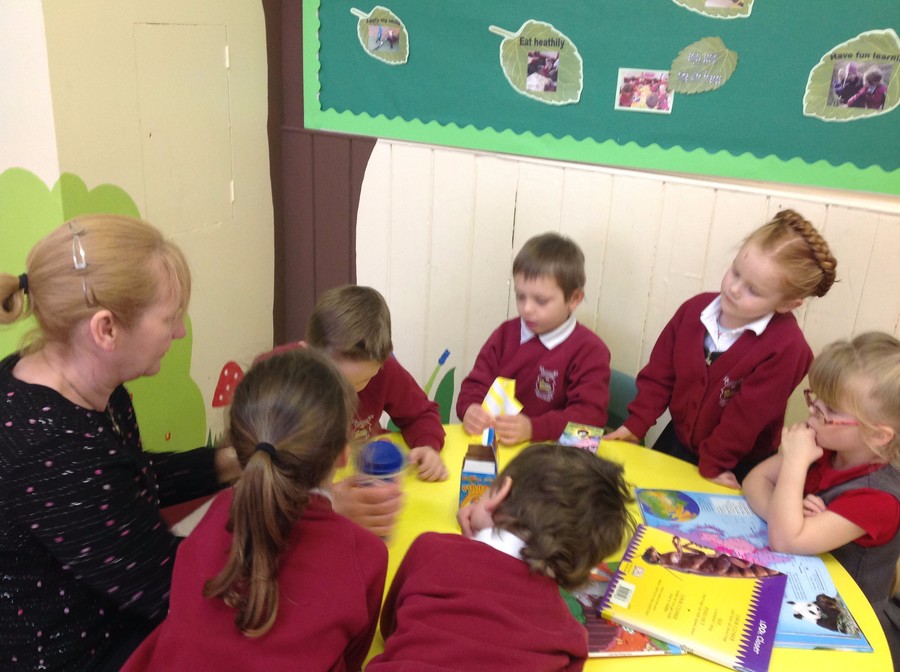 On Friday a dance company came to work with every class in the school. We learnt about the Easter story, we washed feet , broke bread and shared a drink. Here are some photos of the children in the hall enjoying the session.
Here are some more super photos of our very busy week in FS. Thank you to everyone for bringing in a glass jar. Next week looks like another exciting and fun packed week too.
9th - 13th March
This week we came in on Monday to find that our eggs had hatched, there seemed to be footprints leading from the classrooms - Mrs.D was the mummy dinosaur!
We also had lots of visitors come for Stay & Play this week. It was really nice to see some children who will be starting in September. The current FS children looked very grown up and they did a wonderful job of welcoming the younger children into the unit.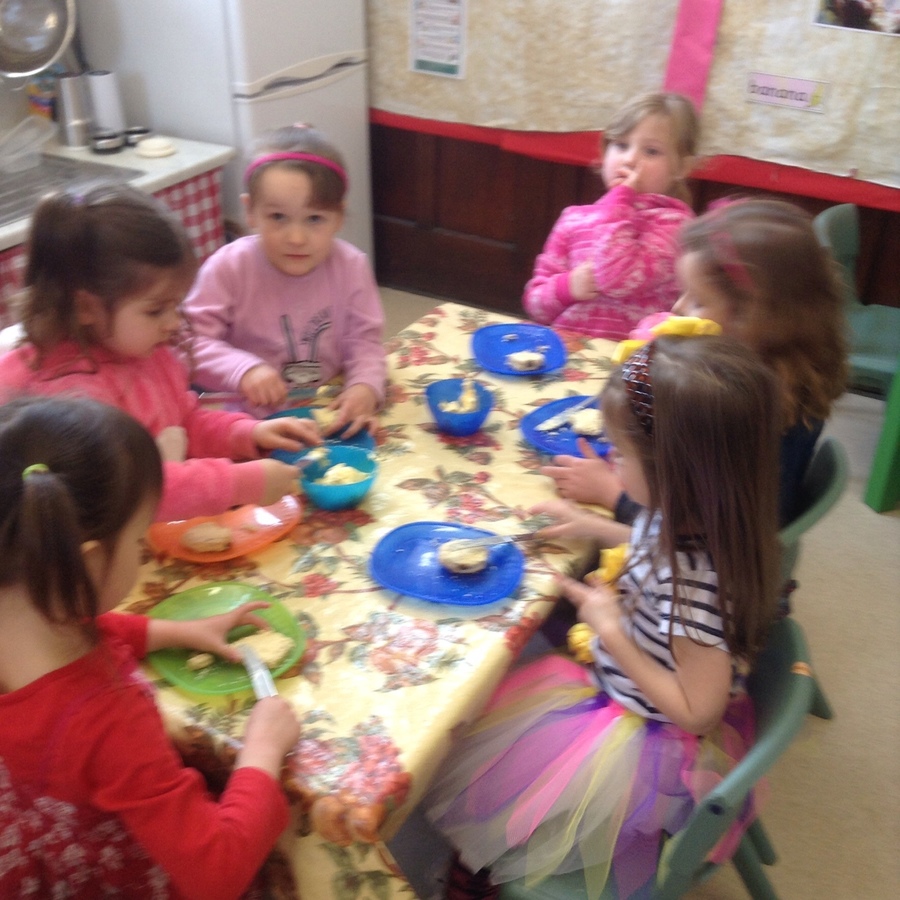 In the blue room there are some beautiful shells to look at. Some children used the magnifying glasses to take a closer look. We discussed what the creatures might look like that once lived in those shells. The wonder of technology allowed us to Google the shells and see images of those creatures.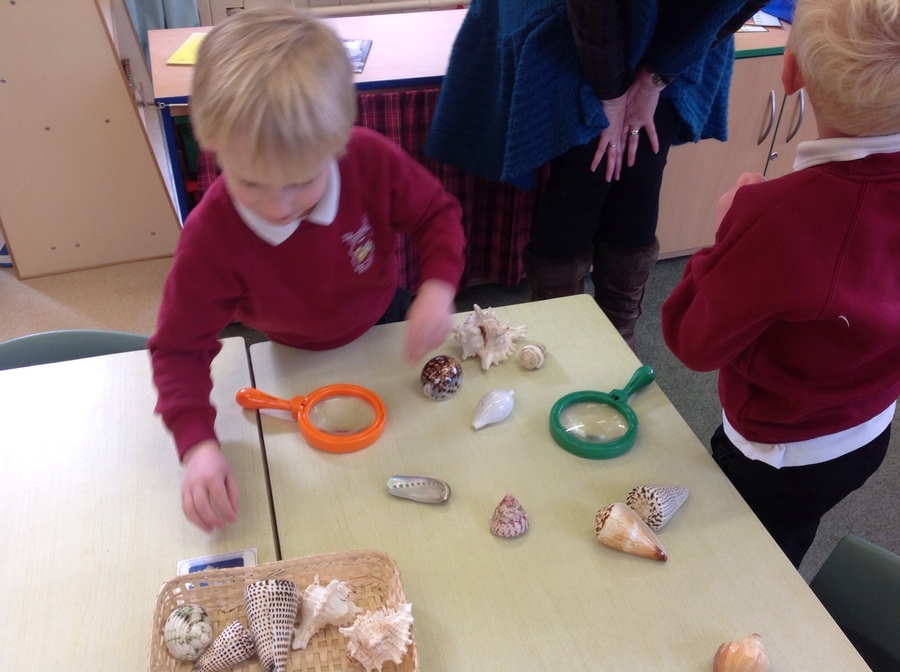 Dinosaurs found there way into the sand tray in blue room also. Lots of the children can name the different species and talk about the characteristics - long neck for eating leaves from the top of the trees, a tail that can hit other dinosaurs away from them, sharp teeth for eating meat etc.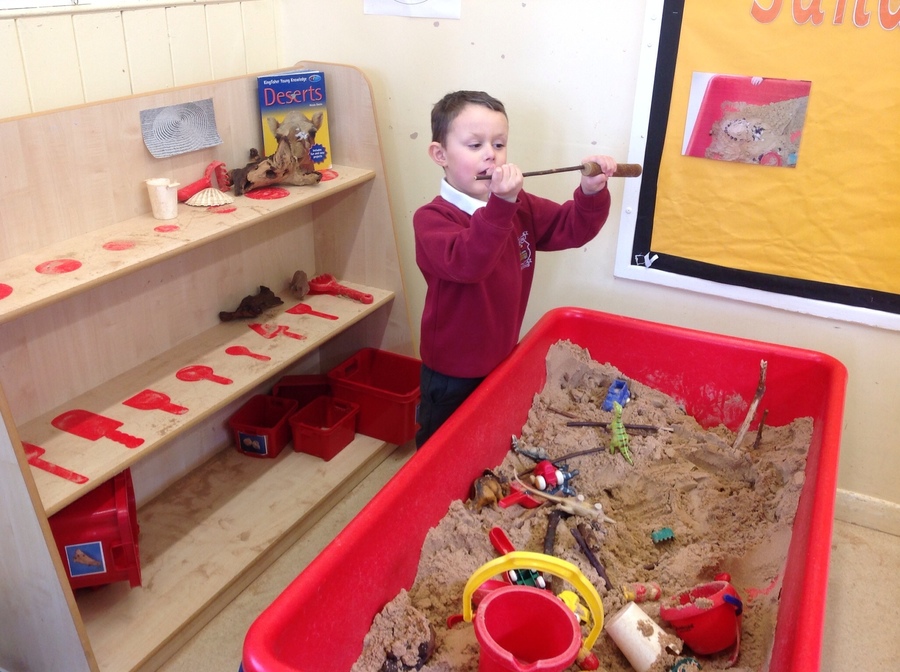 The workshop is always a hive of activity, the children must draw their design first before making. We were all very impressed with Katie for SEWING a fish and adding decorations.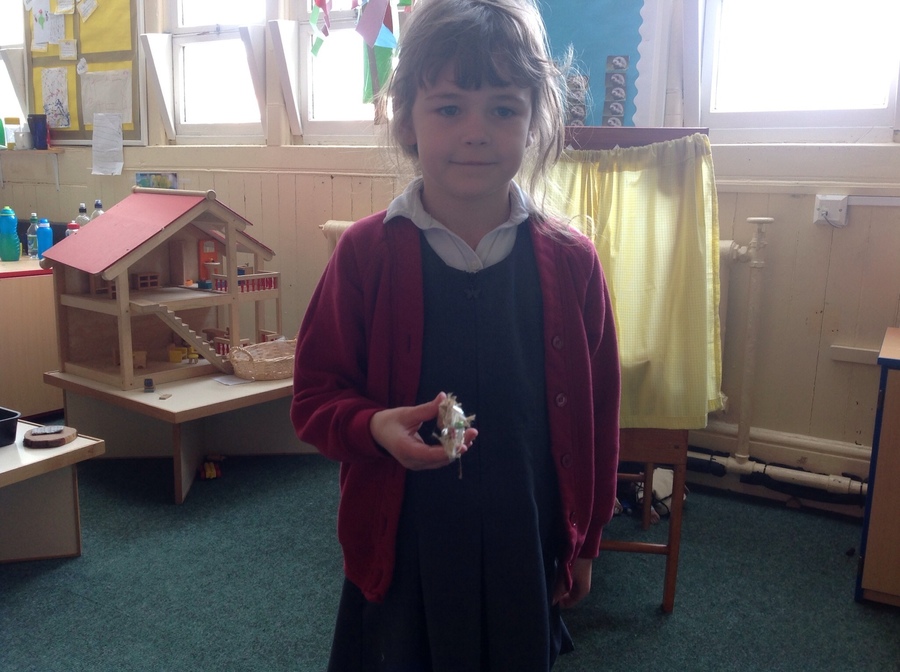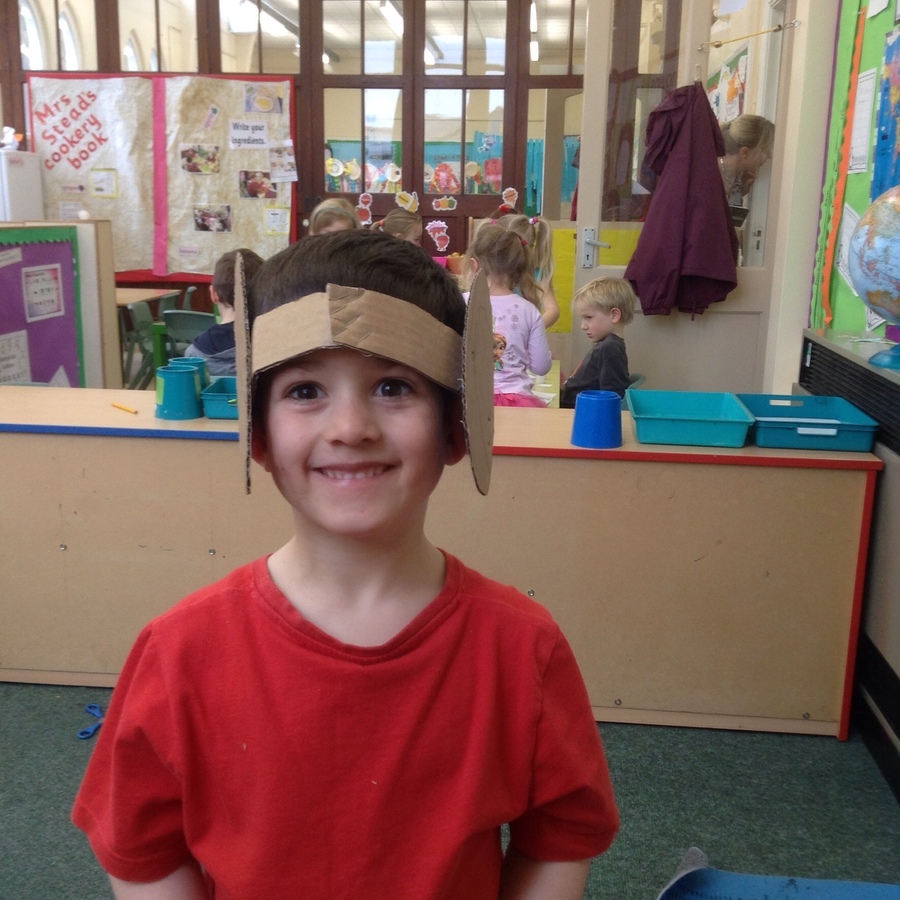 Everywhere you look during Busy Time, children are putting their reading and writing skills to the test. Cyril the Squirrel has popped up quite a lot this week helping his little friends read stories to each other and practise their writing.
Thank you to everyone for contributing to Red Nose Day - there were some very funny sights! Here are some more photos from the past week.